Research article

Open Access
Genotyping human ancient mtDNA control and coding region polymorphisms with a multiplexed Single-Base-Extension assay: the singular maternal history of the Tyrolean Iceman
Received: 17 November 2008
Accepted: 19 June 2009
Published: 19 June 2009
Abstract
Background
Progress in the field of human ancient DNA studies has been severely restricted due to the myriad sources of potential contamination, and because of the pronounced difficulty in identifying authentic results. Improving the robustness of human aDNA results is a necessary pre-requisite to vigorously testing hypotheses about human evolution in Europe, including possible admixture with Neanderthals. This study approaches the problem of distinguishing between authentic and contaminating sequences from common European mtDNA haplogroups by applying a multiplexed Single-Base-Extension assay, containing both control and coding region sites, to DNA extracted from the Tyrolean Iceman.
Results
The multiplex assay developed for this study was able to confirm that the Iceman's mtDNA belongs to a new European mtDNA clade with a very limited distribution amongst modern data sets. Controlled contamination experiments show that the correct results are returned by the multiplex assay even in the presence of substantial amounts of exogenous DNA. The overall level of discrimination achieved by targeting both control and coding region polymorphisms in a single reaction provides a methodology capable of dealing with most cases of homoplasy prevalent in European haplogroups.
Conclusion
The new genotyping results for the Iceman confirm the extreme fallibility of human aDNA studies in general, even when authenticated by independent replication. The sensitivity and accuracy of the multiplex Single-Base-Extension methodology forms part of an emerging suite of alternative techniques for the accurate retrieval of ancient DNA sequences from both anatomically modern humans and Neanderthals. The contamination of laboratories remains a pressing concern in aDNA studies, both in the pre and post-PCR environments, and the adoption of a forensic style assessment of a priori risks would significantly improve the credibility of results.
Keywords
Multiplex Polymerase Chain Reaction
Control Region Sequence
Revise Cambridge Reference Sequence
Code Region Polymorphism
aDNA Study
Background
It is often hoped that the fields of ancient DNA (aDNA) and population genetics will converge to provide novel insights into human prehistory, but there have been very few convincing aDNA studies conducted on human remains, due to the difficulty of differentiating between authentic results and contaminating DNA [1–4]. This problem is particularly acute when the putative endogenous sequences are similar to possible contaminants, and for this reason the most credible research has been restricted to the investigation of remains with highly distinctive, individual or population-specific, genetic signatures, e.g. [5–8]. Consequently, a number of high-profile human aDNA studies have been questioned on the grounds of insufficient proof of authenticity [1, 9–12].
Traditionally, the molecular tool for the identification of both endogenous human DNA and potential contaminant sequences has been the comparatively high levels of polymorphism found in the first and second hypervariable sections (HVS1, HVS2) of the mitochondrial (mtDNA) control region. The rapid rate of evolution in this short stretch of the molecule increases the likelihood of encountering multiple distinctive single nucleotide polymorphisms (SNPs) in single overlapping polymerase chain reaction (PCR) products. However, in practice, the utility of the control region for this purpose is often compromised by elevated levels of homoplasy, where identical sequences can be shared between different haplotypes. This has lead to an increasing use of hierarchical coding region SNPs to better discriminate between separate haplotypes with identical HVS1 sequences [13]. Whilst this is relatively unproblematic for modern DNA samples, in the case of ancient samples, such as the Iceman, the production of control and coding region sequences in separate PCRs makes it difficult to unequivocally rule out contamination as the source of individual results [12, 14, 15]. So, paradoxically, the most credible examples of this approach are those where the control region motif is already distinctive in its own right, and the provision of a single additional SNP often provides no significant additional resolution, as with the five Amerindian mtDNA haplogroups, e.g. [16, 17].
The most critical factor affecting the accurate genotyping of mtDNA data comprised of both SNPs and control region sequences is the reliability of interpreting unlinked PCR products. These may be subject to sporadic contamination and differential amplification of endogenous and contaminant DNA. One way to address this issue for SNPs is to simultaneously characterise multiple polymorphic sites in a two-stage multiplex reaction using a linear Single-Base-Extension (SBE) mini-sequencing reaction [18–22]. These can overcome many of the problems inherent in providing phylogenetic resolution for human aDNA samples and, in principle, may be able to differentiate between endogenous DNA and a possible contaminant from the same mtDNA haplogroup. Here, we extend this principle to genotype both control region polymorphisms and hierarchical coding regions SNPs within a single multiplexed SBE reaction (K-plex). This is used to obtain a detailed genotype of the Tyrolean Iceman's mtDNA using three separate extracts made from samples of bone and faecal material. The robustness of the results are explored through controlled contamination experiments using SBE reactions and quantitative PCR, and by providing an evaluation of the a priori possibility of obtaining an identical genotype from contaminants originating within the laboratory. The discussion includes a detailed reanalysis of the original study of the Iceman's mtDNA [14] and the conclusions serve to highlight the problems of achieving authentic results from European aDNA samples in general, and the fallibility of independent replication, in particular.
Results
Cloned Sequences
The results from initial PCR amplification and direct sequencing of the three new DNA extracts are reported in Figure
1
and Table
1
and characterise the Iceman's diagnostic control region polymorphisms. The first hyper-variable section (HVS1) between nucleotide positions (nps) 16040 and 16401, revealed three consistent polymorphisms (16224C-16311C-16362C), relative to the revised Cambridge Reference Sequence (rCRS) [
23
,
24
], in all clones from all samples (see additional file
1
showing clones covering the key sites nps 16311 and 16362 from all three extracts). There were no positive results obtained from the corresponding extraction blanks and negative controls used in each amplification. The results suggest that the mtDNA belongs to K1* by virtue of matching the revised Cambridge Reference Sequence (rCRS) [
24
] at nps 497 (K1a), 498 (K1c) and 5913 (K1b), whilst being derived at nps 1189 and 10398 (both K1). Importantly, the presence of the transition at np 8137 is unique within contemporary hg K [
13
], and the mutation at np 16362 was not reported in the original study of the Iceman's mtDNA [
14
].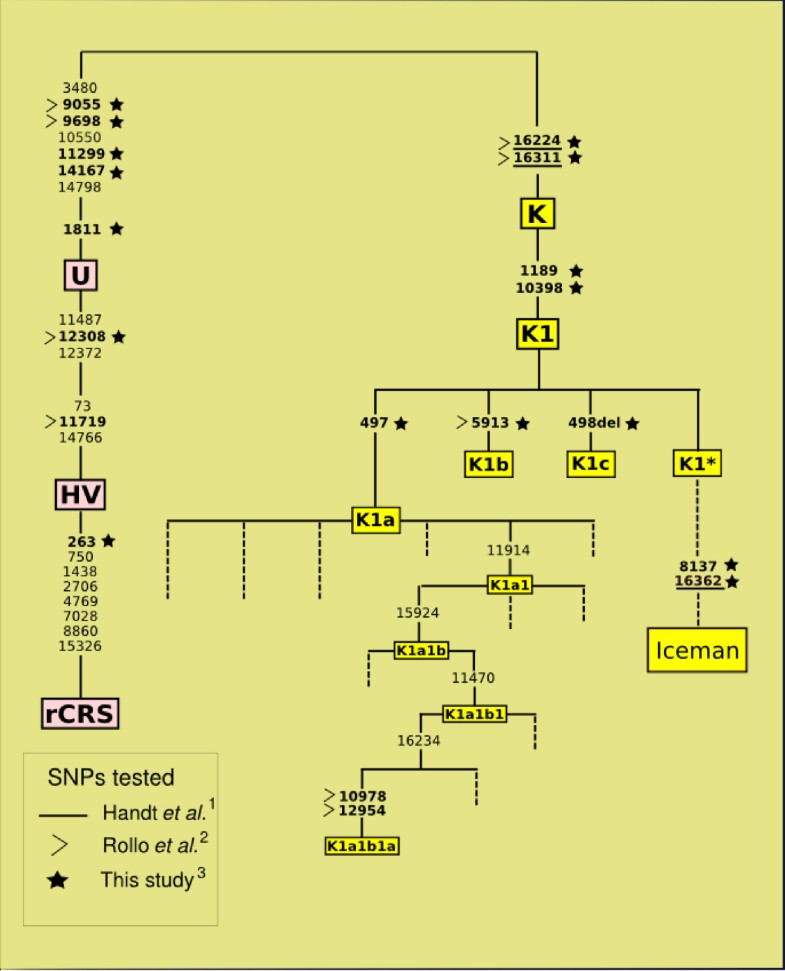 Table 1
Singleplex PCR results for the bone (BPE1, HB50) and faecal (HB49) extracts of the Iceman's mtDNA, showing all polymorphisms obtained in separate sets of cloned sequences.
Control Region

Coding Region

P1

P2

HB50

G 263G

16224C

16311C

16362C

497T

498delC

1189C

1811G

5193A

8137T

9055A

9698C

9716C

9962A

10398G

14167T

00100

00207

HB50

00157

00290

HB50

16015

16179

HB50

16074

16231

HB49

C

16131

16300

HB50

C

C

C

16186

16398

BPE1

C

C

C

16192

16402

HB49

C

C

16257

16398

HB50

C

16186

16291

HB50

C

16257

16363

HB50

C

16320

16424

HB50

C

C

00460

00524

HB50

C

01142

01220

HB49

G

01781

01848

HB50

G

01781

01848

HB50

G

05846

05950

HB50

T

08105

08205

HB49

T

08105

08205

BPE1

T

08105

08205

BPE1

A

09029

09095

HB50

C

T

09636

09742

HB50

G

09922

10005

HB50

G

10353

10442

HB49

T

14105

14207

Con.

G

C

C

C

C

C

C

G

G

T

A

C

T

G

G

T

rCRS

A

T

T

T

C

C

T

A

G

C

G

T

T

G

A

C
K1 SBE multiplex
Due to the difficulty inherent in proving that results matching the reference sequence at nps 497, 498 and 5913 were not due to contamination [
12
], a multiplex SBE assay (K1-plex) was designed to test for these three HVS1 polymorphisms (16224C-16311C-16362C), plus nine hierarchical SNPs from both the control and coding regions. The multiplex results revealed transitions at nps 1189, 1811, 9698, 10398 and 14167 (Table
2
), indicating membership of the human mtDNA sub-haplogroup K1 [
13
], as previously suggested by [
15
,
25
]. In addition, because the Iceman's sequence matches the rCRS at nps 497, 498, and 5913 (diagnostic of K1a, K1c, and K1b, respectively), we can extend previous suggestions that the Iceman's genotype does not belong to any of the three known clades of K1, and should be referred to a new (undefined) paraphyletic clade, of K1 [
25
] (Figure
1
). A transition at np 8137, previously discovered by singleplex assay of the Iceman's mtDNA, was confirmed by the multiplex SBE results, and is currently unique within hg K [
13
]. All multiplex results were cross-checked by cloned single-plex PCR results to investigate the potential for false positives in the SBE reaction. The allelic state of each of the 11 SNPs matched the multiplex results (details of all singleplexes are given in Table
1
).
Table 2
Multiplex Single Base Extension results for the HB50 bone extracts of the Iceman's DNA using the K1 multiplex.
| Sample | | | | | | | | | | | | |
| --- | --- | --- | --- | --- | --- | --- | --- | --- | --- | --- | --- | --- |
| rCRS | MP | T | T | T | C | C | T | G | C | T | A | T |
| HB50 | K1 | C 16224C | C 16311C | C 16362C | C497T | C498 elC | C1189C | G5913A | T8137T | C11299C | G12308G | C12705C |
Crucially, the actual SBE traces (Figure
2
) show that the results originated from a single effective population of DNA templates because there were no additional alleles at any of the sites tested. The use of multiplexed SBE also ensured that those hg K1 diagnostic sites matching the rCRS (nps 497, 498, 5913) were not a result of contamination, or sample mix-up, because all were typed concurrently in a single assay, together with other SNPs (16362C, 8137T) diagnostic of the Iceman's mtDNA. Real-time PCR quantification (see additional file
2
) indicated that the multiplex assay was initiated with the equivalent of ~36,000 molecules of mtDNA capable of amplifying 60 bp and that inhibition was not detected. This effective copy number is consistent with the absence of repetitive damage motifs amongst the clones and the lack of allelic drop-out in the SBE results [
26
].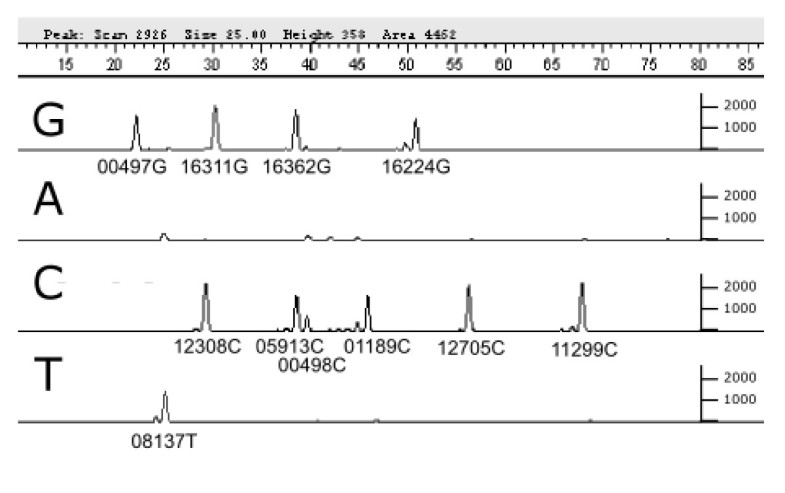 Contamination controls
To further test the potential effect of contamination on the results, a second K1 multiplex assay was performed with the addition of various quantities of a second DNA extract (hg J) to imitate the role of modern contaminant. This produced clearly observable double peaks (representing different alleles at the same site) across a large range of dilutions (Figure
3
), confirming the presence of two populations of templates. The lowest quantity of contaminant detected by the multiplex assay was measured by real-time quantitative PCR to be equivalent to ~4% of the total starting copy number. As the proportion of the contaminant increases, so do the secondary peaks, but even at levels of ~20% it is still possible to unambiguously distinguish the two separate populations of templates. This result strongly supports the conclusion from the cloned HVS1 sequences (Figure S1) that the same single endogenous population of templates is represented in the three extracts of the Iceman's DNA.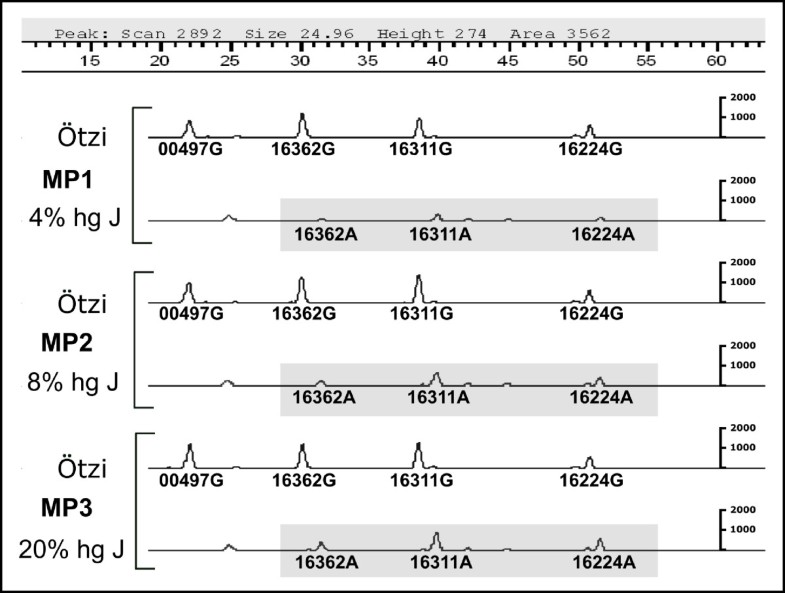 We also typed the mtDNA of all workers involved in the study, from the removal of the samples from the mummy in Italy to the extraction of the DNA in Oxford and no individual had mtDNA belonging to hg K. Although positive results from extraction blanks and PCR negative controls did not occur during the present study, a human contaminant was identified amongst earlier work conducted in the Oxford isolation facility. This was from a modern source of hg K mtDNA with the control region motif 16224C-16311C (i.e. without 16362C) and was eliminated by modification to laboratory protocols regarding common consumables (see Methods).
This hg K contaminant, together with all aDNA extracts with putative European mtDNA prepared in the isolation facility, is listed in additional file 3 but these sequences include no examples of hg K with 16362C. Therefore, at the time that the research into the Iceman's mtDNA was conducted, the probability of obtaining a matching hg K contaminant in the Henry Wellcome Ancient Biomolecules Centre appears to have been extremely low.
Conclusion
This study has highlighted the potential fallibility of the interpretation of human aDNA results, and the need for a forensic style assessment of risks associated with the production of data. Independent replication remains a core component of authentication strategies for human aDNA studies, and it is paramount that this test is applied critically to function properly. More stringent controls are required to move the field forward, both a priori and a posteriori, for the production and interpretation of data; in particular, the disclosure of all possible sources of contamination in aDNA studies using generic hominin primers. In PCR-based studies, this data should include genetic profiles of the workers involved for whichever target loci are being investigated.
The use of multiplex SBE assays offer one solution for authenticating human aDNA results and screening novel genome data. In the present study the K1 multiplex accurately genotyped the Iceman's mtDNA and has independently confirmed it belongs to a novel lineage of mtDNA hg K. A novel aspect of this approach is the ability to link SNPs from both the control and coding regions of the mtDNA genome in a single reaction, reducing the possibility of contamination affecting the results. In a controlled contamination experiment, the SBE methodology correctly identified the endogenous genotype of the Iceman and the relative quantities of the modern mtDNA contaminant.
Methods
Two samples of bone removed from the ileum, and one of faecal matter from the rectum were digested in temporally separated extractions (4 ml total volume) by a previously published protocol [22]. One extraction blank was produced for each sample, and PCRs also included negative controls.
The specialist Ancient Biomolecules Centre (ABC) at Oxford was used to extract DNA, and set up PCR reactions. The ABC is physically isolated, subject to stringent anti-contamination procedures, equipped with positive air pressure and UV lighting, and has a DNA laboratory and equipment (glove box, instruments, full body suits, protective masks, etc.) dedicated solely to ancient human specimens. The thermal cycling reactions and subsequent downstream work took place in a separate laboratory located in the Department of Zoology.
Initial singleplex PCRs on the control region were conducted with primers listed in additional file 4 and cloned by previously published protocols [22]. Several hierarchical SNPs from the human mtDNA phylogeny together with haplogroup K specific SNPs were identified [13, 40] using additional singleplex PCR primers designed to be compatible under multiplex PCR conditions [26].
The three control region SNPs, located in the singleplex PCRs, were combined with key SNPs from major clades of the hg K phylogeny, to form the K1 multiplex. A selection of higher order hierarchical SNPs from the human phylogeny were also included to check the consistency of results across additional loci [13, 40]. This integration of all diagnostic sites into a single assay reduces the range of explanations required when results do not conform to expectations because the possibility of sample mix up is eliminated.
The initial multiplex PCR was performed using 2 μ l of DNA extract in a 25 μ l reaction volume using primers listed in additional file 5 by a previously published protocol [22]. SBE reactions were performed in a total volume of 5 μ l with 0.5 μ l purified PCR product, 2.5 μ l SNaPshot™ reaction mix (AB) and 0.5 μ l SBE primer mix (SBE primers listed in additional file 6). Negative controls were included in both stages of the assay to assess the potential for contamination.
Automated allele calls were made using macros constructed in Genotyper 3.7 (AB). Primer concentrations were adjusted to give balanced amounts of products and peak heights, concentrating on the SBE reaction [19]. All primers were synthesized and reverse-phase HPLC purified by Biomers.net GmbH (Ulm, Germany). A detailed protocol for the optimization of SBE multiplexes is available elsewhere [26].
Quantitative PCR (qPCR) was conducted on the HB50 aDNA bone extract and a modern DNA sample (belonging to the mitochondrial hg J) in 25 μ l reaction volumes, using SYBR Green PCR master-mix (AB), 300 nM human-specific primers, synthesized template standards (see additional file 7) and an ABI Prism 7000 Sequence Detection System (95°C for 10 min, followed by 40 cycles of 95°C for 15 sec, and 60°C for 60 sec). All samples were run in triplicate with two 1:4 serial dilutions. The standards were also run in triplicate with 1:9 dilutions ranging from 106-102 copies per μ l. The adjusted R2 value of all assays performed was equal to a minimum of 99%, and PCR efficiency, in each case, was calculated with the formula

[41] to be ~2 (see additional file 2).
Once the effective copy number of the modern DNA was known, a range of dilutions were run against the HB50 extract in a relative quantification, using the same primers and conditions, until the reported copy number of both the ancient and modern extracts were equivalent. The multiplex contamination experiments were then performed using successive serial dilutions of the hg J contaminant mixed with constant quantities of the aDNA extract to seed the multiplex PCR. This procedure provides a detailed measure of the sensitivity of the SBE methodology for identifying and estimating the amount of contamination present in an aDNA extract through the incorporation of additional peaks at segregating sites.
All contamination experiments, thermal cycling reactions and downstream work took place in a separate laboratory located in the Department of Zoology. All relevant personnel in this study had their mtDNA typed. The two researchers who took the samples from the Iceman have mtDNA matching hg H and hg J1b. All aDNA work in Oxford (extractions, singleplex and multiplex PCRs) were carried out by PE, who is hg H.
Figures were prepared using Inkscape Vector Illustrator compiled for use in Ubuntu Linux. The real-time PCR plot was created using the R statistical package http://www.r-project.org. The manuscript was written using the LyX document preparation system http://www.LyX.org.
Declarations
Acknowledgements
AC provided the laboratory facilities for the work. PE was supported by the National Environment Council of Great Britain, and Magdalen College, Oxford; JJS by a grant from Plan Nacional I+D+I (MEC. 18.08.43B.780); AC by the Wellcome and Leverhulme trusts; IP and PP were supported by the Health Care Assessorate of the Autonomous Province of Bolzano and the South Tyrolean Sparkasse Foundation.
Authors' Affiliations
(1)
Museèe de l'Homme, Paris, France
(2)
Instituto Nacional de Toxicología y Ciencias Forenses, Campus de Ciencas de la Salud, La Laguna, Spain
(3)
Institute of Genetic Medicine, European Academy of Genetics, Bolzano-Bozen, Italy
(4)
Department of Physiology, Anatomy and Genetics, University of Oxford, Oxford, UK
(5)
Australian Centre for Ancient DNA, University of Adelaide, Adelaide, Australia
(6)
Department of Pathology, General Regional Hospital, Bolzano-Bozen, Italy
(7)
Department of Neurology, Lübeck, Germany
Copyright
© Endicott et al; licensee BioMed Central Ltd. 2009
This article is published under license to BioMed Central Ltd. This is an Open Access article distributed under the terms of the Creative Commons Attribution License (http://creativecommons.org/licenses/by/2.0), which permits unrestricted use, distribution, and reproduction in any medium, provided the original work is properly cited.