Research article

Open Access
Population genetics of the understory fishtail palm Chamaedorea ernesti-augusti in Belize: high genetic connectivity with local differentiation
Received: 4 February 2009
Accepted: 9 October 2009
Published: 9 October 2009
Abstract
Background
Developing a greater understanding of population genetic structure in lowland tropical plant species is highly relevant to our knowledge of increasingly fragmented forests and to the conservation of threatened species. Specific studies are particularly needed for taxa whose population dynamics are further impacted by human harvesting practices. One such case is the fishtail or xaté palm (Chamaedorea ernesti-augusti) of Central America, whose wild-collected leaves are becoming progressively more important to the global ornamental industry. We use microsatellite markers to describe the population genetics of this species in Belize and test the effects of climate change and deforestation on its recent and historical effective population size.
Results
We found high levels of inbreeding coupled with moderate or high allelic diversity within populations. Overall high gene flow was observed, with a north and south gradient and ongoing differentiation at smaller spatial scales. Immigration rates among populations were more difficult to discern, with minimal evidence for isolation by distance. We infer a tenfold reduction in effective population size ca. 10,000 years ago, but fail to detect changes attributable to Mayan or contemporary deforestation.
Conclusion
Populations of C. ernesti-augusti are genetically heterogeneous demes at a local spatial scale, but are widely connected at a regional level in Belize. We suggest that the inferred patterns in population genetic structure are the result of the colonization of this species into Belize following expansion of humid forests in combination with demographic and mating patterns. Within populations, we hypothesize that low aggregated population density over large areas, short distance pollen dispersal via thrips, low adult survival, and low fruiting combined with early flowering may contribute towards local inbreeding via genetic drift. Relatively high levels of regional connectivity are likely the result of animal-mediated long-distance seed dispersal. The greatest present threat to the species is the potential onset of inbreeding depression as the result of increased human harvesting activities. Future genetic studies in understory palms should focus on both fine-scale and landscape-level genetic structure.
Keywords
Gene FlowEffective Population SizeGenetic ClusterImmigration RateHigh Gene Flow
Background
In plants, tools from molecular ecology and population genetics have been used to characterize genetic patterns that result from geographic and biological barriers to pollen and seed dispersal, and to investigate their significance in the evolutionary history of a species [1–5]. Despite critical insights into many plant species, most studies have focused on temperate trees, followed by tropical canopy trees and temperate herbs. In contrast, palms (Arecaceae) with 2,522 species and iconic significance throughout the tropics [6], have been largely overlooked in this context.
Within palms, understory species are the least represented. Only a handful of studies have focused on the basic population genetics of this group [7–11]. Understory palms are one of the most ecologically and economically important plant groups throughout tropical forests, where human-induced landscape changes occur at an increasing rate [12, 13]. Hamrick [14] suggested that most trees have enough intrinsic genetic variation and mechanisms to maintain propagule movement in order to be resilient to habitat changes. While this might be the case for most forest canopy species [15], evidence is less clear for understory taxa, which differ from canopy species in biological and demographic factors. For instance, understory palms have small life forms, smaller seeds than canopy palms, striking phenotypic plasticity, generally narrow distributions along microenvironments, and most notably, variation in population densities across geographic areas [16–21]. They are sensitive to processes that occur at local spatial scales, such as changes in elevation or light within a single mountain slope [22–25]. All of these factors are important determinants of the genetic variation and structure within and among plant populations [1, 2, 26]. It remains unclear whether theoretical expectations of genetic erosion indeed occur after forest fragmentation in understory palms, or whether other factors, such as changes in demography due to overharvesting or localized ecological degradation, may be more important for the long-term survival of these important species [12].
The genus
Chamaedorea
is one of the largest and most species-rich of the Neotropical Arecaceae, with
ca
. 96 species widely distributed in the Americas [
27
,
28
].
Chamaedorea ernesti-augusti
is a >5 m tall dioecious perennial species that can live for up to 15 years [
29
] (Figure
1
). They flower once per year and have a thrip-mediated pollination system (via
Brooksithrips chamaedoreae
: Thysanoptera) [
30
]. Its subglobose, aromatic, black fruits and red rachises imply a combination of gravity and animal dispersal, possibly squirrels and ground-foraging birds [
31
]. The distribution of this species encompasses tropical evergreen forests in southern Mexico, Guatemala, Belize, and Honduras [
32
–
34
].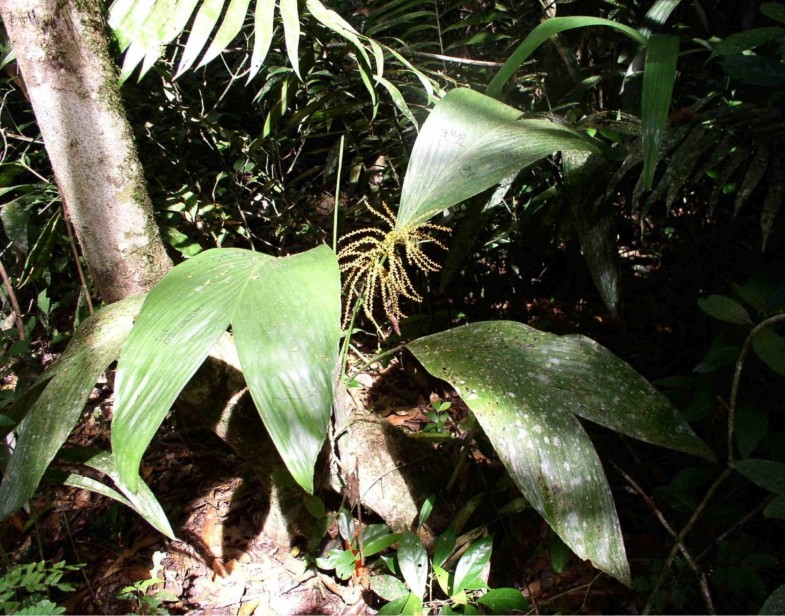 In recent years, C. ernesti-augusti has gained economic importance as an important Non-Timber Forest Product (NTFP) in Central America [35–37]. The leaves of this species, known as xaté or fishtail palm, are harvested and exported into the international floral industry, generating increasingly important revenue [37]. The combination of over-harvesting and habitat loss has led to populations in this region becoming progressively more vulnerable [38, 39].
This study focuses on eight localities of Belizean
Chamaedorea ernesti-augusti
(Figure
2
). In Belize the presence of various wild populations have, until recently, remained largely undisturbed by human harvesting practices. Its primary habitat consists of wet to dry lowland tropical broadleaf forests, locally disrupted by the occurrence of drier forests in the rain-shadow of the Maya Mountains and mostly absent in the far north of Belize [
40
]. It is typically found on limestone-enriched soils in lowland and submontane broadleaf forests. Belizean forests provide an appropriate scenario in which to test the effects of historical and contemporary habitat changes on the distribution of genetic variation of
C. ernesti-augusti
. Early Holocene climate change impacted considerably on the ecology and species composition of American landscapes [
41
–
44
], including Belize. Pine savannahs and tropical mesic forests spread after an abrupt increase in temperature and rainfall in Belize during the early Holocene at 10,000 BP [
45
,
46
]. Belizean forests were then impacted by Mayan land use for
ca
. 1,500 years [
41
,
47
]. Areas of significant Mayan disturbance include the highly fertile Belize River Valley [
48
], forest-covered terraces in the Chiquibul cultivated by a population of 120,000 people [
49
,
50
], the upland areas to the north (El Pilar and southeast of El Pilar) and the south, near Pueblo Viejo [
48
]. Following the Mayan collapse, forests regenerated rapidly over most of the country but were affected again when extractive logging began in the 1700s [
51
]. Approximately 22% (7,200 ha) of Belize's forest has been lost since 1989, with deforestation rates recently escalating [
52
].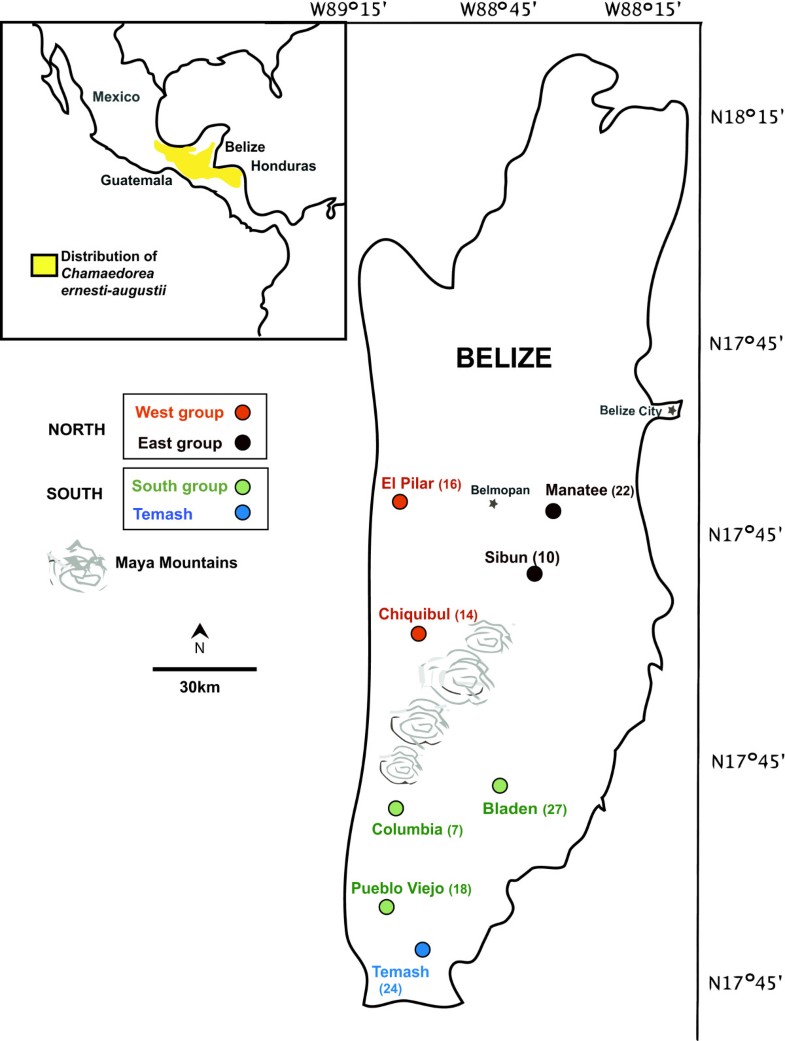 Our objectives are to test specific hypotheses about the evolutionary history of C. ernesti-augusti and to establish a genetic baseline for its management and conservation. We measure the levels of genetic variation and genetic structure of 138 individuals of C. ernesti-augusti throughout Belize in eight localities, using nine nuclear microsatellites. We describe genetic patterns within and among populations and test whether two major landscape events have shaped the current population structure of C. ernesti-augusti in Belize. These events are major climatic, vegetation and soil changes during the early Holocene (ca. 10,000 BP), and the impact of Mayan and recent landscape fragmentation, including aridification during Mayan decline (ca. 1,000 BP). We used traditional summary statistics and the theory of the coalescent as proxies for the historical effects on genetic structure of C. ernesti-augusti in Belize. Bayesian statistics were used to yield an a posteriori partitioning of the contemporary genetic variation (i.e. within the last two generations), and to test the assumed subdivision caused by deforestation within the northern and southern regions.
This study is one of few addressing the genetic structure of wild populations of ecologically and economically important understory palms, and the first to use highly variable molecular markers in this genus. We discuss the distribution of genetic variation within and among populations of Chamaedorea ernesti-augusti, their interplay with putative historical and contemporary geographic events, and their implications for conservation.
Results
High allelic richness and high inbreeding
We sampled eight
C. ernesti-augusti
sites throughout Belize with an average of 17 individuals per locality (Figure
2
). For the most part our sampling reflects the natural disjointed distribution of
C. ernesti-augusti
in Belize, and its low population densities compared to other sympatric congeners [
53
]. Linkage disequilibrium was observed in some localities, the most significant being Pilar and Temash, in loci 16A2-AD1 and 15C2-22D8 loci, respectively. Significant deviations from HWE (
p
< 0.01) were observed in 21% of loci, but there was no apparent pattern by locus or site. The mean number of alleles across all populations was

t
= 6.9 (CI
95%
± 1.87). Figure
2
shows the allelic patterns across populations and levels of heterozygosity. The mean total number of alleles per population was highest in Temash,
At
= 9.00 (SD = 2.46) and lowest in Columbia,
At
= 2.86 (SD = 1.75; Figure
3
). The limited allelic diversity found in Columbia could be due to the fact that this is our locality with the smallest sample size (N = 7). However, this region also has the least abundant populations of wild
C. ernesti-augustii
compared to densities from the Chiquibul Forest Reserve or other areas in Belize (Table
1
) [
41
]. Columbia has been greatly fragmented despite its protected status, and has been affected by both fires and hurricanes [
37
,
54
]. It is also one of the main sites with recent harvesting [
37
] and should be followed-up in future studies. Across populations, the average heterozygosity was
He
= 0.67 (CI
95%
± 0.06) and
Ho
= 0.39 (CI
95%
± 0.049). Bladen and Manatee have the lowest and the highest observed homozygosity, respectively (Figure
3
). Temash had the highest number of private alleles (
A
P
= 1.75).
| Site | Site Area (Ha)/conservation status1/connectivity2/harvested3 | Alt4(m) | N/ha5 |
| --- | --- | --- | --- |
| El Pilar (16) | 50/core/isolated/yes | 0-300 | 650 |
| Manatee (22) | 103,907/core/restricted to soil type + narrow valleys/no | 0-200 | 650 |
| Sibun (10) | 19,000/core/restricted to one small site/no | 0-200 | -- |
| Chiquibul (14) | 59,822/core/continuous/yes | 400-700 | 200 |
| Bladen (27) | 40,485/core/continuous/yes | 0-200 | 400 |
| Columbia (7) | 60,000/protected/fragmented/yes | 0-300 | 47 |
| Pueblo Viejo (18) | 15,000/unprotected/isolated/no | 0-300 | 225 |
| Temash (24) | 16,945/buffer/isolated/yes | 0-200 | 200 |

Dating and quantifying changes in effective population size
High levels of inbreeding and low genetic variation are in part, a result of major historical and contemporary landscape changes. We tested the effects of climate change and deforestation on recent and historical effective population size. The distribution of allele frequencies based on the Luikart
et al
[
55
] graphical method did not reveal recent bottlenecks. The coalescent-based method MSVAR based on [
56
] provided information on the historical changes in effective population sizes (
Ne
), and their approximate timing. Independent runs with varying assumptions on microsatellite mutation rates (m) gave congruent results, the most stable estimate being m = 10
-3
. All of the five MSVAR analyses completed (m = 10
-3
; generation time = 10), consistently uncovered a population decline from an ancestral
Ne
of approximately 16,000 (HPD
95%
= 1,738-5,104; mean = 2,059 median = 1,621) to a current
Ne
of 1,862 (HPD
95%
= 301-5161; mean = 2,236; median = 1857; Figure
4a
). We selected the medians and the lower and upper limits of the 95% highest posterior density (HPD
95%
) as proxies for the time in generations and the amount of change in population size, because when distributions are skewed, medians can be better descriptors than the standard arithmetic mean. The distribution of the time in generations since the population started to decrease had a median of approximately 10,715 years BP (HPD
95%
= 1,245-3,627; mean = 14,120; Figure
4b
). There was no evidence of more recent change in effective population size during the Mayan deforestation.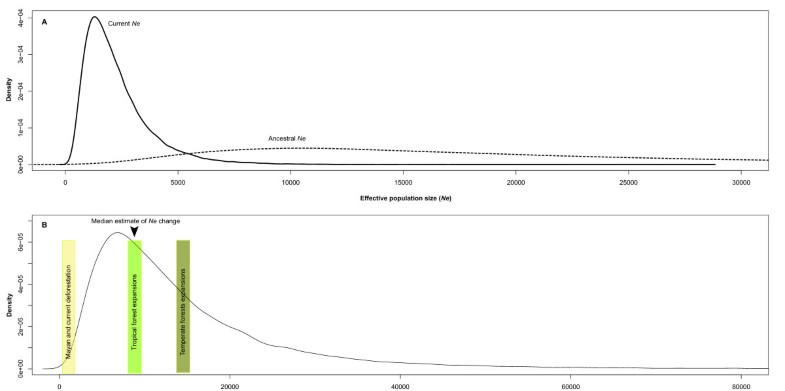 Genetic connectivity across Belize
Using the eight sampling sites as populations, the estimate of genetic structure θST indicated that a moderate 8.5% (CI95% 0.05858-0.11663) of the variation resides among localities. According to AMOVA, most of the variation is found within individuals, and among individuals within a single population, rather than among populations within each region (see Additional file 1). Fixation indices suggest that there are high levels of inbreeding, with the variation within individuals relative to the subpopulations as F IS = 0.384 (p < 0.01) and within individuals relative to the total as F IT = 0.425 (p < 0.01).
By employing individuals and landscapes in probabilistic and likelihood analyses, Bayesian methods have provided tools for different levels of spatial and temporal resolution to population-level studies [
57
]. When no
a priori
information is provided on the geographic origin of each population in STRUCTURE, the lowest marginal likelihood and variance detected
K
= 5 (Figure
5a
), while the Evanno
et al
[
58
] Δ
K
method favored both the model of
K
= 3 and
K
= 5 (Figure
5b
). When geographic information was included the optimal partitioning was
K
= 5 (Additional file
2
). The two feasible estimates (
K
= 3,5) with STRUCTURE and the extent of LD support the notion of high genetic connectivity across Belize, yet with some degree of differentiation. Localities are somewhat clustered into the expected north and south division, but there are different levels of connectivity within localities and some outliers such as Sibun and Temash.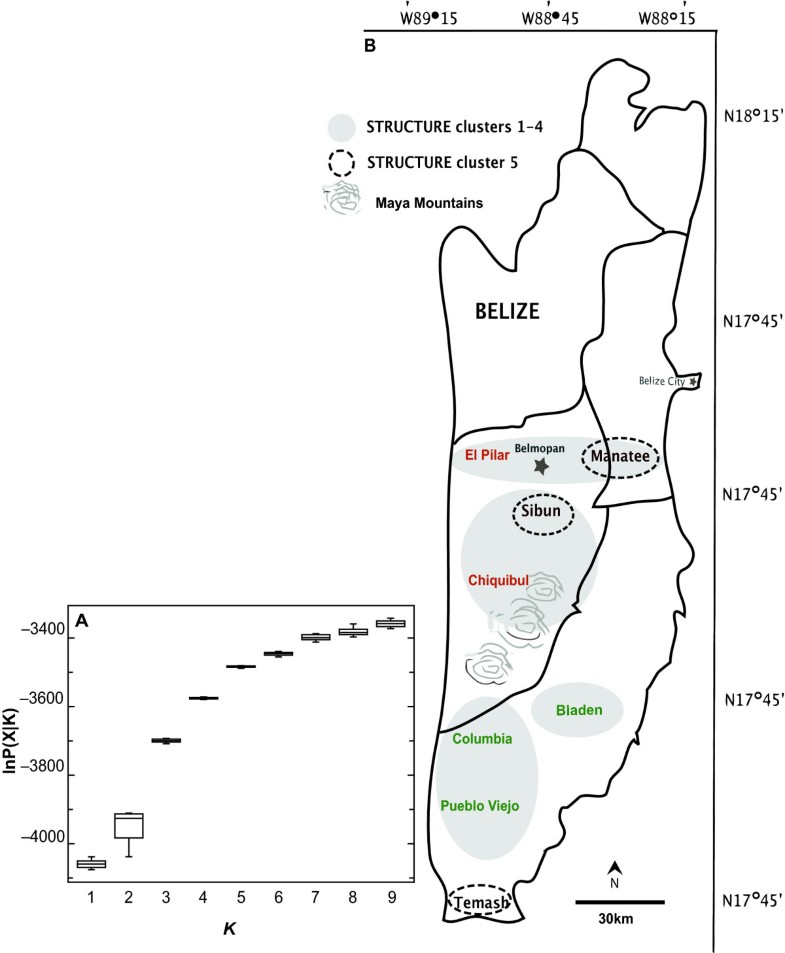 When the populations from the north and south were analyzed independently of one another, five and eight genetic clusters were identified, respectively (see Additional file
3
). We also assigned individuals based on possible geographic barriers to migration, and identified those sampling sites that were divided into subpopulations. In both cases, El Pilar and Sibun have some degree of admixture with Manatee, but appear to be single populations. Manatee is subdivided into two genetic clusters with weak differentiation (θ
ST
= 0.082) among them; one has migrants shared with Sibun based on the inferred ancestry of individuals, and the other has mixed ancestry with El Pilar. Chiquibul has a few migrants from Bladen, but when compared with the rest of the northern sites, it segregates into a distinct population. Bladen is composed of three genetic subpopulations with high differentiation among them, and a small portion shared with Pueblo Viejo. Temash is divided into two genetic clusters, with one of the clusters sharing membership with Pueblo Viejo, and Pueblo Viejo sharing half of its individuals with Columbia. Both Pueblo Viejo and Temash have moderate differentiation among their subpopulations (Figure
6
).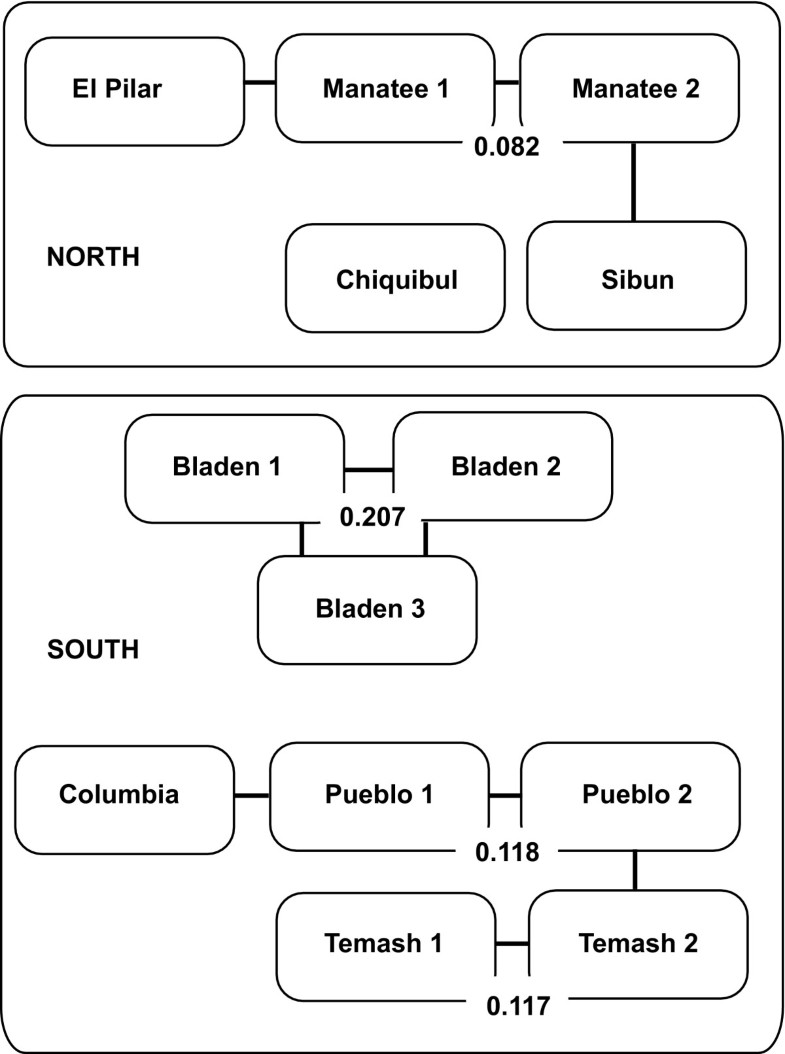 In summary, there are subpopulations with various degrees of differentiation within some of the localities sampled. Shared migrants among particular regions result in overall high genetic connectivity across the country.
Pairwise immigration rates among populations
To investigate migration rates, we estimated the proportion of migrants among sampling localities using BayesAss (Table
2
). To control for sampling size differences across Belize, and for populations that were potentially missed in our sampling scheme ('ghost'), we used GeneClass (Table
3
). This implementation is also useful when sample sizes are relatively small, which is the case for some our localities (e.g. Sibun, Columbia). Given the high levels of gene flow, sampling localities could be used as populations (instead of inferred genetic clusters). The significant χ
2
values and log-likelihood ratio tests (
p
= 0.001) excluded the possibility of a lack of sufficient microsatellite polymorphism to detect migration rates between sampled localities in BayesAss. Both analyses failed to identify regional structure, but suggested higher exchange within northern and southern regions rather than between them. Most individuals were assigned to the same Bayesian clusters estimated in STRUCTURE (Additional file
1
).
Table 2
Bayesian assessment of migration within and among sampling localities implemented in BayesAss+.
Sampling Locality

North

South

PIL

MAN

SIB

CHI

COL

BLA

PVI

TEM

PIL

0.980

0.255

0.142

0.154

0.130

0.079

(0.019)

(0.035)

(0.057)

0.077

(0.076)

(0.046)

MAN

0.684

(0.017)

SIB

0.699

CHI

0.688

(0.020)

COL

0.713

(0.041)

BLA

0.678

(0.011)

PVI

0.110

0.052

0.294

0.977

(0.075)

(0.062)

(0.022)

(0.020)

TEM

0.072

0.867

(0.049)

(0.052)
Table 3
Assignments for each individual across populations according to GeneClass.
North

South

Assigned to

PIL

MAN

SIB

CHI

COL

PVI

BLA

TEM

PIL

0.427

MAN

0.416

0.068

0.137

SIB

0.127

0.434

0.077

CHI

0.087

0.192

0.491

0.512

0.088

0.064

0.085

COL

0.240

0.115

0.638

0.125

0.094

PVI

0.268

BLA

0.304

0.083

TEM

0.141

0.074

0.136

0.166

0.153

0.404

Assignment proportions

PIL

MAN

SIB

CHI

COL

PVI

BLA

TEM

Assigned

(sum of probabilities)

0.51

1.12

0.51

0.81

1.15

0.86

0.52

0.67

Unassigned

(1-assigned)

0.49

-0.12

0.49

0.19

-0.15

0.14

0.48

0.33
Overall, BayesAss estimated about 30% of the overall individuals being exchanged with other sites (Table 2). GeneClass showed a similar pattern, with individuals successfully assigned to a known population only 20% to 40% of the time, with a slightly higher assignment rate in Sibun and Temash (54% and 60%, respectively) (Table 3). Pairwise comparisons across localities with BayesAss showed that El Pilar in the north and Pueblo Viejo in the south are mostly self-seeding, with 98% and 97% respectively of the individuals originating from within the same site. Both also contribute migrants to some of the neighbouring populations.
These analyses suggest that some areas had individuals originating from both the north and south. For example, Chiquibul has received migrants from both El Pilar and Pueblo Viejo. GeneClass showed that the Columbia population had the highest amount of migrants that originated within its boundaries, but also a high frequency of exchange with Chiquibul. The latter contrasts with the BayesAss estimates that link this population to El Pilar and Pueblo Viejo. This is probably due to the small size of the Columbia population, which can lead to biases in migration estimates calculated in BayesAss. An accurate estimate of number of individual migrants will likely arise when all potential 'ghost' populations are sampled, but both GeneClass and BayesAss provide a finer picture of immigration rates.
Isolation by distance
Significant isolation-by-distance was only detected within a subset of populations in the northern region from El Pilar, Manatee and Sibun (r xy = 0.168, p < 0.05), a region with directional migration as detected by BayesAss. Comparisons across all sampling localities and the subregions identified with STRUCTURE or directional migration patterns between Pueblo Viejo and other sites had no meaningful patterns of isolation by distance.
Conclusion
Chamaedorea ernesti-augusti is characterized by a combination of high levels of regional gene flow, moderate to high allelic richness, ongoing local genetic differentiation, and low levels of heterozygosity. These patterns are in part explained by the tenfold reduction in its effective population size during climate change in Belize at ca. 10,000 BP, and by reproductive and demographic patterns within populations. In C. ernesti-augusti, high gene flow patterns with ongoing differentiation and historical changes in effective population size probably reflect the complex composition of old and new forests in Belize. We suggest that species like C. ernesti-augusti have probably survived recurrent habitat changes by a combination of long-distance dispersal that maintains genetic connectivity, and reproductive and demographic patterns that maintain allele richness at a local spatial scale. We hypothesize that thrips may actually be a critical driver of genetic patterns observed within populations in this genus, while seed dispersal by birds or mammals probably plays an important role across regions.
Although C. ernesti-augusti is inbred, inbreeding depression is probably offset over time by the overall genetic connectivity across regions, which may have allowed this species to survive deforestation patterns during the Mayan occupation of Belize. Populations in Belize can be roughly divided into five genetic groups clustered into south and south, which correspond to geographic barriers, including differences in soil composition. Although the detrimental effects of a future reduction in gene flow should not be discounted, changes in demography due to overharvesting or localized ecological degradation are more likely to be critical for preventing genetic erosion in C. ernesti-augusti. Characterization of the direct relationship between demographic and genetic patterns, estimates of seed and pollen-mediated gene flow, and the population genetics of Central American and Mexican populations, will offer additional insights into the effects of regional and localized environmental changes through time, and shed light into specific mechanisms, such as long-distance seed dispersal. We are currently investigating genetic patterns in congeners in Belize and C. ernesti-augusti in Mexico, to determine whether the patterns observed in the present study are consistent across the species and in other species of Chamaedorea, or are unique to Belizean populations of C. ernesti-augusti.
Declarations
Acknowledgements
We thank Sergios-Orestis Kolokotronis for his help with MSVAR analysis and comments on the manuscript. We also thank Aidan Daily for writing a Java script to organize the BayesAss output into immigration matrices. SB is grateful to the Belize Forest Department for permission to conduct research in Belize. We acknowledge the assistance of Nicodemus Bol, Victor Quiroz, and the staff of the Las Cuevas Research Station for the collection of genetic material. Thanks are due to Nick Wicks (Yaxaché Conservation Trust), the Sarstoon-Temash Institute for Indigenous Management, the staff of BFREE Research Station, the Bladen Management Consortium, and the Programme for Belize. SB was partially financed by the UK-funded Darwin Initiative project "Xaté palms (Chamaedorea spp.) in Belize: conservation and sustainable management" (project no. 162/12/012). CDB is grateful for the support from NSF EF-0542288 and DEB-0817033. ACJ and WJH acknowledge the support of NSF grants DEB-0212779 and DEB-0454510. ACJ and RD acknowledge the support of the Lewis B. and Dorothy Cullman Program in Molecular Systematics.
Authors' Affiliations
(1)
Department of Ecology, Evolution and Environmental Biology, Columbia University, New York, USA
(2)
Department of Biology, New Mexico State University, Las Cruces, USA
(3)
Department of Plant Biology Life Science II, Southern Illinois University, Carbondale, USA
(4)
Jodrell Laboratory, Royal Botanic Gardens Kew, RichmondSurrey, UK
(5)
Department of Plant Sciences, University of Cambridge, Cambridge, UK
(6)
Natural History Museum, Cromwell Road, London, UK
(7)
Department of Biology, Georgetown University, Washington, USA
(8)
Sackler Institute for Comparative Genomics, American Museum of Natural History, New York, USA
(9)
Department of Biology, Colorado State University, Fort Collins, USA
(10)
Plant Genomics Laboratory, The New York Botanical Garden, Bronx, USA
Copyright
© Cibrián-Jaramillo et al; licensee BioMed Central Ltd. 2009
This article is published under license to BioMed Central Ltd. This is an Open Access article distributed under the terms of the Creative Commons Attribution License (http://creativecommons.org/licenses/by/2.0), which permits unrestricted use, distribution, and reproduction in any medium, provided the original work is properly cited.