Research article

Open Access
A major QTL controls susceptibility to spinal curvature in the curveback guppy
Received: 15 June 2010
Accepted: 26 January 2011
Published: 26 January 2011
Abstract
Background
Understanding the genetic basis of heritable spinal curvature would benefit medicine and aquaculture. Heritable spinal curvature among otherwise healthy children (i.e. Idiopathic Scoliosis and Scheuermann kyphosis) accounts for more than 80% of all spinal curvatures and imposes a substantial healthcare cost through bracing, hospitalizations, surgery, and chronic back pain. In aquaculture, the prevalence of heritable spinal curvature can reach as high as 80% of a stock, and thus imposes a substantial cost through production losses. The genetic basis of heritable spinal curvature is unknown and so the objective of this work is to identify quantitative trait loci (QTL) affecting heritable spinal curvature in the curveback guppy. Prior work with curveback has demonstrated phenotypic parallels to human idiopathic-type scoliosis, suggesting shared biological pathways for the deformity.
Results
A major effect QTL that acts in a recessive manner and accounts for curve susceptibility was detected in an initial mapping cross on LG 14. In a second cross, we confirmed this susceptibility locus and fine mapped it to a 5 cM region that explains 82.6% of the total phenotypic variance.
Conclusions
We identify a major QTL that controls susceptibility to curvature. This locus contains over 100 genes, including MTNR1B, a candidate gene for human idiopathic scoliosis. The identification of genes associated with heritable spinal curvature in the curveback guppy has the potential to elucidate the biological basis of spinal curvature among humans and economically important teleosts.
Keywords
Quantitative Trait Locus
Linkage Group
Idiopathic Scoliosis
Quantitative Trait Locus Region
Major Quantitative Trait Locus
Background
Idiopathic-type spinal curvature is a heritable condition that occurs during development without other structural malformations that would be indicative of a congenital defect. The deformity is observed among humans and teleosts, but not among quadrupedal animals [1]. The phenotype is a consequence of genetic, biomechanical, and environmental factors that affect the spine during development.
Heritable idiopathic-type spinal curvature among humans
Idiopathic-type spinal curvature is the primary defect in the Idiopathic Scoliosis syndrome (IS) and Scheuermann kyphosis, and is also associated with other heritable disorders such as Prader-Willi syndrome and Turner syndrome. The extent to which etiological factors for curvature are shared between these developmental syndromes is unknown. Scheuermann kyphosis and IS may share genetic factors, based on familial clustering of the two pathologies [2], and/or common pathological processes [3, 4]. However, the syndromes differ morphologically; IS occurs in all three planes of the body and Scheuermann kyphosis is primarily a sagittal defect.
The global prevalence of IS among children is 0.5-10% (reviewed in [5]), and the prevalence for Scheuermann kyphosis is 4-10% [6]. Neither the genetic basis nor the biological processes involved in the aetiology of either of these idiopathic-type spinal curvatures are known. The poor understanding of causative factors is due to trait complexity, including a high degree of phenotypic variability coinciding with growth, and a historic lack of a genetic and developmental animal model.
Recent work with the guppy (Poecilia reticulata) curveback lineage has demonstrated morphological and developmental similarities to the human IS syndrome and Scheuermann kyphosis [7–10]. Considering that teleosts share most developmental pathways, physiological mechanisms and organ systems with humans, it is likely that there are shared biological pathways for spinal curvature.
Heritable spinal curvature among teleosts
Spinal curvature is the most common morphological deformity among teleosts and can be caused by a variety of influences including nutritional, environmental, and genetic factors (reviewed in [10]). Heritable spinal curvature has been noted among laboratory (e.g. swordtail, guppy, medaka) and aquaculture (e.g. seabream, salmon, trout, sea bass) stocks. Among aquaculture stocks, spinal curvature can detract from the value of fish, and has prevented aquaculture from achieving optimal production [11–16]. The incidence of spinal curvature among aquaculture stocks ranges from 1-81%, depending on the species [16, 17]. Although environmental factors have been associated with spinal curvature, several lines of evidence indicate that a genetic component contributes to a significant portion of these deformities in teleosts [13, 16, 18–20]. However, no genes have as yet been identified that contribute to this deformity, even though such identification would enable aquaculture populations to be screened for alleles causing deformity, which could then be eliminated via marker assisted selection.
The
curveback
guppy lineage has a phenotype that has been extensively characterized, consisting of a heritable, idiopathic-type curve that has a propensity to increase in magnitude with growth [
7
]. Guppy offspring are born with a fully ossified skeleton after ~3 weeks of gestation (guppies are live-bearers), and in the
curveback
lineage, curvature begins after birth and is generally stable by sexual maturity (approximately a month after birth). The
curveback
phenotype occurs primarily on the sagittal plane of the fish as an anterior lordosis and a posterior kyphosis, both of variable magnitude. In addition, some individuals exhibit coronal deviation of the spine
(Figure
1
).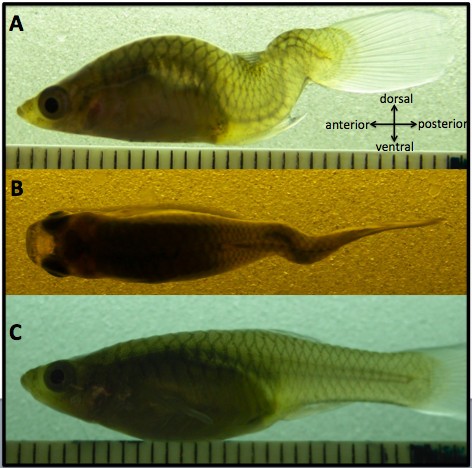 As described for human idiopathic-type scoliosis syndromes, there is extensive variability in the curveback population for curve magnitude, as well as for the propensity for a curve to progress, and for the rate of progression. Moreover, our initial survey of inheritance for curvature suggests that it is a complex trait under the control of multiple genes [7]. Therefore, we used quantitative trait locus (QTL) mapping to identify genomic regions that are associated with curvature. Genes that are associated with idiopathic-type scoliosis in curveback will suggest candidate genes and biological pathways that may be involved in the human and other teleost curve phenotypes. Here we describe the mapping of chromosomal regions associated with spinal curvature in the curveback guppy.
Results
Detection of QTL for idiopathic-type spinal curvature in curveback
QTL were detected using mapping progeny generated from Cross 1. From this cross 30 F1 offspring were produced, none of which were curved, indicating that curvature is a recessive trait. In the 129 backcross (BC) progeny, 48% had curves of variable magnitude whereas in the 286 F2 progeny, 22% showed curves of varying magnitude. The percent curved fish among BC and F2 progeny suggests that curvature is caused by a major recessive locus that is inherited in a Mendelian recessive manner. However, variation for curve magnitude among curved progeny suggests the presence of modifier alleles. The distribution of curve magnitude among BC and F2 offspring is given in
Table
1
.
Table 1
The distribution of curve magnitude among curveback mapping offspring
Qualitative value for curve magnitude

Total offspring

Total curved

Percent curved

0

1

2

3

4

Backcross

67

32

52%

23

37%

5

8%

2

3%

129

62

48%

F2 - Cross 1

224

40

64%

16

26%

6

10%

0

n/a

286

62

22%

F2 - Cross 2

200

11

19%

35

59%

10

17%

3

5%

259

59

29%
Of the 376 SNPs tested on BC offspring of Cross 1, 168 markers (44.6%) were polymorphic, 151 of which were assigned to 23 guppy linkage groups by Tripathi,
et al.,
2009 [
21
] (Additional file
1
). With the exception of LG 3, which has one marker, the number of markers per LG ranges from 3-14 and the size of intervals between markers ranges from 0.1-19.57 cM (
Table
2
). Interval mapping identified one major effect QTL on LG14 that has a significant association with curvature (LOD 9.4; F = 57.66, chromosome-wide 1% significance threshold F = 9.03). The estimated location of this QTL is near Marker 0294 on LG14 (15.5 cM) [
21
]. The allele substitution effect estimated to be 1.39 (0.17 SE). At Marker 0294 the alleles are fixed in the parents and 94% of the curved individuals and 25% of non-curved individuals were homozygous for the allele of the curved parent, suggesting that the QTL contains a gene or genes for curve predisposition. Linkage group 3 was omitted from the interval analysis because it only contained one marker, which is insufficient for interval mapping. One-way ANOVAs showed no association between the marker on LG3 and curve magnitude [F(1,82) = 1.31, p = 0.26], or between the markers that could not be assigned to a linkage group and curve magnitude (results not shown). We did not detect any other QTL with the single or two QTL model.
Table 2
Marker coverage for each linkage group in interval analysis
| Linkage group | Number of markers | Smallest interval (cM) | Largest interval (cM) | Total length (cM) |
| --- | --- | --- | --- | --- |
| 1 | 4 | 7.5 | 15.92 | 36.04 |
| 2 | 10 | 0.0009 | 9.03 | 42.34 |
| 3 | 1 | N/A | N/A | 31.12 |
| 4 | 11 | 0.11 | 7.34 | 55.57 |
| 5 | 5 | 4.00 | 9.34 | 32.41 |
| 6 | 4 | 4.6 | 10.18 | 50.97 |
| 7 | 12 | 0.21 | 8.98 | 41.64 |
| 8 | 5 | 0.039 | 14.11 | 34.98 |
| 9 | 12 | 0.08 | 14.56 | 52.57 |
| 10 | 6 | 0.48 | 16.09 | 44.47 |
| 11 | 5 | 0.42 | 10.18 | 42.29 |
| 12 | 4 | 6.83 | 12.67 | 29.14 |
| 13 | 3 | 9.26 | 9.32 | 40.93 |
| 14 | 14 | 0.18 | 13.17 | 34.95 |
| 15 | 5 | 0.80 | 8.90 | 57.82 |
| 16 | 5 | 1.07 | 9.50 | 32.72 |
| 17 | 10 | 0.10 | 12.8 | 34.47 |
| 18 | 7 | 0.16 | 14.3 | 38.47 |
| 19 | 4 | 0.70 | 19.57 | 31.21 |
| 20 | 8 | 0.41 | 9.70 | 35.00 |
| 21 | 4 | 5.50 | 13.8 | 39.01 |
| 22 | 3 | 7.36 | 13.4 | 29.01 |
| 23 | 9 | 0.29 | 9.70 | 31.60 |
Confirmation and fine-mapping of QTL on LG 14
From Cross 2, 27 F1 were produced, none of which were curved. From the F1, four intercrosses were made. To localize the major QTL on LG14, we genotyped 175 F2 from Cross 2 with 12 guppy map markers between 0 and 24 cM [
21
], including 7 that were not informative in Cross 1 (Additional file
1
). The parents of Cross 2 were homozygous for all markers. Interval analysis using genotype data from both crosses and the additional markers estimated the QTL location to be at 13 cM on LG14 (LOD 19.53), with a 95% confidence interval estimated by bootstrapping to be 9 cM [
22
] (
Figure
2
). Calculation of the 95% confidence interval based on the two-LOD support interval yielded a slightly larger confidence interval, suggesting the region from 11 to 23 cM. Using the genotypes for Marker 0289 at 13 cM, this QTL explains approximately 82.6% of the phenotypic variation in Cross 2, and 54% of the difference between the parents.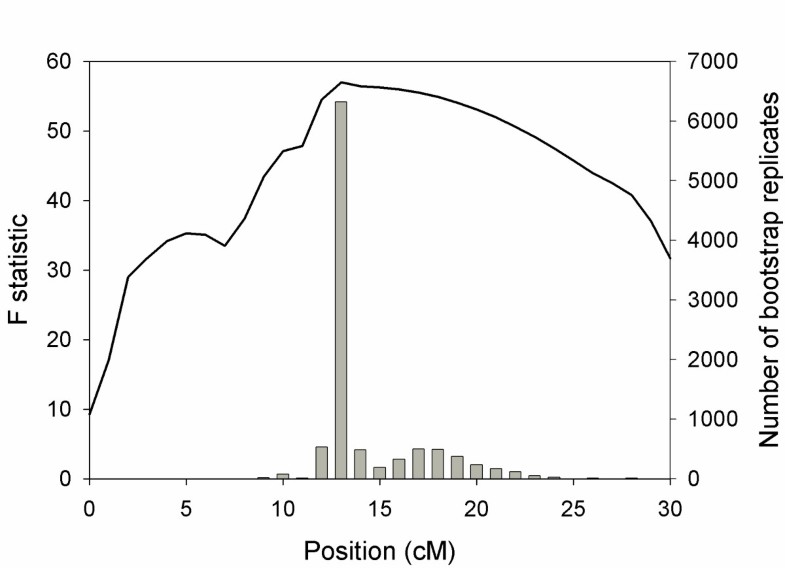 No curved individuals were observed in the F1 populations of Cross 1 and Cross 2, suggesting that curve predisposition is recessive. Recessive inheritance was also confirmed by estimates of the additive and dominance effects from Cross 2, which were equal (1.08 in both cases). Therefore, curved individuals that were not homozygous for the allele from the curved parent at a given marker excluded that marker from the QTL region. In this way, we were able to narrow the QTL region further than by interval mapping (which does not assume that curved individuals are homozygous at the QTL). In Cross 2, Marker 0289 (at 13 cM) is homozygous for the curved allele in all curved individuals (and all non-curved individuals are either homozygous for the wild-type allele or are heterozygous), whereas flanking Markers 0635 and 0381(at 9.35 and 14.5 cM) are heterozygous in one or more curved individuals and so delimit the QTL region (
Figure
3
). Thus, the QTL has been narrowed to a 5 cM region.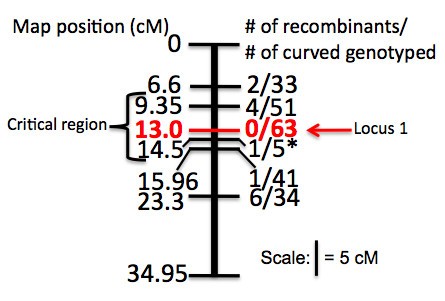 Discussion
To identify genomic regions that are associated with idiopathic-type spinal curvature in the curveback guppy, we screened 84 backcross progeny with 367 guppy-specific markers to identify a major locus that accounts for curve susceptibility. In a second mapping cross between curveback and a more outbred lineage, the susceptibility locus was confirmed. The 57 non-curved F1 from mapping Crosses 1 and 2, estimates of allele effects from our mapping crosses, as well as evidence from the curveback pedigree (Gorman, et al., 2007: F1 of the original pedigree cross are non-curved), confirm that the inheritance of curve susceptibility in curveback is recessive.
Localization of the susceptibility QTL on LG14 using additional F2 mapping cross progeny from the second cross identified a 5 cM interval containing a marker whose genotypes explain 100% of the susceptibility for curvature (i.e., comparing curved vs. non-curved individuals), 82.6% of the phenotypic variation in curve severity (i.e, qualitative score 0-4), and 54% of the difference between the parents. The estimated difference in curvature between curved homozygotes and heterozygotes at the LG14 QTL is slightly higher in Cross 2 (2.16) than in Cross 1 (1.39), but this difference could be due to different genetic backgrounds in the two crosses.
Based on synteny between the guppy and medaka genomes, we estimate that there are 100-150 genes in the QTL interval. Synteny between the guppy and medaka genomes has been established by Tripathi et al., (2009), using the same guppy markers as this QTL study (Additional file 1). Moreover, to confirm synteny for LG 14, we blasted all guppy LG14 EST and BAC end clone sequences (available on: http://www.ncbi.nlm.nih.gov/pubmed/) to the medaka genome using the BLAST algorithm (Ensembl release 57: http://www.ensembl.org). We found that the gene order for 17 out of 20 markers is conserved between guppy and medaka on LG 14, demonstrating chromosome-wide synteny between these species. Therefore, we searched the medaka region corresponding to the 5 cM Guppy QTL for candidate genes named in human studies of IS. We found that the melatonin 1B receptor gene (MTNR1B), which has been implicated as a candidate for curve predisposition in human IS, is contained in the QTL [23].
The importance in identifying genes involved in spinal curvature
Spinal curvature is a prevalent and costly deformity among humans and teleosts. The estimated annual cost of treating children hospitalized with idiopathic scoliosis (IS) in the United States alone is over $3 billion. This cost estimate does not consider Scheuermann kyphosis, or adults with idiopathic-type spinal curvature who suffer from chronic back pain, contributing to the estimated $849 billion cost of treatment and lost wages associated with musculoskeletal disease [24]. Among teleosts, spinal column deformities reduce total production in the aquaculture industry substantially [12]. In contrast to humans, teleost curve phenotypes are less well characterized; although heritable curves are acknowledged to account for many cases among cultured stocks, whether these cases are from congenital defects or are idiopathic-type is often not known.
Despite the prevalence and impact of this type of deformity, the genetic architecture and specific genes involved are unknown. The current view is that human idiopathic-type scoliosis is a complex genetic disorder with multiple genes segregating in the population exhibiting complex genotype by environment interactions [25–30]. In aquaculture stocks, inheritance for spinal curvature has been described as Mendelian recessive or dominant, as well as polygenic, depending on how well the phenotype is characterized and what stock is considered (reviewed in [13], [16]). The guppy curveback phenotype has been extensively characterized so that the lineage can be applied as a model for understanding the biological context of heritable spinal curvature [1, 7–9]. Future studies can use approaches to map QTL affecting shape based on digital photos [31, 32], rather than the qualitative scale used in the present study. The identification of QTL in this study is a first step in understanding the genetics of this type of deformity and will lead to the identification of biological pathways associated with spinal integrity.
Conclusions
We detected a major QTL associated with idiopathic-type spinal curvature in the curveback guppy, and identify this as a susceptibility locus. The locus acts in a recessive manner and accounts for a large portion of phenotypic variance. Fine mapping of the susceptibility locus has identified a 5 cM region that contains over 100 genes among which is the human candidate for IS, MTNR1B. The identification of genes for spinal curvature in curveback will determine the molecular pathway(s) leading to spinal curvature in the guppy, and these findings will provide insights into the etiopathogenesis of spinal curvature in humans and other teleost species.
Declarations
Acknowledgements
We acknowledge the reviewers of this paper, and Corey Watson at Simon Fraser University for their insights and suggestions. This study received support from the Natural Sciences and Engineering Research Council of Canada, and the US National Institute of Health (#1R21AR053730-01A2). The SFU University Animal Care Committee approved this research (project #763B).
Authors' Affiliations
(1)
Department of Biological Sciences, Simon Fraser University, Burnaby, Canada
(2)
Department of Molecular Biology at the Max Planck Institute for Developmental Biology, Tübingen, Germany
Copyright
© Gorman et al; licensee BioMed Central Ltd. 2011
This article is published under license to BioMed Central Ltd. This is an Open Access article distributed under the terms of the Creative Commons Attribution License (http://creativecommons.org/licenses/by/2.0), which permits unrestricted use, distribution, and reproduction in any medium, provided the original work is properly cited.