Research article
Open Access
Genetic structure and seed-mediated dispersal rates of an endangered shrub in a fragmented landscape: a case study for Juniperus communis in northwestern Europe
Received: 24 November 2010
Accepted: 22 August 2011
Published: 22 August 2011
Abstract
Background
Population extinction risk in a fragmented landscape is related to the differential ability of the species to spread its genes across the landscape. The impact of landscape fragmentation on plant population dynamics will therefore vary across different spatial scales. We quantified successful seed-mediated dispersal of the dioecious shrub Juniperus communis in a fragmented landscape across northwestern Europe by using amplified fragment length polymorphism (AFLP) markers. Furthermore we investigated the genetic diversity and structure on two spatial scales: across northwestern Europe and across Flanders (northern Belgium). We also studied whether seed viability and populations size were correlated with genetic diversity.
Results
Unexpectedly, estimated seed-mediated dispersal rates were quite high and ranged between 3% and 14%. No population differentiation and no spatial genetic structure were detected on the local, Flemish scale. A significant low to moderate genetic differentiation between populations was detected at the regional, northwest European scale (PhiPT = 0.10). In general, geographically nearby populations were also genetically related. High levels of within-population genetic diversity were detected but no correlation was found between any genetic diversity parameter and population size or seed viability.
Conclusions
In northwestern Europe, landscape fragmentation has lead to a weak isolation-by-distance pattern but not to genetic impoverishment of common juniper. Substantial rates of successful migration by seed-mediated gene flow indicate a high dispersal ability which could enable Juniperus communis to naturally colonize suitable habitats. However, it is not clear whether the observed levels of migration will suffice to counterbalance the effects of genetic drift in small populations on the long run.
Keywords
Amplify Fragment Length PolymorphismHabitat FragmentationAmplify Fragment Length Polymorphism MarkerSpatial Genetic StructureFragmented Landscape
Background
Habitat fragmentation and destruction eventually lead to a reduction in the genetic diversity of plant populations. The consequences of habitat fragmentation are related to the differential ability of plant species to spread their genes across the landscape [1]. Dioecious plant species, with separate male and female plants, appear to have a higher extinction probability compared to cosexual (hermaphroditic and monoecious) plant species (e.g. [2–4]). Separation of the sexes halves the densities of both potential mates and offspring-producing individuals. Furthermore, a dioecious species contributes propagules to fewer sites than a hermaphroditic species with equivalent adult density because the separation of the sexes reduces the density of offspring-producing individuals (i.e. the seed-shadow handicap, reviewed by [3]). This elevated density increases local resource competition thereby reducing each seed's chance of establishing a new plant [3, 4]. To overcome these disadvantages, dioecious species require a larger dispersal ability of seeds compared to cosexual species in order to increase their success on the long-term [3].
One example of a locally endangered dioecious species in a fragmented habitat is common juniper (Juniperus communis L.). Common juniper is a wind-pollinated, coniferous shrub producing seeds that are primarily dispersed by birds. In northwestern Europe, common juniper occurs on heathlands and calcareous grasslands, which are among the most highly fragmented semi-natural ecosystems in western Europe [5–8]. One of the main threats to common juniper populations is the lack of recruitment from seeds linked to low seed viability. Considerable variation in seed viability was found across European populations [9], which was partly explained by temperature and nitrogen deposition. This in turn could be partly linked to the occurrence of seed predators (insects, mites and/or fungi) and mycorrhizae, respectively. However, the exact processes behind the observed low seed viabilities are not clear yet. One possible explanation for the decline in viable seed production is inbreeding depression caused by increased inbreeding in small and fragmented populations (e.g. [10, 11]).
Common juniper has been the subject of a few previous genetic studies (e.g. [5, 12–14]). Oostermeijer et al. [13] found low population differentiation and high levels of genetic variation in 12 Dutch common juniper populations by studying allozymes. High levels of genetic diversity were also found in 23 common juniper populations from Central-Europe [12]. However, in a study of 19 common juniper populations from Ireland based on nuclear microsatellite data and on chloroplast single nucleotide polymorphisms, Provan et al. [14] suggested that, despite dioecism and wind pollination, gene flow is restricted in fragmented landscapes, particularly over larger geographic distances. Also Van Der Merwe et al. [5] found that there is little effective gene flow in common juniper based on a study using AFLPs on eight populations from England and Wales. The former studies discussed gene flow based on variants of Wright's FST (such as ΦPT /ΦST, GST), a standardized measure of the genetic variance among populations extrapolated from genetic frequency data [15]. This indirect measure of gene flow gives an estimate of historical gene flow (e.g. gene flow that occurred several generations ago predating human-mediated habitat fragmentation), rather than contemporary gene flow (e.g. gene flow that has occurred say, during the last 50 years which can be considered recent for long-lived species) [16]. There is often limited quantitative information to be gained about on-going dispersal from this approach [16].
An alternative for detecting effective gene flow is a population assignment test for individuals based on a large number of polymorphic markers, such as amplified fragment length polymorphisms (AFLPs) (e.g. [17–19]). The idea behind assignment tests is to use individual genotypes to assign individuals to populations or clusters. Given a set of populations, and the allele frequencies of those populations, the likelihood of a given individual's genotype in the population in which it was sampled is calculated and compared with its likelihood in the other populations in the set. An individual is assigned to the population for which it has the highest likelihood. A major advantage of assignment methods is that populations do not have to be sampled exhaustively [20].
In this study, we used assignment tests to investigate seed-mediated dispersal of common juniper in a fragmented landscape across northwestern Europe. If seed-mediated gene flow is restricted, we expect practically all the sampled individuals to be assigned to the population in which they were sampled. Furthermore, we determined the genetic structure and the genetic diversity of common juniper at two spatial scales: at the regional scale across northwestern Europe and at the local scale across Flanders (northern Belgium) (Figure
1
, Table
1
). Identifying the spatial scale at which genetic differentiation can be detected will help to determine the factors that cause genetic structure. At the local scale, limited pollen and seed dispersal have been identified as the main forces causing genetic structure [
21
]. At the larger scales, genetic structure has been attributed to historical factors and isolation-by-distance [
22
]. We also investigated the correlation between genetic diversity and levels of inbreeding with population size, seed viability and age structure. Finally, we propose conservation strategies for common juniper in northwestern Europe.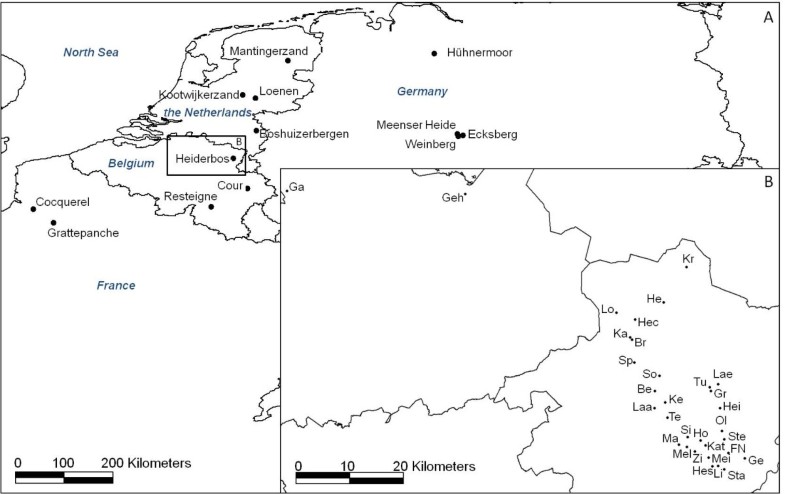 Table 1
Characteristics of the sampled populations and sample sizes
Northwestern European J. communis populations

Country

Population

Code

Nc

Area (ha)

Density (N /ha)

No. of shrubs sampled for seed cones

No. of individuals sampled for AFLP

No. of unique genotypes

Belgium

Cour

Cou

55

1

55

6

9

9

Belgium

Heiderbos*

Hei

6874

10

687

27

31

30

Belgium

Resteigne

Res

386

8

48

17

24

24

France

Cocquerel

Coc

1823

4

456

11

19

18

France

Grattepanche

Gra

1108

5

222

18

32

32

Germany

Hühnermoor

Hue

425

6.6

64

22

34

33

Germany

Ecksberg

Eck

50

0.5

100

9

12

12

Germany

Meenser Heide

Mee

60

1.5

40

7

14

14

Germany

Weinberg

Wei

47

1

47

10

13

12

The Netherlands

Boshuizerbergen

Bos

4500

10

450

21

35

35

The Netherlands

Kootwijkerzand

Koo

250

6

42

10

14

12

The Netherlands

Loenen

Loe

200

33.8

6

10

21

21

The Netherlands

Mantingerzand

Man

5000

77

65

18

34

34

Total

186

292

286

Flemish J. communis locations

Country

Population /Location

Code

Nc

Area (ha)

Density (N /ha)

No. of individuals sampled for AFLP

No. of unique genotypes

Belgium

Heiderbos*

Hei

6874

10

687

57

57

Belgium

Kattevennen

Kat

820

12.9

68

26

26

Belgium

Hesselberg

Hes

129

4.8

269

27

26

Belgium

Spiekelspade

Sp

38

4

4

Belgium

Het Laer

La

26

10

10

Belgium

Melberg

Mel

26

8

8

Belgium

Turfven

Tu

24

1

1

Belgium

Kamert

Ka

21

6

6

Belgium

Olenderheibos

Ol

13

6

6

Belgium

Zillebos

Zi

9

5

5

Belgium

Heesakkerheide

He

8

2

2

Belgium

Kruisheirenklooster

Kr

8

2

2

Belgium

Zutendaal

Zu

6

2

2

Belgium

Sintmartensberg

Si

5

2

2

Belgium

Bergbos

Be

4

1

1

Belgium

Brand

Br

4

2

2

Belgium

De Maten

Ma

4

2

2

Belgium

Gebrande heide

Ge

4

1

1

Belgium

Ganzeven

Ga

3

1

1

Belgium

Pijnven Lommel

Lo

3

2

2

Belgium

Kelchterhoeve

Ke

2

2

2

Belgium

Meibos

Mei

2

2

2

Belgium

Pijnven Hechtel

Hec

2

1

1

Belgium

De Teut

Te

1

1

1

Belgium

Grote Heide

Gr

1

1

1

Belgium

Hoogzij

Ho

1

1

1

Belgium

Laambeekvallei

La

1

1

1

Belgium

Lietenberg

Li

1

1

1

Belgium

Sonnis

So

1

1

1

Belgium

Stalkerheide

Sta

1

1

1

Belgium

Steleven

Ste

1

1

1

Belgium

Turnhout

Tur

1

1

1

Total

181

180
Discussion
AFLP error rates and reproducibility
The observed error rates are higher than those generally reported for AFLP data sets (2% to 5%; e.g. see [23]) but lower than the one reported by Mende et al. [24] (19%) and within the range of the ones reported by Holland et al. [25] (between 6% and 18%) and Storme et al. [26] (8%). However, care must be taken when comparing the error rate between different AFLP studies. Error rates are affected by the way they are calculated, the level of divergence among the studied individuals, the number of individuals in the dataset, the technical aspects of generating the profiles (e.g. PCR errors, slab gel versus capillary electrophoresis) and the scoring process (i.e. manual scoring, semi-automated or automated scoring procedures) ([25, 27]). Furthermore, there is a trade-off between the number of loci used to record the AFLP information and the accuracy of the dataset (i.e. the error rate) ([25, 28, 29]). Tolerance of a higher error rate result in the retention of more loci which generally leads to higher resolution of the dataset ([28, 29]). Bonin et al. [30] concluded that the maximum tolerable error rate depends on the specific aim and circumstances of the study. Based on the relative high level of divergence between the individuals in the total dataset (mean 35%), the assignment accuracy of the replicate pairs in the cluster-analysis (95%) and the relative low probability of misassignments in the simulated re-assigment procedure (< 9%), we conclude that our dataset contains a significant genetic signal in excess of the error rate for the study of the genetic diversity, population genetic structure and seed-mediated dispersal rates.
Habitat fragmentation and seed-mediated dispersal
The analysis of the CORINE 2006 land cover data indicate a highly fragmented habitat for J. communis in northwestern Europe. Habitat fragmentation and habitat loss usually decrease the probability that migrant seeds will find suitable sites for establishment. By providing insight into seed-mediated dispersal rates as a direct estimate of patterns of gene flow, our results expand on previous work (e.g. [5, 12–14]). We are aware that we did not sample all the potential source populations. Our aim was not to allocate individuals to the sampled populations, but to estimate migration rates by identifying immigrants; individuals that originate from somewhere else than where they were sampled (e.g. see [17]). The results of this study indicate that gene flow might not be so restricted as previously thought (e.g. [5, 14]). The assignment test, based on the AFLP-genotypes of individuals revealed that 42 individuals (14%) of all 292 individuals sampled in the northwestern European populations showed a genetic resemblance of 10 times higher to another population than the one from which it was sampled. Furthermore, 11 individuals (3%) of all individuals sampled displayed a resemblance to other populations that was at least 100 times higher. Consequently, we conclude that at least between 3 and 14% of all individuals from the sampled northwestern European populations, originated from seeds from outside the population from which they were sampled. We interpret these confident allocations of individuals to other source populations as a consequence of seed dispersal events, as it is unlikely that effective pollen flow could generate such a high genetic resemblance with another population (cf. [17, 19]). It has to be mentioned that we can not exactly determine the year of the assumed seed-mediated dispersal events as we did not define the exact age of each individual shrub. However, given that the maximum shrub life-span is estimated to about 100 years and that the majority of the genetic outliers has a shrub height smaller than 2 meter, it is unlikely that the recruitment of all these genetic outliers predate the fragmentation process which started about 100 years ago. It should also be noted that we could not quantify the exact distance of the seed dispersal events. Although information can be found for each northwest European country on the distribution of common juniper, data about the estimated census population size, density or fragment size of the populations is generally lacking. Therefore we were not able to quantify the degree of isolation of the studied populations and the distances covered by the seed-migration events. The seed-mediated dispersal rates reported in this study are in the range of the long-distance seed-dispersal events reported from assignment tests in fragmented populations of Banksia hookeriana (6.8%) [19], of which the seeds are primarily dispersed by gravity, but much lower than that reported for the frugivore-dispersed trees Myrtus communis (20% - 22%) [17] and Fagus sylvatica (27%) [31]. In a study of common juniper populations on a Mediterranean mountain in southeast Spain, Garcia [32] found that thrushes spent a substantial proportion of their time in junipers feeding on cones. This results in large accumulations of seeds below mother plants after disperser activity [32]. It is speculated before that dioecious species experience reduced extinction rates when associated with woody growth form and biotic dispersal via fleshy fruits [2, 3]. Although the majority of the seeds may be dispersed within the population, it is plausible that a significant proportion of dispersal events between populations of common juniper is caused by birds tracking fruit resources across the landscape. Although we are not able to assess the distance covered by the seed dispersal events with the available data, our findings provide evidence of seed-mediated among-populations gene flow in common juniper within the study area. However, moderate levels of gene flow by seed dispersal may not be sufficiently high to counterbalance the effects of genetic drift and inbreeding in remnant common juniper populations located in a fragmented landscape. Further research should explore effective mating patterns and the precise spatial scale and rates at which gene flow occurs.
Population genetic diversity and structure
Population genetics theory predicts that habitat fragmentation increases genetic differentiation among populations because of increasing spatial isolation between patches and individuals (e.g. [1]). At the local, Flemish scale, the three populations studied showed no genetic differentiation and no spatial genetic structure. This may be attributed to the fact that at this local scale, seed and pollen dispersal may have homogenized allele frequencies. At the larger geographical scale across northwestern Europe we found a significant low to moderate degree of population differentiation (ΦPT = 0.103). Our results are in agreement with those reported for outcrossing, wind-pollinated gymnosperm species [33, 34], usually characterized by high genetic diversity within populations and low to moderate population differentiation. Based on allozyme loci and on a more local scale, Oostermeijer and Knegt [13] found a much lower level of population differentiation among 12 common juniper populations in the Netherlands (FST = 0.026). This is probably linked to the fact that allozymes show lower levels of polymorphism compared to AFLP markers and may, in contrast to neutral AFLP markers, experience the selective force of the environment. Similar to this study, Provan et al. [14] also found a low to moderate degree of population differentiation between 19 populations of common juniper in Ireland based on nuclear microsatellite markers (ΦPT = 0.0957) but a much higher degree of differentiation between the same populations based on chloroplast markers (ΦPT = 0.249). The latter is explained by the action of genetic drift on the smaller effective population size of the uniparentally (particular parternally) transmitted, haploid chloroplast genome [14].
In general, we found a clear but weak association between the genetic clustering and the geographical location of the common juniper populations studied; neighbouring populations were generally also genetically related. Exceptions to this general pattern were the French populations Cocquerel and Grattepanche and the German population Hühnermoor, which did not cluster consistently to their geographical location. The weak geographic structuring of genetic diversity on the northwestern European scale was confirmed by a weak isolation-by-distance signal. In contrast, Michalczyk et al. [12] found no isolation-by-distance effects and no meaningful geographic genetic structure in 23 common juniper populations sampled throughout Central-Europe. However, in Great Britain, Van Der Merwe et al. [5] found a genetic clustering of geographically proximal populations. A coherent genetic clustering of geographically nearby populations was also the case for the common juniper populations studied in Ireland although, similar to our study, there were some exceptions [14].
The geographic patters of genetic diversity observed in this study may be explained by the patterns of genetic diversity in the original metapopulation prior to fragmentation. Like Michalczyk et al. [12] hypothesized for Central-Europe, the northwestern populations could also originate form a large, continuous population characterized by high levels of genetic diversity, that was relatively recently subject to fragmentation. Historical high rates of pollen and seed-mediated gene flow could have maintained the genetic cohesion of the populations. The fairly recent loss of individuals and populations may have been more or less random with respect to gene content. The low to moderate levels of population differentiation may indicate that genetic drift has provoked weak but significant fluctuations in allele frequencies between populations after habitat fragmentation. The results of this study may provide further support for the northern refugia hypothesis, a recent controversial proposal, suggesting that trees were distributed much more widely in Europe during the last glacial maximum (LGM, 21 ka BP) than previously thought [35]. This hypothesis is in contrast to the general understanding of the last few decades that during several glacial maxima, most temperate tree species were restricted to refuge areas in the Balkan, Italian and Iberian peninsulas (the southern refugia hypothesis) [36, 37]. Based on the lack of a strong isolation-by-distance signal and the absence of genetic lineages or coherent geographical patterns of genetic diversity that could be traced back to southern refugia, we assume that the cold-adapted, drought-tolerant common juniper could have survived throughout northwestern Europe in scattered and diffuse habitats during the LGM (21 ka BP). This is also hypothesized for common juniper in Central-Europe by Michalczyk et al. [12]. Fossil records support the hypothesis that juniper could have survived the LGM in Europe [12, 38] in contrast to tree species like oak and poplar that prefer warmer conditions and were squeezed into lower latitudes [39, 40]. There is also evidence from a study on molecular dating, based on cpDNA phylogeny conducted over the Northern Hemisphere, that the genus Juniperus has an extremely long history in Europe [41]. Juniperus may already have been distributed across Europe during the earliest Tertiary period (65 million years ago), at the start of its history, and appears to have colonized Asia, Africa and America from Europe via intercontinental land bridges [41].
We observed high levels of within-population genetic diversity (in terms of band richness and percentage polymorphic loci) in all common juniper populations studied. This result is in line with previous genetic studies of common juniper employing different marker systems (nuclear microsatellites, AFLPs, isozymes) [5, 12–14]. While changes in genetic diversity following a decrease in population size can take a number of generations to become apparent, which for trees may take many decades, this may not be the case for inbreeding (i.e. mating between relatives) (e.g. [42, 43]). Although not statistically significant (p = 0.106), a trend towards a higher inbreeding coefficient was found in the younger individuals (height < 1 m) compared to the older ones (height > 1 m) on the northwestern European scale. It has to be mentioned that, due to a extremely low recruitment in the studied populations, the number of seedlings sampled was low and consequently limited the power of this study.
Although it is suggested in previous studies that the extremely low seed viability is likely not linked to neutral genetic diversity [9], this is the first study that investigates this relationship. We detected no correlation between inbreeding coefficient or any other genetic diversity parameter, and seed viability across the studied populations in northwestern Europe. Also, in accordance with the results of Oostermeijer and De Knegt [13] we found no correlation between population size and any genetic diversity parameter. Reduction of the formerly widespread dry heathland habitats of common juniper populations in northwestern Europe mainly occurred since the beginning of the 20th century [13, 44]. At present, most populations in northwestern Europe are dominated by mature and old individuals of 40 - 100 years and suffer from a lack of natural regeneration [13, 14, 44]. Hence, they were established before or shortly after habitat fragmentation occurred. This implies that to date, the relict populations of northwestern Europe retain the high proportion of genetic diversity that was likely present when the populations were large and panmictic. The ability of common juniper to reproduce clonally, via resprouting and vegetative spread, may also buffer the genetic effects of fragmentation as a result of extending the time between generations (e.g. [45]). However, we found the vegetative reproduction of common juniper in the populations studied to be rather limited.
Conclusions
Our study contributes new data to the growing evidence that seed-mediated dispersal of dioecious shrubs and trees in fragmented landscapes is substantially higher than previously thought. The potential for seed-mediated dispersal among populations in a fragmented landscape could enable common juniper to naturally colonize suitable habitats. Nevertheless, management strategies that exclusively focus on seed dispersal would not guarantee recruitment in common juniper because of the extremely low levels of seed viability. These seems to be currently the main threat to common juniper populations in northwestern Europe (e.g. [9]). The low levels of seed viability found within populations are not correlated to the levels of neutral genetic diversity. The exact mechanisms behind the lack of recruitment should be clarified by further research. In the meanwhile, we suggest two main conservation actions; firstly, static ex situ conservation of the present high levels of genetic diversity by the establishment of gene banks, and secondly, rejuvenation of existing, small populations skewed to old plants by restoration planting with young individuals grown from cuttings which should enhance the seed production of the populations [46]. Given the high levels of local genetic diversity it is advisable to use locally sourced plant material for restoration and rejuvenating on projects in order to avoid potential outbreeding depression.
Declarations
Acknowledgements and funding
The Flemish Agency for Nature and Forest provided financial support for the genetic analysis of the samples at INBO and funded the second author. The fourth author is granted by a Ph.D. fellowship of the Research Foundation - Flanders (FWO). We thank Nancy Van Liefferinge, An Van Breusegem, Sabrina Neyrinck, David Halfmaerten and Leen Verschaeve for providing excellent laboratory assistance. We also thank Koen Van Muylem and two anonymous reviewers for providing useful comments on a previous version of the manuscript.
Authors' Affiliations
(1)
Research Institute for Nature and Forest, Geraardsbergen, Belgium
(2)
Laboratory of Forestry, Ghent University, Melle-Gontrode, Belgium
(3)
Mobile DNAnalyse, Ebsdorfergrund, Germany
Copyright
© Vanden-Broeck et al; licensee BioMed Central Ltd. 2011
This article is published under license to BioMed Central Ltd. This is an Open Access article distributed under the terms of the Creative Commons Attribution License (http://creativecommons.org/licenses/by/2.0), which permits unrestricted use, distribution, and reproduction in any medium, provided the original work is properly cited.