Erratum to The B chromosome of the cichlid fish Haplochromis obliquidens harbors 18S rRNA genes
Received: 7 January 2012
Accepted: 19 January 2012
Published: 19 January 2012
After the publication of our work [
1
], we detected that the species focus of the study,
Astatotilapia latifasciata
(Figure
1
), was erroneously identified as
Haplochromis obliquidens
. This species was described as
Haplochromis latifasciatus
[
2
] and later ascribed to the genus
Astatotilapia
[
3
]. Our mistake comes from the fact that this species is also frequently listed as
Haplochromis "zebra obliquidens"
in the aquarium trade.
Astatotilapia latifasciata
has been reported to occur in Lake Nawampasa a small satellite lake of the much larger Lake Kyoga, and in Lake Kyoga located north of Lake Victoria in Uganda [
3
].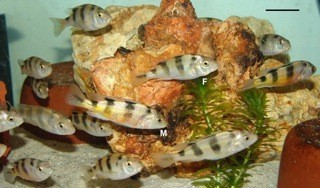 (1)
Departamento de Morfologia, UNESP - Universidade Estadual Paulista, Instituto de Biociências, Botucatu, SP, Brazil
Poletto AB, Ferreira IA, Martins C: The B chromosome of the cichlid fish Haplochromis obliquidens harbors 18S rRNA genes. BMC Genetics. 2010, 11: 1-PubMed CentralView ArticlePubMedGoogle Scholar
Regan CT: New cichlid fishes from lakes Victoria, Kyoga, and Albert. Ann Mag Nat Hist. 1929, 10: 388-392.View ArticleGoogle Scholar
Greenwood PH: Towards a phyletic classification of the 'genus' Haplochromis (Pisces, Cichlidae) and related taxa. Part II; the species from Lakes Victoria, Nabugabo, Edward, George and Kivu. Zoology Series. 1980, 39: 1-102.Google Scholar
© Poletto et al; licensee BioMed Central Ltd. 2012
This article is published under license to BioMed Central Ltd. This is an Open Access article distributed under the terms of the Creative Commons Attribution License (http://creativecommons.org/licenses/by/2.0), which permits unrestricted use, distribution, and reproduction in any medium, provided the original work is properly cited.