Research article
Open Access
Mitochondrial DNA paradox: sex-specific genetic structure in a marine mussel – despite maternal inheritance and passive dispersal
Received: 13 February 2012
Accepted: 13 June 2012
Published: 13 June 2012
Abstract
Background
When genetic structure is identified using mitochondrial DNA (mtDNA), but no structure is identified using biparentally-inherited nuclear DNA, the discordance is often attributed to differences in dispersal potential between the sexes.
Results
We sampled the intertidal rocky shore mussel Perna perna in a South African bay and along the nearby open coast, and sequenced maternally-inherited mtDNA (there is no evidence for paternally-inherited mtDNA in this species) and a biparentally-inherited marker. By treating males and females as different populations, we identified significant genetic structure on the basis of mtDNA data in the females only.
Conclusions
This is the first study to report sex-specific differences in genetic structure based on matrilineally-inherited mtDNA in a passively dispersing species that lacks social structure or sexual dimorphism. The observed pattern most likely stems from females being more vulnerable to selection in habitats from which they did not originate, which also manifests itself in a male-biased sex ratio. Our results have three important implications for the interpretation of population genetic data. First, even when mtDNA is inherited exclusively in the female line, it also contains information about males. For that reason, using it to identify sex-specific differences in genetic structure by contrasting it with biparentally-inherited markers is problematic. Second, the fact that sex-specific differences were found in a passively dispersing species in which sex-biased dispersal is unlikely highlights the fact that significant genetic structure is not necessarily a function of low dispersal potential or physical barriers. Third, even though mtDNA is typically used to study historical demographic processes, it also contains information about contemporary processes. Higher survival rates of males in non-native habitats can erase the genetic structure present in their mothers within a single generation.
Keywords
Genetic StructurePernaOpen CoastMarine MusselSignificant Genetic Structure
Background
Genetic markers with sex-specific inheritance have long been used to study differences in genetic structure between males and females. Numerous studies have used maternally-inherited mitochondrial DNA (mtDNA) in conjunction with biparentally-inherited nuclear DNA markers [1–7], and discrepancies between results from the two types of markers have been interpreted as the result of sex-specific differences in dispersal.
For marine invertebrates, sex-biased dispersal is not usually considered because dispersal in most of these species takes place either by means of planktonic larvae [8] or by association of adults or egg masses with floating objects [9]. Nonetheless, sex-specific differences in genetic structure were found in the marine mussel Mytilus edulis[10], despite the fact that it has microscopic larvae with extremely limited swimming abilities and presumably passive dispersal. The family Mytilidae includes 33 genera [11] and in five of these, including Mytilus[12, 13], doubly uniparental inheritance (DUI [14]) has been identified. Males have both a male (M-mtDNA) and a female (F-mtDNA) mitochondrial genome, whereas females only have a female genome. Levels of trans-Atlantic gene flow differ for the two genomes of M. edulis, with genetic interchange being evident for F-mtDNA but not for M-mtDNA [10]. A genetic barrier for M-mtDNA exchange (possibly linked to DUI) was considered to be a more likely explanation for the observed pattern than gender-specific differences in larval dispersal capability.
A recent study comparing genetic structure in the brown mussel (Perna perna) between several South African coastal sites and bays [15] identified a surprisingly large amount of mtDNA-based genetic structure at this relatively small geographic scale (10-100s km). While there was no structure between coastal regions, sites within bays were not only genetically distinct from those on the open coast, but also from each other. This genetic pattern was interpreted as being the result of highly asymmetrical levels of larval dispersal between coastal habitats and bays. The study included only samples from females to avoid complications associated with DUI, as mtDNA genome-specific primers such as those used for Mytilus[10] are not available for the genus Perna. However, as levels of gene flow in marine mussels may differ between male and female mitochondrial genomes [10], it is ill advised to ignore the males. In the present study, we explored the previously identified genetic structure in South African P. perna[15] in more detail by sequencing both a mitochondrial (COI) and a nuclear (ITS-2) genetic marker from female and male individuals.
Results
A total of 374 DNA sequences were generated, including 158 COI sequences and 216 ITS-2 sequences. These were submitted to GenBank (accession numbers JX075516 - JX075889). Complete data-sets of aligned sequences are available in the following additional files: COI: Additional File 1; ITS-2: Additional File 2.
While many individuals had two ITS-2 alleles (some nucleotide positions had two electropherogram peaks, which indicates that a single version of the marker amplified), there was no evidence for more than one COI allele in either male or female mussels. Sequences from male and female mitochondrial genomes tend to be phylogenetically distinct [10], but we identified only a single evolutionary lineage (not shown). Moreover, we did not find differentiation between the COI sequences of males and females when treating these as distinct populations (ΦST = −0.003; p = 0.550; 95% confidence interval: -0.005 – 0.000). These results indicate that no M-mtDNA amplified in the males.
Mitochondrial COI sequence data had approximately twice as much haplotype diversity as ITS-2 data (Table
1
) and the marker was overall more informative (mean uncorrected p-distances: COI = 0.009, ITS-2 = 0.003; maximum p-distances: COI = 0.043, ITS-2 = 0.023). For both sexes, the number of COI haplotypes recovered from Algoa Bay, South Africa, was slightly higher than the number recovered from the adjacent open coast. There was a sex-specific difference for ITS-2, with the data-sets for males from both habitats having a larger number of rare alleles than those for females.
Table 1
Genetic diversity of brown mussels, Perna perna
| Genetic Marker | Group | N | H (corrected) | h (± S.D.) |
| --- | --- | --- | --- | --- |
| COI | Females Coast | 40 | 15 | 0.753 ± 0.066 |
| | Females Bay | 40 | 19 | 0.924 ± 0.034 |
| | Males Coast | 38 | 15 (16) | 0.844 ± 0.050 |
| | Males Bay | 40 | 21 | 0.879 ± 0.056 |
| ITS-2 | Females Coast | 22 | 5 (7) | 0.318 ± 0.083 |
| | Females Bay | 30 | 4 (4) | 0.381 ± 0.057 |
| | Males Coast | 24 | 8 (11) | 0.536 ± 0.077 |
| | Males Bay | 32 | 9 | 0.496 ± 0.056 |
Female
P. perna
showed marginally significant genetic structure between the bay and the open coast on the basis of mtDNA COI sequence data (
p
 = 0.049), but there was no structure between males from the two areas (
p
 = 0.537) (Figure
1
). Based on confidence intervals, the Φ
CT
value for males was both significantly lower than that for females and not signficantly different from zero. No genetic structure was found for either females (
p
 = 0.279) or males (
p
 = 0.444) on the basis of the ITS-2 data. Although Φ
CT
was also greater for females, the difference was not significant, and neither estimate was significantly different from zero.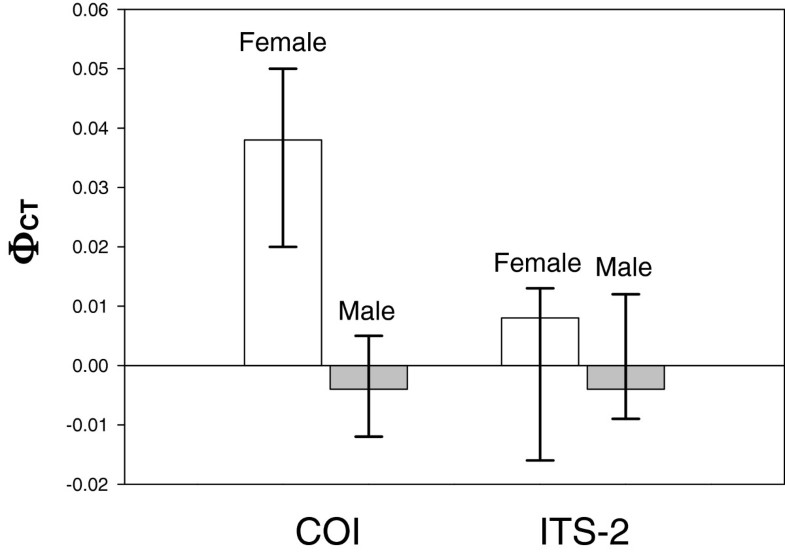 Discussion
The larger data-set of COI sequences generated in this study confirms the previous results for female Perna perna[15], but interestingly, no genetic structure was found in the males. These sex-specific differences are unlikely to be an artifact of two mitochondrial genomes being subject to differential evolutionary constraints sensu 10], because this should have resulted in two copies of COI amplifying with the universal primers used here. Maternally- and paternally-inherited mtDNA genomes are usually highly distinct [10, 16, 17], but the fact that we did not even find genetic structure between males and females (which would be expected if there was a recent masculinisation of female-transmitted mtDNA) suggests that P. perna does not exhibit DUI (see also [18]) and so can serve as a model for other marine invertebrates in which the sexes are separate and mtDNA is inherited only in the female line.
Although more ITS-2 alleles were recovered for males than for females, no genetic structure was found with this genetic marker for either sex. Possible reasons for this include less genetic variation and the larger effective population size of the nuclear genome [19].
Our results have important implications for interpreting genetic structure and highlight the value of analysing genetic data from males and females separately. Surprisingly, in many studies on species with breeding behaviours that differ between the sexes, genetic data from males and females have been combined [2–4]. Gender-specific differences in genetic structure based on maternally-inherited mtDNA sequences have so far only been reported for social mammals and have been attributed to the sexes exhibiting different dispersal patterns [20–22]. As males cannot pass their mitochondrial genome to the next generation, their lack of genetic structure implies considerably greater contemporary gene flow than in the females.
Male-biased gene flow in P. perna (which lacks both social structure and external sexual dimorphism) could be explained by sex-specific differences in larval behaviour, including differences in the way this behaviour influences their position in the water column [23], and differences in larval development time. Although larval behaviour in P. perna has not been investigated, this seems unlikely as larvae of this species disperse as passive particles [24], and we are aware of no studies reporting sex-specific differences in the larval behaviour of mussels. Alternatively, as the magnitude of genetic structure depends on effective population sizes [25], it is possible that the differences between genders in mtDNA structure are due to lower female population sizes. Preliminary data indicate that the sex ratio in P. perna is male-biased (coast: 2.8 males : 1 female; n = 103; bay: 1.2 males : 1 female, n = 326), so the stronger male bias on the open coast, where wave action is stronger, could reflect the negative consequences of weakened attachment strength due to greater reproductive effort by the female mussels [26]. We nonetheless consider it unlikely that the resulting reduction in female effective population size is sufficient to explain the observed genetic structure. The mtDNA diversity of males reflects that of females from the previous generation. Lack of structure suggests not only that there is a large amount of gene flow between bays and coastal habitats, but also that the pool of female larvae from the present generation is unlikely to have lower mtDNA diversity than that of the males. Instead, it is possible that in every generation, large numbers of females are eliminated because they are less likely to survive in habitats from which they did not originate, thus reinforcing genetic differentiation between habitats.
Females of bay populations tend to have a larger number of private haplotypes than those of coastal populations [15]. Hence, even though there are no distinct habitat-linked mtDNA lineages of P. perna, bay individuals having certain haplotypes may be particularly vulnerable to strong wave action on the open coast. We hypothesise that females having these haplotypes expend more energy on reproduction rather than attachment, which results in an overall greater gamete output in mussels that reside in bays [27]. Sex-specific genetic structure in the mtDNA of the mussel P. perna may therefore stem not from differential dispersal of the sexes, but from sex- and habitat-specific differences in reproductive effort and the effects of differential selection pressures between bays and the open coast.
Conclusions
The fact that female-only mtDNA structure can be present in a species in which sex-biased dispersal is highly unlikely indicates that female philopatry and male roving [20–22] do not necessarily need to be invoked to explain such patterns. The lack of genetic structure in male mussels further challenges the notion that significant genetic structure in marine organisms must be the result of dispersal barriers, such as upwelling cells or coastal heterogeneity [15, 28].
Mitochondrial DNA is by far the most frequently used locus in phylogeographic studies [29], but its role as a marker that can be used to detect sex-specific differences in genetic structure remains to be fully appreciated. When studying genetic structure in closely related populations, mitochondrial DNA is undoubtedly an inferior tool compared to microsatellites, which are both highly variable and biparentally inherited. However, designing microsatellite libraries has been problematic in several invertebrate species [30, 31], and mtDNA could therefore serve as a simple alternative to these markers that may be applicable to a wide range of taxa. Furthermore, while the high mutation rate of microsatellites makes these the markers of choice for studying near-contemporary demographic events, the finding that mtDNA structure that must have been present in the mothers of the male individuals studied here was lost only a generation later is an interesting example of how mtDNA can contain present-day demographic information.
Declarations
Acknowledgements
We thank two anonymous reviewers for their comments on an earlier version of the manuscript. PRT was supported by a postdoctoral research fellowship from Rhodes University. This research was supported by an award from the South African Research Chairs Initiative (SARChI) of the Department of Science and Technology (DST) and the National Research Foundation (NRF) to CDM, and by grant no. 206119 from the NRF to NPB.
Authors' Affiliations
(1)
Department of Zoology and Entomology, Rhodes University, Grahamstown, South Africa
(2)
Molecular Ecology and Systematics Group, Botany Department, Rhodes University, Grahamstown, South Africa
(3)
Molecular Ecology Laboratory, School of Biological Sciences, Flinders University, Adelaide, Australia
Copyright
© Teske et al.; licensee BioMed Central Ltd. 2012
This article is published under license to BioMed Central Ltd. This is an Open Access article distributed under the terms of the Creative Commons Attribution License (http://creativecommons.org/licenses/by/2.0), which permits unrestricted use, distribution, and reproduction in any medium, provided the original work is properly cited.