Correspondence

Open Access
Recent developments in statistical methods for detecting genetic loci affecting phenotypic variability
Received: 31 March 2012
Accepted: 24 July 2012
Published: 24 July 2012
Traditional approaches to mapping genes affecting quantitative traits have focused on identifying loci for which an allelic substitution shifts the phenotype of interest in a particular direction (eg, where substituting genotype AA for AG causes the phenotype to increase on average by a certain amount). Such quantitative trait loci (QTL) can be described as mean-controlling, because they are primarily observed to affect the expected, ie, average, value of individuals' phenotypes. It is also possible, however, to detect genetic loci whose allelic substitutions are associated with an increase in variability of the phenotype about its expected value.
Figure
1
a illustrates the concept, plotting phenotypes collected from a hypothetical population of 500 outbred individuals (eg, humans). When stratified by genotype at a suitable locus, the apparent effect of allelic substitution is to alter the spread of likely phenotype values: individuals carrying the AA genotype are more phenotypically similar to each other, whereas those carrying the GG genotype are more variable. To help distinguish common uses of the term "phenotypic variance", we describe such dispersion of phenotype values around an apparent mean as "phenotypic variability", and we denote genetic loci exhibiting the pattern in Figure
1
a as "vQTL" (QTL associated with changes in phenotypic variability; [
1
]).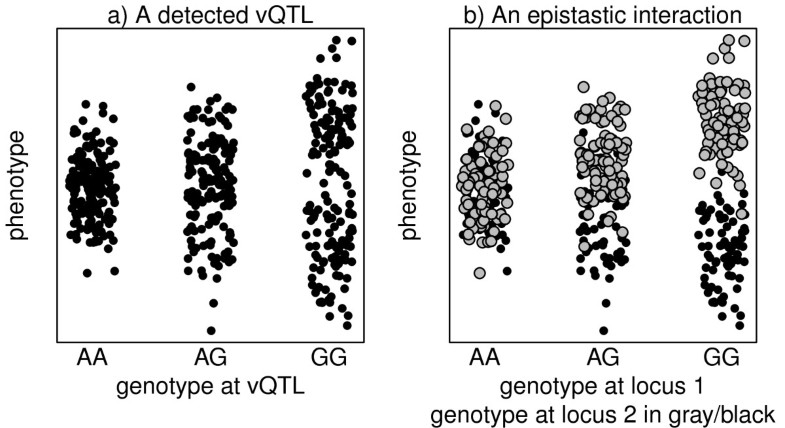 The biology that explains a vQTL signal can be profound, although its nature will depend on context and may require further modeling and/or experiments to characterize even broadly. Simplistically: a vQTL alerts the researcher to the presence of unmodeled statistical interactions associated with the locus. These could include interactions of potentially high order with other genes or environmental factors, and may implicate a pivotal role for the locus in maintaining phenotypic robustness and/or variability in the face of changing environment, background genetics, and temporal progression. Yet as deep as the implications of such vQTL signals may be, a crucial practical concern is how to detect them in a manner that is powerful, reliable, and robust not only to assumptions about statistical distributions but also to known features of an experiment or population that could potentially bias inference. Herein, we separate two issues: interpretation of vQTL, and statistical detection of vQTL. Both have received a recent surge of interest in the genetics literature [1–10]. We discuss the first only in brief (with references for further reading), and concentrate on the second. By providing commentary on current statistical approaches for identifying vQTL we aim to encourage continued development and thought in this area, promote the investigation of vQTL, and moderate any misalignment of statistical with experimental strategies that might lead to exotic interpretations of pedestrian results. Simply put, our focus is on methods analyzing the variance of a phenotype given a particular genotype.
(1)
Statistics Unit, Dalarna University, SE-781 70 Borlänge, Sweden
(2)
Department of Animal Breeding and Genetics, Swedish University of Agricultural Sciences, SE-750 07 Uppsala, Sweden
(3)
Department of Genetics and Lineberger Comprehensive Cancer Center, University of North Carolina at Chapel Hill, Chapel Hill, NC, 27599-7265, U.S.A
© Rönnegård and Valdar; licensee BioMed Central Ltd. 2012
This article is published under license to BioMed Central Ltd. This is an Open Access article distributed under the terms of the Creative Commons Attribution License (http://creativecommons.org/licenses/by/2.0), which permits unrestricted use, distribution, and reproduction in any medium, provided the original work is properly cited.