Research article

Open Access
Detection for gene-gene co-association via kernel canonical correlation analysis
Received: 18 March 2012
Accepted: 28 September 2012
Published: 8 October 2012
Abstract
Background
Currently, most methods for detecting gene-gene interaction (GGI) in genomewide association studies (GWASs) are limited in their use of single nucleotide polymorphism (SNP) as the unit of association. One way to address this drawback is to consider higher level units such as genes or regions in the analysis. Earlier we proposed a statistic based on canonical correlations (CCU) as a gene-based method for detecting gene-gene co-association. However, it can only capture linear relationship and not nonlinear correlation between genes. We therefore proposed a counterpart (KCCU) based on kernel canonical correlation analysis (KCCA).
Results
Through simulation the KCCU statistic was shown to be a valid test and more powerful than CCU statistic with respect to sample size and interaction odds ratio. Analysis of data from regions involving three genes on rheumatoid arthritis (RA) from Genetic Analysis Workshop 16 (GAW16) indicated that only KCCU statistic was able to identify interactions reported earlier.
Conclusions
KCCU statistic is a valid and powerful gene-based method for detecting gene-gene co-association.
Keywords
Genome-wide association study (GWAS)
Gene-gene co-association
Gene-gene interaction (GGI)
Kernel canonical correlation analysis (KCCA)
Background
Genome-wide association studies (GWASs), which may involve a large number of single nucleotide polymorphisms (SNPs) on many individuals, are widely used to identify genetic variants underlying complex diseases or other types of traits. Although a primary interest in a GWAS is to identify SNPs associated with a trait of interest, it is important to consider the associate genes and their co-association as well. One form of co-association is epistasis, which was introduced approximately 100 years ago and generally defined as interactions among genes [1]. These are linked to gene-gene interactions (GGIs) which are often characterized to be functional, compositional and statistical [2]. The statistical definition was given by Fisher [3] and developed further by Cockerham [4] and Kempthorne [5], whereby the effect of GGIs is treated as deviation from additive genetic effects of single genes [6].
Methods to detect GGIs on the basis of the statistical definition include but are unlimited to logistic regression, multifactor dimensionality reduction [7], linkage disequilibrium (LD)-based [8, 9] and entropy-based statistics [10, 11], together with others implemented in PLINK[12], Tuning ReliefF [13], Random Jungle[14], BEAM[15] and BOOST[16]. However, most of these consider SNP as the unit of association, which has limitations and are insufficient for interpretation of GGI [17] which calls for consideration of higher level units such as genes or regions in the analysis. Gene-based analysis can account for multiple independent functional variants within genes with a potential increase of power to identify GGI. Earlier, Peng et al. [17] proposed a gene-based statistic (CCU statistic) for detecting gene-gene co-association based on canonical correlation analysis (CCA) in a case–control study, which was defined as joint effect of genes contributing to a binary trait and proved to have good performance on detecting gene-gene co-association or GGI. However, CCA can only detect linear correlation, and may be inappropriate for genomic data containing nonlinear structure. Recent years have witnessed considerable work and successes on kernel CCA (KCCA) as a nonlinear generalization of the classical CCA in machine learning, face recognition, data classification [18–20], and notably genomic data analysis by Yamanishi et al. [19]. We here construct a kernel CCU (KCCU) statistic for detecting gene-gene co-association and evaluate its performance via simulations and data analysis.
Results
Simulation
Shown in Table
1
are simulation results under
H
0
. The KCCU statistic is normally distributed according to the one sample Kolmogorov-Smirnov test with the type I error rates of KCCU statistic being close to given nominal value (α = 0.05) for different sample sizes. This indicates that the proposed statistic performs well under the null hypothesis.
Table 1
Performance of CCU and KCCU under the null hypothesis
Sample size

CCU

KCCU

Type I Error

Normality Test (D)

Type I error

Normality Test (D)

1000

0.052

>0.55

0.049

>0.55

2000

0.051

>0.55

0.054

>0.55

3000

0.056

>0.55

0.052

>0.55

4000

0.048

>0.55

0.051

>0.55

5000

0.053

>0.55

0.050

>0.55
Results on various interaction odds ratios and a sample size of 3,000 are shown in Figure
3
, as with different sample sizes with an interaction odds ratio of 1.4 in Figure
4
. It is clear that power of KCCU is a monotonically increasing function of sample size and interaction odds ratio. Figure
5
shows results with different SNP pairs defined as causal SNPs with an interaction odds ratio of 1.3. The power of KCCU statistic was higher than that of CCU statistic. Power as a function of interaction odds ratio for different sample size is provided as Additional file
1
.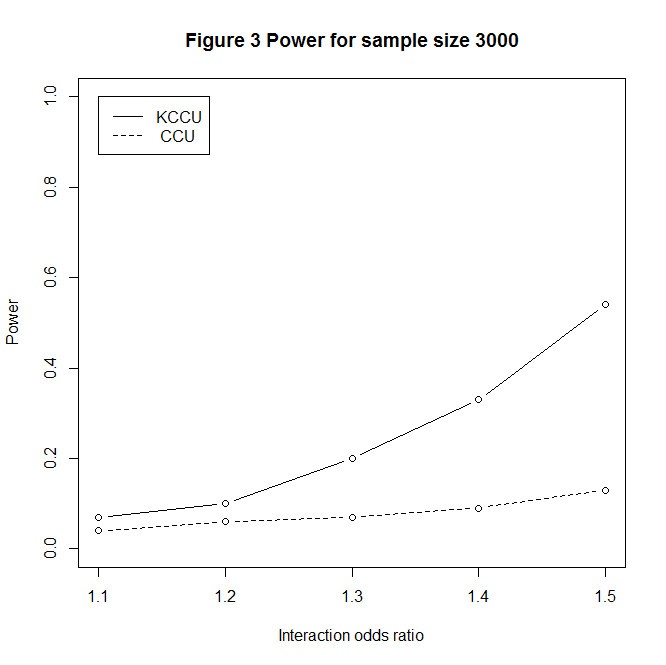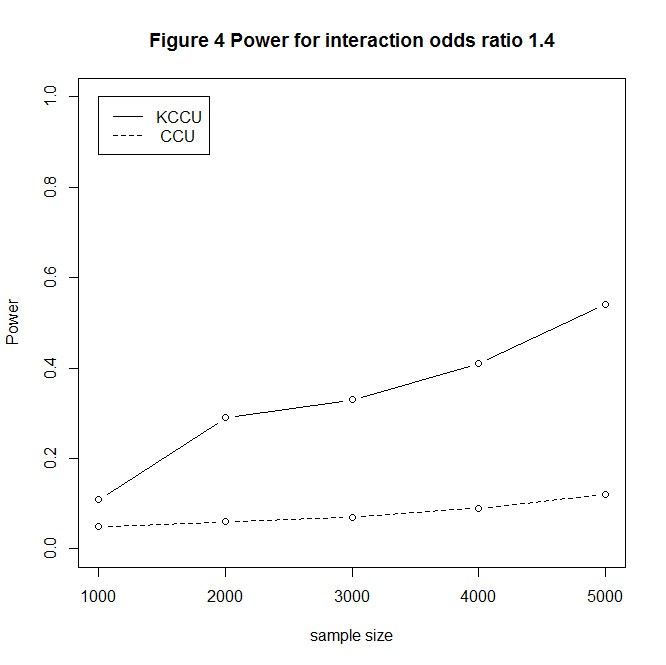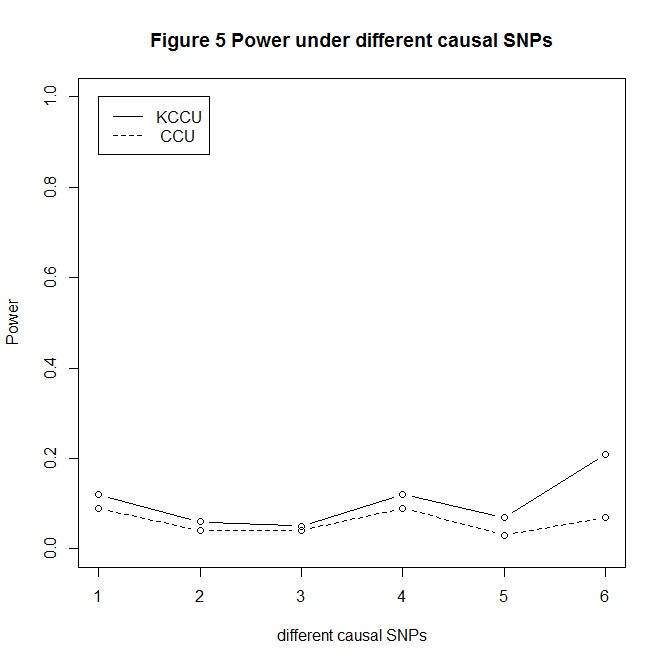 Application
The performance of logistic regression test, CCU and KCCU statistics on pair-wise gene-gene co-association of three genes is shown in Table
2
, which also contains results on the Gaussian RBF kernels with various parameter values (σ=0.05, 0.5, 5 and 50). Through KCCU the three genes were shown to have co-association with each other at significance level 0.05 regardless the parameter value, in contrast to the CCU statistics showing no significant co-association and none of the SNP pairs were significant under logistic regression test with correction for multiple testing.
Table 2
P-values of gene-gene co-association among C5 , ITGAV and VEGFA
| Co-association | | C5-ITGAV | C5-VEGFA | ITGAV-VEGFA |
| --- | --- | --- | --- | --- |
| Logistic regression | | 0.1015 | 0.1425 | 0.1840 |
| CCU | | 0.5387 | 0.5325 | 0.8317 |
| KCCU | σ=0.05 | <0.001* | <0.001* | <0.001* |
| | σ=0.5 | <0.001* | <0.001* | <0.001* |
| | σ=5 | <0.001* | <0.001* | <0.001* |
| | σ=50 | <0.001* | <0.001* | <0.001* |
Discussion
We have extended the CCU statistic to a new statistic KCCU, which can extract nonlinear correlation between two genes. Simulation studies show that both CCU and KCCU statistics performed well under null hypothesis with KCCU being more powerful than CCU with respect to significant level, sample size and relative risk. As results vary with user-defined kernel parameter, various parameters were used (the bandwidth parameter in RBF kernel) to RA data in GAW16 Problem 1, showing that the logistic regression test and CCU statistic failed to detect any interaction but KCCU statistics identified the pair-wise interactions among the three genes under various parameters. The interaction between ITGAV and VEGF genes has been identified by a rank method [29]. As suggested by a reviewer, it is critical to consider time-efficiency in genome-wide association studies to make the proposed methods practical. In our case, the computing time as required for KCCU was about 2.5 times slower than CCU, but nevertheless will still be feasible with the development as well as the extensive applications of multiprocessor and multithreading computational technique.
A reviewer has also suggested us to reiterate the relationship between gene-gene co-association and GGI which is readily available. GGI generally refers to the synergetic or antagonistic effect of two genes in addition to the summation of their independent effects on an outcome. To represent the interaction between two genes A and B in a case–control association study, a product term is customarily added to the logistic regression model Logit(P) = β0 + β1A + β2B + γA × B so that γ reflects both the direction and size of the interaction. This model implicitly assumes that gene A and gene B are independent so as to infer interaction (γ). However, it might well be that genes are correlated with each other in genetic networks to contribute to disease susceptibility, so the independence assumption is rarely ratified. Gene-gene co-association extends the concept of GGI in that it describes the generic joint distribution of two gene effects on disease or trait without assuming either independence or linear relationship. Here the measurement of the co-association between genes is based on the correlation between genes (such as CCU statistic and KCCU statistic), provides a measure of the contribution of two genes. As for two unlinked genes, their relationship can be described as either co-association or interaction. The reviewer has also brought to our attention to earlier work by Song and Nicolae [30] on imposing natural restrictions for the parameter space and discussion on the definition of "no interaction" between two unlinked loci as two loci being independent conditioned on the subject having the disease. In this paper, the null hypothesis of the proposed test is that there is no gene-gene co-association (i.e. GGI for two unlinked genes), the data under the null hypothesis are generated from the gs software with the interaction odds ratio parameter to be one.
Several issues remain to be resolved: the uncertainty to set the kernel function with appropriate parameters for each data, the undesirable performance of both CCU and KCCU with small interaction odds ratio (e.g. 1.1), and the possible failure of maximum kernel canonical correlation coefficient to represent gene-gene co-association.
Conclusions
KCCU statistic is a valid and powerful gene-based method for detecting gene-gene co-association compared to CCU and logistic regression test. Further work is needed to make its use in GWAS more practical.
Declarations
Acknowledgements
This work was supported by the grant from National Natural Science Foundation of China (30871392) and Young Talents Innovation Foundation of School of Public Health, Shandong University. We thank GAW16 and the North American Rheumatoid Arthritis Consortium for the RA data and two anonymous reviewers for suggestions which led to substantial improvement and clarification of the paper.
Authors' Affiliations
(1)
Department of Epidemiology and Health Statistics, School of Public Health, Shandong University, Jinan, China
(2)
Berlin Institute for Medical Systems Biology, Max-Delbrück-Center for Molecular Medicine, Berlin, Germany
(3)
CAS-MPG Partner Institute for Computational Biology, Shanghai Institutes for Biological Sciences, Chinese Academy of Sciences, Shanghai, China
(4)
Key Laboratory of Computational Biology, CAS-MPG Partner Institute for Computational Biology, Chinese Academy of Sciences, Shanghai, China
(5)
MRC Epidemiology Unit, Institute of Metabolic Science, Addenbrooke's Hospital, Cambridge, UK
Copyright
© Yuan et al.; licensee BioMed Central Ltd. 2012
This article is published under license to BioMed Central Ltd. This is an Open Access article distributed under the terms of the Creative Commons Attribution License (http://creativecommons.org/licenses/by/2.0), which permits unrestricted use, distribution, and reproduction in any medium, provided the original work is properly cited.