Methodology article

Open Access
Inferring haplotypes and parental genotypes in larger full sib-ships and other pedigrees with missing or erroneous genotype data
Received: 14 August 2012
Accepted: 3 October 2012
Published: 10 October 2012
Abstract
Background
In many contexts, pedigrees for individuals are known even though not all individuals have been fully genotyped. In one extreme case, the genotypes for a set of full siblings are known, with no knowledge of parental genotypes. We propose a method for inferring phased haplotypes and genotypes for all individuals, even those with missing data, in such pedigrees, allowing a multitude of classic and recent methods for linkage and genome analysis to be used more efficiently.
Results
By artificially removing the founder generation genotype data from a well-studied simulated dataset, the quality of reconstructed genotypes in that generation can be verified. For the full structure of repeated matings with 15 offspring per mating, 10 dams per sire, 99.89%of all founder markers were phased correctly, given only the unphased genotypes for offspring. The accuracy was reduced only slightly, to 99.51%, when introducing a 2% error rate in offspring genotypes. When reduced to only 5 full-sib offspring in a single sire-dam mating, the corresponding percentage is 92.62%, which compares favorably with 89.28%from the leading Merlin package. Furthermore, Merlin is unable to handle more than approximately 10 sibs, as the number of states tracked rises exponentially with family size, while our approach has no such limit and handles 150 half-sibs with ease in our experiments.
Conclusions
Our method is able to reconstruct genotypes for parents when genotype data is only available for offspring individuals, as well as haplotypes for all individuals. Compared to the Merlin package, we can handle larger pedigrees and produce superior results, mainly due to the fact that Merlin uses the Viterbi algorithm on the state space to infer the genotype sequence. Tracking of haplotype and allele origin can be used in any application where the marker set does not directly influence genotype variation influencing traits. Inference of genotypes can also reduce the effects of genotyping errors and missing data. The cnF2freq codebase implementing our approach is available under a BSD-style license.
Keywords
Haplotyping
Phasing
Genotype inference
Nuclear family data
Hidden Markov models
Background
Inference of haplotypes, or phasing, from genotype and pedigree data can be useful in several ways. For traditional linkage analysis, including QTL mapping, knowledge of haplotypes can help in producing a more correct analysis of linkage accurately tracing individual recombination events, and thus higher statistical power. Phase data can also be used directly or indirectly for genome-wide association studies (GWAS), for example by using knowledge of phase for a sparse marker map within a local population as the basis for dense genotype imputation based on reference populations [1].
In this article, we focus on reconstruction of haplotypes where pedigrees are known and assumed to be reliable. In such populations, full genotypes can be missing in ancestral generations, for some or all individuals. This situation is especially frequent for species with long generation times, where older historical records have to be used. In wild mammal populations, the paternity of a litter might also be unknown or unsure. Inference of haplotypes in sib-ships with some or all parental genotype information missing has therefore been given more attention recently [2, 3].
Our approach to resolving haplotypes and missing genotypes is based on repeated local analysis of focus individuals and their immediate ancestors, representing further relations by introducing a parametrization (called skewness) of phase in each marker. This can be contrasted against earlier models trying to create a global representation of the full pedigree [4]. We have earlier described and demonstrated a less refined version of this approach with simulated datasets [5, 6], with an underlying assumption that genotypes are static. We now extend the model by treating the genotypes themselves, previously defined as fixed and definite, as model parameters (sureness values) that can be optimized (fitted) based on the data. Using the model and a specifically adapted optimization algorithm, we demonstrate reconstruction of completely missing parental genotypes from offspring genotype data with high accuracy.
Our model is suitable for large families, a large number of generations and a large number of markers, making it a versatile tool in all contexts where the pedigrees are known and haplotypes or inference of missing genotypes would be useful. Our methods are also applicable to any pattern of missing ancestral genotype data, e.g. only one parent genotyped, only a subset of microsatellites genotyped or completely missing genotype data for both parents, allowing higher accuracy and new types of analysis to be performed on a wide set of experimental datasets.
Methods
Our model is a specialized Hidden Markov Model (HMM). In general, an HMM is defined by its states and transitions between states [7]. The use of HMMs for tracing haplotypes has a long history. In fact, certain aspects of the approach presented here are shared with the original presentation of MAPMAKER [8] (the Lander-Green algorithm). Efficient implementations of related models have also previously been made with the explicit goal of extracting haplotypes from genotype data [4, 9]. However, many descriptions either describe only the model without attention to important algorithmic aspects in their implementation, or do not clearly separate computational details from the mathematical representation of the statistical models.
As much work in the field has been incremental, we therefore here present our model in full, followed by a description of relevant aspects of the optimization algorithms used to fit the model in practice, i.e. adapting the skewness and sureness parameters based on the observed data. In addition, since the results of our experiments are compared against results from Merlin [4], we specifically mention similarities and differences in the modelling compared to that tool. The approach described is similar to our earlier work [5, 6], but the description of the model and algorithm is more thorough. The handling of genotype uncertainty represented as sureness parameters is completely novel, while other aspects have also been improved.
Results
In all, we show that we can almost perfectly reconstruct parental genotypes, even when only fuzzy offspring genotype data is provided, given enough offspring individuals. General information on the experimental setting and our codebase is found in [6]. The computational resources used consisted of 8-core cluster nodes with Core i7 CPUs and 24 GiB of RAM, one node per job.
Final convergence of the model was studied by completing 150 iterations. The method was specified with 2 generations (4 states), as the dataset was limited to two generations.
Subsets of full-sib families
The case of reconstructing parental genotypes in full-sib families was analyzed by pruning the pedigree to only the first mating of each sire, with the first 2−15offspring available. For up to 10 offspring, identical runs were executed using Merlin, after which we ran out of RAM for that tool due to the exponential increase in size of the state space, precluding analysis with larger subsets. The proportion of correctly identified genotypes out of all markers for the two tools is provided in Figure
3
. Due to the inherent symmetry in full-sib structures, flips were done if necessary in order to align produced genotypes to original data for Merlin as well as for our code. Runs consumed between 60 and 110 minutes.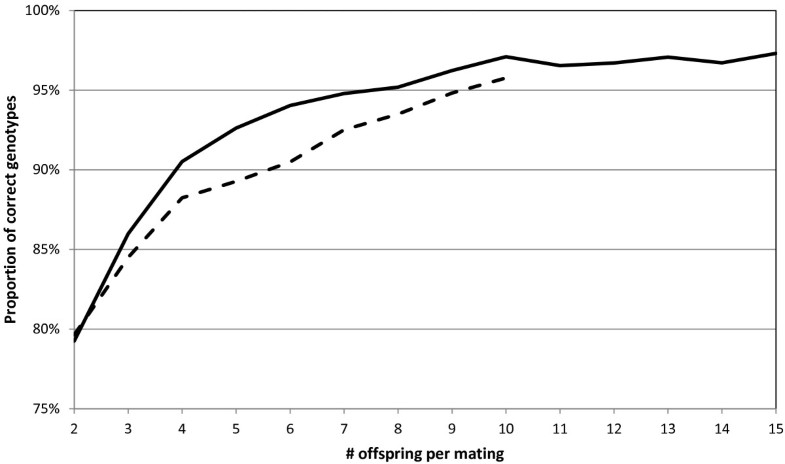 When both parents are homozygous with different alleles, phasing gives no additional information to aid genotype reconstruction (all offspring will be heterozygote). Our code can detect this and refuse to assign any genotype for those positions. Performance for correct genotype identification of those markers assigned, and the proportion of unidentified markers, can be found in Table
1
.
Table 1
Correctly reconstructed genotypes in full-sib phasing for varying family size
| # offspring | Correctly phased | Markers ignored |
| --- | --- | --- |
| 2 | 87.58% | 14.49% |
| 3 | 91.31% | 9.53% |
| 4 | 94.15% | 6.93% |
| 5 | 95.92% | 6.36% |
| 6 | 97.05% | 5.83% |
| 7 | 97.68% | 5.75% |
| 8 | 97.80% | 5.37% |
| 9 | 98.75% | 5.14% |
| 10 | 99.65% | 5.14% |
| 11 | 99.06% | 5.14% |
| 12 | 99.26% | 5.14% |
| 13 | 99.63% | 5.14% |
| 14 | 99.25% | 5.14% |
| 15 | 99.88% | 5.14% |
Analysis of full dataset
A full analysis was also performed over the complete dataset, where each sire participates in multiple matings, improving the power of genotype inference. The precision over all markers was 99.89%. For sires only, the precision was correct genotype for 99.98%of markers. The job consumed less than 450 minutes. Such an analysis over all families would be far beyond what is possible with models similar to the one used in Merlin, even if RAM would be expanded by several orders of magnitude. Therefore, we cannot compare this result to a suitable reference.
Analysis with artificial errors in input data
Another full analysis was performed over the complete dataset, but with artificial genotyping errors at a rate of approximately 2.0% in offspring, as described in the Materials section. The current implementation does not update sureness values for the offspring, so the intent of the experiment was to verify to what extent the inferred parental genotypes were affected by the errors. In total, for all 220 founders, 99.51%of markers were inferred correctly. For the sires, the rate of correct genotypes was 99.97%. Runtimes were similar to the case with no introduced error.
Discussion
The clear advantage of our approach is that much larger and more complex structures of closely related individuals can be analyzed simultaneously, allowing significant improvements in the precision of individual results. In one sense, our method is a decomposition of the full gene flow analysis performed in Merlin and similar tools, replacing the global analysis of all recombination events with parameters treating phase and genotype as probabilities. Despite this superficial limitation compared to Merlin, our methods produce superior results. A potential reason for this is that Merlin is using the Viterbi algorithm on the state space. The Viterbi algorithm selects the most probable state sequence, but as multiple states can map to identical haplotypes and genotypes, that is not necessarily the most likely genotype sequence. There are also numerical concerns when considering the very high number of states handled by Merlin, while our code has been explicitly designed to avoid or limit numerical inaccuracy. The use of skewness rather than explicit modelling of the full state hierarchy is one critical point in this regard.
We have also demonstrated that our approach to infer parental genotypes is resilient to genotyping errors, unlike trivial heuristics-based approaches as well as statistical approaches not modelling genotyping errors at all. For sires with a high number of offspring, the results are practically indistinguishable. Even when considering the parental population as a whole, the error rate in statistically inferred parental genotypes is markedly lower than the introduced error rate in offspring genotypes.
Our eventual goal is handling missing genotype data in complex multi-generational dense pedigrees in a general manner. For now, the codebase only updates sureness values in ancestors. Updates of sureness values to represent imputed genotypes for missing or unreliable data in offspring is a logical continuation of this work. Possibly, the initial data could be treated as a prior distribution for genotyping calls, rather than just initialization values. Otherwise, an optimization algorithm would prefer changing all genotypes into non-recombining representations of the parental haplotypes. Another natural extension would be to handle multiple generations. For the case of inferring haplotypes while treating genotypes as fixed, we have in earlier work demonstrated excellent results in complex pedigrees of 5 or more generations, with thousands of individuals. Due to the similarities in modelling, it is also reasonable to consider integration of our approach for pedigree data with Markov-model based phasing and imputation approaches for non-pedigreed individuals, such as MaCH [21].
Such a hybrid approach including Markov modelling in terms of non-related individuals would allow the model to gain information from haplotypes shared from historic ancestors beyond the known pedigree, thus handling population-level linkage disequilibrium (LD). In the current implementation, LD between unrelated individuals is not modelled explicitly, while a proper representation of recombination within families frequently makes this drawback one of limited consequence.
It would also be possible to first infer a local phasing for families with our method, followed by genotype imputation based on reference haplotypes from a denser map. Tools such as Minimac and some operation modes of other tools [22, 23] expect the population where imputation is to be performed to already be pre-phased.
Conclusion
We have presented an extension of our haplotyping approach for datasets with pedigrees and genotype data, to handle partially or completely missing ancestral genotype data efficiently. Haplotypes as well as genotypes can be inferred with high performance by using an efficient local Markov model, decomposing the pedigree into a set of focus pedigrees considering the direct ancestors to each individual. The decomposition is aided by iterative optimization of parameters that we call skewness and sureness, representing the unified information on phase and allele content from all focus pedigrees. We can analyze 150 closely related individuals with ease, providing near-perfect genotype and haplotype reconstruction, even for individuals where genotype was originally fully missing. In this setting, the otherwise comparable Merlin package tops out at 10 individuals.
Beyond the specific problem setting we have tested and our specific current implementation code, our results show that for phasing and genotype inference with Hidden Markov Models, it can be efficient to parametrize phase as well as allele content as scalars, allowing deterministic optimization schemes. Most existing work implementing some parametrization does this using simple binary variables accompanied by Markov-Chain Monte Carlo approaches (such as IMPUTE[13] and MaCH[14]). We are not aware of other work consistently implementing such a scalar parametrization for these types of problems.
Availability and requirements
Our methodology has been included in a prototype implementation in the cnF2freq codebase, which has been extended to include the sureness parameter. The code is written in platform-independent C++. It is available from the project website, http://www.it.uu.se/research/project/ctrait/cnF2freq. The code is shared under a BSD-style license, meaning no restrictions regarding commercial use. It requires recent versions of the boost library [24], and has been tested with the Intel Compiler Collection version 11 and later, as well as the Gnu Compiler Collection version 4.2 and later.
Assistance in building the code, as well as necessary adaptations to handle specific requirements regarding input or output file formats, is available on request. A previous version of the base code is available with a standardized input format integrating with R [25] from https://r-forge.r-project.org/projects/cnf2freq/. The current additions can be added to this R package, on request.
Declarations
Acknowledgements
Computing resources at UPPMAX and C3SE within the Swedish National Infrastructure for Computing (SNIC) were used for the experiments.
Authors' Affiliations
(1)
Division of Scientific Computing, Department of Information Technology, Uppsala University, Uppsala, Sweden
Copyright
© Nettelblad; licensee BioMed Central Ltd. 2012
This article is published under license to BioMed Central Ltd. This is an Open Access article distributed under the terms of the Creative Commons Attribution License (http://creativecommons.org/licenses/by/2.0), which permits unrestricted use, distribution, and reproduction in any medium, provided the original work is properly cited.