Erratum to: Comparative chromosome mapping of repetitive sequences. Implications for genomic evolution in the fish, Hoplias malabaricus
Received: 5 April 2013
Accepted: 5 April 2013
Published: 9 April 2013
After the publication of this work [
1
] the following errors were brought to the authors' attention: Figure two contained a mistake that occurred during the editing process and karyotype assemblage so that two chromosome pairs (X
1
and X
2
) were inadvertently duplicated in the karyotype of the female specimen - karyomorph D. The correct figure is given below (Figure
1
).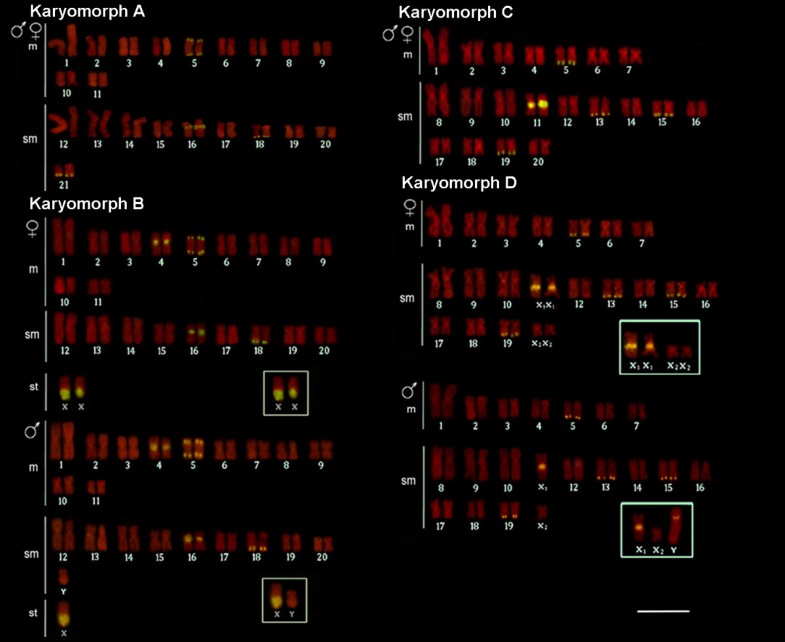 The authors would like to apologise for any confusion caused by this mistake.
(1)
Departamento de Genética e Evolução, Universidade Federal de São Carlos, São Carlos, SP, Brazil
(2)
Departamento de Morfologia, UNESP – Universidade Estadual Paulista, Instituto de Biociências, Botucatu, SP, Brazil
Cioffi MB, Martins C, Bertollo LAC: Comparative chromosome mapping of repetitive sequences. Implications for genomic evolution in the fish, Hoplias malabaricus. BMC Genet. BMC Genetics 2009, 10: 34PubMed CentralView ArticlePubMedGoogle Scholar
© Cioffi et al.; licensee BioMed Central Ltd. 2013
This article is published under license to BioMed Central Ltd. This is an Open Access article distributed under the terms of the Creative Commons Attribution License (http://creativecommons.org/licenses/by/2.0), which permits unrestricted use, distribution, and reproduction in any medium, provided the original work is properly cited.