Research article

Open Access
Evolutionary history of black grouse major histocompatibility complex class IIB genes revealed through single locus sequence-based genotyping
Received: 24 October 2012
Accepted: 12 April 2013
Published: 24 April 2013
Abstract
Background
Gene duplications are frequently observed in the Major Histocompatibility Complex (MHC) of many species, and as a consequence loci belonging to the same MHC class are often too similar to tell apart. In birds, single locus genotyping of MHC genes has proven difficult due to concerted evolution homogenizing sequences at different loci. But studies on evolutionary history, mode of selection and heterozygosity correlations on the MHC cannot be performed before it is possible to analyse duplicated genes separately. In this study we investigate the architecture and evolution of the MHC class IIB genes in black grouse. We developed a sequence-based genotyping method for separate amplification of the two black grouse MHC class IIB genes BLB1 and BLB2. Based on this approach we are able to study differences in structure and selection between the two genes in black grouse and relate these results to the chicken MHC structure and organization.
Results
Sequences were obtained from 12 individuals and separated into alleles using the software PHASE. We compared nucleotide diversity measures and employed selection tests for BLB1 and BLB2 to explore their modes of selection. Both BLB1 and BLB2 are transcribed and display classic characteristics of balancing selection as predicted for expressed MHC class IIB genes. We found evidence for both intra- and interlocus recombination or gene conversion, as well as indication for positive but differential selection at both loci. Moreover, the two loci appear to be linked. Phylogenetic analyses revealed orthology of the black grouse MHC class IIB genes to the respective BLB loci in chicken.
Conclusions
The results indicate that the duplication of the BLB gene occurred before the species divergence into black grouse, chicken and pheasant. Further, we conclude that BLB1 and BLB2 in black grouse are subjected to homogenizing concerted evolution due to interlocus genetic exchange after species divergence. The loci are in linkage disequilibrium, which is in line with the theory of tightly coevolving genes within the MHC under the minimal essential MHC hypothesis. Our results support the conclusion that MHC form and function in birds derived from studies on the domesticated chicken are not artefacts of the domestication process.
Keywords
Balancing selectionConcerted evolutionEarly duplicationBLB1BLB2Galliformes3′UTR Tetrao tetrix
Background
The duplication of genes is a common process in the evolution and adaptation of most organisms [1]. Understanding the molecular mechanisms that shaped duplicated genes is essential to study the evolutionary history and selection processes acting on complex gene families in a larger context. A very prominent example of a multigene family with frequent genetic and genomic duplications is the Major Histocompatibility Complex (MHC), which holds a key role in the vertebrate adaptive immune response in pathogen recognition and defense [2]. Thereby, MHC genes are linked to individual fitness and the outcome of infections (reviewed in e.g. [3]). The genes of the MHC are known to be the most polymorphic and among the best studied functional genes in vertebrates [4]. In humans, for instance, close to a thousand different alleles are known from the MHC HLA-DRB1 locus [5]. The extreme polymorphism commonly found at MHC genes is believed to be maintained by means of balancing selection, driven by selection through diverse pathogens and leading to maintenance of allelic variation within populations [6–8]. Balancing selection acts on variation at the MHC by means of heterozygote advantage (dominant as well as overdominant selection), rare-allele advantage (negative frequency-dependent selection) and/or selection that fluctuates over space and time [3]. Gene conversion and recombination [9], trans-species evolution [10], MHC-dependent sexual selection (reviewed in [4]) and selection against hitchhiking recessive deleterious mutations [11] have also been shown to play a role in shaping MHC diversity.
Duplications of MHC loci are frequently observed, and as a consequence loci belonging to the same MHC class are, in many species, too similar to distinguish by their allelic sequences [12–16]. However, studies on the evolutionary history, the mode of selection and heterozygosity correlations on the MHC cannot be performed before it is possible to analyse duplicated loci separately [4]. Single locus amplification of polymorphic MHC genes in birds has been a goal for evolutionary biologists for over a decade [12, 17], but has not been achieved until recently. Very few bird species studied so far have only a single MHC class IIB locus (i.e. the green-rumped parrotlet [18], penguins [19] and kestrels [20]). Among the numerous birds with duplicated MHC class IIB loci, single locus amplification has so far only been reported in red jungle fowl/domestic chicken (Gallus gallus) [21, 22], captive turkey (Meleagris gallapavo) [23] and Barn owl (Tyto alba) [24].
The MHC shows pronounced differences in genomic organization and in number of MHC loci between vertebrate lineages [25], especially when mammalian and non-mammalian species are compared [26, 27]. Different hypotheses have emerged for how the complex MHC family has evolved. The prevailing consensus is that MHC evolution is characterized by repeated gene duplication (birth) and gene loss (death), whereby the loci evolve under a birth-and-death model [2, 28, 29]. Phylogenetic relationships can reveal whether gene duplication arose post speciation or pre speciation. Post speciation duplication leads to a pattern where paralogous MHC loci within a species are more closely related than orthologous MHC loci between species [30, 31]. Pre speciation duplication, in contrast, took place in an ancestral species and results in orthologous MHC loci from different species being more closely related than paralogous MHC loci within species. However, these patterns can likewise be generated by different processes. A situation identical to what to be expected under a post speciation duplication event can be caused by concerted evolution acting on early duplicated genes [26, 32]. Under concerted evolution, gene fragments are frequently exchanged between paralogous loci, and thereby homogenized (interlocus genetic exchange by recombination or gene conversion [9, 33]). However, if convergent selection acts on either different loci within a species or between different species, those loci will functionally converge and mask the actual evolutionary relationship [32, 34]. These different processes are not mutually exclusive, which adds a further level of difficulty to the interpretation of evolutionary patterns at the MHC.
The domestic chicken (Gallus gallus domesticus) is the major avian MHC model species with a history of more than 60 years of MHC studies [35]. The core of MHC in the chicken is called the classical MHC or the BF/BL region which, among others, consists of MHC class I and class II genes, TAP genes, Tapasin and one MHC class IV (BG) gene. This gives a total of 19 genes in 92 kb [36] situated on a single chromosome compared to the human MHC region which comprises 128 expressed genes as well as pseudo genes on a stretch of 3600 kb on several chromosomes [37]. The chicken MHC also appears more compact than what has been observed in the passerine bird which is best known, the zebra finch (Taeniopygia guttata), in which the MHC region is more complex and found on at least four chromosomes [38]. Because of the compact and small structure of the chicken MHC compared to the mammalian MHC, and the presence of few expressed genes, it has been named "a minimal essential MHC". In addition, the chicken MHC is arranged differently than the mammalian MHC [36]. MHC class I and class II genes are tightly linked [31, 39], and TAP genes has been demonstrated to co-evolve with MHC class I (BF) genes [31]. It has also been suggested that other MHC genes may co-evolve [30, 40]. Based on experiments, recombination within BF/BL in the chicken is rarely observed [41] but sequencing showed evidence of gene conversion and recombination in shaping the chicken MHC [39]. Furthermore, examinations of BF/BL in pedigreed families in the closely related galliforms turkey and Japanese quail (Coturnix japonica) have revealed direct evidence of gene conversion and recombination [42, 43].
In the chicken, both MHC class I (BF) and MHC class IIB (BLB) comprise two loci but only one locus in each class is highly expressed. While the BLB2 locus is considered to be dominantly expressed [44, 45], the BLB1 locus has been suggested not be involved in peptide binding and to be neutral to selection [30, 46]. Nevertheless, interlocus genetic exchange has been observed between BLB1 and BLB2 in a farmed population of pheasant (Phasianus colchicus) and in the domestic chicken, i.e. a case of concerted evolution [47]. In this study we test whether BLB1 and BLB2 evolved independently or in a concerted way in a wild close relative to both the pheasant and the chicken: the black grouse (Tetrao tetrix). Disentangling the evolutionary history of BLB1 and BLB2 in black grouse will add valuable information about how these genes evolved in the chicken and related species. To date, it is largely unknown if the uniquely compact MHC in the chicken [36] is a result of the long domestication process or was present before domestication.
Domestic chicken and black grouse belong to the same avian family (Phasianidae; Galliformes) and both possess two MHC class II B (BLB) loci that surround the Tapasin gene (Figure
1
) [
44
,
48
]. Although the MHC class II B region is well studied in the domestic chicken, no primers could be developed for independent amplification of either MHC class II B minor (BLB1) or MHC class II B major (BLB2) [
49
]. The chicken BLB1 and BLB2 are nearly identical in sequence and can only be amplified separately with PCR primers anchored outside the BLB genes along with a nested non-locus-specific PCR [
22
,
44
].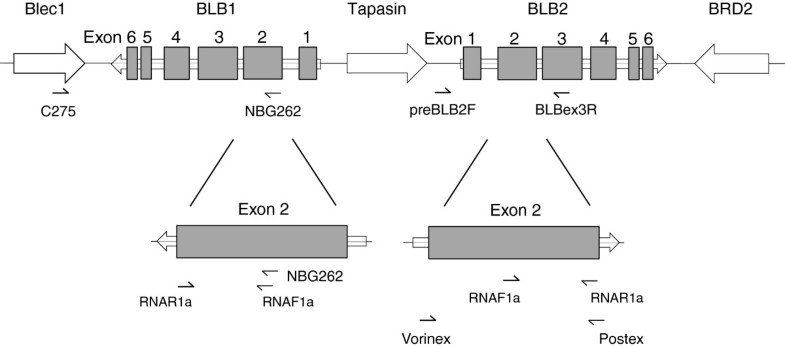 In this study, we present an approach to genotype the two MHC class II B loci separately in a wild galliform, the black grouse. The procedure comprises a long-range anchored PCR method followed by nested PCR reactions and sequence-based genotyping. Based on this approach we first aim to characterize and contrast MHC class II B diversity and mode of selection at the BLB1 and BLB2 loci in the black grouse. Second, we explore whether the two loci underlie concerted evolution or evolve independently. And third, we relate and compare the results to the MHC class II B structure and organization in the chicken.
Discussion
The chicken MHC stands out with an unparalleled simple and compact architecture compared to mammals or other avian groups like the passerines [26, 36]. The tight linkage of MHC genes and reduced recombination rates were suggested to have resulted in a close co-evolution of genes within MHC haplotypes ([40] but see [39]), leading to strong disease-associations of specific MHC haplotypes in consequence. In the evolutionary history of the avian MHC it is still not resolved whether this unique MHC structure in the chicken is a domestication artefact or was present before domestication as a galliform feature.
We here present a study on diversity, selection patterns and the co-evolutionary history of two transcribed MHC class IIB genes in a wild galliform bird species, the black grouse. We found evidence for both intra- and interlocus recombination or gene conversion, as well as indication for positive selection on the PBR at both loci. However, we also detected differences in the selection between the two loci, as positive selection was indicated at the BLB2 locus and purifying selection at the BLB1 locus. We were able to relate our findings to the structure of the chicken MHC class II by resolving orthology to the chicken BLB loci.
Similar to the work of [22] on red jungle fowl, we amplified the two black grouse BLB loci separately in twelve individuals. Eleven of the individuals included in this study were cloned in our previous studies with non locus-specific primers that gave a 125 bp BLB exon 2 product [15, 50]. The resulting sequences showed that individuals carried between two and four BLB alleles, without locus assignment. This is a slight underestimation in number of alleles per individual compared to the here presented study, which revealed between three and four alleles per individual for BLB1 and BLB2 combined. Part of this additional variation was detected through the longer BLB2 fragment, which revealed further variable positions towards the 5′-end of the exon 2. To another part, the underestimation by the cloning/sequencing approach may be a result of too few analysed clones (16–26 per individual). On the other hand, for individual D248 the cloning procedure revealed one allele (BLB*125-04) which could not be confirmed by the single-locus amplification. This additional allele is likely to be a contamination during the cloning process. Considering that cloning is more time-consuming than direct sequencing, can add artefacts derived from mismatch repair or the formation of chimeric sequences [53] and is more contamination-prone, the here presented single locus sequence-based typing method clearly outmatches the cloning/sequencing approach in both accuracy and effort.
Another finding in this study concerns the expression of the two BLB loci in black grouse. We earlier amplified BLB cDNA sequences for individual D870 [15], which we could show now derived from both BLB1 and BLB2. Thus, both BLB1 and BLB2 are transcribed loci in black grouse. In domestic chicken BLB2 is considered to be dominantly expressed [44, 45], while BLB1 is less expressed and has even been suggested to be neutral to selection and not involved in peptide binding [30, 46]. This ultimately leads to the question whether the BLB1 and BLB2 loci in black grouse show a similar situation or differ in the degree and mode of selection compared to the chicken. We therefore compared diversity and selection patterns between BLB1 and BLB2 to explore their respective modes of selection.
We observed significant linkage between BLB1 and BLB2, in line with the hypothesis of Kaufman [30, 40] that MHC genes in chicken form a tightly linked cluster of co-evolving genes. Similarly, Agudo et al. [79] showed in a study on Egyptian vultures (Neophron percnopterus) the existence of linkage groups, containing pairs of MHC alleles in strong linkage disequilibrium. They interpret the presence of linkage groups with similar MHC alleles as indication of concerted evolution acting on the MHC gene duplicates. However, concerted evolution does not necessarily homogenize a gene cluster. Gene conversion can both homogenize and diversify among paralogues, as was shown for the gene family hsp70 in Drosophila[80].
Intuitively one might think that gene conversion and recombination should tend to break up linkage disequilibrium. But this does not seem to be this simple. The human olfactory receptor (OR) gene cluster is another gene family suggested to evolve under concerted evolution with gene conversion events [81]. Linkage disequilibrium is highly significant in the centromeric part of the gene cluster, whereas no linkage disequilibrium could be observed in the telomeric part of the cluster. These considerable differences suggest the presence of several recombination hotspots within the OR cluster.
In terms of number of different alleles, MHC diversity was similar at the two BLB loci, however, BLB2 revealed higher heterozygosity and was less variable in terms of nucleotide diversity than BLB1. Signals of positive selection were found on both the BLB1 and BLB2 locus. Elevated dN/dS ratios were obtained at the PBR of both loci, though only significant for the longer BLB2 fragment. Maximum likelihood analyses confirmed that models allowing for positive selection fitted our data significantly better than neutral models. With these models, four identical codons were identified to be under significant positive selection in BLB1 and BLB2, and two additional positions were identified for the BLB2 locus. All of these positively selected codon positions were either congruent or directly adjacent to a peptide binding site as identified by Tong et al. [73] for human MHC class II molecules. This congruence emphasises the structural similarity of codon positions involved in peptide binding throughout evolutionary lineages. However, it has been suggested the methods used here might be prone to overestimate positive selection, particularly when recombination rate is high [82].
A different pattern of selection was found, however, regarding neutrality tests as Tajima's D. We found a negative Tajima's D value for BLB1, indicative of purifying selection, and a positive Tajima's D for BLB2 indicating positive or balancing selection, although not significant in both cases. In a sliding window analysis of Tajima's D comparing BLB1 and BLB2 it became more apparent that these different selection footprints are due to differences at some specific nucleotide sites only, while at other positions positive selection between the two loci coincides. These opposite but vague signals of differential selection at BLB1 and BLB2 made us explore this further. Worley et al. [22] found likewise a negative Tajima's D for BLB1 and positive value for BLB2 (both n.s.) in a captive population of red jungle fowl but the authors points out that a negative Tajima's D could also be a result of a population bottleneck. As a further comparison, we obtained domestic chicken BLB1 and BLB2 sequences from GenBank and calculated Tajima's D the same way as we did for the black grouse sequences. This analysis repeated the observation of positive Tajima's D for BLB2 and negative for BLB1 (data not shown). We also observed that theta k and π were higher in BLB1 than BLB2 in the domestic chicken, which was likewise observed for black grouse. In conclusion, we interpret this as a repeated pattern of differential selection on BLB1 and BLB2 in galliform birds.
Detecting recombination or gene conversion events using statistical methods can be highly problematic, in particular when small fragments are transferred or the gene conversion rate is too high. Hence, we have to keep in mind that a lack of evidence is no evidence for absence. To minimize the risk of missing the footprint of gene conversion, it is recommended to use multiple statistical methods for detection [58]. Following this recommendation we applied a set of seven statistical methods, which have been evaluated to be powerful and accurate for different conditions and scenarios [59]. While two of the methods (RDP and GENECONV) failed to detect most recombination signals, the other methods detected recombination or gene conversion both within and 'between the two BLB loci. As an additional hint for the occurrence of gene conversion, we detected significantly higher d N and d S values at the PBR sites compared to the non-PBR sites at both loci. This situation is likely to be created by a combination of positive selection and gene conversion [78, 83]. Gene conversion events transferring advantageous non-synonymous substitutions at the PBR are positively selected, and in doing so synonymous substitutions are carried along. This way, synonymous substitutions appear more often at the PBR than expected by point mutations under neutrality. We conclude that both intra- and interlocus genetic exchange play an important role in shaping the black grouse MHC class II.
The 3′UTRs between BLB1 versus BLB2 differ in domestic chicken as well as between the corresponding DAB1 and DAB2 loci in pheasants in both length and nucleotide composition, so that the sequences cluster together as orthologous genes rather than according to species [47]. We have observed similar differences in the 3′UTRs between black grouse BLB1 and BLB2 and could prove orthology of the BLB1 gene between the black grouse, chicken and pheasant, and orthology of the BLB2 gene between the three species. The origin of the pheasant like birds Phasianoidea is estimated to approximately 40 million years ago [84] and chicken and black grouse/turkey diverged approximately 30 million years ago [85]. It seems that the duplication of BLB1 and BLB2 is a case of pre-speciation duplication that has arisen in the ancestral species before the split into chicken, pheasant and black grouse. The observed differences in the length of the 3′UTRs between the two loci may also reflect a difference in function [86].
In all other phylogenetic reconstructions based on the exon 2, the third codon positions of exon 2 and the exon 3, sequences clustered species-specific and not locus-specific. This is indication for frequent interlocus genetic exchange homogenizing sequences between the paralogous loci, as suggested by Wittzell et al. [47]. The fact that the whole exon 2 sequences and third codon positions of the exon 2 networks present similar phylogenetic relations contains more indication for an early duplication in the evolutionary history of BLB1 and BLB2. Under convergent selection on the two loci, the two phylogenies would reveal deviating patterns [34]. A phylogenetic tree based on the codon sequences should reflect functional similarities, whereas the third codon positions are expected to mirror the neutral gene history. Under the early duplication hypothesis, in contrast, a phylogeny based on the third codon positions will match the phylogenetic relation based on the whole codon sequences, as in our case. Note that in this analysis all third codon positions are considered and not only the synonymous positions at the PBR, which are possibly under a selective sweep of the positions under selection, as discussed earlier.
In summary, we infer that the BLB gene duplicated before the species divergence into chicken, black grouse and pheasant and thus is a case of pre speciation duplication. Further, we conclude that BLB1 and BLB2 in black grouse are subjected to homogenizing concerted evolution due to inter-genetic exchange between loci after species divergence. Different selection patterns indicated for BLB1 and BLB2 may be a sign of different immunogenetic functions. Both BLB1 and BLB2 have been under balancing selection during their evolutionary history. Nevertheless, it is likewise possible that, at present, balancing selection may be operating directly only on BLB2. Because of the tight linkage between the loci, BLB1 would be hitchhiking with BLB2.
Conclusions
We have presented a powerful single locus genotyping method for amplifying MHC class IIB loci in black grouse. This method will allow exploring correlations between MHC heterozygosity and reproductive success, mate choice and disease resistance in this and related species.
It is evident that both BLB1 and BLB2 are expressed and under balancing selection in black grouse. Even though we found some differences between the loci in selection patterns, the similarities between loci were apparent. In fact, our data show inter-locus genetic exchange between BLB1 and BLB2. The loci are in linkage disequilibrium, which is in line with what have been stated regarding tightly coevolving genes within MHC under the minimal essential MHC hypothesis [31, 36]. Our results support the conclusion that MHC form and function in birds derived from studies on the domesticated chicken are not artefacts of the domestication process. However, the data from black grouse do suggest more recombination than previously observed in chicken (but see [39]). These data are important for understanding how the MHC of birds and other non-mammalian vertebrates have evolved.
The duplicated genes BLB1 and BLB2 are a case of early duplication and have co-evolved in a concerted way by interlocus gene exchange not only in chicken but also in black grouse. This supports the so far non-tested hypothesis of concerted evolution of BLB1 and BLB2 in galliformes [47].
Declarations
Acknowledgements
Thanks to Heli Siitari, Rauno Alatalo, and Sten Svartaas for providing black grouse samples. We are grateful to Gunilla Engström for assistance in the lab, to Robert Ekblom and three anonymous reviewers for valuable comments on the manuscript and Reto Burri for helpful discussions. Thanks also to Eleanor Jones and Radoslav Kozma for language improvements. This project was funded through the Swedish Research Council (VR) to JH.
Authors' Affiliations
(1)
Population Biology and Conservation Biology, Department of Ecology and Genetics, Evolutionary Biology Center, Uppsala University, Uppsala, Sweden
(2)
Swedish Institute for Communicable Disease Control, Department of Analysis and Prevention, Solna, Sweden
Copyright
© Strand et al.; licensee BioMed Central Ltd. 2013
This article is published under license to BioMed Central Ltd. This is an Open Access article distributed under the terms of the Creative Commons Attribution License (http://creativecommons.org/licenses/by/2.0), which permits unrestricted use, distribution, and reproduction in any medium, provided the original work is properly cited.