Research article
Open Access
Genotype imputation accuracy in a F2 pig population using high density and low density SNP panels
Received: 1 December 2012
Accepted: 13 April 2013
Published: 8 May 2013
Abstract
Background
F2 resource populations have been used extensively to map QTL segregating between pig breeds. A limitation associated with the use of these resource populations for fine mapping of QTL is the reduced number of founding individuals and recombinations of founding haplotypes occurring in the population. These limitations, however, become advantageous when attempting to impute unobserved genotypes using within family segregation information. A trade-off would be to re-type F2 populations using high density SNP panels for founding individuals and low density panels (tagSNP) in F2 individuals followed by imputation. Subsequently a combined meta-analysis of several populations would provide adequate power and resolution for QTL mapping, and could be achieved at relatively low cost. Such a strategy allows the wealth of phenotypic information that has previously been obtained on experimental resource populations to be further mined for QTL identification. In this study we used experimental and simulated high density genotypes (HD-60K) from an F2 cross to estimate imputation accuracy under several genotyping scenarios.
Results
Selection of tagSNP using physical distance or linkage disequilibrium information produced similar imputation accuracies. In particular, tagSNP sets averaging 1 SNP every 2.1 Mb (1,200 SNP genome-wide) yielded imputation accuracies (IA) close to 0.97. If instead of using custom panels, the commercially available 9K chip is used in the F2, IA reaches 0.99. In order to attain such high imputation accuracy the F0 and F1 generations should be genotyped at high density. Alternatively, when only the F0 is genotyped at HD, while F1 and F2 are genotyped with a 9K panel, IA drops to 0.90.
Conclusions
Combining 60K and 9K panels with imputation in F2 populations is an appealing strategy to re-genotype existing populations at a fraction of the cost.
Keywords
Linkage DisequilibriumMinor Allele FrequencyImputation AccuracyImpute GenotypeHigh Density Genotype
Background
The search for regions in the genome containing genetic variants that affect production traits requires experimental populations to identify the segregating QTL within and between parental populations [1]. The F2 design is commonly used to map QTL segregating in divergent parental lines [2, 3]. To produce reliable analyses of association or genetic evaluations using genomic information, a great number of individuals with phenotypes and high density (HD) genotypes are required [4]. However, HD genotypes for large numbers of animals are expensive to obtain [5, 6]. A way of reducing cost is to genotype individuals from base generations (parents) in HD, and their more numerous descendants at low density (LowD) [6, 7]. Then, using selected SNP from the HD panel, called tagSNP, the non-typed SNP are imputed with high accuracy [7]. Imputing HD genotypes of progeny from LowD genotypes, conditional on grandparental and parental HD genotypes, may result in higher imputation accuracies than those obtained using a reference panel from unrelated individuals [7–9]. This is because HD genotypes from base generations can be traced within family by means of co-segregation or descendant probabilities [6] while searching for the phase of parental alleles [7].
Most studies on genotype imputation of livestock species have been performed with purebreds [4, 7, 9–13], and genotype imputation from crossbreds has been largely absent. With regard to agricultural plant species, studies on genotype imputation have used inbred lines [8], recombinant inbred lines (RILs) in Nested Association Mapping (NAM) designs [14, 15], and Multiparent Advanced Generation Inter-Cross studies (MAGIC) [16]. Genotype imputation has also been employed in human studies of genome-linkage analysis for test association of candidate transcriptional regulators with gene expression [17]; and also in a model organism in biomedical research such as the mouse, imputation of genotypes from crosses of inbred lines was used to identify candidates genes for complex disease [18, 19].
Imputing genotypes in humans, plants, livestock, or model organisms, is similar in the sense that a small number of founding individuals can be genotyped at high density, and the bulk of the mapping population can be genotyped at low density using linkage information. In this paper we focus on imputing F2 individuals from a three generation (F0, F1 and F2) population of Duroc × Pietrain crossbred pigs. The F0 and F1 animals were genotyped in HD (60K). The F0 populations used to map QTL in pigs are typically composed of a small number of animals (in our case, 4 males and 15 females) [1, 20–22]. As it is expected that few recombinations occur in the first generations, these populations have low resolution to map QTL [23]. However, and for the same reason, there is a potential for attaining high accuracy of imputation. The latter effect can be taken to advantage for imputing HD genotypes from inexpensive LowD F2 genotypes, which subsequently allows combining existing data from experimental populations in a meta-analysis for association. There are several reasons for this strategy to be attractive. First, several of these populations have been recently created [21, 22, 24, 25] and DNA from these animals is available. Second, extensive datasets of phenotypes have been recorded for these populations including for traits that are expensive or difficult to measure, such as the content of intramuscular fat and composition of fatty acids [25], age at puberty in gilts [22], and meat tenderness [26]. Finally, these populations are generally developed from breeds that are divergent for some traits of interest such as fat/lean content, meat quality or reproductive efficiency, take for example: Duroc × Pietrain [1, 21], Duroc × Landrace [24], Duroc × Large-White [25], White-Duroc × Erhualian [22], Meishan × Duroc [27], Berkshire × Duroc [20].
Therefore, it follows that imputation of F2 LowD to HD genotypes with high accuracy would be useful and convenient, providing a cost effective strategy as a first step for association analyses or meta-analyses. Different methods have been employed to select tagSNP in LowD panels. Two of them are: 1) imposing restrictions on the minimum value of linkage disequilibrium (LD) or r t 2 between markers [28], 2) selection of tagSNP that are evenly spaced using the physical distance between markers[4, 11, 12]. In addition, commercial chips are also available with medium density segregating SNP selected from several populations, as for example for bovine [29] and pig [10]. A question arises of how many SNP are needed to attain a high accuracy of imputation for a given F2 population. Another question is whether a specific chip has to be custom designed, or whether current commercially available chips can be used. Finally, it is important to determine whether both the F0 and F1 have to be genotyped at HD, or if just genotyping the F0 is adequate to obtain a high accuracy of imputation in the F2.
The goal of this research was to estimate the accuracy of imputation at HD (60K), from LowD F2 genotypes for a Duroc × Pietrain population, using different genotyping schemes. The strategies were evaluated by means of Monte Carlo simulation, conditional on the genotypes from animals in the first two generations (F0 and F1). In doing so, two methods of tagSNP selection were considered and their results were compared to those obtained from a commercial panel chip (9K). In addition to simulations, accuracy of imputation was evaluated using experimental data, taking advantage of a reduced number of F2 animals that were genotyped at HD.
Results
Linkage disequilibrium and selection of tagSNP
Table
1
displays the number of tagSNP selected with different values of LD in an intermediate size chromosome (SSC12), reflected by the measure
r
t
2
. As the value of
r
t
2
increases, more tagSNP are selected and
IA
increases. As an example, when
r
t
2
 = 0.2, 79 tagSNP were selected at an average distance of 0.79 Mb and at an accuracy of 0.970. On the other hand for
r
t
2
 = 0.5, 399 tagSNP were selected, positioned at an average distance of 0.16 Mb with
IA
being equal to 0.982 (Table
1
).
Table 1
Accuracy of imputation using tagSNP selected for different values of r t 2 on chromosome 12
| rt2 | Number of tagSNP | Number of SNP genomewide | Average distance between SNP (Mb) | Imputation accuracy ( IA) |
| --- | --- | --- | --- | --- |
| 0.1 | 33 | 1295 | 1.86 | 0.960 |
| 0.2 | 79 | 3100 | 0.79 | 0.970 |
| 0.3 | 158 | 6199 | 0.40 | 0.976 |
| 0.4 | 266 | 10436 | 0.24 | 0.980 |
| 0.5 | 399 | 15654 | 0.16 | 0.982 |
Evenly spaced SNP
The
IA
using tagSNP selected using either LD information or evenly spaced SNP were similar. For example, the
IA
of non-typed SNP on SSC12 were 0.973 and 0.970, respectively, for 80 evenly spaced SNP as compared with 79 tagSNP selected with
r
t
2
 = 0.2 (Figure
1
). Results for other densities of tagSNP were similar (Figure
1
). Moreover, evenly spaced tagSNP sets of comparable density across chromosomes yielded similar accuracies. Thus, for example an average inter–marker distance of 2.1 Mb, 140 tagSNP on chromosome 1 and 30 tagSNP on chromosome 12 produced
IA
of 0.969 and 0.968, respectively (Figure
2
). In summary, a minimum of 1,200 evenly spaced tagSNP across the genome (average distance = 2.1 Mb) are needed in this F
2
population to attain imputation accuracy
IA
 ≥ 0.97 when the F
0
and F
1
are genotyped with a SNP60 chip.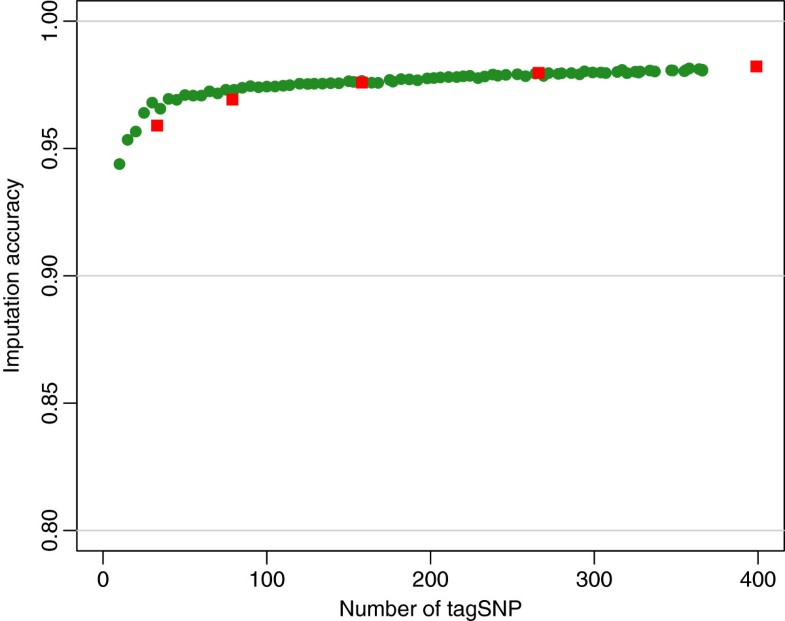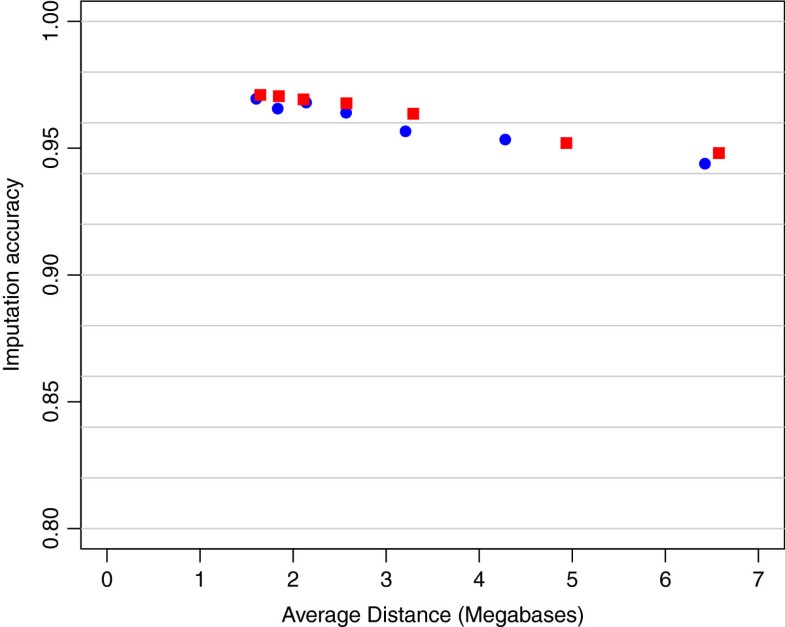 Imputed genotypes in experimental F2 animals
9K commercial chip
The values of IA were calculated for two scenarios and for each chromosome, using a 9K SNP list that was developed for producing a commercial LowD panel (GeneSeek, Inc., Lincoln, NE, USA; described in Badke et al. [10]).
Imputation accuracies
IA
were 0.90 and 0.99 when the F
1
was genotyped at low or high density, respectively (Figure
3
). In the latter case, although the accuracy was high in all chromosomes (0.99), SNP in some regions were imputed with lower accuracy (Figure
4
). High
IA
in the F
2
were obtained across all SNP when the F
1
was genotyped at HD (Figure
4
a,b). However, when the F
1
was genotyped at LowD,
IA
in F
2
individuals decreased along the whole chromosome (Figure
4
c,d). A logical question to consider is the following: how much accuracy is gained when including pedigree information, when compared with the use of population-wise LD as the unique source of information? To answer this, the imputation was performed again using as reference panel the genotypes of F
0
and F
1
animals and the F
2
at LowD, but without specifying the pedigree of the F
2
s. In other words, the F
2
animals were assumed unrelated and their parents were unknown. For chromosome 1 the results are displayed in Figure
5
. Notice that the average
IA
in the F
2
was equal to 0.90. Therefore, the
IA
was lower than when the information on relationships was used (0.99, Figure
4
a,b). This indicates that the inclusion of HD genotypes from related animals and explicitly specifying paternities greatly increases accuracy of imputation.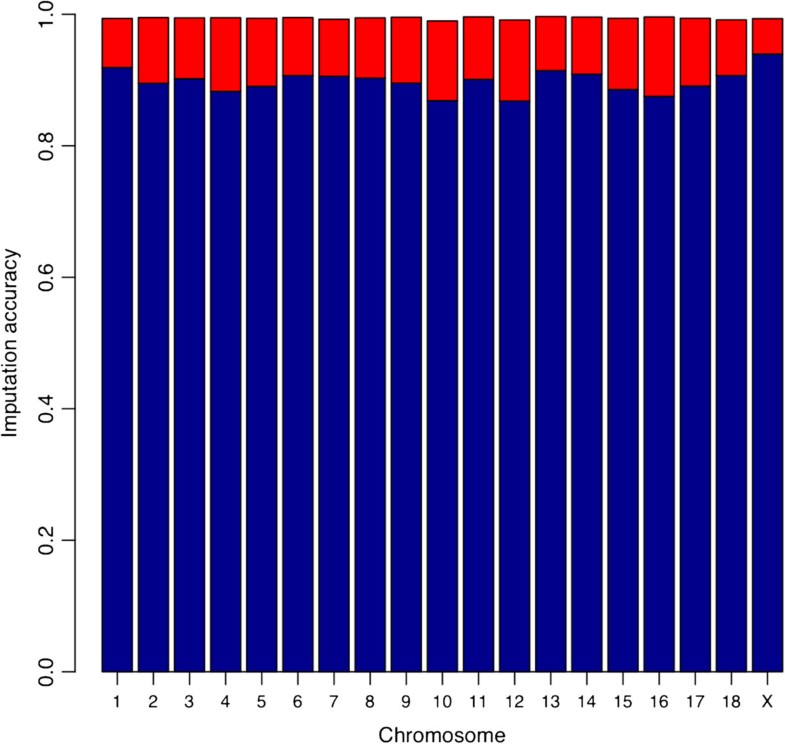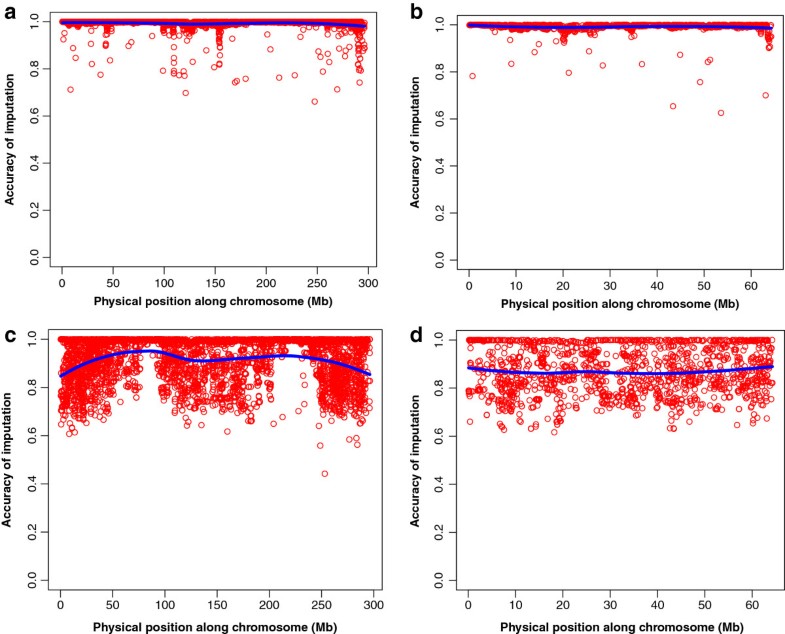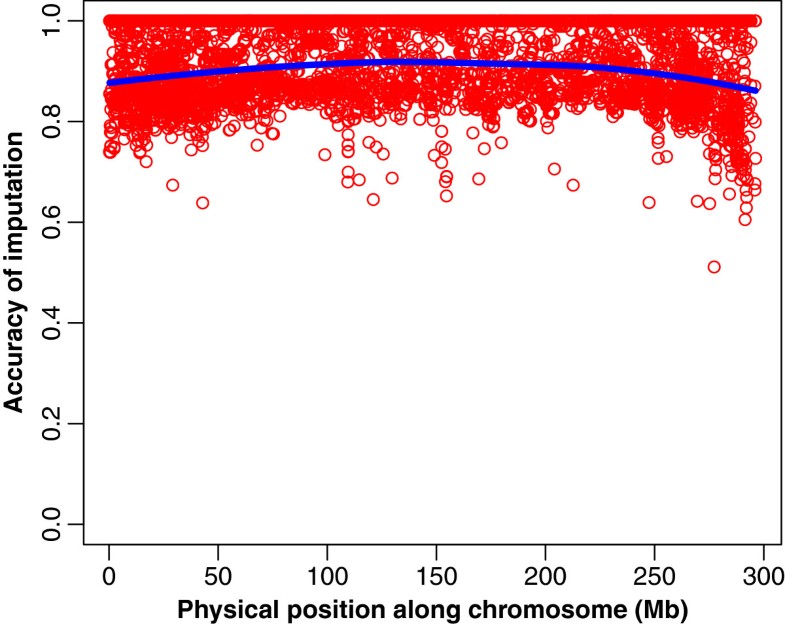 The IA from both genotyping scenarios (Figures 3 and 4) reflect an average drop of 0.1 when the F1 is genotyped at LowD. To gain further insight, the simulated haplotypes of two families were used to calculate accuracy of imputation in each scenario. When the F1 is genotyped at LowD, the results showed that the phase error among the SNP that are not tagSNP increased. This loss of accuracy in determining the SNP phase can be traced back to the F0 generation in which the non-tagSNP are also phased with low accuracy. Furthermore, the proportion of SNP with uncertain phase in the F1 genotyped at HD was 4%, and the ensuing accuracy of haplotyping was 0.97. However, when the F1 was genotyped at LowD the proportion of SNP with uncertain phase increased to 30%, and the corresponding accuracy of haplotyping for the non-tagSNP of F1 genotypes dropped to 0.85. In a further analysis with the F1 generation genotyped at HD and used as a reference population (ignoring F0 genotypes), this resulted in 43% of non-tagSNP with uncertain phase in the F1 at HD, and the haplotyping accuracy was even lower (0.78). These results suggest that, in order to have a high accuracy of imputation for non-tagSNP in F2 genotypes, certainty of the phase in the F1 genotypes is required. Such accurately estimated phase is guaranteed when two generations of HD genotypes (F0, F1) are available.
A closer look at Figures 4 and 5 indicates that the position of the SNP had some effect over IA. Therefore, we investigated the relationship between single SNP imputation accuracy and each SNP's MAF, distance to the nearest tagSNP, and allelic frequency difference between founding breeds.
Minor allele frequency (MAF)
The measure of accuracy based on counting the number of alleles correctly imputed is sensitive to the allelic frequency [
8
,
12
,
30
]. In the current study, the square of the correlation (
R
2
) between observed and imputed genotypes was used as a robust measure of accuracy of imputation. It is worth noting that the scale of this measure is somewhat different from the one derived from
AI
(Table
2
).
Table 2
Imputation accuracy of SNP on chromosome 12 measured by IA or by R 2
Scenario

Genotype design

Accuracy of imputation

Grandparents

Parents

Progeny

IA

R 2

1

HD

HD

LowD

0.962

0.884

2

HD

LowD

LowD

0.833

0.408
MAF using the 9K panel in the F2
Figure
6
shows that the MAF of the imputed SNP was not related to
R
2
in these data. Notice also that alleles with extreme frequencies (MAF < 0.1) can be imputed with accuracy similar to those SNP at intermediate frequencies (MAF > 0.3).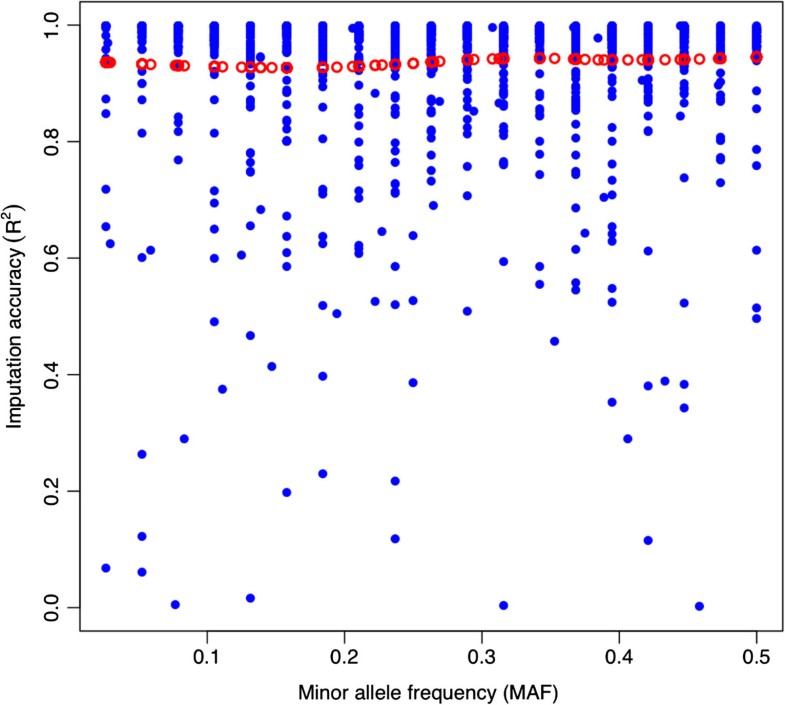 Distance to the closest tagSNP
No differences in
R
2
were found for the range of distances between non-tagSNP and tagSNP observed (average was equal to 0.936 Mb). Therefore, for an average density between tagSNP of 0.26 Mb,
R
2
is similar for a SNP that is in the middle of the interval than for a SNP that is close to the tagSNP (Figure
7
). This observation suggests that the density of tagSNP was enough to attain a reasonably equal
R
2
for all SNP within the interval.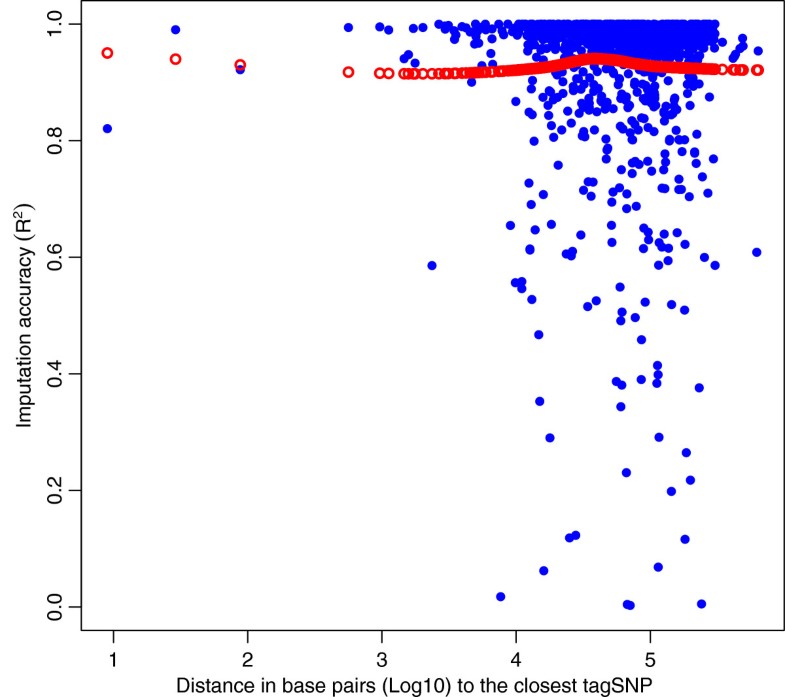 Effect of the difference in allelic frequencies in the F0
The difference in allelic frequency between founding populations does not seem to affect the
R
2
. This means that even SNP that segregate at very different frequencies in founders can be imputed with high accuracy as revealed in Figure
8
. Moreover, the apparent drop in
R
2
for MAF differences over 0.75 presented in Figure
8
is largely an artefact of very small number of SNP used in the smoothing line fit.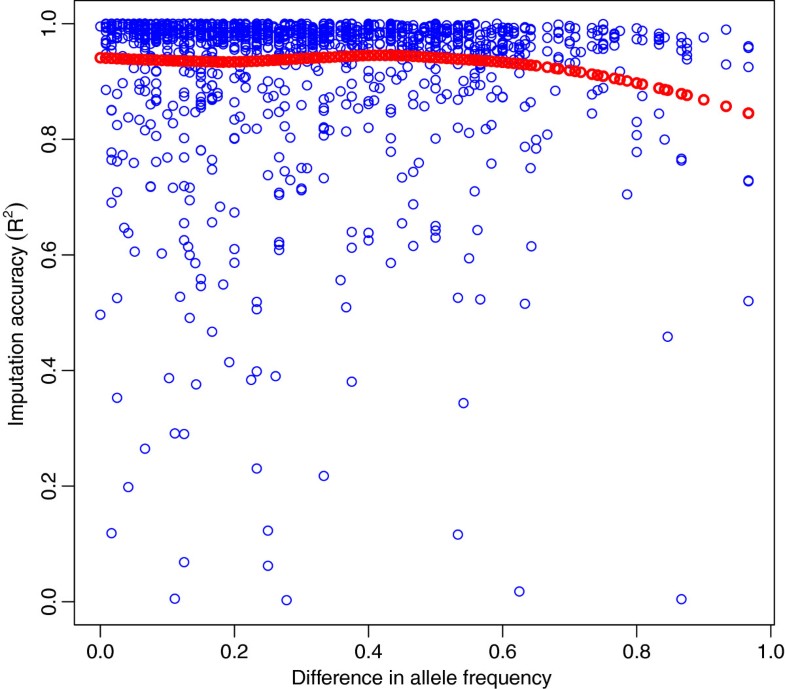 Conclusions
Designing custom SNP panels for each F2 population to be imputed will likely not be cost effective due to the relatively large number of SNP needed to attain reasonable imputation accuracies, and the high development costs for each SNP panel. In particular, for our population we would need a minimum of M = 1,200 markers with average distance of 2.1 Mb to have IA over 0.97 in the F2. On the other hand, using the 9K panel as tagSNP (LowD) resulted in IA of 0.99 when the F0 and F1 were genotyped at HD and the F2 at LowD. The cost of such genotyping scheme would be less than half the cost of using HD genotypes for all individuals. The correlation between observed and imputed genotypes was high (R 2  = 0.94), so that the power for future association studies would be high. Thus, under a genotyping strategy of high accuracy of imputation (i.e., F0 and F1 at HD, F2 at LowD), information on imputed genotypes from more animals that is similar to that from a HD panel can be obtained at a lower cost. These results apply to the imputation of markers in the SNP60 beadchip, in populations where a small number of founders can be genotyped at HD and phase of parents of imputed animals can be derived with certainty. Translation of LD-based results, on the other hand, are constrained to pig populations showing similar levels of LD as in the founding animals [35].
Declarations
Acknowledgements
This project was supported by Agriculture and Food Research Initiative Competitive Grant no. 2010-65205-20342 from the USDA National Institute of Food and Agriculture, and by funding from the National Pork Board Grant no. 11–042. Partial funding was also provided by the US Pig Genome Coordinator. Computer resources were provided by the Michigan State University High Performance Computing Center (HPCC). JLGD and RJCC were funded by UBACyT 20020100100861 from Universidad de Buenos Aires (Argentina). We acknowledge Yvonne M. Badke (Ph.D. student) and Yijian Huang Ph. D. (Postdoctoral researcher) of Michigan State University for help with programing.
Authors' Affiliations
(1)
Department of Animal Science, Michigan State University, East Lansing, USA
(2)
Departamento de Producción Animal, Facultad de Agronomía, UBA-CONICET, Buenos Aires, Argentina
(3)
Department of Fisheries and Wildlife, Michigan State University, East Lansing, USA
Copyright
© Gualdrón Duarte et al.; licensee BioMed Central Ltd. 2013
This article is published under license to BioMed Central Ltd. This is an Open Access article distributed under the terms of the Creative Commons Attribution License (http://creativecommons.org/licenses/by/2.0), which permits unrestricted use, distribution, and reproduction in any medium, provided the original work is properly cited.