Methodology article
Open Access
iXora: exact haplotype inferencing and trait association
Received: 7 October 2012
Accepted: 14 May 2013
Published: 6 June 2013
Abstract
Background
We address the task of extracting accurate haplotypes from genotype data of individuals of large F1 populations for mapping studies. While methods for inferring parental haplotype assignments on large F1 populations exist in theory, these approaches do not work in practice at high levels of accuracy.
Results
We have designed iXora (Identifying crossovers and recombining alleles), a robust method for extracting reliable haplotypes of a mapping population, as well as parental haplotypes, that runs in linear time. Each allele in the progeny is assigned not just to a parent, but more precisely to a haplotype inherited from the parent. iXora shows an improvement of at least 15% in accuracy over similar systems in literature. Furthermore, iXora provides an easy-to-use, comprehensive environment for association studies and hypothesis checking in populations of related individuals.
Conclusions
iXora provides detailed resolution in parental inheritance, along with the capability of handling very large populations, which allows for accurate haplotype extraction and trait association. iXora is available for non-commercial use from http://researcher.ibm.com/project/3430.
Keywords
HaplotypePhasingPhenotype AssociationTrait AssociationQTLRandomization
Background
We address the task of extracting accurate haplotypes from genotype data of individuals of large F1 populations for mapping studies. Haplotypes are useful for inferring the underlying causal genetic basis of the traits in mapping populations as one can more efficiently evaluate the parental inheritance of the haplotype implicated in the determination of the trait [1, 2]. iXora is specifically suited to plant (or animal) breeding, in which mapping populations of individuals of inbred (or non-inbred) parents are utilized. iXora uses a novel approach by effectively utilizing the large data size and exploiting the fortuitous combinatorial structure in the problem. The algorithm is outlined in the next section with a running example and the mathematical details are presented in Methods.
Given genotypes of n progeny on m loci, the general problem of constructing haplotypes from genotypes is NP-complete, under various models such as parsimony, maximum likelihood, phylogeny (see [3] for a detailed exposition). Both statistical and combinatorial frameworks have been used in the literature to solve the problem of haplotype extraction from genotype data. For instance, BEAGLE [4, 5], fastPHASE [6], HAPI [7], HAPI-UR [8], MACH [9], and SHAPEIT [10, 11] use a Hidden Markov Model; whereas Gusfield [12] proposes a combinatorial approach that is based on the parsimony principle. Merlin [13] uses pedigree data under a parsimony model to construct the haplotypes of F1 progeny based on their genotypes and the genotypes of the parents. A review of phasing methods, particularly applicable on human data, is presented in [14]. Based on the models of the input population, the existing methods can be categorized into the following scenarios: unrelated individuals, unrelated trios (two parents per one progeny), and related trios (two parents per several progeny, our F1 population of interest). These categories are discussed in more detail in Methods.
We compare and contrast iXora with existing phasing programs in literature, summarizing the results in Table
1
. The results are described in the Section "Comparison with related methods". The existing methods are unable to take advantage of the availability of large F
1
 population data without fragmenting it. Through simulation studies we show an improvement of about 15% accuracy in parental haplotype assignment over the next best method. Moreover, iXora runs in linear time and is robust enough to give the same level of accuracy even when the marker data of parents is completely absent.
Table 1
Definition and size of the classes
Accuracy %

Trait

Time

PA (ua)

Imp. (ua)

PHA %

Assoc.

Sec

Remarks

Unrelated individuals (no parent information)

fastPHASE [6]

60.07(0.00)

59.77(0.00)

NA

No

78

58.01(0.00)

56.55(0.00)

158

FMPH [12]

-

-

NA

No

-

Up to 30-100 markers

MACH [9]

52.89 (0.00)

52:16(0:00)

NA

Yes

567

52.49 (0.00)

50.91 (0.00)

1144

Unrelated trios

BEAGLE [5]

99.90 (0.00)

98.61 (0.00)

NA

Yes

5

99.90 (0.00)

98.28 (0.00)

10

HAPI-UR [8]

99.69 (0.00)

94.75 (0.00)

NA

No

3

99.67 (0.00)

94.88 (0.00)

7

Related trios

HAPI [7]

90.75 (9.17)

0.00 (100.0)

83.88

No

0.1

< 15 progeny/parent

90:63(9:29)

0:00(100:0)

83.87

0.2

Merlin [13]

70:59(29:38)

69:60(29:47)

69.74

Yes

299

< 15 progeny/parent

64:80(35:18)

63:72(35:09)

63.81

604

SHAPEIT2 [11]

87:20(0:00)

57:61(0:00)

NA

No

70

< 50 progeny/parent

90:46(0:00)

64:05(0:00)

148

iXora

95:89(4:05)

92:11(7:75))

95.55

Yes

0.3

95:73(4:21)

91:43(8:40)

95.43

0.8
iXora provides a user-friendly, easy-to-use comprehensive environment for mapping studies. The analysis framework and user interface are described in Additional file 1: Figures A1 and A2. Its usage is described in the section "Using iXora" in Additional file 1, with a running example, where we also demonstrate that genomic regions can be associated with a phenotype at a much higher resolution with haplotypes than with genotypes. The iXora framework has been successfully applied to real data analysis [15], in which pod color phenotype was localized, with high resolution, to a single locus in the T. cacao genome.
Results and discussion
In this section we outline the main results: the iXora phasing algorithm and its comparison with related methods in literature.
Outline of the core algorithm
We give an overview of the iXora phasing algorithm here, while the details are described in Methods. The different steps of the algorithm, based on a parsimony principle, are shown in Figure
1
. Note that each mathematical observation, with the details in Methods, is abbreviated as
Obs
 in the figure and in the description below. To aid in the exposition, we use a concrete example and take the reader through the different steps of the algorithm. The following input progeny genotype matrix, , is a toy example for illustrative purposes only, with just four individuals (labeled
i
-
iv
) and four bi-allelic markers: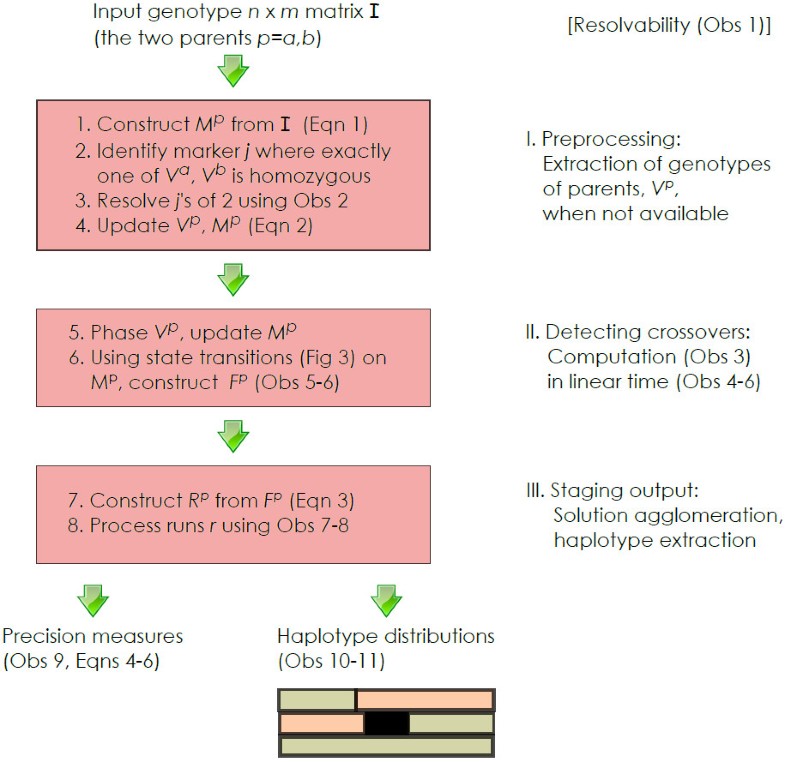 Phase I (Preprocessing)
In Step 1, we initialize two 4 × 4 matrices
M
a
 and
M
b
 based on input . Here a heterozygous position is represented by "X" while a homozygous position is chosen to be 0. Note that if a column has two types of homozygous genotypes, such as TT and CC (as in first column of ), then the first is represented by 0 and the second by 1.
In this running example, we assume that parent genotypes are missing. That is, the
entire
 genotypes of
both
 the parents are unavailable. So, in Step 2, we take a first stab at guessing the parents' haplotypes, labeled
V
a
 and
V
b
, each with two haplotypes indexed as 0 and 1. Since the first marker (
j
 = 1) has two types of homozygous genotypes (i.e., TT and CC), it is assumed to be heterozygous in both parents. Also since TT is encoded as 0 in Step 1, the corresponding parent haplotype (index 0) in and is T, i.e., . CC is encoded as 1, thus . The second marker (
j
 = 2) has only one homozygous genotype (i.e., TT), and is assumed to be homozygous in only one of the parents. Similarly, the third marker (
j
 = 3) is homozygous in only one of the parents, but the fourth (
j
 = 4) marker is assumed to be homozygous in both parents. Thus only the second and the third marker need to be resolved further and this is summarized as follows (currently unresolved values denoted by "?" and homozygous by "H"):
Without loss of generality, let the second marker be homozygous in parent
b
. The third marker is resolved relative to the second marker based on a global
polarization
 rule (Obs 2 in Methods). This heuristic works on column 2 (
j
) and column 3 () to compute that tracks the four counts corresponding to the four haplotype pairs 00, 01, 10 and 11 labeled as
c
00
,
c
01
,
c
10
 in
c
11
 respectively (count
c
x
y
 is the number of individuals where marker at
j
 is inherited from haplotype
x
 and the marker at
j
′
 is inherited from haplotype
y
 of the same parent). In this rather simple example, all the four counts are zero, and thus is not polarized. Then the second and third markers are homozygous in
different
 parents. Hence the third marker is homozygous in parent
a
. This constitutes Step 3 and the results are encoded in the two parents as follows (here "X" denotes heterozygous, "H" denotes homozygous locus and "-" denotes homozygous in both parents):
With these assignments of the parent haplotypes, the progeny haplotype assignment matrices
M
a
 and
M
b
 are updated in Step 4 as shown below. Note that, if the genotypes of the parents are available then Steps 2-3 are redundant and
V
a
,
V
b
 are initialized directly using the input genotypes of the parents.
Phase II (Detecting crossovers)
A marker
j
 is homogenous in matrix
M
p
 if the entire column
j
in
M
p
 is marked as
H
. In Step 5, the polarization rule is applied again to pairs of adjacent non-homogenous markers (
j
 and
j
n
x
t
) in each of the matrices
M
a
 and
M
b
 separately. These result in possible switching of marker values in the parent haplotypes
V
p
 and the progeny at that marker in
M
p
. The reader will observe that no switching is made in
M
a
. However, in
M
b
, for
j
 = 1 and
j
n
x
t
 = 3, the four counts are
c
01
 = 1,
c
10
 = 1 and
c
00
 = 
c
11
 = 0. Since , marker
j
n
x
t
 is switched in
V
b
 and
M
b
 to yield the following:
Some systematic transitions (Obs 5-6 in Methods) are applied to the non-numeric elements of the
M
a
 and
M
b
, in Step 6, to obtain the following:
Phase III (Staging output)
In this toy example, we can simply transform e0 to 0 and e1 to 1 to obtain the phasing result in R a  and R b  (Steps 7-9):
The parent haplotypes are encoded in V a , V b respectively and the progeny haplotypes in R a  and R b . The solution shows no recombinations in the progeny, but has two errors between the phased sequences and the observed genotypes, shown in red. We omit the evaluation of the results (precision measures) here, and direct the reader to Methods.
Comparison with related methods
Here we describe the results from a simulation study on a F1 population with 200 individuals and 300–600 markers. The parameters of the simulation were chosen to reflect real data and the details are described in the section "Using iXora" in Additional file 1.
We compare iXora with the existing phasing methods BEAGLE [5], fastPHASE [6], FMPH [12], HAPI [7], HAPI-UR [8], MACH [9], Merlin [13], and SHAPEIT2 [11]. Each existing method solves a slightly different phasing problem, such as not providing a parental haplotype assignment for the progeny, or not processing the entire population in one run, as discussed in Methods. Hence we used evaluation criteria that enable a meaningful comparison of this wide-spectrum of methods, when applied on simulated data. The evaluation criteria are described in Methods, and the results are summarized in Table 1.
Accuracy of Parent Assignments (PA)
This accuracy is measured on a marker-by-marker basis. We post-process the output of the systems that do not directly provide parental assignment. The best parental assignment is seen with BEAGLE and HAPI-UR, followed by iXora. In the two former cases, there are no unassigned markers. HAPI and SHAPEIT2 show moderate accuracy while Merlin, fastPHASE, and MACH perform poorly. Note that Merlin's performance deteriorates with the increase in number of markers, while HAPI and iXora display similar levels of accuracy.
Handling missing data/imputation
All the methods, except HAPI, show some capability of handling missing data. Merlin has about a third of the missing data unresolved, while iXora has less than 10% unresolved. The rest of the methods resolve all the missing data. BEAGLE, HAPI-UR and iXora display levels of accuracy in the imputed data larger than 90% while the rest perform poorly. Note that these values only account for missing data in the progeny. We found that missing data in the parents were debilitating for all the trio based methods, except Merlin and iXora. These two methods were the only ones that produced some results when all the marker data of both parents were missing. Since Merlin can handle only a small number of individuals per parent, about 15% of the parent haplotypes remained unresolved. We observed that iXora is the only method robust enough to be unaffected by completely missing parent genotypes. We attribute this resilience to its ability to handle large families of individuals without splitting into smaller sets.
Accuracy of Parent Haplotype Assignments (PHA)
Note that PHA is the most important computation since this crucially contributes to the improvement in accuracy and resolution in genomic region assignment to traits (see "Using iXora" in Additional file 1 for an example). In Table 1 the corresponding column, labeled PHA, is shown in bold and is the focus of the comparison study.
The PHA accuracy is measured on a marker-by-marker basis. Only HAPI, Merlin, and iXora provide an assignment of the parental haplotypes. Note that although SHAPEIT2 utilizes trios, it did not give us any means to extract parent haplotype information from the output. Both HAPI and Merlin perform poorly, with accuracy under 85% and 70% respectively. In contrast, iXora yields an accuracy of over 95%.
Although, HAPI and Merlin give means of identifying the parent haplotypes, they suffer a severe scaling problem, and are unable to handle more than about ten progeny per family. Thus it is not obvious how these systems can be coaxed to exploiting the availability of large progeny to improve the accuracy of the parental haplotype assignments.
Conclusions
From the comparison with related methods, we conclude that while methods to the problem of inferencing parental haplotype assignments on large F1 populations exist in theory, these approaches do not work in practice at high levels of accuracy (say > 90%). Moreover, iXora is the only algorithm that is robust enough to accurately extract the parental haplotypes in the absence of any parental genotype information. In practice, when the genotypes of the parents were known, we used this capability of iXora to match the estimated parent genotypes against the true genotypes to confirm the integrity of the phasing results. iXora additionally outputs several intrinsic measures of preciseness (the triplet ), and all the equally-likely phasing solutions with annotations (q/Q/*), see Methods. These added capabilities make iXora and its output particularly attractive, over existing methods, for trait association and inferencing studies.
Methods
In this section we describe the mathematical details of the iXora haplotype inference algorithm, the measures used to quantify the precision of the output, and the different downstream processing of the output. We conclude the section with the description of the measures used to compare the results from different phasing algorithms.
Declarations
Acknowledgements
FU is partially funded by MARS, under the joint cacao project with IBM Research. OEC is partially funded by MARS, Incorporated. The authors would like to thank Dr. Seth Findley and Joseph Conrad Stack, and the anonymous reviewers for providing valuable comments on the manuscript.
Authors' Affiliations
(1)
Computational Biology Center, IBM T J Watson Research, Yorktown Heights, USA
(2)
USDA-ARS SHRS, Miami, USA
(3)
Stanford University, Stanford, USA
(4)
MARS, Incorporated, Miami, USA
Copyright
© Utro et al.; licensee BioMed Central Ltd. 2013
This article is published under license to BioMed Central Ltd. This is an Open Access article distributed under the terms of the Creative Commons Attribution License (http://creativecommons.org/licenses/by/2.0), which permits unrestricted use, distribution, and reproduction in any medium, provided the original work is properly cited.