Research article

Open Access
Evidence for positive selection of taurine genes within a QTL region on chromosome X associated with testicular size in Australian Brahman cattle
Received: 11 October 2013
Accepted: 18 December 2013
Published: 10 January 2014
Abstract
Background
Previous genome-wide association studies have identified significant regions of the X chromosome associated with reproductive traits in two Bos indicus-influenced breeds: Brahman cattle and Tropical Composites. Two QTL regions on this chromosome were identified in both breeds as strongly associated with scrotal circumference measurements, a reproductive trait previously shown to be useful for selection of young bulls. Scrotal circumference is genetically correlated with early age at puberty in both male and female offspring. These QTL were located at positions 69–77 and 81–92 Mb respectively, large areas each to which a significant number of potential candidate genes were mapped.
Results
To further characterise these regions, a bioinformatic approach was undertaken to identify novel non-synonymous SNP within the QTL regions of interest in Brahman cattle. After SNP discovery, we used conventional molecular assay technologies to perform studies of two candidate genes in both breeds. Non-synonymous SNP mapped to Testis-expressed gene 11 (Tex11) were associated (P < 0.001) with scrotal circumference in both breeds, and associations with percentage of normal sperm cells were also observed (P < 0.05). Evidence for recent selection was found as Tex11 SNP form a haplotype segment of Bos taurus origin that is retained within Brahman and Tropical Composite cattle with greatest reproductive potential.
Conclusions
Association of non-synonymous SNP presented here are a first step to functional genetic studies. Bovine species may serve as a model for studying the role of Tex11 in male fertility, warranting further in-depth molecular characterisation.
Keywords
Bovine
Reproductive trait
Candidate gene
Haplotype analysis
Association study
Background
Indicine cattle (Bos indicus) are socially- and economically-important breeds globally and dominate beef production systems in tropical and sub-tropical regions, and are an important resource in developing nations for food security in vulnerable communities [1]. Presence of indicine cattle is largely due to these breeds being better able to tolerate high temperature and humid environments common in these regions. Bos indicus also have improved tolerance to ticks and other tropical challenges compared to taurine breeds (Bos taurus) commonly found in temperate regions [2, 3]. However, it is well documented that indicine breeds are inferior in terms of reproductive efficiency in comparison to taurine cattle [4–6]. For example, Brahman bulls typically reach puberty at a later age compared to taurine breeds, with downstream impacts on a number of economically-important indicators of herd productivity and profitability including generation interval and calving rates [7–9]. Tropically-adapted composite herds have also been developed with the aim of retaining the beneficial adaptations of indicine breeds for environmental stressors, while integrating taurine genes for production traits including reproductive performance [10–12]. Improving reproductive performance of indicine cattle will provide positive impacts in terms of both food security and environmental impacts through increased efficiency in livestock production in areas where hunger is an issue and demand for animal protein is increasing.
Fertility of individual sires is an important production and economic trait affecting reproductive performance of the whole herd. However, fertility is not an easily defined trait, comprising a variety of important heritable traits for selection of early maturing animals [13]. Whereas estimates of heritability for female fertility traits are low, heritability estimates for testicular traits are moderate to high and therefore can be used for effective selection [13–15]. For example, scrotal circumference (SC) is an easy to measure and consistent indicator trait for puberty in bulls with heritability across breeds ranging from medium to high [16]. Also, SC is favourably correlated to other traits affecting both male and female reproductive performance, including sperm quality, percentage of normal sperm, semen concentration, body weight, age at first pregnancy, progesterone levels and age at puberty in heifers [15–24]. Genetic selection that uses SC measurements to improve male fertility can impact positively on whole herd reproductive performance. Likewise, percentage of normal sperm (PNS) impacts directly on bull fertility, as it is a meaningful predictor of calf output per bull [25]. Therefore, measurements of SC and PNS are used as indicators in breeding programs for selecting fertile bulls [18, 20].
A limitation in the use of SC and PNS as selection tools is that these reproductive traits cannot be measured before bulls reach 12–24 months of age. Time constraint can limit the attractiveness of these traits as selection tools. Identifying genetic markers associated with these traits would potentially overcome this limitation as they can be measured in DNA samples extracted from blood at birth.
Recent genome-wide association studies (GWAS) in Brahman and Tropical Composite cattle has resulted in the identification of a number of genomic regions associated with SC, PNS and other reproductive traits [26–30]. Fortes et al. [29] reported a 30 Mb region from approximately 62 to 92 Mb positions on chromosome X associated with SC in Brahmans. This region was also associated with the age at which a bull achieves a scrotal circumference of 26 cm (AGE26), regarded as puberty [27]. This finding was confirmed in a subsequent study on a Tropical Composite population [30], with significant polymorphisms grouped in two discrete regions at 69–77 Mb and 81–92 Mb positions on the X chromosome.
These confirmed QTL regions warrant further investigation and in the current study, two candidate genes, androgen receptor (AR) and testis expressed 11 (Tex11), were investigated for their association with SC and PNS measurements in Brahman and Tropical Composite populations. Androgen Receptor was chosen for its proximity to the QTL peak and its well-studied roles during embryogenesis and puberty for male phenotype development and sexual maturation [31]. Androgens, principally 5α-dihydrotestosterone (DHT) and testosterone, are essential for the maintenance of behaviour and function of male reproduction and exert their effects by interacting with AR. Both native ligands of this receptor, testosterone and DHT bind to AR to activate target gene expression at the transcriptional level. Androgen-AR activity results in the promotion of maintenance and development of male reproduction and male phenotype [31]. The Tex11 gene is also in the same QTL region in chromosome X [29, 30], and has previously been reported to be essential for male meiosis and fertility in humans and pigs [32, 33].
The aim of this study was to characterise the variations in these genes including 5′UTR, test their association with male reproductive traits and investigate the origin of favourable haplotypes. Precedence for the importance of polymorphisms in the 5′UTR gene region include SNP within this region of the bovine growth hormone receptor gene, which has a marked effect on beef production traits [34], and the association of a SNP within the 5′UTR of the bovine lactoferrin (LF) gene with reproductive parameters and uterine infection in dairy cattle [35]. Identification of novel single nucleotide polymorphisms (SNP) markers was possible through a combination of bioinformatic analyses of genome sequence data of representative Brahmans and target sequence analysis within the study population. Discovered markers were used to test these candidate genes for their association with observed phenotypic variation of SC and PNS across both Brahman and Tropical Composite populations. Haplotypes across the X chromosome were determined to be of Bos taurus or Bos indicus origin. Haplotypes from across the entire X chromosome were contrasted with Tex11 haplotypes to verify the origin of haplotypes and search for evidence of recent selection.
Discussion
Several studies have been published on the role of polymorphisms in other candidate genes associated to pubertal traits in cattle. For example, polymorphisms in insulin like growth factor 1 (IGF1), gonadotropin-releasing hormone receptor (GNRHR) and testicular luteinizing hormone receptor (LHR) were associated with age at puberty in Angus male cattle, in Polish Holstein-Friesian cattle [42] and in Female Brahman cattle [43]. This current analysis is the first to implicate Tex11 and AR as regulators of puberty onset in bovine bulls.
Previous studies have estimated that Australian Brahman cattle may contain up to 10% Bos taurus genes and that these chromosomal segments can have significant effects on body weight or other production traits [44]. Upon examination across the entire genome or entire chromosome X, cattle carrying the favourable Tex11_r38k allele for SC were found to have similar Bos taurus component when compared to bulls carrying the less favourable allele (2.6% and 2.3% respectively). However, when animals were grouped on the basis of allelic variants at the four SNP (AR_In4 [G > A], Tex11_g297d [A > G] Tex11_r38k [A > G], Tex11_r696h [A > G]), striking differences were found in the average frequency of Bos taurus haplotypes between these groups (Figure 2). The difference between groups was most pronounced around the Tex11_r38k and Tex11_r696h loci. For a 5 haplotype region (each haplotype containing 10 SNP), animals carrying the G allele, favourable for higher SC, had higher levels of Bos taurus haplotypes (67% on average) compared to those bulls carrying the A allele at these loci (only 1.33% on average). A similar but less pronounced effect was observed for AR_In4 (18% compared to 3%) and Tex11_g297d (16% compared to 3%). The increase in the proportion of Bos taurus haplotypes at approximately 70–100 Mb on chromosome X encompasses the candidate genes and the previously characterised QTL region associated with SC, PNS and other reproductive traits in both Brahman and Tropical Composite bulls. This suggests that this region of Bos taurus origin may have been retained in Brahmans and Tropical Composites through positive selection due to its favourable phenotypic outcomes including larger SC related to younger age at puberty and higher fertility.
Conclusions
In this study, two putative candidate genes (AR and Tex11) were investigated for their association with SC and PNS measurements, recognised fertility traits in Brahman and Tropical Composite bulls. These genes were selected for this study because of their position, which mapped to reported QTL [29, 30], and because of their known functions. Our results provide strong evidence for the biological role played by AR and in particular Tex11 in male reproduction in cattle. These two genes emerge as strong candidate genes for explaining SC and PNS variation in tropically adapted cattle breeds such as Brahman and Tropical Composite, with varying degrees of taurine and indicine content. Evidence for recent positive selection of a favourable Bos taurus haplotype was shown and potential causative mutations were described, such as the nsSNP in Tex11 and the 5'UTR SNP in AR that might affect SRY transcription factor binding sites. Knowledge about causative mutations merits confirmation and functional studies. These causative mutations can be used to improve animal breeding and selection as well as being potential models for male fertility issues in mammals.
Methods
The flow of procedures that formed this study is summarized in the illustration provided (Figure
3
) and detailed below.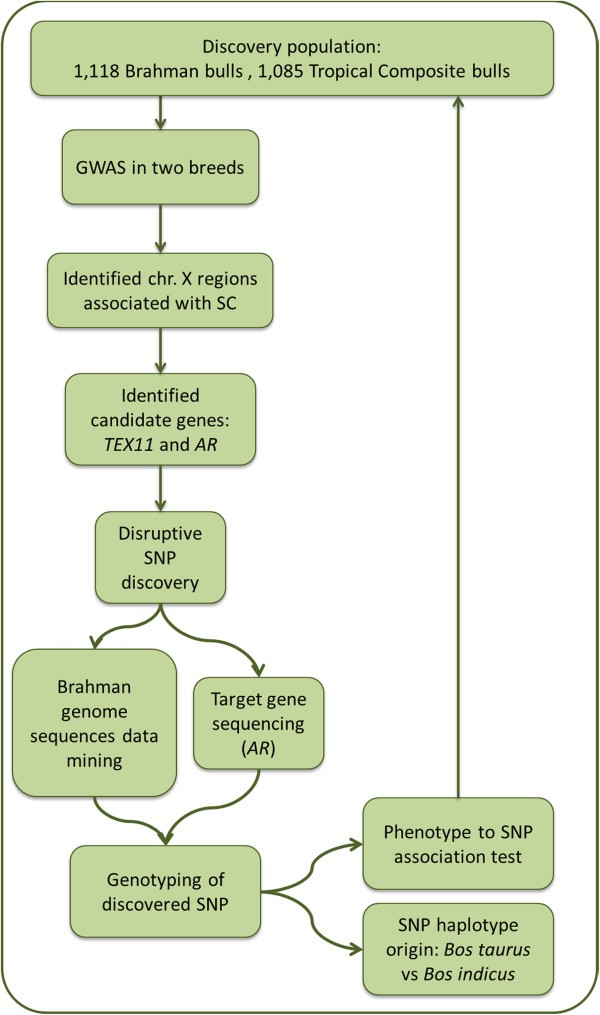 Declarations
Acknowledgements
The authors acknowledge that this research uses resources generated by the Cooperative Research Centre for Beef Genetic Technologies (Beef CRC). In particular, we wish to acknowledge Dr. Richard Holroyd for leading the experiments that created the Beef CRC male fertility dataset and Ms Bronwyn Venus for the sperm morphology assessment. Additional financial support for genotyping Brahman and Tropical Composite bulls was provided by Meat and Livestock Australia (projects: B.NBP.0723 and B.NBP.0604).
Authors' Affiliations
(1)
CSIRO, Animal, Food and Health Sciences, Queensland Bioscience Precinct, Brisbane, Australia
(2)
School of Chemistry and Molecular Biosciences, The University of Queensland, Brisbane, Australia
(3)
Queensland Alliance for Agriculture and Food Innovation, Centre for Animal Science, The University of Queensland, Brisbane, Australia
Copyright
© Lyons et al.; licensee BioMed Central Ltd. 2014
This article is published under license to BioMed Central Ltd. This is an Open Access article distributed under the terms of the Creative Commons Attribution License (http://creativecommons.org/licenses/by/2.0), which permits unrestricted use, distribution, and reproduction in any medium, provided the original work is properly cited. The Creative Commons Public Domain Dedication waiver (http://creativecommons.org/publicdomain/zero/1.0/) applies to the data made available in this article, unless otherwise stated.