Research article
Open Access
Evolutionary study of the isoflavonoid pathway based on multiple copies analysis in soybean
Received: 17 December 2013
Accepted: 20 June 2014
Published: 24 June 2014
Abstract
Background
Previous studies suggest that the metabolic pathway structure influences the selection and evolution rates of involved genes. However, most of these studies have exclusively considered a single gene copy encoding each enzyme in the metabolic pathway. Considering multiple-copy encoding enzymes could provide direct evidence of gene evolution and duplication patterns in metabolic pathways. We conducted a detailed analysis of the phylogeny, synteny, evolutionary rate and selection pressure of the genes in the isoflavonoid metabolic pathway of soybeans.
Results
The results revealed that 1) only the phenylalanine ammonia-lyase (PAL) gene family most upstream from the pathway preserved all of the ancient and recent segmental duplications and maintained a strongly conserved synteny among these duplicated segments; gene families encoding branch-point enzymes with higher pleiotropy tended to retain more types of duplication; and genes encoding chalcone reductase (CHR) and isoflavone synthase (IFS) specific for legumes retained only recent segmental duplications; 2) downstream genes evolved faster than upstream genes and were subject to positive selection or relaxed selection constraints; 3) gene members encoding enzymes with high pleiotropy at the branching points were more likely to have undergone evolutionary differentiation, which may correspond to their functional divergences.
Conclusions
We reconciled our results with existing controversies and proposed that gene copies at branch points with higher connectivity might be under stronger selective constraints and that the gene copies controlling metabolic flux allocation underwent positive selection. Our analyses demonstrated that the structure and function of a metabolic pathway shapes gene duplication and the evolutionary constraints of constituent enzymes.
Keywords
Isoflavonoid phytoalexin pathwayDuplication patternEvolution divergenceMultiple copiesSoybean
Background
Isoflavonoid phytoalexins are phenolic secondary metabolites. An increasing number of studies have demonstrated that isoflavonoid phytoalexins play an important role in plant defense against pathogens. Isoflavonoid phytoalexins (e.g., medicarpin or glyceollin) are distributed predominantly in leguminous plants and are synthesized through the central phenylpropanoid pathway and legume-specific isoflavonoid branch pathways [1]. To date, plant genetics and biochemical studies have resulted in the isolation and characterization of most of the structural genes involved in phytoalexin production [2, 3]. Although the isoflavonoid phytoalexin pathway (to simplify, we refer to it as the isoflavonoid pathway) is one of the most studied secondary metabolic pathways in plants, systematic molecular evolution analyses of isoflavonoid pathway genes in soybeans remain scarce.
In the process of legume divergence, the soybean (2n = 4× = 40) has undergone two rounds of whole genome duplication (WGD) events. The ancient WGD event most likely predated the split between soybean and Medicago truncatula (2n = 2× = 16) approximately 50 to 60 million years ago (mya) [4–7], which may have contributed to survival after the Cretaceous-Tertiary extinction event [8]. The recent WGD was found to be an allopolyploidization event that occurred independently in the soybean approximately 5 to 15 mya [8–14]. When whole-genome or chromosome segmental duplication occurs, genes are either lost or retained as repeat genes. Regarding the duplication retention patterns of gene families in metabolic pathways, studies have shown that gene families that encode highly connected enzymes tend to retain more duplicated copies than the gene families related to enzymes with fewer connections [15]. However, no detailed investigation regarding the correlation between gene duplication patterns and the gene's position or function in metabolic pathways is available.
A primary objective of molecular evolutionary research is to elucidate the driving forces that dominate the variation and mechanisms of molecular evolution. Recently, many studies have focused on how selection acts on the genes involved in metabolic pathways [16, 17]. However, controversies related to inconsistencies among research findings exist. For example, several studies have found that genes encoding upstream enzymes were subject to stronger selective constraints and therefore evolved more slowly than genes encoding downstream enzymes [18–22]. However, investigations into the phenylpropanoid pathway in Arabidopsis thaliana[23], the gibberellin pathway in the Oryzeae tribe [24] and the starch pathway in Oryza sativa[25] failed to provide evidence of a correlation between the positions of genes in the pathway and selective constraints or evolutionary rates. In addition, in terms of the branch-point enzymes acting at the center of the metabolic pathways, some theoretical analyses and empirical studies have concluded that adaptive substitutions tend to be concentrated in branch-point genes and therefore tend to be subject to positive selection [26–28]. One opposing observation is that nonsynonymous substitution occurs less frequently in branch-point genes and thus reflects greater selective constraint in these genes [24].
Most of the abovementioned evolutionary pattern studies have exclusively considered a single gene copy that encoded each enzyme in the metabolic pathway. However, it remains to be determined whether the above conclusions still apply when multiple copies encoding each enzyme are considered. Homologous copies could incur functional differentiation after gene duplication, including pseudogenization [
29
], sub-functionalization and [
30
] neo-functionalization [
31
], which might lead to evolutionary divergence. If only single-copy encoding enzymes are considered in the study of the relationship between evolutionary patterns and the positions of enzymes in the metabolic pathway, bias toward the evolution of metabolic pathway genes might result. Experimental studies have suggested that several gene copies encoding branch-point enzymes located at the central isoflavonoid biosynthetic pathway in soybeans exhibit functional differentiation, such as 4-coumarate:CoA ligase (4CL) and chalcone isomerase (CHI) [
32
,
33
]. This phenomenon is expected in soybean due to polyploidy; however, whether there are differential evolution patterns among these functionally differential copies and whether differential evolution patterns are relevant to pleiotropy or to the connectivity of divergent gene copies remain unknown. Above all, considering multiple-copy encoding enzymes in the study of differential evolutionary patterns of genes in metabolic pathways could provide clearer evidence of the way selection power acts on genes in metabolic pathways than previous studies have offered.The isoflavonoid phytoalexin pathway in soybeans provides an excellent system for investigating the influence of metabolic pathway structure on the duplication and evolutionary patterns of enzymes. First, multiple copies of gene-encoding enzymes in the isoflavonoid biosynthetic pathway were retained as the soybean experienced two rounds of WGD events. Second, the pathway contains nine major enzymes acting at different positions and four metabolic nodes of the isoflavonoid biosynthesis pathway. Therefore, the network topology is suitable to investigations of the effect that the positions and functions of enzymes in the pathway on gene duplication and evolutionary patterns (Figure
1
). Metabolic node substances are defined as the substances that participate in two or branching pathways. Branch-point enzymes are the enzymes that catalyze these reactions and primarily include4-coumarate:CoA ligase (4CL), chalcone synthase (CHS), chalcone reductase (CHR), CHI and isoflavone synthase (IFS). In general, 4CL participates in most of the pathways involved in the biosynthesis of lignin, flavone, flavonol, anthocyanin and isoflavonoid. CHS and CHI also participate in these pathways, with the exception of the lignin biosynthesis pathway. In contrast, CHR and IFS only control isoflavonoid biosynthesis. Therefore, we grouped 4CL, CHI and CHS into enzymes with greater pleiotropy and CHR and IFS into enzymes with less pleiotropy in the branching pathway. To avoid ambiguous boundaries in the branching pathway, the most upstream enzymes, phenylalanine ammonia-lyase (PAL) and cinnamate 4-hydroxylase (C4H), are classified as the upstream enzymes, whereas the most downstream enzymes, isoflavone O-methyltransferase (IOMT) and isoflavone reductase (IFR), are downstream enzymes.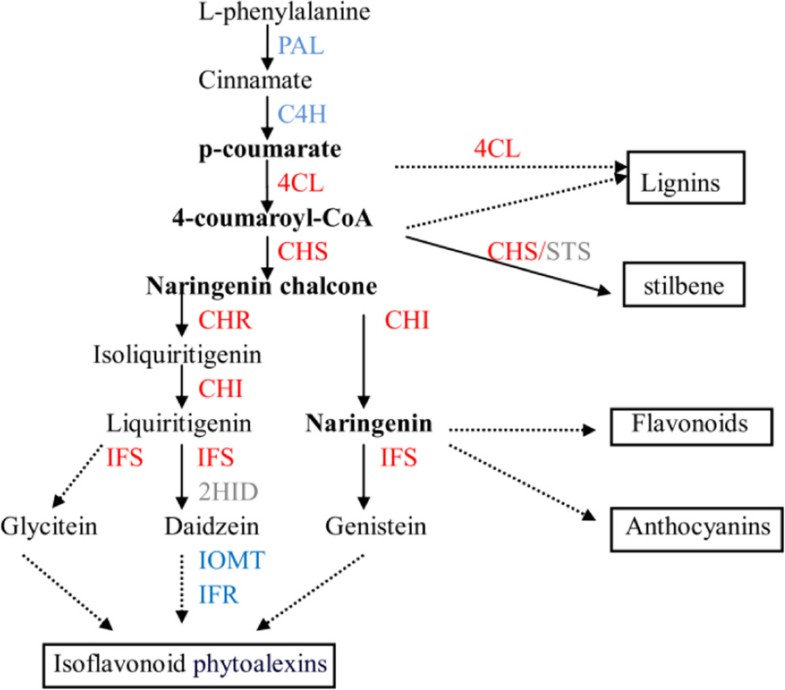 Considering these enzymes together, we identified the isoflavonoid biosynthesis pathway genes in the soybean genome to investigate duplication and evolutionary patterns by analyzing the phylogenies, synteny, evolutionary rate and selection pressure of the genes in each gene family. We sought to examine the following: 1) whether different duplicate retention patterns exist in different gene families and how pathway position, node connectivity and pleiotropy affect the duplicate retention patterns; 2) whether positive selection signatures and evolutionary rate heterogeneity exist in genes that encode the enzymes involved in the isoflavonoid biosynthesis pathway and how they are distributed in this pathway; and 3) whether differential evolutionary patterns exist among multiple gene copies that encode each enzyme involved in the isoflavonoid biosynthesis pathway in soybeans.
Conclusions
Although numerous evolutionary studies on pathway genes have been performed, evidence on the duplication pattern of multiple-copy gene families is lacking. The results of this study provide evidence that there exists correlation between a gene family's duplication as well as evolutionary patterns and its position or function in the pathway. It is noteworthy that gene copies encoding branch-point enzymes with high pleiotropy tend to possess evolutionary divergence and undergo many duplication events. This result underscores the need for multicopy-based approaches in studies of the molecular evolution of metabolic pathways. Interestingly, the evolutionary differentiation of gene copies located at branch points potentially corresponds to their functional divergences (e.g., the gene copies closely related to isoflavonoid synthesis were all subject to purifying selection). More intensive molecular evolution studies on multiple gene copies involved in this pathway would offer profound insight for engineering isoflavonoid composition in soybean.
Abbreviations
PAL:

Phenylalanine ammonia-lyase
CHR:

Chalcone reductase
IFS:

Isoflavone synthase
WGD:

Whole genome duplication
mya:

Million years ago
4CL:

4-coumarate: CoA ligase
CHS:

Chalcone synthase
CHI:

Chalcone isomerase
IOMT:

Isoflavone O-methyltransferase
IFR:

Isoflavone reductase
C4H:

Cinnamate 4-hydroxylase
MRCA:

Most recent common ancestor.
Declarations
Acknowledgements
We thank Dr. Sihai Yang of Nanjing University for his critical reading of the manuscript. This work was supported in part by National Basic Research Program of China (973 Program) (2010CB125906), Key Transgenic Breeding Program of China (2013ZX08004-003), National Natural Science Foundation of China (31271749, 31301342) and Nanjing Agricultural University Youth Science and Technology Innovation Fund (KJ2013002).
Authors' Affiliations
(1)
College of Life Sciences, Nanjing Agricultural University, Nanjing, People's Republic of China
(2)
National Center for Soybean Improvement, National Key Laboratory of Crop Genetics and Germplasm Enhancement, Nanjing Agricultural University, Nanjing, People's Republic of China
Copyright
© Chu et al.; licensee BioMed Central Ltd. 2014
This article is published under license to BioMed Central Ltd. This is an Open Access article distributed under the terms of the Creative Commons Attribution License (http://creativecommons.org/licenses/by/2.0), which permits unrestricted use, distribution, and reproduction in any medium, provided the original work is properly credited. The Creative Commons Public Domain Dedication waiver (http://creativecommons.org/publicdomain/zero/1.0/) applies to the data made available in this article, unless otherwise stated.