Perspective on the combined use of an independent transgenic sexing and a multifactorial reproductive sterility system to avoid resistance development against transgenic Sterile Insect Technique approaches
BMC Genetics
2014
15(Suppl 2):S17
Published: 1 December 2014
Abstract
Background
The Sterile Insect Technique (SIT) is an accepted species-specific genetic control approach that acts as an insect birth control measure, which can be improved by biotechnological engineering to facilitate its use and widen its applicability. First transgenic insects carrying a single killing system have already been released in small scale trials. However, to evade resistance development to such transgenic approaches, completely independent ways of transgenic killing should be established and combined.
Perspective
Most established transgenic sexing and reproductive sterility systems are based on the binary tTA expression system that can be suppressed by adding tetracycline to the food. However, to create 'redundant killing' an additional independent conditional expression system is required. Here we present a perspective on the use of a second food-controllable binary expression system - the inducible Q system - that could be used in combination with site-specific recombinases to generate independent transgenic killing systems. We propose the combination of an already established transgenic embryonic sexing system to meet the SIT requirement of male-only releases based on the repressible tTA system together with a redundant male-specific reproductive sterility system, which is activated by Q-system controlled site-specific recombination and is based on a spermatogenesis-specifically expressed endonuclease acting on several species-specific target sites leading to chromosome shredding.
Conclusion
A combination of a completely independent transgenic sexing and a redundant reproductive male sterility system, which do not share any active components and mediate the induced lethality by completely independent processes, would meet the 'redundant killing' criteria for suppression of resistance development and could therefore be employed in large scale long-term suppression programs using biotechnologically enhanced SIT.
Keywords
CRISPR cas9 genetically modified insectgenetically modified organism (GMO)insect controlinsecticide resistanceinsect pest managementmolecular entomologyquinic acid
Background
Many insects heavily damage agriculture and forestry or transmit deadly diseases to animals and humans. Current control efforts still mostly rely on the use of insecticides, but chemical control is not always harmless and the costs of developing new chemical compounds to overcome the world-wide threat of insecticide resistance are escalating [1]. Moreover, to protect biodiversity the establishment of pest-specific management methods is desirable. The Sterile Insect Technique (SIT) is a species-specific genetic control approach that acts as an insect birth control measure, which relies on the mass rearing, sterilization and field release of large numbers of insects. The competition between released sterile and resident males for mating with wild females leads to the reduction of the reproductive potential. If continued releases of high-quality sterile males in inundating numbers over several consecutive generations are performed, a progressive reduction of the population size and eventually the total eradication of the pest population will occur [2, 3]. SIT is now an accepted component of various integrated approaches to control, suppress, prevent, or even eradicate invasive insect pest species from islands, large fruit production areas, or even complete continents [4]. Classically, both male and female insects were released, particularly because the distinction between male and female pupae is hardly manageable or requires the development of genetic sexing strains [5]. Released females, however, although sterile, sting fruits with their ovipositors or keep blood feeding and potentially transmit diseases as well as compete against wild females for mating with the sterile males [5]. In addition, sterilization is classically achieved by irradiation, a procedure that often renders insects very weak and unfit to compete with the wild mates [6]. Such drawbacks and many years of experience have put forward several key requirements for an efficient SIT application: intensive rearing of large numbers of insects for mass release, the availability of efficient sex-separation methods, sterilization techniques able to handle large numbers of insects with minimal effects on fitness and competitiveness, effective release methods, and efficient marking systems to identify released individuals during monitoring of SIT programs.
Biotechnological engineering of insects makes novel approaches possible to efficiently mark insects as well as selectively produce vigorous and potent sterile males, which are generated by conditional male reproductive sterility in combination with conditional female lethality. This will improve efficacy and widen applicability to further insect pest species [7, 8]. To minimize the concerns coupled with the release of transgenic organisms, SIT programs are actually ideal, as the sterility of the released males will serve as a biological safety mechanism for containment as it impedes the spread of transgenes and allows for a safe deployment [9, 10].
In accordance to this hope for novel successful genetic pest management strategies, the first biotechnologically engineered designer insects have already been released in small scale trials: pink bollworm moths in Arizona, USA [11], as well as yellow fever mosquitoes in the Grand Cayman Islands [12], Malaysia [13], with a currently ongoing release in Brazil [14, 15]. For the release in the Grand Cayman Islands, it has been shown that the sustained release of transgenic mosquitos carrying a dominant lethal gene could successfully suppress a field population [16] demonstrating the great potential of transgenic SIT approaches. Envisioning the beneficial future use of genetically modified insects, the European Food Safety Authority has recently published a scientific opinion on the guidance on the environmental risk assessment of genetically modified animals including insects [17]. Since reproductive sterility based on lethality systems serves as an intrinsic containment against vertical transmission of transgenes in biotechnologically engineered SIT, its application does not present real concerns in respect to humans and the environment [18].
Nonetheless, the use of transgenic SIT approaches is still at initial stages and an ongoing large scale use somewhat premature, as potential resistance development might pose a significant threat to the further use of this technology [19]. In the currently released transgenic mosquitoes, the dominant lethality is mediated by the overexpression of a synthetic transcription factor that is deleterious to cells at very high levels reached by auto-activation in a positive feedback loop [20]. This presents just one single killing system based on an unclear mechanism. Since most pest insects produce large numbers of offspring, they have a high propensity to evolve resistance to control measures. Actually classic SIT based on sterilization by irradiation is an exception in the resistance development context, as the radiation-induced breaks of the chromosomes are random and vary among all individuals thus providing built-in redundancy [21]. However, transgenic SIT approaches with defined killing systems are in principle susceptible to resistance development. Thereby, we assume that the released insects still contain functional transgenes and are themselves susceptible to the dominant lethality [22]. The potential break down of transgenic characters during mass rearing is an additional important but different issue for quality control before release. In respect to resistance development the heterogeneous genomes of the field populations are important [21], which might contain genotypes that lead to suppression or partial suppression of the lethality traits. For the avoidance of behavioural resistance, where wild type insects reject mass-reared insects as mating partners, regular introgression of wild type genetic material into the mass rearing strains has been successful [3]. However, there is also the possibility of biochemical resistance to biotechnologically engineered lethality. Due to the inundation of the population with susceptible alleles by the release of the sterile insects during an ongoing SIT program, only strong resistance-mediating alleles acting dominant and having only low fitness costs propose a threat to SIT programs but are so far only hypothetical [22].
Nevertheless, insects have successfully developed resistance to synthetic chemicals as well as to microbial agents [23] and are also likely to develop resistance to transgenic SIT approaches when employed in long-term suppression programs [24]. One strategy to significantly impede or at least delay resistance development could be based on the principle of 'redundant killing' [25, 26]. Therefore, transgenic SIT strains with effective and necessary sterility or lethality traits should only be considered in large scale long-term suppression programs, once completely independent toxicity systems have been combined. Since actually two traits are favourably introduced by transgenesis - female lethality for male only releases as well as reproductive sterility by dominant lethal transgenes - one task is to identify two completely independent ways of mediating them.
Conclusions
The combination of a transgenic sexing system to meet the SIT requirement of male-only releases based on the repressible tTA directed expression system to create female-specific embryonic lethality using a sex-specifically spliced intron and a hyperactive pro-apoptotic gene (Figure 1) together with a reproductive sterility system based on a sperm-specifically expressed endonuclease controlled by the inducible Q-system in combination with site-specific recombination (Figure 2) seems a promising approach. These two systems would not share any active components and the lethality would be mediated by completely independent processes. Therefore, cross-resistance to both lethality-mediating processes is extremely unlikely and resistance development would require at least two independent gene loci with the likelihood of co-existence and selection being significantly reduced [25]. It should be noted, however, that this redundancy is only partial as only the female progeny of respective released males will have both lethality systems at work. While this will still reduce the likelihood of accumulating transgenic lethal alleles and resistance alleles, we propose an additional level of redundancy for the reproductive sterility system using the CRISPR/Cas9 endonuclease system targeting several chromosomal locations to induce chromosome shredding in the sperm (Figure 3).
The insect strains carrying the combined transgenic female lethality and multifactorial reproductive male sterility systems would be reared on tetracycline containing food to suppress the female-specific lethality. The male reproductive sterility would not be activated yet, since the repressor QS would keep the system in an OFF state (Figure
4A
). The adult flies of the pre-release generation would then be aged on tetracycline-free food (Figure
4B
) in order to stop the suppression of the embryonic female-specific lethality in the next generation [
29
,
41
,
42
]. The release generation should then be grown also on tetracycline-free larval food in order to keep the embryonic sexing system on to produce males only: in the absence of tetracycline, the synthetic transactivator tTA would activate a hyper-active pro-apoptotic gene that would lead to programmed cell death in the female embryos, as only the female-specific splicing of the
transformer
intron in this transcript results in the production of an mRNA capable of translating the functional hyper-active pro-apoptotic protein (Figure
4C
). The larval food for the release generation would, however, need to contain quinic acid to inactivate the repressor QS, which would then allow the activator QF to induce the expression of the
flp
recombinase gene, which then in turn would remove the Q system regulators and mediate the expression of the heterologous endonuclease Cas9 during spermatogenesis (Figure
4C
). Released males (Figure
4D
) would produce sperm with shredded chromosomes leading to lethal aneuploidy in the next generation similar to radiation-induced reproductive sterility without suffering of somatic damages that cause reduced fitness.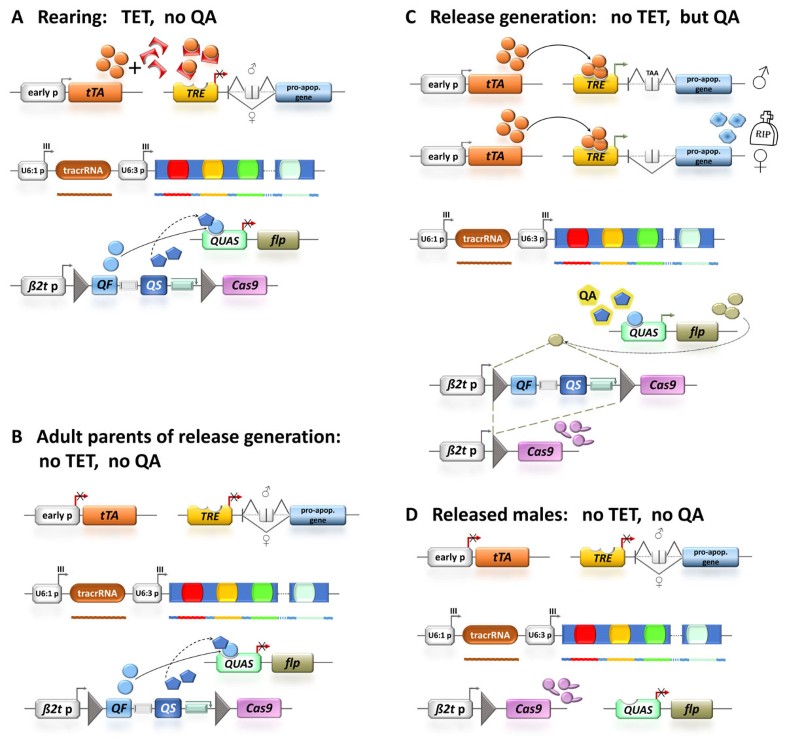 A transgenic SIT approach using independent lethality systems would meet the 'redundant killing' criteria for suppression of resistance development and could therefore be employed in large scale long-term suppression programs.
Declarations
Acknowledgements
The project profited from discussions at the International Atomic Energy Agency funded meetings of the Coordinated Research Projects ''The Use of Molecular Tools to Improve the Effectiveness of SIT'' and ''Development and Evaluation of Improved Strains of Insect Pests for SIT". This work was partially supported by the German Academic Exchange Service (DAAD) with a short term scholarship to IMC.
This article has been published as part of BMC Genetics Volume 15 Supplement 2, 2014: Development and evaluation of improved strains of insect pests for SIT. The full contents of the supplement are available online at http://www.biomedcentral.com/bmcgenet/supplements/15/S2.
Publication of this supplement was funded by the International Atomic Energy Agency. The peer review process for articles published in this supplement was overseen by the Supplement Editors in accordance with BioMed Central's peer review guidelines for supplements. The Supplement Editors declare that they have no competing interests.
Authors' Affiliations
(1)
Georg-August-University Göttingen, Johann-Friedrich-Blumenbach-Institute for Zoology and Anthropology, Dept. of Developmental Biology, GZMB, Ernst-Caspari-Haus, Göttingen, Germany
Copyright
© Eckermann et al.; licensee BioMed Central Ltd. 2014
This article is published under license to BioMed Central Ltd. This is an Open Access article distributed under the terms of the Creative Commons Attribution License (http://creativecommons.org/licenses/by/3.0), which permits unrestricted use, distribution, and reproduction in any medium, provided the original work is properly cited.