Research article

Open Access
Intraocular pressure in genetically distinct mice: an update and strain survey
Received: 22 June 2001
Accepted: 9 August 2001
Published: 9 August 2001
Abstract
Background
Little is known about genetic factors affecting intraocular pressure (IOP) in mice and other mammals. The purpose of this study was to determine the IOPs of genetically distinct mouse strains, assess the effects of factors such as age, sex and time of day on IOP in specific strain backgrounds, and to assess the effects of specific candidate gene mutations on IOP.
Results
Based on over 30 studied mouse strains, average IOP ranges from approximately 10 to 20 mmHg. Gender does not typically affect IOP and aging results in an IOP decrease in some strains. Most tested strains exhibit a diurnal rhythm with IOP being the highest during the dark period of the day. Homozygosity for a null allele of the carbonic anhydrase II gene (Car2 n ) does not alter IOP while homozygosity for a mutation in the leptin receptor gene (Lepr db ) that causes obesity and diabetes results in increased IOP. Albino C57BL/6J mice homozygous for a tyrosinase mutation (Tyrc-2J) have higher IOPs than their pigmented counterparts.
Conclusions
Genetically distinct mouse strains housed in the same environment have a broad range of IOPs. These IOP differences are likely due to interstrain genetic differences that create a powerful resource for studying the regulation of IOP. Age, time of day, obesity and diabetes have effects on mouse IOP similar to those in humans and other species. Mutations in two of the assessed candidate genes (Lepr and Tyr) result in increased IOP. These studies demonstrate that mice are a practical and powerful experimental system to study the genetics of IOP regulation and disease processes that raise IOP to harmful levels.
Keywords
GlaucomaMouse StrainIntraocular PressureAqueous HumorDark Period
Background
Glaucoma is a leading cause of blindness but its molecular etiology is poorly understood. Glaucoma involves retinal ganglion cell death and optic nerve damage that is often associated with elevated intraocular pressure (IOP) [1–5].
It is becoming increasingly clear that many forms of glaucoma have a genetic component [6, 7], and much current research is focused on identifying chromosomal regions and genes that contribute to glaucoma [8–10]. Identifying such loci allows screening for individuals with an increased risk of developing glaucoma [11]. Identifying genes contributing to elevated IOP and glaucoma is only the first step, however, and animal models will provide systems for subsequent hypothesis testing and experimental dissection of pathogenesis.
Due to conservation in mammalian physiology and the powerful tools of mouse genetics, mice are a very important experimental system for probing the functions (both in health and disease) of many genes recently identified by sequencing the human genome [12]. We have focused on developing the mouse system for IOP and glaucoma studies [13–19]. Mice are expected to be extremely helpful in characterizing genes and mechanisms that affect IOP or the susceptibility of the optic nerve and retina to glaucomatous damage [20].
Very little is known about the magnitude of IOP of various mouse strains or IOP fluctuation in mice with time or other factors. Previously, we developed a method to measure IOP in mice and reported initial findings on the magnitude of mouse IOP [13]. The procedure involves direct measurement of pressure following cannulation of the anterior chamber. The initial experiments demonstrated that in our hands careful ocular cannulation has a very minor effect on IOP (average of -0.3 mmHg, mode -0.5 mmHg) and demonstrated significant differences in intraocular pressure levels between four mouse strains. Here, we provide an update, including an extensive strain survey, and show that the methodology is reliable and produces reproducible data over extended periods of time.
Results
A broad range of IOPs between strains
Figure
1
shows the average IOP of a number of inbred mouse strains that were housed in the same environmental conditions. There is a wide range of IOP with strain BALB/cJ having one of the lowest average IOPs (11.1 ± 0.5 mmHg) and strain CBA/CaJ one of the highest IOPs (19.3 ± 0.3 mmHg). Significant differences exist among various strains (P < 0.0001 for all groups, ANOVA comparing strains within each sex group).

Clinical and histological analysis of the eyes of all studied strains (see Table
1
) did not identify anatomic or pathologic features that might account for the differences in IOP. For example, the iridocorneal angle and aqueous humor drainage structures are open to the anterior chamber and have normal morphology in both BALB/cJ and CBA/CaJ mice (Figure
2
). More than 20% of CBA/CaJ mice had IOPs of over 21 mmHg, which increases risk for glaucoma in humans. We aged a small group of these mice (n = 4) to 2 years and histologically analyzed their optic nerves and retinas but they did not develop glaucoma.

Table 1
Ocular abnormalities in various strains
| Strain | Clinical phenotype | Mouse incidence | Eye Incidence | Comments |
| --- | --- | --- | --- | --- |
| SB/Le | Oculocutaneous albinism with iris transillumination | 17/17 | 34/34 | Chediak-Higashi syndrome caused by the beige mutation [80] |
| C57/LJ | Iris transillumination | 5/17 | 7/34 | Incidence increased with age, iris atrophy sometimes evident at |
| | | | | 20 months |
| BUB/BnJ | Anterior subcapsular and cortical cataracts | 2/8 | 2/16 | Incidence in independent 3 to 4 month old mice was 9/12 mice |
| | | | | 17/24 eyes |
| AKR/J | Irregular pupil | 3/8 | 5/16 | |
| LP/J | Cortical cataract | 5/10 | 10/20 | |
| RIII/SJ | Lens extrusion cataract | 8/12 | 16/24 | |
| NZB/BiNJ | Cortical cataract | 7/14 | 10/28 | |
Strain differences are reproducible
To assess the consistency of IOP in specific strains, we measured IOP in different cohorts of each strain maintained under similar conditions at different times. We purposefully included strains at each end of the IOP spectrum, and strain C57BL/6J (B6) that is commonly used for genetic experiments (Figure
3
). The average IOP of different cohorts of strains CBA/CaJ, CBA/CaHN (both high end of spectrum) and B6 were consistent over time. This was true of most strains assessed on multiple occasions. Average IOP for age matched mice of the same strain assessed at different times typically differed by no more than 1.5 mmHg, and the differences were usually smaller. Strain 129P3/J was the most variable strain with the average IOP fluctuating by up to 2.5 mmHg.

Despite the general consistency of IOP, the average IOPs of some strains have changed in a reproducible manner. The IOPs of BALB/cJ mice (low end of spectrum) were very similar for the past several years, around 11 mmHg. Between early 1996 and 1997, however, the IOP of this strain did jump from approximately 7.7 mmHg to approximately 11 mmHg (Figure 3). During this period, the room in which our animals were housed and the manufacturer of the mouse diet were changed. Over the same period, the IOP of A/J also increased dramatically, from 9.4 ± 0.5 mmHg (n = 11) in 1996 to 14.2 ± 0.4 mmHg (n = 19) in 1997. The increased IOP in A/J also was reproducible, with the average IOP of mice assessed in the year 2000 being 14.5 ± 0.4 mmHg (n = 16). Importantly, the IOPs of strains B6 and C3H/HeJ did not change during this time (B6, 12.3. ± 0.5 mmHg in 1996 and 12.4 ± 0.3 mmHg in 1997, n= 10 and 14; C3H/HeJ, 13.7 ± 0.8 mmHg in 1996 and 13.6 ± 0.2 mmHg in 1997, n = 9 and 19).
Effect of age on IOP
We focused on the commonly used B6, 129P3/J and C3H/HeJ strains to determine the effects of age on IOP (Figure
4
). In B6, age had a significant effect on IOP (P < 0.001). IOP was slightly decreased at both 12 months (12.2 ± 0.2 mmHg) and 19 months (12.2 ± 0.3 mmHg) compared to 3 months (13.1 ± 0.3 mmHg) and 7 months (13.3 ± 0.3 mmHg). Although the decrease was of a similar level to the variation observed in 3 month old mice (see Figure
3
), the IOPs of control young mice (see Methods) analyzed at the same times as the various B6 age groups did not decrease. For example, control mice analyzed at the same time as the 3 month, 12 month and 18 month B6 age groups had IOPs of 13.0 ± 0.2 mmHg (n = 14), 13.3 ± 0.2 mmHg (n = 14), 13.7 ± 0.4 mmHg (n = 12), respectively. IOP was even lower in the 24 month B6 mice (10.8 ± 0.4 mmHg), and again the average IOP of young controls measured at the same time was not changed (13.5 ± 0.2, n = 12).

In strain 129P3/J, IOP did not differ significantly with age between 3 and 14 months but was lower in 18 month old mice (P < 0.001 compared to all younger ages, Figure 4). Despite a 1 mmHg dip in IOP at 8 months, there were no significant IOP differences between C3H/HeJ mice at each age tested (P = 0.2 for age). Although the effect of age has not been thoroughly assessed in other strains, no obvious age-related differences have been identified in other strains analyzed at multiple ages except for the glaucomatous DBA/2J and AKXD-28/Ty strains [14, 19].
Effect of sex on IOP
Although we have not rigorously assessed the effect of sex on IOP in many strains, sex specific differences have not been detected in the majority of strains for which both sexes have been analyzed, and have proven inconsistent even within an individual strain analyzed multiple times. Strains B6 and 129P3/J have been extensively evaluated at multiple ages between 3 and 24 months of age. Sex differences were always absent in strain 129P3/J and typically absent in strain B6. In strain B6, however, males infrequently had significantly higher IOP than females. For example, in one experiment, B6 males had an average IOP of 14.2 ± 0.3 mmHg (n = 12) whereas the average IOP of females was 13.1 ± 0.3 mmHg (n = 12, P = 0.01). If real, this sporadic sex difference was not dependent on age, sometimes occurring in a group of B6 mice at a particular age and sometimes not occurring in a separate group of the same age.
Anesthesia protocol avoids IOP alteration and allows detection of diurnal differences
All IOPs were assessed using an anesthetic regime of 99 mg/kg ketamine and 9 mg/kg xylazine (defined as 1X). Initial experiments suggested that an almost identical dose (100 mg/kg ketamine and 9 mg/kg xylazine) of anesthesia had no effect on IOP during the experimental period with IOP being measured as soon as possible after the mouse was unconscious, typically minutes. [
13
]. To further assess the effects of anesthesia, we measured IOP in groups of genetically identical B6 mice subjected to different doses (1X, 1.5X and 2X) at 5 and 25 minutes after administration (Figure
5
). For all doses, IOP decreased by 25 minutes (P = 0.005 for time). The greater the dose the greater the decrease in IOP. At the 5 minute measurement, however, IOP was the same using all doses suggesting that the anesthetic effect on IOP had not yet occurred. To identify any early window when it may be possible to assess IOP without an obvious anesthetic effect, 195 mice of strain B6 were anesthetized with the 1X dose and IOP was measured at 1 minute time points between 4 and 12 minutes after administration (Figure
5
). The mean IOP of groups analyzed at each time point did not differ (P = 0.9) indicating that the IOP depressing effect of anesthesia occurs later than 12 minutes after administration. Similar results were obtained using 161 strain 129P3/J and 145 strain DBA/2J mice with the 1X dose (129P3/J, P = 0.1; DBA/2J, P = 0.2). In support of a later effect of anesthesia (since general anesthesia is reported to mask diurnal variation in IOP [
21
]), we identified increased IOP during the dark compared to the light period of the day in several tested strains (Figure
6
). In these experiments, IOP measurements were made between 5 and 12 minutes after administration of anesthesia.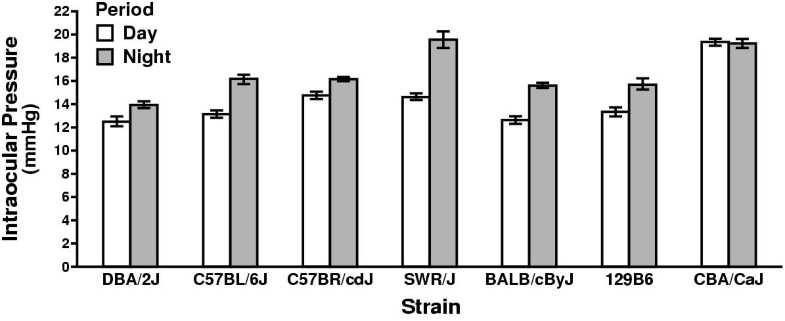 Blood pressure does not correlate with IOP
An initial study of the relationship between blood pressure and IOP in mice did not detect a good correlation (R
2
= 0.1, Figure
7
).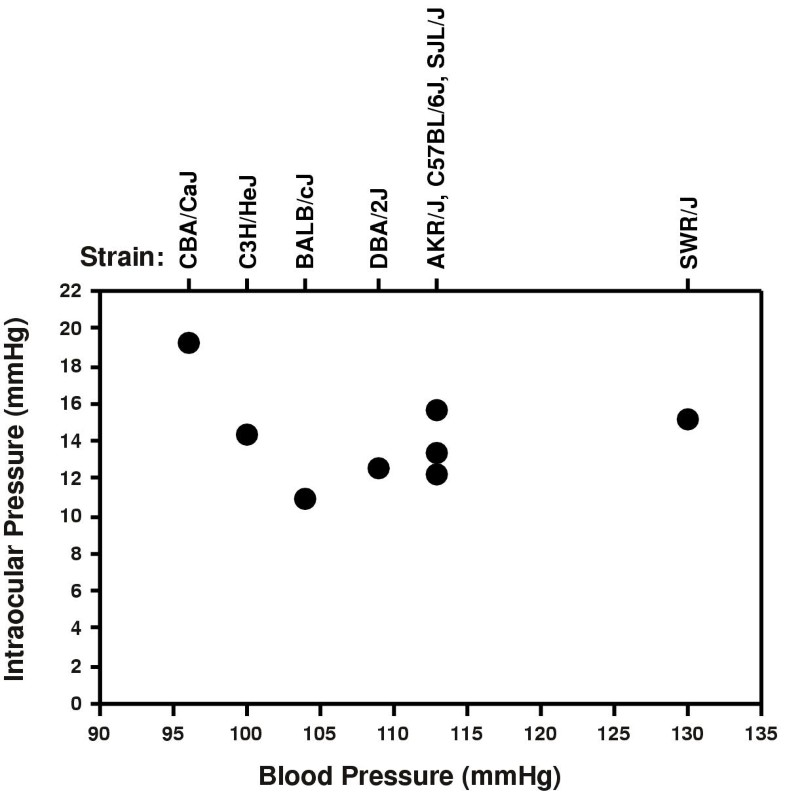 Myoc alleles do not associate with the magnitude of IOP
Mutations in the myocilin gene (
MYOC
) cause human glaucoma. To determine if allelic variation in the mouse
Myoc
gene associated with IOP in mouse strains, we analyzed the gene in an assortment of strains with different IOPs. Two alleles were identified. One of these alleles had a 12 nucleotide insertion in the promoter region (ccagagcagggt, between positions -340 and -341) compared to the previously published sequence and is called the insertion allele. The other allele was identical to the published sequence [
22
]. The insertion allele also had a previously reported substitution (A to G, Thr164Ala) in exon 1 and several other single base changes in the promoter region [
22
]. The presence or absence of this allele does not associate with IOP as it is present in strains with a range of IOPs (Figure
8
).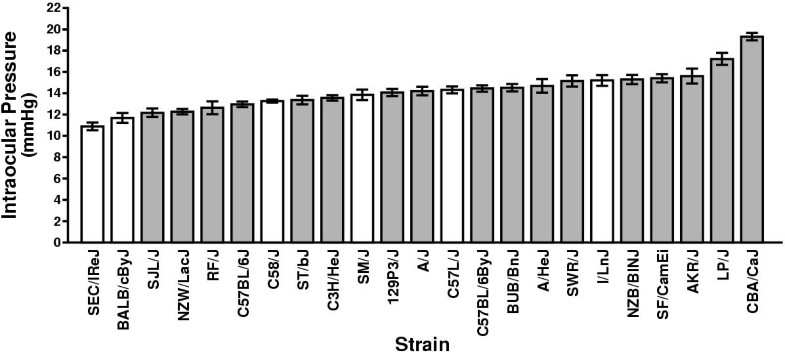 Genetic alterations and IOP
Conclusions
A broad range of reproducible IOP differences exists between inbred mouse strains and a diurnal rhythm of IOP exists in different strains. Various factors have been variably associated with risk for increased IOP in humans. Genetically uniform, mice can be used to study the effects of these risk factors on IOP. In trained hands, our measurement procedure is reliable, accurate and rapid enough to allow large scale genetic studies of factors determining IOP. Mice have great potential for helping to characterize the molecular mechanisms affecting IOP.
Abbreviations
(IOP):

Intraocular pressure
(B6):

C57BL/6J
(Chr):

chromosome
(PCR):

polymerase chain reaction
(CA):

carbonic anhydrase
Declarations
Acknowledgments
We thank Norma Buckley, Felicia Farley and Jennifer Smith for their assistance with data entry, references, and figures. We also thank Jane Barker for the Car2 mice, Marianna Mertts for her help with analysis of Myoc alleles, and members of the John laboratory, Tatyana Golovkina, Edward Leiter and Timothy O'Brien for critical reading of the manuscript. Supported in part by AHAF 97437 and G1999023, NIH EY11721 and HL55001. Core services were subsidized by grant CA34196. Major funding was provided by the Howard Hughes Medical Institute. SWMJ is an Assistant Investigator of The Howard Hughes Medical Institute.
Authors' Affiliations
(1)
The Jackson Laboratory, Bar Harbor, USA
(2)
Laboratory Animal Resource Center, University of Tsukuba, Tsukuba, Japan
(3)
Howard Hughes Medical Institute at The Jackson Laboratory, Bar Harbor, USA
(4)
Laboratory of Molecular and Developmental Biology, National Eye Institute, NIH, Bethesda, USA
(5)
Department of Ophthalmology, Tufts University School of Medicine, Boston, USA
Copyright
© Savinova et al; licensee BioMed Central Ltd. 2001
This article is published under license to BioMed Central Ltd. This is an Open Access article: verbatim copying and redistribution of this article are permitted in all media for any purpose, provided this notice is preserved along with the article's original URL.