Genome-wide linkage scan on estimated breeding values for a quantitative trait
BMC Genetics
2003
4(Suppl 1):S61
Published: 31 December 2003
Abstract
Background
A genome-wide linkage scan was performed on Replicate 1 of the simulated data for fasting triglyceride levels. The aim of this study was to implement mixed-model methodology to estimate breeding values for each individual for this trait and to assess the merit of these breeding values in linkage analysis. These breeding values utilize all the pedigree information, and the genetic and phenotypic correlations with other measured traits across the two cohorts. A genome-wide linkage scan was run on both the new breeding value traits and the original traits.
Results
Using breeding values, a maximum LOD of 7.78 was found on chromosome 5 at a position very close to a gene underlying the triglyceride levels. This effect was not detected using the original trait.
Conclusion
The results imply that estimating breeding values may be a suitable method of deriving traits for use in genome-wide scans.
Keywords
Estimate Breeding Value
Component Trait
Good Linear Unbiased Prediction
Mixed Model Equation
Common Environmental Effect
Background
The best linear unbiased prediction (BLUP) of the breeding value of an individual for a quantitative trait can be calculated by taking into account the genetic and environmental covariances among all related individuals and across all correlated traits [1, 2]. Data from fixed effects such as sex or population can also be incorporated. This methodology has been the basis of many national and international animal breeding programs, where in its most complete implementation it is referred to as the animal model [3].
Here we explore the merit of using BLUP to generate breeding values for input into a genome scan. Our motivation is that frequently in human genetic analysis there is a primary trait of interest together with a number of covariates that may also be heritable. To improve the precision of measurement of the primary trait, we wish to remove the effect of any environmental covariation with the other traits, but include the effect of any genetic covariation. This is in essence what the animal model achieves.
For purposes of illustration, we have used fasting triglyceride level as our primary trait.
Methods
We chose to analyze Replicate 1 of the complete simulated data sets without any knowledge of the underlying simulation model or the location of the trait loci.
Results
Summaries of the maximum LOD scores from the regression method (using Merlin-regress) for the five genome-scans are in Table
3
.
Table 3
Maximum LOD scores for the four analyzed traits with their position on the chromosome
| TraitA | % Missing ValuesB | Chromosome | h2C | Max LOD | Position |
| --- | --- | --- | --- | --- | --- |
| TG1_original | 60.6 | 18 | 0.60 | 1.83 | 62.65 |
| TG2_PCA | 71.6 | 7 | 0.39 | 1.39 | 177.73 |
| TG12_pooled | 32.2 | 18 | 0.29 | 1.36 | 62.65 |
| TG1_EBV | 0.0D | 5 | 0.85 | 7.78 | 8.22 |
| TG2_EBV | 0.0 | 5 | 0.85 | 6.86 | 8.22 |
The pattern of results from the two cohorts was very similar for the triglyceride traits, therefore, only figures from Cohort 1 (original and EBV trait) are presented here.
Figure
2
shows plots of the LOD scores over the whole genome for TG1_original, TG1_EBV, and TG12_pooled, respectively.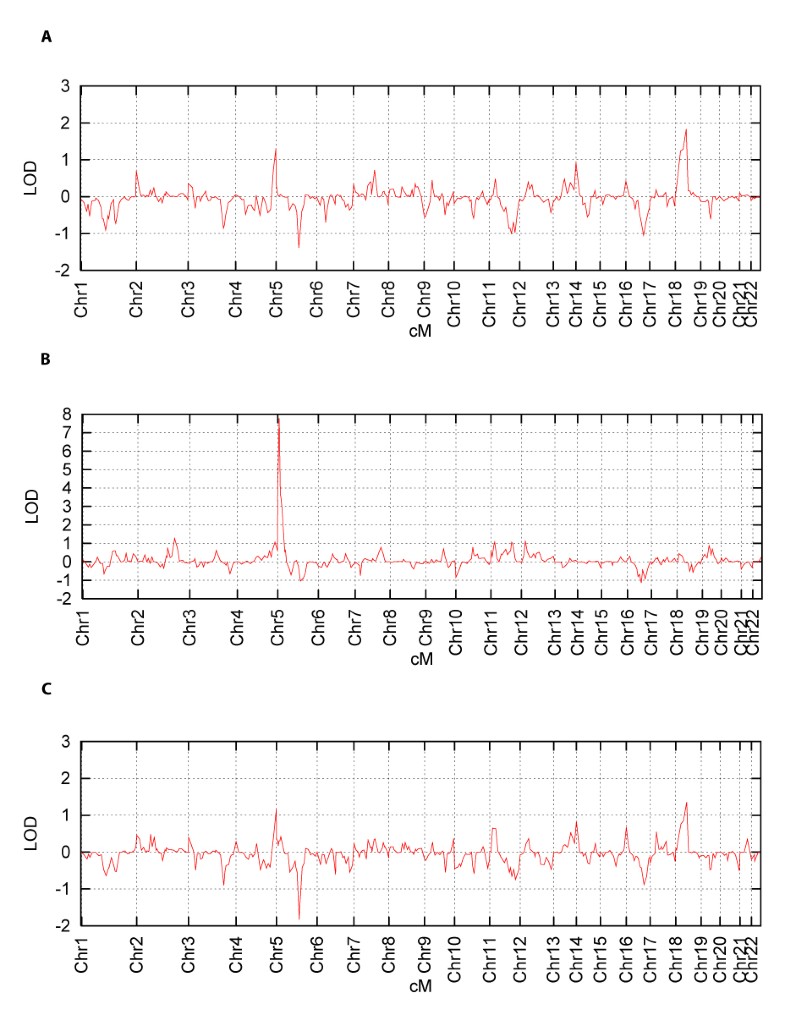 Discussion
The most notable results are the peak LODs of 7.78 and 6.86 on chromosome 5 at 8.22 cM, for TG1_EBV and TG2_EBV, respectively. These two peaks correspond very closely to the location of the gene s3 at 8.46 cM in this data set. It is noticeable that none of the three remaining traits provided evidence of linkage at this location: the maximum LODs on chromosome 5 for these being 0.85, 0.28, and 0.42 for TG1_original, TG2_PCA, and TG12_pooled, respectively.
Variance component analysis of the breeding values gave LODs of 5.12 and 4.50 for TG1_EBV and TG2_EBV, consistent with the results using Merlin-regress.
The derivation of an EBV for a single trait occurs without reference to marker data, and is designed only to improve the precision with which the additive genetic value of that trait is estimated. (Note however, in animal breeding EBVs are generally derived for multiple traits, or for indices across traits.) We speculate that the improved power we see here is primarily the result of the improved precision with which this additive value is estimated. Other multivariate methods used in linkage analysis can also include genetic and environmental correlations among traits, for example [13]. These methods generally attempt to improve power to detect QTL by searching for loci with pleiotropic effects. In human genetic studies however, there is often a single trait of primary interest. Other traits, although correlated to varying degrees both genetically and environmentally, are of less interest in their own right. In such circumstances, we believe the use of EBVs has much to offer and may be advantageous over an explicit search for pleiotropic QTL.
As can be seen in Table 3, the use of predicted breeding values also has the advantage of providing a trait for analysis for every individual. However, these breeding values will be correlated. Since the estimation of breeding value is independent of the marker data, we are hopeful that the consequence of this non-independence for type I error rate in the genome scan will be minimal, although this requires further study. The absence of large LODs at other locations in the genome scan lends some support to the type I error rate not being grossly increased.
To date, we have only applied this method to a single replicate. The analyses of many more replicates and traits are required before we can use this method with confidence.
Conclusion
The estimation of breeding values using BLUP may be a suitable method of deriving traits for use in genome-wide scans. In particular, the method makes effective use of correlated traits and provides a simple framework for coping with missing data.
Authors' Affiliations
(1)
Oxagen Limited, Abingdon, United Kingdom
Copyright
© Zabaneh and Mackay; licensee BioMed Central Ltd 2003
This article is published under license to BioMed Central Ltd. This is an open access article distributed under the terms of the Creative Commons Attribution License (http://creativecommons.org/licenses/by/2.0), which permits unrestricted use, distribution, and reproduction in any medium, provided the original work is properly cited.