Research article

Open Access
Loss of imprinting at the Dlk1-Gtl2 locus caused by insertional mutagenesis in the Gtl2 5' region
Received: 07 June 2006
Accepted: 03 October 2006
Published: 03 October 2006
Abstract
Background
The Dlk1 and Gtl2 genes define a region of mouse chromosome 12 that is subject to genomic imprinting, the parental allele-specific expression of a gene. Although imprinted genes play important roles in growth and development, the mechanisms by which imprinting is established and maintained are poorly understood. Differentially methylated regions (DMRs), which carry methylation on only one parental allele, are involved in imprinting control at many loci. The Dlk1-Gtl2 region contains three known DMRs, the Dlk1 DMR in the 3' region of Dlk1, the intergenic DMR 15 kb upstream of Gtl2, and the Gtl2 DMR at the Gtl2 promoter. Three mouse models are analyzed here that provide new information about the regulation of Dlk1-Gtl2 imprinting.
Results
A previously existing insertional mutation (Gtl2lacZ), and a targeted deletion in which the Gtl2 upstream region was replaced by a Neo cassette (Gtl2Δ5'Neo), display partial lethality and dwarfism upon paternal inheritance. Molecular characterization shows that both mutations cause loss of imprinting and changes in expression of the Dlk1, Gtl2 and Meg8/Rian genes. Dlk1 levels are decreased upon paternal inheritance of either mutation, suggesting Dlk1 may be causative for the lethality and dwarfism. Loss of imprinting on the paternal chromosome in both Gtl2lacZ and Gtl2Δ5'Neo mice is accompanied by the loss of paternal-specific Gtl2 DMR methylation, while maternal loss of imprinting suggests a previously unknown regulatory role for the maternal Gtl2 DMR. Unexpectedly, when the Neo gene is excised, Gtl2Δ5' animals are of normal size, imprinting is unchanged and the Gtl2 DMR is properly methylated. The exogenous DNA sequences integrated upstream of Gtl2 are therefore responsible for the growth and imprinting effects.
Conclusion
These data provide further evidence for the coregulation of the imprinted Dlk1 and Gtl2 genes, and support a role for Dlk1 as an important neonatal growth factor. The ability of the Gtl2lacZ and Gtl2Δ5'Neo mutations to cause long-range changes in imprinting and gene expression suggest that regional imprinting regulatory elements may lie in proximity to the integration site.
Keywords
Imprint Gene
Wild Type Littermate
Maternal Inheritance
Paternal Inheritance
Biallelic Expression
Background
The paternally expressed
Delta-like 1
(
Dlk1
) and maternally expressed
Gene-trap locus 2
(
Gtl2
) genes lie within an imprinted gene cluster on distal mouse chromosome 12 [
1
–
5
]. This gene cluster spans 1 Mb of DNA, and contains several linked imprinted genes (Fig.
1A
). In addition to
Dlk1
and
Gtl2
, these include the paternally expressed
Dio3
and
Peg11
/
Rtl1
genes, and the maternally expressed
αPeg11
/
αRtl1
,
Meg8
/
Rian
and
Mirg
genes [
6
–
13
]. The
Dlk1
gene produces a Notch family transmembrane protein, and the
Dio3
gene produces an enzyme involved in thyroid hormone metabolism.
Peg11
/
Rtl1
is a retrotransposon-like gene,
αPeg11
/
αRtl1
and
Mirg
produce multiple miRNAs and the
Meg8
/
Rian
gene produces a series of C/D snoRNAs [
10
,
11
,
14
,
15
]. Such clustering of imprinted genes is common, and is believed to indicate coordinate regulation of multiple genes.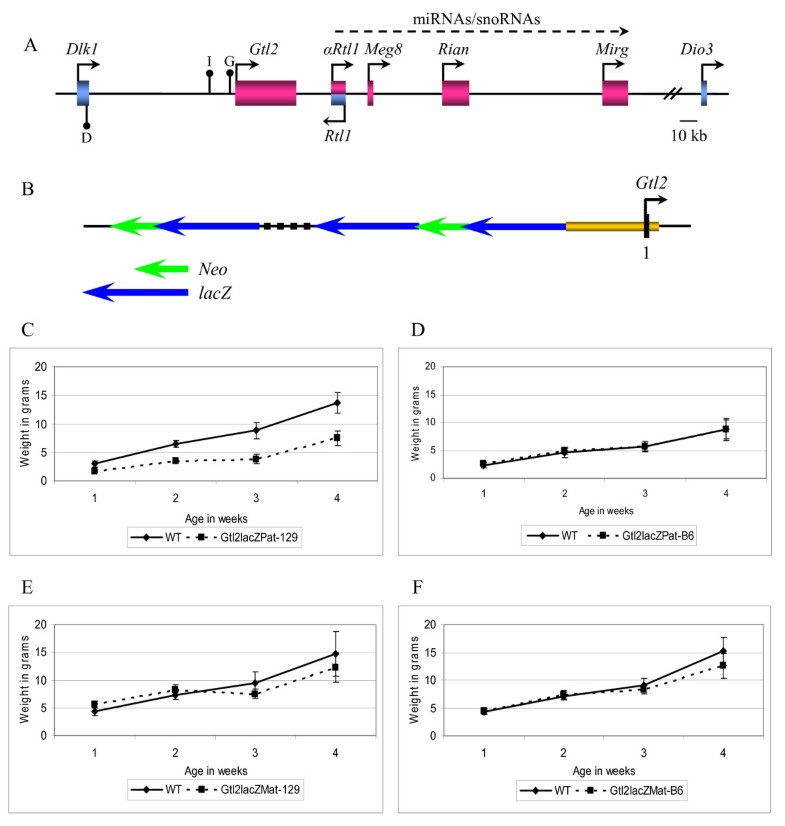 Many imprinted genes function as regulators of mammalian development, particularly in the control of cell growth and differentiation. These roles are illustrated by loss of imprinting mutations in humans, which frequently result in growth disorders or cancer [16]. There is evidence that Dlk1 is a growth regulator, and the Dlk1 transcript is overexpressed in many human neuroendocrine tumors [17–19]. DLK1 protein has been shown to prevent differentiation of preadipocytes, and to promote the expansion of undifferentiated cell populations in the bone marrow and thymus [20–24]. Mice carrying a targeted mutation of the Dlk1 gene show partial neonatal lethality, and surviving animals are growth retarded and display skeletal and adipose phenotypes [25]. The Gtl2 gene produces a noncoding RNA product of unknown function that is present in many different splice forms. Gtl2 was identified by an insertional mouse mutation, Gtl2lacZ, in which multiple copies of a lacZ-Neo gene trap vector integrated upstream of Gtl2 (Fig. 1B) [26]. Paternal, but not maternal, inheritance of this mutation causes reduced survival and a proportional dwarfism in surviving animals [27]. This phenotype suggests the integration altered the expression and/or imprinting of one or more genes involved in growth regulation, but the Gtl2lacZ mutation has not been characterized at the molecular level.
Imprinted genes are commonly accompanied by regions of CpG-rich sequence that carry allele-specific methylation, the methylation of one parental allele but not the other. These differentially methylated regions (DMRs) often contain imprinting regulatory elements for one or more genes. DNA methylation plays an important role in Dlk1-Gtl2 regulation; in DNA methyltransferase deficient (Dnmt1-/-) mice the paternal Dlk1 allele is repressed and the silent allele of Gtl2 is activated [1]. At the Dlk1-Gtl2 locus, three DMRs have been defined, the Dlk1 DMR, in the 3' region of the Dlk1 gene, the intergenic DMR (IG DMR) located 15 kb upstream of Gtl2, and the Gtl2 DMR located across the Gtl2 promoter (Fig. 1A) [1, 28]. These regions are methylated on the paternally inherited allele, although only the IG DMR acquires this methylation in the germline. This suggests the IG DMR may represent the gametic mark for the Dlk1-Gtl2 genes, but it alone cannot explain imprinting within the region. Mice inheriting an IG-DMR deletion maternally show a maternal to paternal epigenotype switch, with overexpression of paternally expressed genes and silencing of maternally expressed genes [29]. This deletion has no effect when inherited paternally, however, so the mechanisms regulating Dlk1-Gtl2 imprinting on the paternal chromosome are unknown.
This paper describes the analysis of three mouse models that suggest the Gtl2 DMR may play a role in regulating the imprinting of multiple genes within the Dlk1-Gtl2 domain. The previously generated Gtl2lacZ mutation is shown to alter the expression and imprinting of Dlk1 and Gtl2 on both parental chromosomes. After either paternal or maternal inheritance, the gene(s) that should be silent on the mutant chromosome are activated, and the normally active gene(s) are repressed. To better understand the role of the region disrupted by the Gtl2lacZ integration, a deletion of the integration site was generated by gene targeting. Targeted mice in which the Neomycin resistance gene replaces the Gtl2 upstream region (Gtl2Δ5'Neo allele) phenocopy both the physiological (neonatal lethality and dwarfism) and molecular (loss of imprinting) effects of the Gtl2lacZ integration. Upon paternal inheritance, both the Gtl2lacZ and Gtl2Δ5'Neo mutations cause a loss of Gtl2 DMR methylation on the paternal allele, suggesting this methylation may be involved in maintaining imprinting on the paternal chromosome. The reciprocal loss of imprinting after maternal inheritance also implies a role for the unmethylated maternal Gtl2 upstream region in regulating imprinting on that chromosome. When the Neo gene is removed by Cre-mediated excision (Gtl2Δ5' allele), however, the animals are of normal size, proper imprinting is restored and the allele-specific methylation of the Gtl2 DMR is recovered. The data presented here suggest that 1) the imprinting of genes in the Dlk1-Gtl2 locus is coordinately regulated, 2) this regulation may require the allele-specific methylation of the Gtl2 DMR, 3) the presence of exogenous DNA sequences adjacent to the Gtl2 DMR prevents this methylation, and 4) decreased levels of Dlk1 may be causative for the lethality and dwarfism of the Gtl2lacZ and Gtl2Δ5'Neo paternal mutants.
Conclusion
The work presented here demonstrates that the integration of exogenous DNA sequences upstream of the Gtl2 DMR, at -1.7 kb in the Gtl2lacZ mutation and -1.3 kb in the Gtl2Δ5'Neo mutation, causes loss of imprinting and altered expression of Dlk1 and Gtl2. Mice inheriting either mutation paternally show partial neonatal lethality and dwarfism of surviving animals, a phenotype that may be due to the decreased levels of Dlk1 found in these mice. Both models also show a loss of the paternal-specific methylation at the Gtl2 DMR in cis to the mutation. Animals in which the Gtl2Δ5'Neo selectable marker is removed using Cre recombinase are indistinguishable from wild type, indicating that it is the presence of the integrated DNA causing the mutant phenotypes. These studies present further evidence for the coregulation of the Dlk1 and Gtl2 genes, and support a role for Dlk1 as an important neonatal growth factor. The loss of Gtl2 DMR methylation is particularly intriguing; in future experiments it will be important to define what role this region may play in imprinting regulation.
Methods
Gtl2lacZ mice
The Gtl2lacZ mice were obtained on a B6 × 129 × BALB/c background, and were maintained on a B6 × 129 background by alternating breeding partners at each generation. Gtl2lacZ mice were genotyped by PCR using primers that detect the full-length lacZ-Neo integration, as well as a spontaneously occurring internal deletion [27]. Although the phenotype of animals with the full and deleted integrations display similar phenotypes, only mice with the full insertion were analyzed. The genotyping primers were: Gtl2lacZ3, 5'-CAACTTAATCGCCTTGCAGC-3' with Gtl2lacZ4, 5'-CCAGATAACTGCCGTCACTCC-3', which detect the full transgene; and Gtl2trlacZ, 5'-AGCCACAGACGTCATTATGC-3' with Gtl2lacZ4, which detect the deleted integration. PCR conditions were 94°C, 1 min, 62°C, 1 min, 72°C, 1 min, for 35 cycles. Full details of all breeding strategies for the mice analyzed in this work are given in Figure 9.
Gtl2Δ5'Neo mice
The Gtl2Δ5'Neo targeting construct was generated using the vector ploxPNT, which carries a Neomycin resistance gene flanked by loxP sites. Genomic DNA was isolated from the RPCI-22 BAC clone 28G5. The 5' arm was a 1.4-kb Eco RI-Bgl II fragment spanning the region from -5516 to -4094 bp relative to the Gtl2 transcriptional initiation site, and the 3' arm was a 6.0-kb Nae I-Eco RI fragment spanning the region from -1348 to +4608 bp. The targeting construct was linearized and transfected into E14 embryonic stem (ES) cells using a Bio-Rad GenePulser at 250 V/500 μF. Transfected ES cells were subjected to selection in G418, and clones picked to 96 well plates for analysis [60]. ES cell DNAs were analyzed by Southern blotting using either Bst EII or Kpn I digests, and hybridized with a PCR generated probe corresponding to nucleotides -5401 to -6394 relative to Gtl2 (primers OL306, 5'-ACTCTTCTCTCTCCAATGGCAAG-3', and OL307, 5'-CATTCAACTGCCTACAGTTAGGGAG-3'). The Bst EII digest detects a 6.6-kb band in wild type ES cells and a 5.7-kb band in properly targeted ES cells; the Kpn I digest detects 4.2-kb wild type and 7.2-kb targeted bands. Cells from correctly targeted ES clones were injected into B6 blastocysts by the UIC Transgenic Production Service, and the blastocysts implanted in pseudopregnant ICR females. Resulting chimeras were bred to B6 mice to assay for germline transmission of the targeted allele, and N1 animals crossed to B6 to give N2 mice. During maintenance and analysis, Gtl2Δ5'Neo mice were genotyped using a forward primer upstream of the deletion, and a reverse primer in the Neo gene. The forward primer was OL521, 5'-GCGATTACCCTTGGGTTACTGC-3' and the reverse primer was OL708, 5'-AACTTCTGACTAGGGGAGGAG-3'. PCR conditions were 95°C, 1 min, 57°C, 40 sec and 72°C, 40 sec, for 35 cycles. The Neo cassette was removed by crossing Gtl2Δ5'Neo males to EIIa-Cre females (Jackson Labs, B6.FVB-Tg(EIIa-Cre)C5379 Lmgd/J) [36]. EIIa-Cre mice often give mosaic excision in the F1 offspring, a result of Cre activation after the first cleavage division. DNA was isolated from tail biopsies of progeny and genotyped using the OL521/OL708 PCR assay described above, and also with primers OL521 and OL285, 5'-TAGGATGCCACTGTGACTCGG-3', which detect the excised allele. PCR conditions were 95°C, 1 min, 59°C, 40 sec and 72°C, 40 sec, for 35 cycles. Mice showing only the excised allele by tail DNA PCR were verified by a test breeding to ensure they passed only the Gtl2Δ5' allele.
Southern blotting and methylation analysis
Genomic DNA was extracted using proteinase K digestion and phenol:chloroform extraction. For Southern blotting, 10 μg of DNA was digested with the appropriate restriction enzyme(s), separated on 1× TAE agarose gels, and transferred to Hybond N+ membranes (GE Healthcare). Membranes were incubated in hybridization buffer (5× SSPE, 0.5% SDS, 5× Denhardt's solution, 50 ng/ml salmon sperm DNA) overnight at 65°C. Washing conditions were: twice in 2× SSPE, 0.1% SDS, once in 1× SSPE, 0.1% SDS, and once in 0.1× SSPE, 0.1% SDS, all at 65°C. Membranes were exposed to X-ray film at -80°C with an intensifying screen. For methylation analysis of the Gtl2 DMR, DNA was digested with Hinc II in combination with Msp I or Hpa II, and hybridized with a 532-bp Sac I-Xho I fragment spanning nucleotides +19 to +551 of the Gtl2 gene.
Northern blotting
Total RNA was extracted from embryos using TRIzol reagent (Invitrogen). Ten micrograms of total RNA was separated on 1% formaldehyde-MES agarose gels, blotted to Hybond N+ membranes (GE Healthcare) and hybridized with Express-Hyb solution (Clontech) for 1 hr at 65°C. Membranes were hybridized with the following probes: Dlk1, a 735-bp PCR-generated fragment corresponding to nucleotides 685 to 1420 of the Dlk1 transcript; Gtl2, a 368-bp PCR-generated fragment spanning nucleotides 1482 to 1850 of the Gtl2 transcript; and a 1.2-kb fragment of the mouse β-actin gene. Membrane washes were: three times in 2× SSC, 0.05% SDS, and twice in 0.1× SSC, 0.1% SDS, all at 50°C. Signal intensity was quantified by Phosphor imaging, and Dlk1 and Gtl2 levels were normalized to the expression of β-actin. Gtl2lacZ and Gtl2Δ5'Neo animals were analyzed from e12.5 to e17.5; temporal variation in gene expression levels were seen across this time period, particularly for β-actin, but relative changes in expression between wild type and mutant animals did not vary with gestational age.
Imprinting assays
Allele-specific expression of the Dlk1 and Gtl2 genes was analyzed using previously described single nucleotide polymorphisms between the M. m. domesticus (D) allele carried by 129 and B6 mice, and the M. m. castaneus (C) allele carried by the Cg12 congenic line [1]. For RT-PCR analysis, 2 μg of total RNA was reverse transcribed using Superscript III (Invitrogen), RT reactions were diluted 1:10, and 2 μl was used for PCR amplification. In all imprinting analyses, control reactions in the absence of reverse transcriptase were negative. Dlk1 imprinting analysis involves RT-PCR followed by direct sequencing of a 288-bp fragment of the 3' region of the Dlk1 transcript. This assay detects an A/G polymorphism, with the A allele present in D mice and the G allele present in C mice. Gtl2 imprinting analysis involves RT-PCR followed by digestion with the restriction enzyme Sfc I, with the site present in D mice and absent in C mice.
The Meg8 imprinting assay examines a polymorphic Nla III restriction site using primers designed against the mouse genomic sequence homologous to that reported for ovine Meg8 [9]. Primers were OL552, 5'-TAAGTAATTGCTGAGTGCCTTG-3' and OL553, 5'-TCAGTTGAGCTGGATCACATTA-3'. PCR conditions were 94°C, 30 sec, 55°C, 30 sec and 72°C, 1 min for 33 cycles. The resulting product is 495 bp, and Nla III digestion of the D allele generates two fragments of 151 and 344 bp each, while the C allele yields three fragments of 151 bp, 207 bp, and 137 bp. The Rian imprinting assay detects a polymorphic Hinf I restriction site using primers designed against the GenBank sequence AK017440. Primers were OL596, 5'-GACTCATAGTTCTTTGTCTGGG-3' and OL595, 5'-GTGAAAGGCTGAAGGAGCTG-3'. PCR conditions were 94°C, 30 sec, 56°C, 30 sec and 72°C, 45 sec, for 29 cycles. The resulting product is 281 bp long, and Hinf I cuts the B6 allele, yielding fragments of 68 bp and 213 bp.
Declarations
Acknowledgements
The authors thank Achim Gossler (Medizinische Hochschule Hannover) for the Gtl2lacZ mice, and Teresa Orenic for a critical reading of the manuscript. This work was supported by a Kimmel Scholar Award from the Sidney Kimmel Foundation for Cancer Research, and by grant HD042013 from the National Institutes of Health, both to JVS. All animals used in these experiments were maintained in compliance with the National Institutes of Health's Guide for the Care and Use of Laboratory Animals and The University of Illinois at Chicago Animal Care Committee guidelines.
Authors' Affiliations
(1)
Department of Biological Sciences, The University of Illinois at Chicago, Chicago, USA
Copyright
© Steshina et al; licensee BioMed Central Ltd. 2006
This article is published under license to BioMed Central Ltd. This is an Open Access article distributed under the terms of the Creative Commons Attribution License (http://creativecommons.org/licenses/by/2.0), which permits unrestricted use, distribution, and reproduction in any medium, provided the original work is properly cited.