Research article
Open Access
Genetic fixity in the human major histocompatibility complex and block size diversity in the class I region including HLA-E
Received: 18 December 2006
Accepted: 12 April 2007
Published: 12 April 2007
Abstract
Background
The definition of human MHC class I haplotypes through association of HLA-A, HLA-Cw and HLA-B has been used to analyze ethnicity, population migrations and disease association.
Results
Here, we present HLA-E allele haplotype association and population linkage disequilibrium (LD) analysis within the ~1.3 Mb bounded by HLA-B/Cw and HLA-A to increase the resolution of identified class I haplotypes. Through local breakdown of LD, we inferred ancestral recombination points both upstream and downstream of HLA-E contributing to alternative block structures within previously identified haplotypes. Through single nucleotide polymorphism (SNP) analysis of the MHC region, we also confirmed the essential genetic fixity, previously inferred by MHC allele analysis, of three conserved extended haplotypes (CEHs), and we demonstrated that commercially-available SNP analysis can be used in the MHC to help define CEHs and CEH fragments.
Conclusion
We conclude that to generate high-resolution maps for relating MHC haplotypes to disease susceptibility, both SNP and MHC allele analysis must be conducted as complementary techniques.
Keywords
Linkage DisequilibriumMajor Histocompatibility ComplexMajor Histocompatibility Complex ClassHaplotype BlockMajor Histocompatibility Complex Gene
Background
The human major histocompatibility complex (MHC) is a highly polymorphic genomic region occupying approximately 4 Mb on chromosome 6p21.3. In addition to the major HLA class I and class II gene clusters, there are several other HLA-related and immune response-related genes, some of unknown function, as well as likely pseudogenes. The rich polymorphism in this region is a critical determinant for success in tissue transplantation, and in recent years has found a further use in characterizing both ethnic and geographical population relationships. Haplotype analysis is based on the conservation of short blocks of conserved DNA sequence containing specific allele combinations of two or more adjacent or nearby genetic loci. Within the MHC region, a limited number of specific haplotypes are known to be shared by unrelated individuals of well-defined human populations. These relatively long stretches of conserved DNA sequence in the MHC have been termed conserved extended haplotypes (CEHs) [1] or ancestral haplotypes [2, 3]. It is also well recognized that CEHs may be represented as a higher order of association, through successive generations, of four or more defined MHC blocks, showing a stronger linkage disequilibrium (LD) to that expected by random recombination.
Portions of a few CEHs can be detected by maximum likelihood statistics but much more precisely and completely by family studies and direct counting [1–6]. In either instance, LD can be analyzed and a significance assigned to the association [1–6]. MHC haplotype blocks and the larger CEHs are usually inherited intact as a unit, and the allele frequency distribution of particular MHC locus combinations in individuals is non-random [1–7]. Reports describe the existence of blocks of conserved DNA sequence in the range of 5 to 150 kb within the human genome separated by sites of high recombination activity [8–10]. These reports, based on LD analysis applied to single nucleotide polymorphism (SNP) data, suggested the blocks represent relatively uniform lengths of conserved DNA sequence maintained throughout the human population as haplotypes.
Conserved MHC blocks and CEHs have been shown to represent markers of human diversity and/or disease susceptibility [4]. Multi-block conserved haplotypes are not limited to the MHC region since genes encoding drug metabolizing enzymes [11], hormone receptors [12] or microtubule-associated proteins [13] are also associated with extended haplotype blocks. For human MHC studies, past work has focused on haplotypes defined by the relationship of classical HLA class I and class II loci and intermediate MHC genes. The HLA-E locus, located approximately halfway between the HLA-A and Cw class I loci approximately 780 kb telomeric to HLA-C, has limited polymorphism and has not generally been incorporated into HLA association studies. Here, we describe newly identified block associations within the MHC, specifically determining the distribution of HLA-E alleles in relation to HLA-A, B, Cw, complotype and DRB1 blocks, defining a set of CEHs extending over 2.6 Mb (1.5% of chromosome 6). The inclusion of HLA-E in MHC haplotype analysis significantly improves the resolution of class I haplotypic blocks, further refining our ability to analyze associations of the human MHC to disease. Through SNP analysis of the MHC class I/class II region, we confirmed the regional genetic fixity identified by MHC allele analysis and demonstrated that SNPs can be used in the MHC to help define CEHs and CEH fragments.
Results
Inclusion of HLA-E improved the definition of CEH class I fragments. For example, HLA-E*0101 was a marker for the CEHs [HLA-A*01, Cw*07, B*08, SC01, DRB1*07], [HLA-A*30, Cw*06, B*13, SC31, DRB1*07], [HLA-A*25, Cw*12, B*18, S042, DRB1*15] and [HLA-A*01, Cw*06, B*57, SC61, DRB1*07]. Likewise, HLA-E*010301 was a marker for the CEH [HLA-A*26, Cw*12, B*38, SC21, DRB1*04] and HLA-E*010302 was a marker for the CEH [HLA-A*30, Cw*05, B*18, F1C30, DRB1*03]. Furthermore, HLA-E could distinguish class I haplotype variants of at least one CEH: in the two most frequent class I variants of the CEH [HLA-Cw*07, B*07, SC31, DRB1*15], HLA-A*02 was associated with HLA-E*0101 while HLA-A*03 was associated with HLA-E*010302. Finally, we found HLA-E to be an additional class I locus able to differentiate two HLA-B*4403 CEH variants: [HLA-A*2902, E*010302, Cw*1601, B*4403, FC31, DRB1*07] and [HLA-A*2301, E*0101, Cw*04xx, B*4403, FC31, DRB1*07].
Panel 3 provided further evidence of ancient recombination within the HLA class I region both centromeric and telomeric to HLA-E. The two HLA-A, E variants of the CEH [HLA-Cw*07, B*07, SC31, DRB1*1501] strongly suggest a past recombination event between HLA-E and HLA-C. Conversely, the larger number of (HLA-E*0101, Cw*08, B*14) and HLA-E*0101, Cw*06, B*50) haplotypes found as compared with their most frequent HLA-A variants implies past recombination events between HLA-E and HLA-A. In summary, we demonstrate, by both χ2 and LD analysis, non-random association of HLA-E alleles with alleles at other class I loci and the HLA-E allele markers for 10 CEHs. Through breakdown of LD between MHC blocks, we once again infer recombination breakpoints on either side of HLA-E. Further, extension of the analysis from HLA-A to HLA-DRB1 increases the size of allele-defined CEHs up to 2.6 Mb.
A comparison of SNPs in cell lines homozygous for major HLA loci was performed. Except for HLA-E, where the EM10 cell line is heterozygous for HLA-E*0101 and HLA-E*010301, EM10 and FS10 are homozygous for the CEH [HLA-A*2601, E*010301, Cw*1203, B*3801, SC21, DRB1*0402, DQA1*0301, DQB1*0302] found at high frequency in Ashkenazi Jews [4]. Over the entire MHC region representing 369 individual SNPs which could be reliably identified in both cell lines, only 5 instances of heterozygosity in either cell line and only 2 instances of complete discordance between the two cell lines were detected (1.9%; Fig. 2B), thus supporting the block linkage implied by our other gene analyses (Tables 1, 2, 3 and Fig. 1). Further confirming our supposition concerning the relationship between actual SNPs to those selected on the chip array, the heterozygosity at the HLA-E locus of the EM10 cell line was not detected by SNP analysis.
Similar SNP analysis of 2 cell lines (B8HM1 and B8HM2) homozygous for the most frequent CEH in American and British Caucasians [4] ([HLAA*0101, E*0101, Cw*0701, B*0801, SC01, DRB1*0301, DQA1*0501, DQB1*0201]) revealed only 7 instances of heterozygosity and no instances of complete discordance between the two cell lines of 370 unambiguous SNPs analyzed (Fig. 2B). Selecting only those SNPs identical in EM10 and FS10 and designated "HLA-A*26, B*38", and comparing them with those SNPs identical in B8HM1 and B8HM2 designated "HLA-A*01, B*08" (Fig. 2B), we observed 113/271 (41.7%) complete discordance between the two sets (p: < 1 × 10-7). To demonstrate that the striking similarity of the SNPs in EM10 as compared with FS10 and in B8HM1 as compared with B8HM2 and that the striking difference between the HLA-A*26, B*38 and HLA-A*01, B*08 SNPs were not anomalies of the cell lines chosen, both sets of SNPs were independently compared to those of another cell line (L2DB), which is homozygous for a different CEH ([HLA-A*0301, E*010302, Cw*0702, B*0702, SC31, DRB1*1501, DQA1*0102, DQB1*0602]; designated "HLA-A*03, B*07"). As shown in Fig. 2B, the HLA-A*03, B*07 CEH SNPs differ significantly from those of either the HLA-A*26, B*38 (31.25% complete discordance; p: < 1 × 10-7) or the HLA-A*01, B*08 (35.1% complete discordance; p: < 1 × 10-7) CEHs.
Discussion
Human MHC polymorphisms likely represent the geographic dispersal of early man and expansion of limited haplotypes in concert with selection driven by local microbial organisms. This has led to association of haplotypes with both ethnicity and various immunopathologies. It has been postulated that the basis for some of the disease-associations may be a cross-reactivity between a microbe-specific peptide sequence and a closely-related host sequence leading to anti-host reactivity (e.g., HLA-B27 and ankylosing spondylitis [15]). To accurately identify the relationship of a genetic locus to disease, it is critical to determine whether an allele is associated with such pathology or whether the locus is co-segregating due to proximity with the responsible gene. Consideration of co-segregation is particularly critical given that direct determination of MHC haplotypes from family studies shows frequently occurring small block variants and given that a third to a half of Caucasian haplotypes are fixed from HLA-B to HLA-DRB1/DQB1 (at least 1 Mb) as CEHs [1–6].
To increase the resolution of haplotypes within the human MHC region defined by population LD analysis, this study was initially conceived as a means of incorporating HLA-E into the other class I, class II and complotype regions. HLA-E is an HLA-1b-type molecule of limited polymorphism interacting with natural killer receptors, functioning as an important mediator of cytotoxicity [16–18]. Initial LD analysis suggested that HLA-E polymorphism occurred early in hominid development and stabilized in Homo sapiens before the major geographic dispersals [19]. Consequently, it seems likely that the distribution of HLA-E alleles represents population migration with inbred expansion. In support of this notion, our analysis of HLA-E alleles identified 3 alleles, (HLA-E*0101, HLA-E*010301 and HLA-E*010302), non-randomly associated with particular CEHs. Our typing method was not designed to detect the recently identified allele HLA-E*010304 [14], and, if it had been present in any of the haplotypes, it would be reported here as HLA-E*010302. We are unaware of any report describing the population frequency of that allele; we shall clarify its presence or absence in particular CEHs in future studies. We identify apparent ancestral breakpoints upstream and downstream of HLA-E, and in the context of the limited number of HLA-E alleles identified, this would seem to reinforce the notion of HLA- E polymorphism occurring early in hominid development and stabilizing, and thus not in conflict in any way with the more recent stabilization of extended haplotypes confirmed here both by population LD analysis and SNP analysis. There is the further implication that recombination breakpoints in the HLA region are relatively infrequent.
Haplotype blocks and breakpoints revealed by population analysis do not always correlate with those identified by direct haplotype sequencing of sperm [20–22]. Sperm crossover points may indicate the potential for recombination while family studies represent the practical end result reflecting fertilization potential and environmental selective pressures. Accordingly, recombination frequencies from a single individual or limited pool should be used cautiously to describe the effect of recombination on haplotype frequencies in the population [6]. Other suggested mechanisms to explain discrepancies between sperm crossover points and family-inferred breakpoints include higher crossover rates in female gametes not observed in sperm [21], as well as the possibility that some breakpoints recognized by segregation analysis represent inactive ancestral recombination "hot spots" which have become fixed in populations [20].
Since selection in its most accepted formulation operates mostly upon protein products, the power of allele variant haplotype analysis is undeniable. In recent reports, extensive analysis of single nucleotide polymorphisms (SNP) has been used to produce high-resolution maps of breakpoints at greater frequency identified by allele variant population haplotype analysis. Some have argued that allele variant segregation and population haplotype analysis is erratic, influenced by gene frequency and population dynamics [23]. On the contrary, it is exactly these properties that have allowed allele variant population haplotype analysis to identify ethnic descent and migration of Homo sapiens so precisely.
LD analysis of SNP distribution in haplotypes defined by maximum likelihood methods has revealed genomic structures similar to and yet far less complex than those identified by allele variants haplotyped by segregation analysis [1–6, 24]. The former method may be responsible for some oversimplification of recent haplotype analyses [1, 4], but using SNP markers alone may also pose inherent problems. High-throughput localization of SNP distribution is inarguably efficient, but the vast majority of SNPs reside outside coding regions. Although there is potential for polymorphisms in non-coding promoter and intron DNA to influence subsequent transcription and splicing of a gene [25, 26], selection pressure is more likely to operate at the protein level. Particular haplotype block combinations of relatively long genomic distance are likely to have been initially fixed in response to geographical or environmental influences. The passage of time, migration and alterations in climate and local flora prevent analysis, but identification of other non-immune-related haplotype blocks offers support for selection influence on haplotype structure [11]. However, a recent report "mapping" the MHC using both HLA alleles and SNPs by LD analysis of haplotypes defined by maximum likelihood methods [24], suggests that the primary reason such maps fail to detect the details of human population haplotype structure [1–6] is their use of probabilistic (as opposed to segregation) analysis.
Conclusion
The identified associations of HLA-E alleles and SNPs within established CEHs, increase the extent of their recognized fixity. For example, HLA-B*4403 distributes with two CEH class I variants, (HLA-A*2301, Cw*04xx, B*4403) (with two HLA-Cw*04xx variants of its own) and (HLA-A*2902, Cw*1601, B*4403) [27]. HLA-E allele identification improves the class I differentiation of these CEHs to (HLA-A*2301, E*0101, Cw*04xx, B*4403) and (HLA-A*2902, E*010302, Cw*1601, B*4403), respectively. Results of several recent studies on two specific CEHs support our general conclusion of the fixity of CEHs in the class I region. Both high density SNP [28] and resequencing [29] analysis of the A1-B8-DR3 CEH and high density SNP analysis of the A30-B18-DR3 CEH [30] showed the essential sequence fixity of each of those haplotypes in unrelated individuals. Here, in a more limited set of samples, our high density SNP analysis confirms the essential fixity of the CEH [HLA-A*26, Cw*12, B*38, SC21, DRB1*04].
Since the SNP data so strongly support the genetic fixity of CEHs first observed by direct allele analysis, several approaches may be taken to improve haplotype definition. First, to define the SNP variants of particular CEHs, the density of SNP analysis can be raised to almost complete levels by choosing the limited subset expressed within a predefined CEH. An alternate approach based on the strong SNP support for CEHs, is to identify other polymorphic MHC genes, particularly in the HLA-A to HLA-C region, for consideration in LD analysis. Therefore, we identified several polymorphic markers within the 1.3 Mb of genomic DNA between HLA-A and HLA-C (Fig.
3
). Analysis of these markers permits determination of hierarchical haplotype block associations where block variation within the CEH may provide further insights into human diversity and disease susceptibility. Determining the frequency of sizes of DNA blocks in different populations will add a new dimension in the studies of human diversity and gene localization in diseases associated with the MHC class I region [
1
]. In this latter instance, the high resolution allele analysis will lead to better definition of the associative levels of MHC DNA blocks, CEHs and their fragments influenced by genetic admixture allowing more precise elucidation of disease-associated HLA alleles when comparing different ethnic groups and nationalities.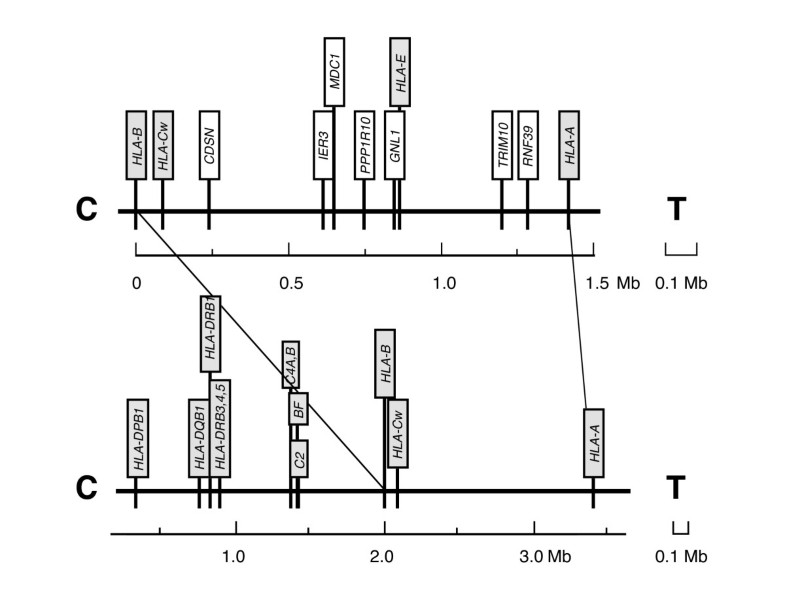 Abbreviations
CEH:

conserved extended haplotype
SNP:

single nucleotide polymorphism
LD:

linkage disequilibrium
SSOP:

sequence-specific oligonucleotide probes
OR:

odds ratio
SSP-PCR:

sequence-specific primer-PCR
Declarations
Acknowledgements
VR, CEL, TR, OPC, DAF, ZH, IA, DRA, ZLA, CAA, and EJY were supported by grant HL-29583 from the National Heart, Lung, and Blood Institute of the National Institutes of Health. VR, OPC, LED and EJY were also supported by NIH grant HL-59838. JZ was supported in part by grants from the Instituto Nacional de Enfermedades Respiratorias and Fundacion Mexico en Harvard, Mexico City.
Authors' Affiliations
(1)
Department of Cancer Immunology and AIDS, Dana-Farber Cancer Institute, Boston, USA
(2)
The CBR Institute for Biomedical Research, Boston, USA
(3)
Department of Medicine, Harvard Medical School, Boston, USA
(4)
Department of Medical Oncology, Dana-Farber Cancer Institute, Boston, USA
(5)
Molecular Diagnostics Laboratory, Dana-Farber Cancer Institute, Boston, USA
(6)
Department of Pathology, Harvard Medical School, Boston, USA
(7)
Instituto Nacional de Enfermedades Respiratorias, Mexico City, Mexico
(8)
Department of Medical Genetics, Mayo Clinic, Rochester, USA
(9)
Department of Pediatrics, Harvard Medical School, Boston, USA
Copyright
© Romero et al; licensee BioMed Central Ltd. 2007
This article is published under license to BioMed Central Ltd. This is an Open Access article distributed under the terms of the Creative Commons Attribution License (http://creativecommons.org/licenses/by/2.0), which permits unrestricted use, distribution, and reproduction in any medium, provided the original work is properly cited.