Research article

Open Access
Improved detection of global copy number variation using high density, non-polymorphic oligonucleotide probes
Received: 31 October 2007
Accepted: 28 March 2008
Published: 28 March 2008
Abstract
Background
DNA sequence diversity within the human genome may be more greatly affected by copy number variations (CNVs) than single nucleotide polymorphisms (SNPs). Although the importance of CNVs in genome wide association studies (GWAS) is becoming widely accepted, the optimal methods for identifying these variants are still under evaluation. We have previously reported a comprehensive view of CNVs in the HapMap DNA collection using high density 500 K EA (Early Access) SNP genotyping arrays which revealed greater than 1,000 CNVs ranging in size from 1 kb to over 3 Mb. Although the arrays used most commonly for GWAS predominantly interrogate SNPs, CNV identification and detection does not necessarily require the use of DNA probes centered on polymorphic nucleotides and may even be hindered by the dependence on a successful SNP genotyping assay.
Results
In this study, we have designed and evaluated a high density array predicated on the use of non-polymorphic oligonucleotide probes for CNV detection. This approach effectively uncouples copy number detection from SNP genotyping and thus has the potential to significantly improve probe coverage for genome-wide CNV identification. This array, in conjunction with PCR-based, complexity-reduced DNA target, queries over 1.3 M independent NspI restriction enzyme fragments in the 200 bp to 1100 bp size range, which is a several fold increase in marker density as compared to the 500 K EA array. In addition, a novel algorithm was developed and validated to extract CNV regions and boundaries.
Conclusion
Using a well-characterized pair of DNA samples, close to 200 CNVs were identified, of which nearly 50% appear novel yet were independently validated using quantitative PCR. The results indicate that non-polymorphic probes provide a robust approach for CNV identification, and the increasing precision of CNV boundary delineation should allow a more complete analysis of their genomic organization.
Keywords
Segmental DuplicationRobust Multichip AnalysisCopy Number ProbeSegmental Duplication RegionHapMap Trio
Background
With the completion of the human genome sequence, it is generally accepted that any two individuals are ~99.9% identical at the nucleotide level, and that the presence of single nucleotide polymorphisms (SNPs) in the genome are the major contributor to genetic diversity among humans [1]. In part due to the accuracy and ease in which they can be scored, along with their stability and abundance in the genome, SNPs have become the marker of choice for whole genome association studies that use linkage disequilibrium (LD) mapping to identify genes involved in complex diseases [2, 3]. Over the last several decades, it has also been accepted that there can be DNA copy number changes that occur among individuals, albeit in the context of limited and specific loci within the genome. These changes can span a spectrum from, for example, an extra copy of an entire chromosome (trisomy 21) in Down's syndrome to sub-chromosomal deletions responsible for genetic traits such as color blindness and α and β thalassemias [4]. However, this paradigm of genetic variation underwent a major revision in 2004 with the identification of genome-wide copy number variants that occur among phenotypically normal individuals [5, 6]. Since these initial reports, a large number of studies have described the wide spread and global distribution of CNVs in the genome [7–17]. As the cataloguing of CNVs in the genome continues, new studies are also aimed at understanding their function in normal cellular processes such as drug metabolism [18, 19] and gene expression [20], in human disease susceptibility [21–23] and developmental disorders [24], and in the natural selection process [25]. Lastly, the role of CNVs in genomic disorders further underscores how profoundly gene function can be adversely affected in a multitude of ways that can lead to disease [26–29]. Recent estimates of the contribution of CNVs to total nucleotide diversity per genome range from 9 to 30 Mb and thus exceeds the ~3 Mb estimated to be due to SNPs [7, 9, 30]. In fact, a recent comparison of the genome sequence of an individual human with the NCBI human reference assembly suggested that DNA copy number variable regions contribute ~10 Mb to sequence heterogeneity [31]. These results underlie the growing appreciation for and understanding of the need to account for CNVs in genome wide association studies. Although some common CNVs are in LD with SNPs and can therefore be assayed indirectly through SNP genotyping, a significant fraction of CNVs (particularly those in duplication-rich regions of the genome) are not well-captured by available SNP marker sets [7, 12, 14, 32]. Furthermore, even taggable CNVs need to be accurately typed before appropriate markers can be identified. Thus there is still an on-going need to develop molecular methods capable of direct and accurate detection of CNVs in order for this new class of polymorphisms to be effectively incorporated into genome wide LD mapping of genes involved in human disease [33].
There is a wide range of structural variation that can occur in the genome that includes deletions, insertions, duplications, and inversions, and these can range from 1–500 bp (fine-scale), 500 bp–100 kb (intermediate-scale), and >100 kb (large-scale) in size. Although there are many different molecular cytogenetic techniques that can be used to assess variants when one or several specific targeted loci are under investigation [26, 34, 35], there are only a limited number of approaches that provide genome-wide characterization, namely direct sequencing approaches such as fosmid paired-end sequencing [15] or Paired-End Mapping (PEM) [30] and array-based methods. Array-based methods that have been applied to CNV identification include the use of BAC clones [5, 7–9] and both long [6, 36] and short oligonucleotide probes [7, 12, 37]. We have reported in 2006 on a comprehensive analysis of CNVs in the HapMap DNA collection using two complementary platforms, namely BAC-array CGH and 500 K EA high-density genotyping array. While these two approaches often identified the same CNVs, there were differences in the types of CNVs unique to each approach. For example, while the 500 K EA array tended to identify smaller CNVs along with higher border resolution, the BAC array CGH approach was able to interrogate regions of the genome that are not easily amenable to SNP genotyping due to the presence of low copy repeat structures (segmental duplications). As a means to uncouple the requirement of SNP genotypes from CNV identification, we have designed and evaluated an array that uses non-polymorphic 25-mer probes in combination with a PCR-based, reduced complexity DNA target. This array has been used for high resolution analysis of DNA deletions in Gorlin syndrome samples [38], and in this report we show using a well-characterized pair of DNA samples, in conjunction with a novel CNV detection algorithm, that nearly 200 CNVs are identified, of which over 120 had not previously been described in this specific sample pair. All novel CNVs were evaluated using an independent QPCR based method, and the overall results show a verification rate of nearly 85%. Thus, DNA probes designed to sites in the genome that do not contain SNPs are effective for CNV identification, and when combined with probes used for SNP genotyping, provide a potentially powerful approach for the integration of CNVs and SNPs into genome wide association studies.
Results
Whole genome sampling analysis (WGSA) uses single primer PCR in combination with adapter-ligated, restriction enzyme-digested genomic DNA as template to selectively and reproducibly amplify genomic fractions [39]. Based on in silico NspI restriction enzyme digestion of the human reference genome (Build 35), over 1.33 million independent fragments are predicted in the 200 bp to 1100 bp size range. The 500 K EA array, which was previously used for genome-wide CNV detection, uses both NspI and StyI PCR representations on two individual arrays. In this configuration, the NspI WGSA target interrogates ~250 K SNPs which in general each reside on a unique restriction fragment. Thus only ~20% (0.25 M/1.3 M) of the in silico predicted NspI fragments are estimated to be represented on the 500 K EA array in the form of probes querying SNPs. Since the NspI PCR target has an estimated complexity of 550 Mb, it could potentially serve as a means to interrogate a significant fraction of the genome provided that two key criteria are met, namely, that these sequences can be reliably amplified by PCR during WGSA and that probes for all fragments are represented on the array and function in a specific manner in DNA hybridization. To this end, a new array was designed using non-polymorphic probes (referred to as the Nsp copy number (CN) array) for the goal of CNV detection.
The Nsp CN array contains eight to ten independent, non-polymorphic probes per restriction fragment which were selected based on intrinsic criteria (see Methods). Globally, these arrays, in combination with NspI WGSA target only, result in an increase in probe coverage when compared to the 500 K EA genotyping arrays which used both NspI and StyI WGSA fractions (Figure
1
). The median inter-marker distance for the Nsp CN arrays is 776 bp, compared to 2709 bp for 500 K EA probes [
37
]. As expected, genome coverage is improved. For example, at an inter-marker distance of 2.5 Kb, the 500 K EA array covers ~46% of the genome whereas coverage increases to over 84% with the Nsp CN array. Because the selection of probe sequences is no longer constrained to SNPs, this array design also has improved coverage in regions likely to contain CNVs, such as segmental duplications [
8
]. For example, while only 25.7% of segmental duplications contain at least one SNP found on the 500 K EA array, 90.3% of segmental duplications are represented by probes from at least one restriction fragment on the Nsp CN array before probe filtering (Table
1
).
Table 1
Coverage of segmental duplication regions by 500 K EA and Nsp CN arrays.
500 K EA

Nsp CN array

Before probe filtering

After probe filtering

After local-correction filtering

After probe filtering

After local-correction filtering

After probe filtering

After local-correction filtering

Data set 1

Data set 2

Data set 3

At least one marker

25.7%

90.3%

74.1%

73.5%

74.3%

73.8%

74.0%

73.0%

At least two markers

13.4%

85.2%

61.7%

60.5%

61.8%

60.7%

61.6%

60.3%

At least three markers

7.7%

78.1%

50.4%

49.2%

50.7%

49.5%

50.2%

49.1%

At least four markers

5%

69.7%

40.7%

39.1%

41.0%

39.3%

40.7%

39.3%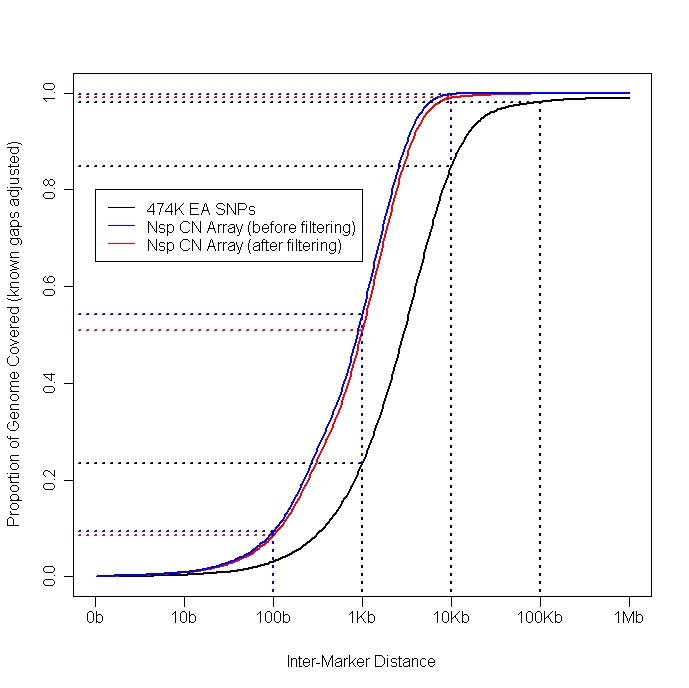 Assay and array performance
Although the human reference genome is commonly used to predict outcomes of
in silico
restriction enzyme digestions, the precise relationship between all expected fragments, regardless of whether they contain a SNP or not, and the WGSA target output has not been systematically evaluated [
40
,
41
]. The Nsp CN array, which contains multiple independent probes per fragment, was used to evaluate how well each fragment is represented by the WGSA assay. For this purpose, the difference was estimated between probe-specific background (using a pooled panel of 'antigenomic' probes that are not present in the human genome and which vary in GC content in a similar manner to the perfect match probes [
42
]), and the target-dependent probe signal using a set of five genomic DNA samples that contain different numbers of X chromosomes (designated as the 1X to 5X sample set). Using a probe sequence-specific background model (see Methods), >97% of all probes show an intensity that is higher than background in each individual sample and > 94% of all probes are detected above background when all 5 samples are evaluated together as a group (Table
2
). Although this metric does not measure the specificity of the signal per se but rather whether the signal is real or not in terms of being above background level, it does suggest that nearly all predicted restriction fragments are actually represented in the PCR target at a concentration sufficient for detection by hybridization. The small remaining set of non-responsive fragments could result from problems with restriction enzyme digestion, PCR amplification, hybridization, or sequence differences between the human genome reference sequence and the genomes of the samples being tested.
Table 2
Estimation of number of probes that respond to target and display an intensity above the background
Probes above background in each sample

Probes and fragments above background in 5/5 samples

Probe count

Percentage

Probes # (%)

Fragment # (%)

data set 1

Sample1

12,017,471

97.47%

11,786,082

(95.59%)

1,329,822

(99.96%)

Sample2

12,025,953

97.54%

Sample3

12,075,266

97.94%

Sample4

12,092,454

98.08%

Sample5

12,080,046

97.97%

data set 2

Sample1

11,980,266

97.17%

11,697,525

(94.87%)

1,329,806

(99.96%)

Sample2

12,053,875

97.76%

Sample3

12,056,015

97.78%

Sample4

12,039,968

97.65%

Sample5

11,981,189

97.17%

data set 3

Sample1

11,965,896

97.05%

11,687,506

(94.79%)

1,329,818

(99.96%)

Sample2

12,061,150

97.82%

Sample3

12,027,025

97.54%

Sample4

12,060,619

97.82%

Sample5

12,040,767

97.66%
The probes present on the Nsp CN array have not been experimentally selected a priori for high performance with regard to detection of DNA copy number changes. In order to test if these probes are sensitive to changes in target dosage, the 1X to 5X DNA samples were used in WGSA and target was hybridized to the arrays for the purpose of X chromosome probe evaluation. Using all probes present on the X chromosome, a clear increase in signal was seen with increasing X chromosome dosage (Additional File 1). These results confirm that probes on the Nsp CN array display a dose response for the X chromosome. The use of these DNA samples also allows assessment of individual probe-specific dose response metrics (i.e. regression slope and linear correlation coefficient). For example, under ideal theoretical conditions, a single probe that maps to only one site on the X chromosome, when evaluated with the 1X to 5X sample set, would show a regression slope value of 1 when the linear regression is modeled using the log-transformed intensity as the response and the log-transformed copy number as the predictor. Similarly, a linear correlation coefficient of 1 would be expected. Thus, deviation from these ideal values provides an experimental approach to measuring each probe's ability to respond to changes in target concentration. Two examples are shown in Additional Files 2 and 3.
The impact of the number of genomic hits on probe dose response was also evaluated using the X chromosome probe intensities from the 1X–5X data set (Additional File 2). Linear correlation between log (probe intensity) and log (chrX copy number) was calculated for each of the chrX probes after grouping probes by number of perfect-match genomic hits. The Pearson's correlation coefficient of each group (Additional File 2B) dramatically decreased when the number of genomic hits was greater than two. The log (probe intensity) and log (chrX copy number) was further modeled by simple linear regression. Again, the regression coefficient (regression line slope, as shown in Additional File 2C) grouped by number of genomic matches indicated poorer performance when the probes were complementary to more than two sites in the genome. The same analyses stratifying on the number of chromosome X hits using the same set of chrX probes gave similar results (Additional File 2D–2F). Although these metrics were also smaller for probes with two-genomic matches as compared to single-match probes, the magnitude of the reduction was not as large relative to the change from two-genome matches to three or greater genomic matches. More importantly, since many CNVs are associated with segmental duplication regions, there is an increased likelihood for probes in CNV regions to have two genome hits. Thus, probes with two genome hits were not omitted in order to allow interrogation of segmental duplication regions (Table 1), while probes that have more than two genomic hits were removed as described in Methods.
Several probe filtering steps were implemented in addition to the probe filtering described above for genomic hits in order to remove adversely performing probes (see Methods). These additional procedures included filtering based on probe GC content, restriction fragment length and GC content, NspI restriction site characteristics, hybridization signal intensities lower than background, hybridization signals that are too bright, and probe sets comprised of single probes. Following the probe filtering steps, sequence specific standardization was performed and the probes from each restriction fragment were summarized as described in Methods. At the completion of all filtering steps, ~77% of the initial probes and 92% of the initial restriction fragments were retained in a typical experiment, although the exact number varied dynamically for each sample set that was analyzed together (Additional File 4). Importantly, genome coverage was not significantly reduced by probe filtering (Figure 1) although coverage in segmental duplication regions with at least one marker was modestly reduced from 90% to 74% (Table 1). The overall impact of probe filtering as well as a median polish procedure (Robust Multichip Analysis (RMA)) on dose response was evaluated using the 1X–5X sample set dose response metrics. The linear correlation coefficient and the regression slope improved significantly in both cases (Additional File 5).
Detection of copy number polymorphisms
A comparison of the four validated "de novo" CNVs with CNVs that have previously been described in the literature for these samples reveals that one of these four can be categorized as a CNV with a complex inheritance pattern and a second CNV can be categorized as a putative cell line artifact. In the case of the trio which includes the child DNA sample NA10846, a "de novo" CNV from 79,022,620 bp to 79,094,338 bp on chromosome 6 was validated using several QPCR primer pairs targeting different regions of the CNV (Figure 5C). In a previous study [7], this common CNV region was identified as a deletion in both parent samples (NA12144 and NA12145) as well as the reference sample (NA10851), and was found to be a homozygous deletion in the child (NA10846). Because the reference sample and the two parents contain the same CNV allele, the presence of the deletion in the parents was masked in our study. Thus, this is an example where an apparently "de novo" or non-inherited CNV appears to follow simple Mendelian inheritance but is missed due to the configurations of genotypes in the tested samples relative to the reference sample. In another example, for the case of the trio NA10831-NA12145-NA12146, a "de novo" CNV was validated between 84,014,256 bp and 84,037,846 bp on chromosome 7, but only in a specific lot number of the DNA sample corresponding to the child (Additional File 6). In previous work, this region was identified as a deletion in the child sample (NA10831), but not in the parent samples (NA12145 and NA12146) and was thus flagged as a potential cell line artifact [7].
High resolution breakpoint determination for CNVs
For the Nsp CN array, the CNV border was defined as the middle point between the outer most fragment present in a region showing significance and the nearest fragment located outside of the significant region. For this reason, the reported border for a CNV region is an approximation of the true border, which should lie somewhere between these two points. The accuracy of the array and algorithm to delineate CNV boundaries was evaluated by experimental testing of 2 CNV regions that were identified by both the Nsp CN array as well as the 500 K EA platform (Additional File
6C
). The first CNV tested was identified as a 40 kb insertion on chromosome 2 by the Nsp CN array and a 65 kb insertion by 500 K EA (Figure
6A
). QPCR primers were designed to the regions immediately adjacent to the borders defined by the Nsp CN array, internal to the defined borders, and to regions that differed between the two platforms. The results show that the borders defined by the Nsp CN array and algorithm were highly accurate and limited only by the density of markers in the region (Figure
6
). A comparison of the borders reported by the Nsp CN array and the borders reported by the 500 K EA array with the experimental QPCR results shows that the higher density of markers in the Nsp CN array is beneficial in the identification of the true border of a CNV region.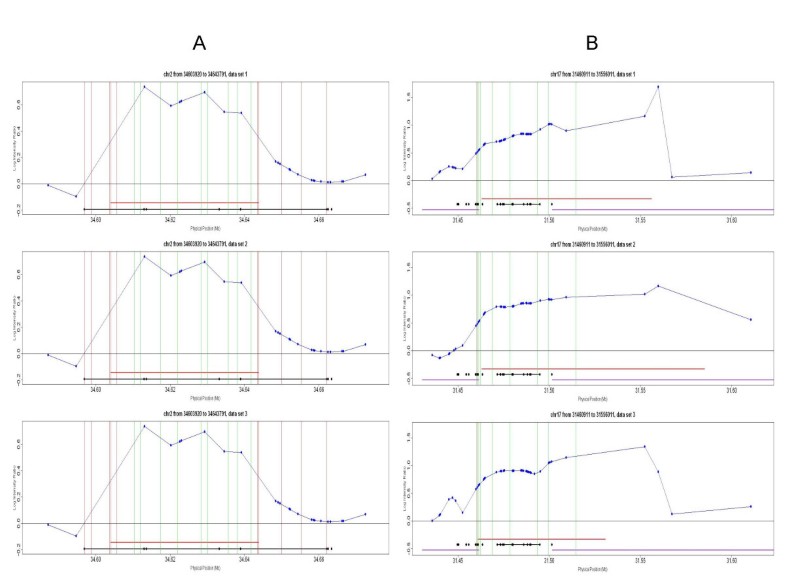 A second example was tested which was defined as a larger CNV by the Nsp CN array (95 kb insertion on chromosome 17) compared to 500 K EA (23 kb insertion on chromosome 17). The primary reason for the smaller size on the 500 K EA platform was the lack of SNP probes in the segmental duplications that are associated with this CNV (Figure 6B). Again, the Nsp CN array borders were found to be more accurate (Additional File 6). It should be noted that although this CNV is clearly larger than 23 kb, the precise borders were difficult to establish due to the presence of segmental duplications within and flanking the region (Figure 6B).
Discussion and Conclusion
The routine testing of CNVs during genome wide association studies has been widely proposed yet has not been fully realized to the same extent as SNP genotyping [44–46]. This goal is hindered in part by the fact that accurate and sensitive detection of CNVs that span varying numbers of nucleotides poses greater technical challenges than the genotype determination of a bi-allelic single nucleotide polymorphism. In addition, although SNPs can reliably be identified by many different molecular assays which all result in a common output (homozygous or heterozygous genotype call), CNV outputs can vary widely depending on the specific technical platform, calling algorithm, and reference DNA sample that is used [47, 48].
The ability to accurately assess common copy number variation requires the development of novel high throughput technologies as well as the algorithms to extract and process the appropriate information. Here we describe a high density oligonucleotide array designed specifically for the interrogation of copy number changes without the necessity to genotype SNPs. In addition, we have utilized a CNV detection algorithm that takes advantage of well established standardization methods [37, 49, 50] as well as the use of tree partitioning to segment the genome and delineate the CNV borders, a method that has been previously described for the identification of copy number changes using high density arrays [51] and is a powerful alternative to other segmentation algorithms [52–55]. We have further justified the use of a tree partitioning model coupled with a permutation test by extensive experimental validation of the CNV calls as well as the precision of the borders determined by the algorithm.
The single largest advantage of high density DNA oligonucleotide arrays is the vast amount of genetic information generated in a single experiment through the use of millions of independent probe sequences [56–58]. The increased value of higher density is evident based on the increased number of CNVs called in any pair wise comparison, and the ability to detect much smaller CNVs compared to other array based platforms [7]. For example, we identified 169 validated CNVs in one pair wise comparison (NA15510 vs NA10851) alone. This far outnumbers the list of CNVs discovered (using the same test and reference sample) by at least 5 other microarray based platforms (See Supplementary Table 1 in [59]) although is still less than the 241 alterations discovered by fosmid end sequencing of NA15510 [15]. Remarkably, in this one sample alone, more than 500 distinct copy number variations have been identified, and half of these have been experimentally validated. This underscores the point that any two human genomes may differ by tens of Megbases of DNA sequence due to structural variation alone.
One issue with CNV survey studies to date is the lack of overlap between variants identified using different platforms [59–61]. In addition, although the databases cataloguing all published CNV regions contain hundreds of Mbs of DNA, it is still unclear if a large proportion of these CNVs may in fact be false positives [59, 62]. We have high confidence in the CNVs reported here since all have been experimentally validated or have been identified by multiple technological platforms.
The presence of non-polymorphic probes improves array performance by allowing more probes to be utilized, even in more complex regions of the genome, such as segmental duplication regions, which are often not accessible through standard SNP genotyping. Future whole genome association studies should utilize both SNPs and CN probes to maximize the information and content. While SNP detection has been widely used and tested, this is the first report of a non-polymorphic set of probes that can be evaluated for eventual inclusion onto an integrated array containing both polymorphic and non-polymorphic probes [47, 61]. A subset of probes from the Nsp CN array has been empirically selected for maximum responsiveness and has been incorporated into the SNP 6.0 array [63]. This array is currently being used to assess structural variation in large sample sets. Finally, the Nsp CN arrays have been shown to be capable of detecting cancer causing aberrations with known pathological consequences [64]. Thus, this type of array could also be used for array-based karyotyping in lieu of more time consuming and expensive cytogenetic methods [65].
Declarations
Acknowledgements
The authors would like to thank Shumpei Ishikawa, Daisuke Komura, and Hiro Aburatani for helpful discussions. We thank Chris Davies, Gangwu Mei, Brant Wong and Alan Williams for bioinformatics analysis, and Steve Lincoln and Simon Cawley for critical reading of the manuscript.
Authors' Affiliations
(1)
Affymetrix, Inc., Santa Clara, USA
(2)
Center for Human Genetic Research, Massachusetts General Hospital, Boston, USA
(3)
Program in Medical and Population Genetics, Broad Institute of MIT and Harvard, Cambridge, USA
Copyright
© Shen et al; licensee BioMed Central Ltd. 2008
This article is published under license to BioMed Central Ltd. This is an Open Access article distributed under the terms of the Creative Commons Attribution License (http://creativecommons.org/licenses/by/2.0), which permits unrestricted use, distribution, and reproduction in any medium, provided the original work is properly cited.