Research article

Open Access
Low genetic diversity despite multiple introductions of the invasive plant species Impatiens glandulifera in Europe
Received: 13 March 2015
Accepted: 29 June 2015
Published: 20 August 2015
Abstract
Background
Invasive species can be a major threat to native biodiversity and the number of invasive plant species is increasing across the globe. Population genetic studies of invasive species can provide key insights into their invasion history and ensuing evolution, but also for their control. Here we genetically characterise populations of Impatiens glandulifera, an invasive plant in Europe that can have a major impact on native plant communities. We compared populations from the species' native range in Kashmir, India, to those in its invaded range, along a latitudinal gradient in Europe. For comparison, the results from 39 other studies of genetic diversity in invasive species were collated.
Results
Our results suggest that I. glandulifera was established in the wild in Europe at least twice, from an area outside of our Kashmir study area. Our results further revealed that the genetic diversity in invasive populations of I. glandulifera is unusually low compared to native populations, in particular when compared to other invasive species. Genetic drift rather than mutation seems to have played a role in differentiating populations in Europe. We find evidence of limitations to local gene flow after introduction to Europe, but somewhat less restrictions in the native range. I. glandulifera populations with significant inbreeding were only found in the species' native range and invasive species in general showed no increase in inbreeding upon leaving their native ranges. In Europe we detect cases of migration between distantly located populations. Human activities therefore seem to, at least partially, have facilitated not only introductions, but also further spread of I. glandulifera across Europe.
Conclusions
Although multiple introductions will facilitate the retention of genetic diversity in invasive ranges, widespread invasive species can remain genetically relatively invariant also after multiple introductions. Phenotypic plasticity may therefore be an important component of the successful spread of Impatiens glandulifera across Europe.
Keywords
SSRs
Colonisation events
Exotic species
Molecular diversity
Weeds
Background
Invasive plant species are becoming increasingly common and can threaten biodiversity across the world [31]. Apart from being of biological importance – frequently having a negative effect on local plant communities [56, 58, 99] – invasive species also provide particular opportunities to study ecological and evolutionary processes [39]. Being just a subset of the species-wide gene pool, possibly suffering severe loss of genetic diversity upon the invasion [4, 66], they are nonetheless able to thrive in a novel environment and thereby provide useful study systems for responses to rapid environmental changes [21, 39].
The successful invasiveness of some species in spite of low genetic diversity is commonly referred to as the genetic paradox of invasive species [28]. It has, however, been shown that high genetic diversity is not a prerequisite for an invasive species to be successful [21] and some studies suggest phenotypic plasticity is instrumental for invasiveness [52, 72]. Others instead stress the importance of rapid evolutionary responses [11, 22, 53]. Molecular population genetics can be instrumental in exploring the importance of genetic components of invasiveness [51]. For example, although loss of genetic diversity is expected upon colonisation of new areas, it has been suggested that high genetic diversity, resulting from multiple introductions, could be what allows a species to become invasive [69].
Phylogeographic analysis of intraspecific genetic variation can be used to explore the migration history of a species, including species that have recently colonized an area (e.g. [41, 87] and references therein). For invasive species, phylogeographic analyses can provide information about the source population(s) in an invader's native range, as well as elucidate patterns of spread within the species' novel range (e.g. [68, 84, 108]). Additionally, phylogeographic patterns and the distribution of genetic diversity within and between populations can shed light on human facilitation of spread and thus aid in developing suitable management strategies [101].
Impatiens glandulifera Royle (Balsaminaceae), the Himalayan Balsam, is an invasive species in Europe (e.g. [18, 80]), North America and New Zealand [96, 104] with the ability to outcompete native species, particularly in riparian habitats [6, 40]. It is pollinated by insects but can also self-pollinate [80]. Dehiscence of the seed capsule spreads seeds up to a distance of 5 m while long-distance dispersal is primarily carried out by man or water currents [6]. Being an annual species it can, upon senescence, leave riverbanks exposed to winter erosion and during the growth season its roots can block and threaten land drainage schemes [80].
In its native range
I. glandulifera
grows at altitudes of 2000 – 4000 m a.s.l. from Kashmir to Garhwal in the Northern Indian state of Uttarakhand [
6
,
75
] (Fig.
1
). The first documented European introduction of
I. glandulifera
was from Kashmir to the British Isles in 1839, where it was initially grown in the Kew Gardens [
6
,
15
,
57
]. Originally an ornamental garden flower, it was first recorded as a naturalised plant in 1855 [
9
]. During the 19
th
and 20
th
century the species gradually spread across the continent [
9
,
33
,
37
,
47
,
67
,
73
,
80
,
95
,
97
]. The increasingly more northern reports suggest spread may have happened in a step-by-step fashion from the range frontier, which, if true, should be evident through decreasing genetic diversity in more northern latitudes. The species is now widespread in Europe and found up to 64° N [
5
]. Seeds and seedlings have been brought to Europe on several occasions [
47
], but it is not known from which introduction(s)
I. glandulifera
populations presently found in Europe descend.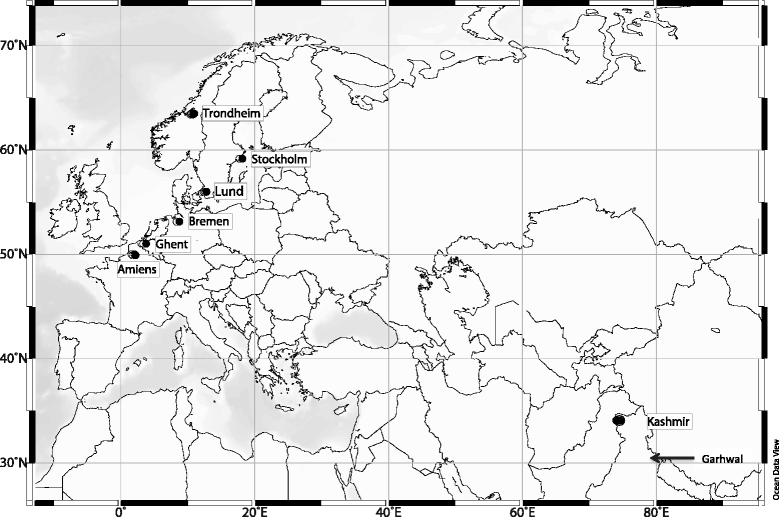 Most studies on I. glandulifera so far have described the spread of the species on a local or countrywide scale [33, 80], or have tried to elucidate the mechanism for its invasiveness [79, 80, 90]. In addition, differences in growth and phenology of I. glandulifera have been shown to be correlated with latitudinal origin, suggesting adaptation to the length of the growing season [46]. Recently, the genetic diversity of I. glandulifera on a local or countrywide scale has been described for British [78, 100], Lithuanian [110] and Finnish [64] populations. To our knowledge, however, there have been no population genetic studies sampling I. glandulifera across a larger part of its European distribution.
Here we assess both local and more large-scale patterns of genetic diversity in I. glandulifera by characterising the molecular genetics of populations both from the species' native range in Kashmir (India) and the introduced range within Europe across a large part of the species' invaded north – south distribution. The main aims of our study were 1) to investigate the number of introductions into Western Europe, 2) to compare the genetic diversity of the species and its distribution in the invaded and native range, 3) to explore the importance of evolutionary forces, in particular gene flow, between populations in shaping the distribution of genetic diversity in the invasive range and 4) to compare our results with general population genetic patterns in invasive species.
Conclusions
In conclusion, we find that invasive populations of I. glandulifera represent a smaller proportion of the genetic diversity of the native range than what is typically found for outcrossing invasive species. Relatively low genetic diversity is thus possible in widespread invasive species even after multiple introductions. This suggests a possible role for phenotypic plasticity in facilitating the spread of I. glandulifera across Europe.
Abbreviations
HWE:

Hardy-Weinberg Equilibrium
LD:

Linkage disequilibrium
DAPC:

Discriminant analysis of principal components
PCA:

Principal component analysis
PC:

Principal component
ABC:

Approximate Bayesian computation
AMOVA:

Analysis of molecular variance
Declarations
Acknowledgements
This project was carried out within the research network FLEUR (http://www.fleur.ugent.be) funded by the Research Foundation – Flanders (FWO) and was supported economically by CBD (Center for Biodiversity Dynamics), NTNU. Serina Trotzer, Sigrid Lindmo, Annika M. Felton, Gaëtan Duponchelle and Sharmila Phuyal are thanked for help in the field.
Open Access This article is distributed under the terms of the Creative Commons Attribution 4.0 International License (http://creativecommons.org/licenses/by/4.0/), which permits unrestricted use, distribution, and reproduction in any medium, provided you give appropriate credit to the original author(s) and the source, provide a link to the Creative Commons license, and indicate if changes were made. The Creative Commons Public Domain Dedication waiver (http://creativecommons.org/publicdomain/zero/1.0/) applies to the data made available in this article, unless otherwise stated.
Authors' Affiliations
(1)
Norwegian University of Science and Technology, Department of Biology, Trondheim, Norway
(2)
IFM – Biology, Linköping University, Linköping, Sweden
(3)
University of Applied Sciences Bremen, Bremen, Germany
(4)
Swedish University of Agricultural Sciences, Southern Swedish Forest Research Centre, Alnarp, Sweden
(5)
Plant Biodiversity Lab, FRE 3498 CNRS, Université de Picardie Jules Verne, Amiens, France
(6)
Department of Physical Geography and Quaternary Geology, Stockholm University, Stockholm, Sweden
(7)
Department of Botany, University of Kashmir, Jammu & Kashmir, India
(8)
Vegetation Ecology and Conservation Biology, Institute of Ecology, University of Bremen, Bremen, Germany
(9)
Forest & Nature Lab, Ghent University, Melle Gontrode, Belgium
(10)
Division Forest, Nature and Landscape, University of Leuven, Leuven, Belgium