Detailed characterization of plant elicitor peptides, molecules involved in the innate immunity mechanisms in plants, may help the development and refinement of novel pathogen-control compounds.
Aims and scope
BMC Genetics is an open access, peer-reviewed journal that considers articles on all aspects of inheritance and variation in individuals and among populations.
Editor
Manuscript Editor

Assistant Editor
Eleanor Harding, BioMed Central, UK
Section Editors
Federico Canzian, German Cancer Research Center (DKFZ)
Roland Kölliker, Agroscope Reckenholz-Tänikon Research Station
Li Ma, University of Maryland
Anna Malacrida, University of Pavia
Cesar Martins, UNESP - São Paulo State University
Michele Morgante, Universita' di Udine
James Reecy, Iowa State University
Pim van Hooft, Wageningen University
Rongling Wu, Pennsylvania State University
Shuhua Xu, (CAS-MPG) Partner Institute for Computational Biology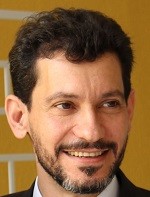 Cesar Martins joined the Editorial Board of BMC Genetics in 2008 and became the Section Editor of Epigenetics and Chromosome Biology in 2016. He is a Professor of Molecular and Cellular Biology and Genomics at São Paulo State University. His research interest is directed to Chromosome and Genome evolution, with emphasis on B chromosome biology.
BMC Series blog
Follow
Portable Peer Review
The editors of BMC Genetics support initiatives that expedite the peer review process and are happy to consider manuscripts that have been reviewed in Peerage of Science. Please indicate in your cover letter if this applies to your manuscript.