Research article

Open Access
Effect of family relatedness on characteristics of estimated IBD probabilities in relation to precision of QTL estimates
Received: 20 April 2010
Accepted: 26 September 2010
Published: 26 September 2010
Abstract
Background
A random QTL effects model uses a function of probabilities that two alleles in the same or in different animals at a particular genomic position are identical by descent (IBD). Estimates of such IBD probabilities and therefore, modeling and estimating QTL variances, depend on marker polymorphism, strength of linkage and linkage disequilibrium of markers and QTL, and the relatedness of animals in the pedigree. The effect of relatedness of animals in a pedigree on IBD probabilities and their characteristics was examined in a simulation study.
Results
The study based on nine multi-generational family structures, similar to a pedigree structure of a real dairy population, distinguished by an increased level of inbreeding from zero to 28% across the studied population. Highest inbreeding level in the pedigree, connected with highest relatedness, was accompanied by highest IBD probabilities of two alleles at the same locus, and by lower relative variation coefficients. Profiles of correlation coefficients of IBD probabilities along the marked chromosomal segment with those at the true QTL position were steepest when the inbreeding coefficient in the pedigree was highest. Precision of estimated QTL location increased with increasing inbreeding and pedigree relatedness. A method to assess the optimum level of inbreeding for QTL detection is proposed, depending on population parameters.
Conclusions
An increased overall relationship in a QTL mapping design has positive effects on precision of QTL position estimates. But the relationship of inbreeding level and the capacity for QTL detection depending on the recombination rate of QTL and adjacent informative marker is not linear.
Keywords
Quantitative Trait LocusQuantitative Trait Locus EffectMarker AlleleQuantitative Trait Locus DetectionQuantitative Trait Locus Position
Background
Studies on quantitative trait loci (QTL) in dairy cattle are performed almost exclusively on data from commercial populations. Setting up experimental populations is highly expensive and time consuming. Therefore, the simplest and most popular design for QTL mapping in dairy cattle was the granddaughter design (GDD, [1]). Single grandsires establish their "own families" with a number of sons (sires) genotyped for a marker panel, involving phenotypic information on the quantitative trait, based on several hundreds of cows ((grand)daughters).
The methodology to detect QTL in general pedigrees exploiting polymorphism of genetic markers was proposed by Fernando et al. (1989), based on a model where both the allelic QTL effects and the polygenic component are assumed to be random normal deviates [2]. The covariance between individuals for a putative QTL is modeled by the probabilities of sharing alleles identical by descent (IBD), based on linked marker genotypes. Such IBD scores are important prerequisites in a two-step procedure to compute variance components using ASREML [3, 4]. The major advantage of the variance components approach is the ability to account for relationships among individuals in different families. Pong-Wong et al. (2001) proposed a fast deterministic approach to estimate IBD probabilities by combining the methods of Wang et al. (1995) and Knott and Haley (1998) [5–7]. Consequently, managing inbreeding loops with minimal information loss became feasible. This is of interest, since pedigree patterns harbouring inbred individuals do occur in many animal species, even if inbreeding should be avoided under commercial breeding conditions.
A recent, to our knowledge the first, study has shown that using inbred sires in a pedigree positively exerts QTL detection [8]. However, how this applies is not straightforward, as there was neither different phenotypic variance, nor different (poly)genetic variance between the family structures in the simulation study cited. Sensitivity to environmental changes increases in inbred individuals due to loss of heterozygosity accompanied by impaired ability to react to changing or sub-optimal environmental conditions [10]. Most likely, such inbreeding-specific environmental effects do occur in dairy cattle as well. Moreover, respecting negative inbreeding effects on fertility, health and also on economically important traits would be relevant [9]. But the molecular genetic basis of the inbreeding depression phenomenon is still being examined in model species [11]. Therefore, a realistic basis to include these effects in a simulation model is missing.
The only source of inbreeding effects on QTL position estimates in the recent study was the IBD probability. Investigating IBD parameters in this sense remained an open task. The objective of the simulation study summarized in this paper was to provide more insight into the characteristics of IBD probability in relation to the inbreeding level. Therefore, IBD parameters were examined in pedigrees with four generations and stepwise increasing inbreeding level and slightly varying marker panels for QTL mapping. Moreover, an attempt was made to target the theoretical "optimum inbreeding level" for QTL mapping. An extremely high inbreeding level was necessarily considered in order to evaluate the resulting IBD parameters regarding the theoretical optimum inbreeding level.
Results and discussion
Detailed QTL estimates obtained from "mildly inbred" family structures (average F
x
in sires of final offspring increasing from 0 up to 0.042) were reported earlier [
8
]. The results obtained from the new family structures with higher inbreeding levels followed the trend of positive inbreeding effects on estimated QTL positions, except for FS5 (Figure
1
). IBD probabilities deviating along the marked chromosome were mainly responsible for the goodness of QTL position estimates.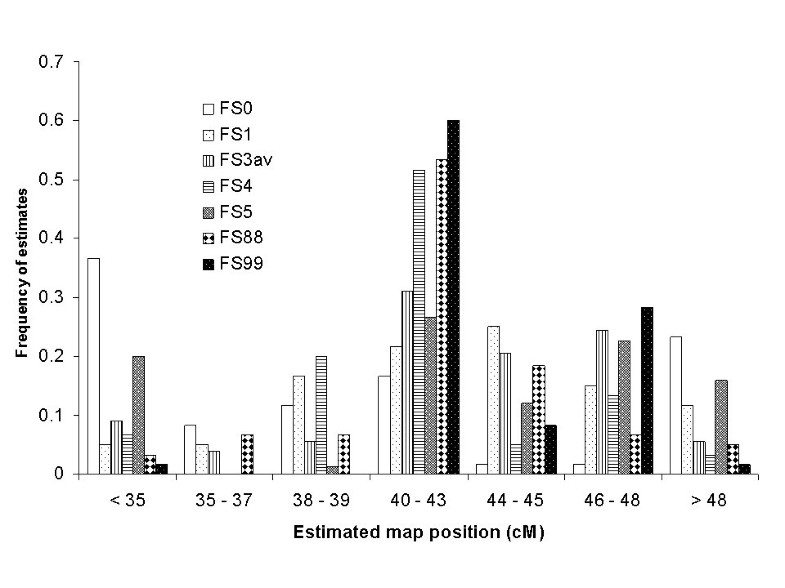 Simulation parameters in terms of marker map, number of marker alleles and information content did not affect IBD probability significantly (P-values ranged from 0.75 to 0.87). Family structure, characterized by its inbreeding level, had a significant effect on the IBD probability (P < 0.0001). The IBD parameters were contemplated more detailed in order to identify the reasons for more successfully estimated QTL positions obtained by analysing stronger inbred family structures.
Conclusions
Our simulation study carried out with respect to realistic conditions in dairy cattle revealed intrinsic relationships between precision of estimated QTL positions and pedigree relatedness in the mapping population. IBD parameters obtained from analysing family structures with varying inbreeding load yielded conclusive results with respect to the meaning of inbreeding for QTL estimation and its dependence on relatedness. Related pedigrees are necessary for linkage analyses, and the stronger the relatedness is, the greater is the success of such studies. Comparing two versions of historic populations used in a GridQTL analysis that mimics a combined LD/LA- analysis additionally underlined the advantage of inbreeding and increased relatedness. This leads us to the assumption that linkage disequilibrium of markers and QTL across several generations could easier be detected than in non inbred or "less related" pedigrees. It must be noted that the relationship of the capacity for QTL detection (here, expressed by cov(IBS, IBD)) and the average inbreeding level of a population is not linear. Finally, these results apply to the situation of one biallelic QTL actually segregating in the pedigree, marked by a defined chromosomal segment.
Declarations
Acknowledgements
We thank Christian Stricker and Matthias Schelling for the opportunity to use PEDSIM and for fruitful discussions on QTL related topics.
Authors' Affiliations
(1)
Leibniz Institute for Farm Animal Biology (FBN), Dummerstorf, Germany
(2)
Institute for Evolutionary Biology, University of Edinburgh, Edinburgh, UK
(3)
IRTA Animal Genetics, Lleida, Spain
(4)
Newsham Choice Genetics, STL Research Center, Chesterfield, USA
Copyright
© Freyer et al; licensee BioMed Central Ltd. 2010
This article is published under license to BioMed Central Ltd. This is an Open Access article distributed under the terms of the Creative Commons Attribution License (http://creativecommons.org/licenses/by/2.0), which permits unrestricted use, distribution, and reproduction in any medium, provided the original work is properly cited.