Research article
Open Access
Haploinsufficient Bmp4 ocular phenotypes include anterior segment dysgenesis with elevated intraocular pressure
Received: 1 October 2001
Accepted: 6 November 2001
Published: 6 November 2001
Abstract
Background
Glaucoma is a blinding disease usually associated with high intraocular pressure (IOP). In some families, abnormal anterior segment development contributes to glaucoma. The genes causing anterior segment dysgenesis and glaucoma in most of these families are not identified and the affected developmental processes are poorly understood. Bone morphogenetic proteins (BMPs) participate in various developmental processes. We tested the importance of Bmp4 gene dosage for ocular development and developmental glaucoma.
Results
Bmp4+/- mice have anterior segment abnormalities including malformed, absent or blocked trabecular meshwork and Schlemm's canal drainage structures. Mice with severe drainage structure abnormalities, over 80% or more of their angle's extent, have elevated IOP. The penetrance and severity of abnormalities is strongly influenced by genetic background, being most severe on the C57BL/6J background and absent on some other backgrounds. On the C57BL/6J background there is also persistence of the hyaloid vasculature, diminished numbers of inner retinal cells, and absence of the optic nerve.
Conclusions
We demonstrate that heterozygous deficiency of BMP4 results in anterior segment dysgenesis and elevated IOP. The abnormalities are similar to those in human patients with developmental glaucoma. Thus, BMP4 is a strong candidate to contribute to Axenfeld-Rieger anomaly and other developmental conditions associated with human glaucoma. BMP4 also participates in posterior segment development and wild-type levels are usually critical for optic nerve development on the C57BL/6J background. Bmp4+/- mice are useful for studying various components of ocular development, and may allow identification of strain specific modifiers affecting a variety of ocular phenotypes.
Keywords
GlaucomaRetinal Pigment EpitheliumCiliary BodyTrabecular MeshworkRetinal Ganglion Cell Axon
Background
Glaucoma is a leading cause of blindness that involves loss of retinal ganglion cells and degeneration of the optic nerve [1]. Glaucoma is usually associated with high intraocular pressure (IOP) that results from an increased resistance to drainage of the ocular fluid [1]. Developmental disorders of the ocular anterior segment, including Axenfeld-Rieger syndrome, are often associated with elevated IOP and glaucoma [1, 2]. The developmental sequence and structure of the human and mouse ocular drainage structures are similar [3], and the same genes are known to cause anterior segment dysgenesis (ASD) in humans and mice. Known genes that cause anterior segment dysgenesis code for developmentally important transcription factors. These genes include PITX2, PITX3, PAX6, FOXC1 (previously known as FKHL7 and FREAC3), Foxc2 and FOXE3[4–9]. Activity levels for these transcription factors normally associated with diploid gene dosage are important for normal ocular development, with heterozygosity for null mutations in most of these genes causing anterior segment dysgenesis. For FOXC1 and PAX6, both haploinsufficiency and increased gene dosage due to gene duplication result in abnormal ocular development [10–13]. Similarly, a mutation in PITX2 that results in increased transcriptional transactivation causes ASD [14].
Bone morphogenetic proteins (BMPs) are a large subclass (more than 20 members) of the TGF-β superfamily. Although originally named because of their ability to induce bone and cartilage formation [15], BMPs are involved in many developmental processes, including cell proliferation and differentiation, apoptosis, and intercellular interactions during morphogenesis [16–25]. Members of the bone morphogenetic protein family function in a gene dosage dependent manner during development and participate in ocular development [26–29]. Therefore, mutations that alter the level of BMPs or alter the degree of BMP signaling are candidates to contribute to Axenfeld-Rieger syndrome and other conditions involving anterior segment malformation, elevated IOP, and glaucoma. Interestingly, some BMPs modulate tooth morphogenesis [30] and Axenfeld-Rieger patients present with dental abnormalities.
Bmp2 and Bmp4 are two members of the BMP family, closely related to Drosophila dpp (decapentaplegic). Bmp4 is expressed in multiple tissues during embryonic development, including the heart, lung, kidney, brain, and eye [19, 24]. In the eye, Bmp4 expression is first identified in the distal optic vesicle and overlying surface ectoderm at the 8–12 somite stage and later in the dorsal portion of the developing optic cup [31]. Lens induction is absent in homozygous Bmp4 mutants and can be rescued by exogenous BMP4 protein [31].
The effects of decreasing Bmp4 dosage on anterior and posterior segment development have not been reported. In this study, we analyzed mice heterozygous for a null allele of Bmp4 (Bmp4 tmlBlh ) [24] to determine if decreased functional gene dosage contributes to ASD and elevated IOP. Heterozygous Bmp4 mutant mice have a variety of ocular abnormalities including ASD, buphthalmia (enlarged eyes), and elevated IOP. This work functionally demonstrates that BMP4 is a good candidate to cause human ASD and developmental glaucoma.
Results
Bmp4 expression
Eyes of
Bmp4
lacZneo
heterozygotes on a mixed background [
25
] were evaluated for β-galactosidase expression at embryonic ages E14.5, E16.5, new born, postnatal ages P2, P14, and P30 (Figure
1
). Expression was found in iris, ciliary body, and retinal pigment epithelium at E14.5 and became more intense after birth. Expression continued at the same level at P30. Expression was also demonstrated in the endothelial cells of conjunctiva, retina, and orbit. Importantly, expression was not present in the developing trabecular meshwork and Schlemm's canal (ocular drainage structures) or in hyaloid vascular endothelial cells. All other studies described in the following sections were carried out on mice with the
Bmp4
tmlBlh
targeted mutation [
32
] (hereafter,
Bmp4
+/-
), and are based on
Bmp4
+/+
and
Bmp4
+/-
mice. Unless otherwise stated, the mice had a C57BL/6J (B6) genetic background.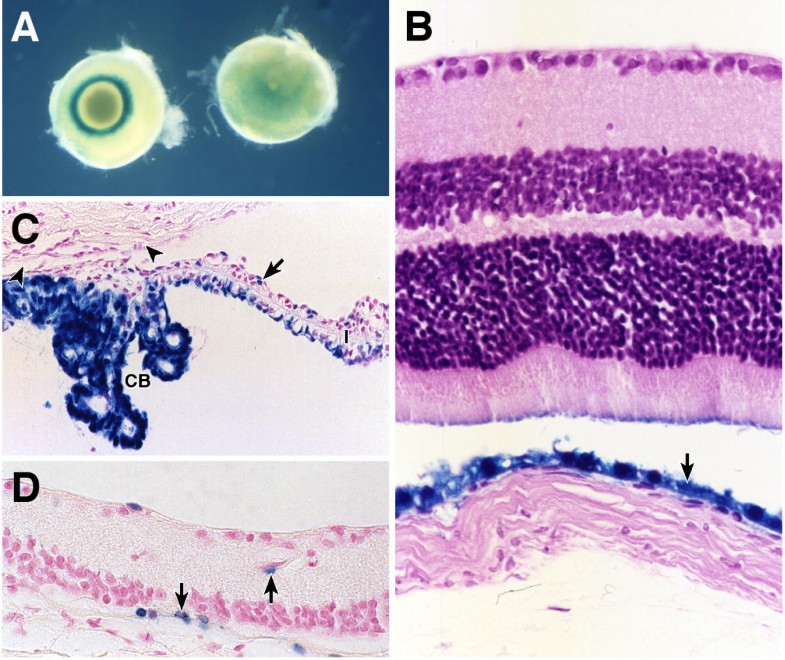 Anterior segment dysgenesis
Slit lamp examination revealed a variety of anterior segment abnormalities in
Bmp4
+/-
but not in
Bmp4
+/+
mice (normal littermates) that were 3 to 5 months of age. The specific phenotype varied from mouse to mouse and eye to eye (Figure
2A,B,C
). Some affected eyes were relatively normal with only an irregularly shaped pupil. Most commonly, however, there were abnormal iridocorneal attachments (anterior synechiae) of variable extent, large irregularly shaped pupils that were often eccentrically located, and a displaced Schwalbe's line. Several eyes had peripheral corneal thinning while others demonstrated scleralization (opacity) of the peripheral cornea, diffuse corneal haze, or peripheral neovascularization (Figure
2C
). A few mice had anterior subcapsular cataracts.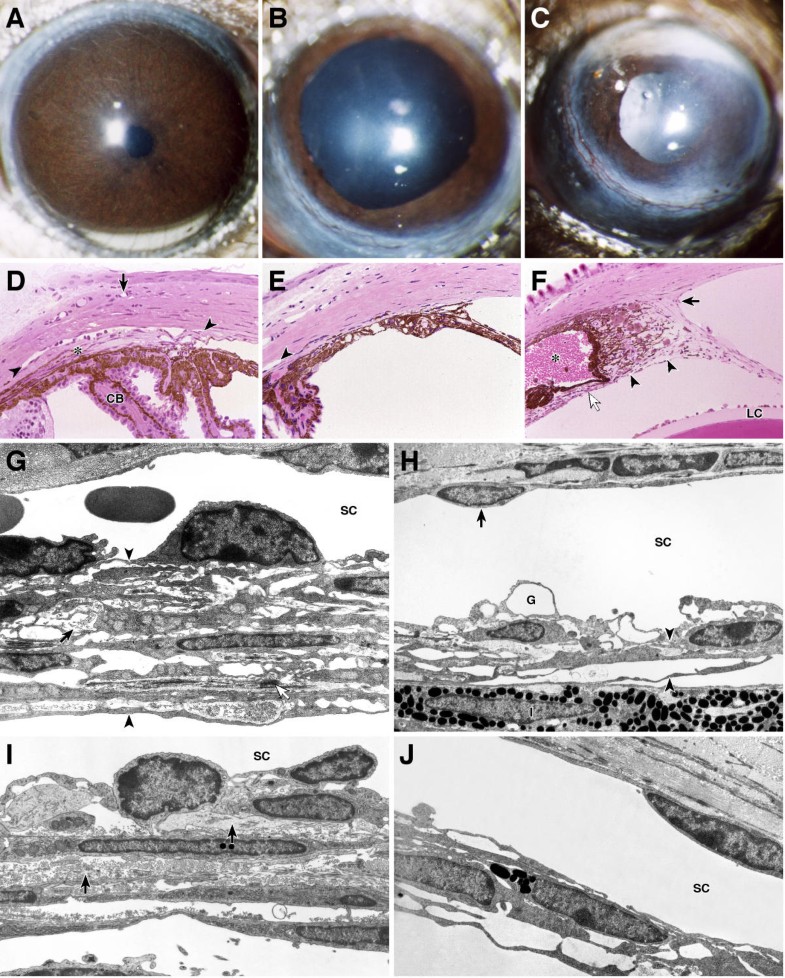 Histological examination focused on the most severely affected B6 background, and confirmed and extended the clinical observations. Abnormalities were only detected in Bmp4+/- mice. The severity of lesions varied within individual eyes and between eyes of the same mouse. In most eyes, the iridocorneal angle was abnormal. The iridocorneal angle contains the ocular drainage structures (trabecular meshwork and Schlemm's canal) and is located at the junction of the iris and cornea. Abnormalities of the iridocorneal angle included small or absent Schlemm's canal (SC), hypoplastic or absent trabecular meshwork (TM) that appeared compressed and stalled in development, and iris attachments to the peripheral cornea (synechiae. Figure 2D,E,F). Despite the synechiae and abnormal pupils, most Bmp4+/- mice had generally normal iris architecture. The iris in some eyes, however, was hypoplastic and malformed (Figure 2F), and occasionally the malformation was extensive involving both iris and ciliary body. The peripheral cornea was often thinner than normal with neovascularization. There was abnormal persistence of the anterior hyaloid vessels (Figure 2F). Anterior subcapsular and cortical cataracts occurred in most mice.
To investigate the consequences of functionally halving Bmp4 gene dosage on iridocorneal angle development in more detail, we used transmission electron microscopy. In Bmp4+/+ mice, the TM consisted of robust trabecular beams with abundant organized collagen and elastic tissue cores that were covered with endothelial-like trabecular cells. SC had a normal appearance and was lined with endothelial cells. In contrast, SC was often absent and the TM had developed abnormally or was absent in Bmp4+/- mice. Even in places where the TM was relatively normal, there were fewer trabecular beams and a paucity of extracellular matrix (ECM) components, including organized collagen bundles and elastic tissue. For example, in the posterior trabecular meshwork of wild type mice, there are normally 7–10 trabecular beams [3], but Bmp4+/- mice had only 1–2 beams and these beams were nearly devoid of collagen (Figure 2G,H,I,J). Further ECM abnormalities were present in the peripheral cornea where prominent irregularity of the normally regularly arranged collagen bundles explained the peripheral corneal scleralization.
Intraocular pressure
To determine the effects of decreased
Bmp4
gene dosage on intraocular pressure, we compared the lOPs of age- and strain-matched
Bmp4
+/-
and
Bmp4
+/+
mice. We initially assessed the lOPs of 2 to 5 month old mice. At these ages, 7 out of 17
Bmp4
+/-
heterozygotes had elevated IOP (defined as an IOP greater than two standard deviations above the mean of the
Bmp4
+/+
mice). To determine if the incidence of elevated IOP changed with age, we analyzed groups of mice at the ages of 6 to 10 months and 12 to 16 months. The incidence did not change appreciably with 5 out of 10 mice having elevated IOP at 6 to 10 months and 4 out of 9 having elevated IOP at 12 to 16 months (Figure
3
).
Bmp4
genotype had a significant effect on IOP (ANOVA, P < 0.004) whereas age and sex did not.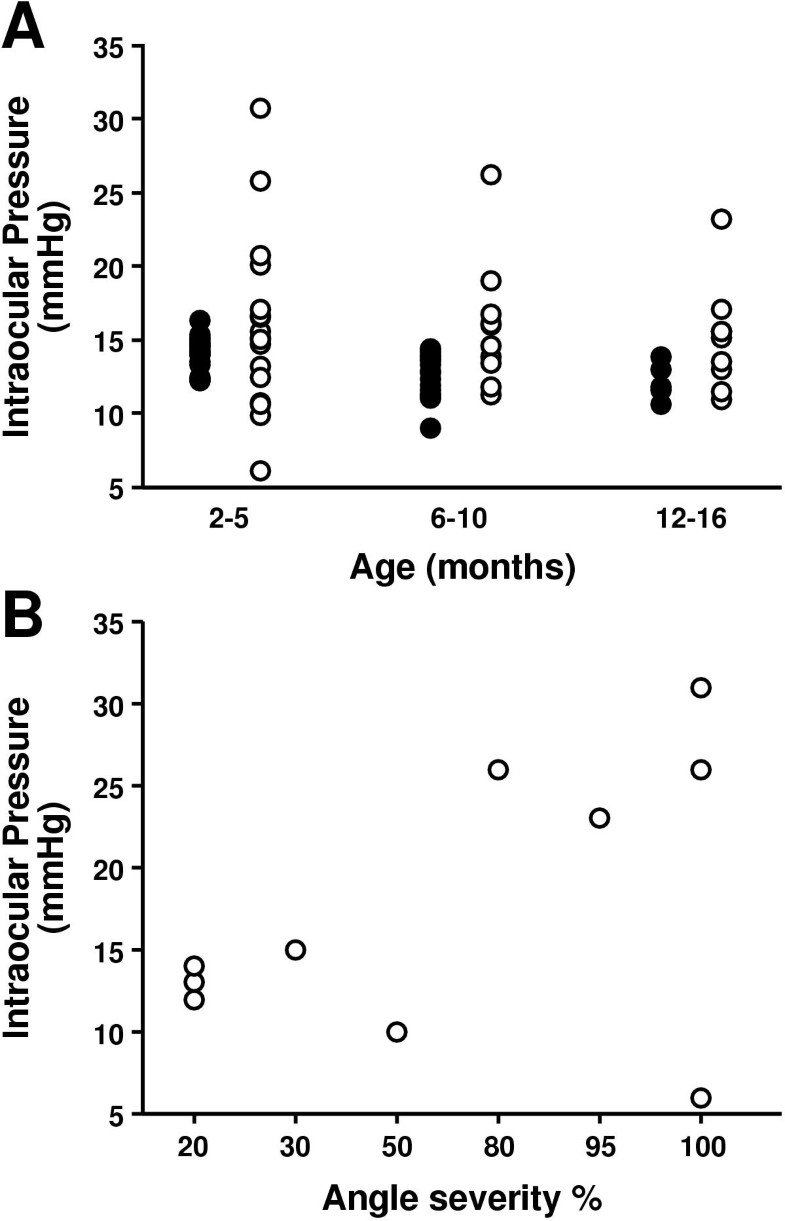 Due to the variability in both anterior segment abnormalities and IOP, we reasoned that histological analysis of eyes with high versus normal IOP might provide insight to the extent of abnormalities required to cause elevated IOP. The incidence of drainage structure abnormalities and synechiae deemed severe enough to significantly decrease or prevent aqueous humor drainage was recorded by careful analysis of many sections from different regions around these eyes (see Methods). Our data suggest that IOP is normal even when 50% of the iridocorneal angle around the circumference of the eye is severely abnormal. Furthermore, all four of the studied eyes with high IOP also had severe abnormalities extending over 80% or more of the analyzed sections (Figure 3).
Posterior segment abnormalities
Ophthalmoscopic analysis of
Bmp4
+/-
but not
Bmp4
+/+
mice revealed irregular white patches in the vitreous and dense vitreous haze in the majority of eyes examined (Figure
4A
). The retinal vasculature also was abnormal in
Bmp4
+/-
eyes. Fluorescein angiography showed that the main retinal vessels branched close to the optic nerve and were irregularly arranged compared to wild type mice. In addition, there was a dense network of small tortuous vessels throughout the vitreous that leaked fluorescein (Figure
4C
). These abnormalities were identified in the youngest (2 to 3 weeks old) and oldest (17 months) mice examined. Severe retinal detachments were observed as early as four months and their incidence increased with age. Although anterior segment cloudiness often made ophthalmoscopy difficult in
Bmp4
+/-
heterozygotes, abnormalities of the optic nerve head were frequently present. Combined intraorbital and intracranial dissection of 8 randomly selected mice failed to detect a grossly visible optic nerve in all but one mouse. This mouse had a nerve extending from the right eye but the left nerve was absent. Most dissected eyes had a small white nub of tissue over the scleral foramen.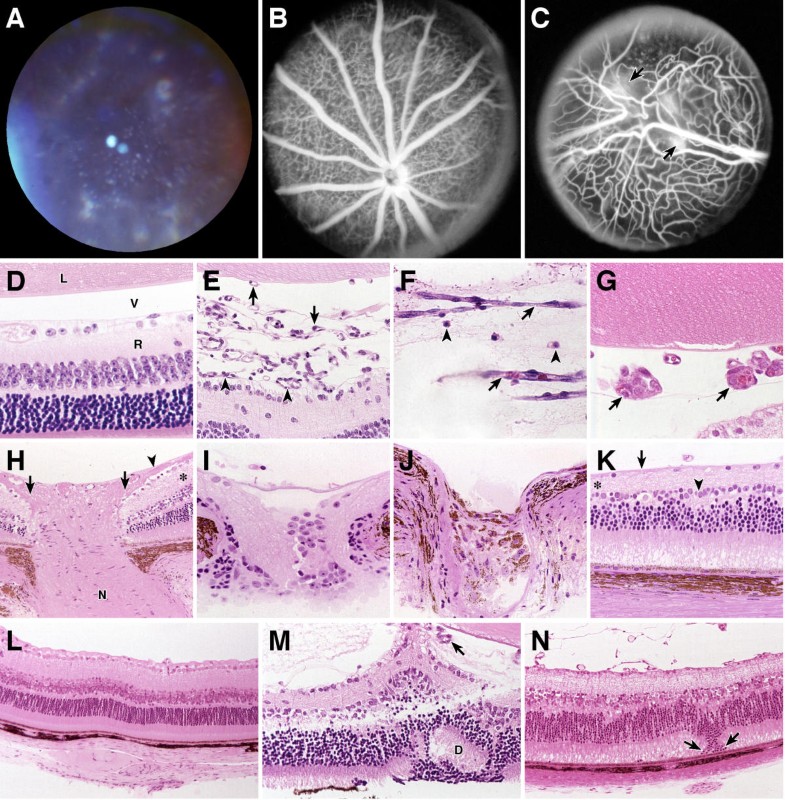 Histologic analysis confirmed posterior segment abnormalities in Bmp4+/- heterozygotes but not in genotypically normal mice. In Bmp4+/+ mice the hyaloid vessels disappeared around P30, as reported elsewhere [33, 34]. In contrast, the hyaloid vessels in Bmp4+/- heterozygotes persisted throughout the 17 month period studied and increased in number and size beyond that normally present at birth (Figure 4D,E,F,G). The abnormal vitreous vessels (Figure 4E and 4G) were frequently associated with the formation of adhesions between the retina and lens capsule that exerted traction on the retina resulting in retinal detachment in approximately 25% of the Bmp4+/- mice examined and occurred as early as P30. Regression of the hyaloid vasculature is mediated via macrophage-dependent cell death [35]. In the first ten days after birth, macrophages were abundant in the vitreous of Bmp4+/+ mice, usually localized close to the hyaloid vascular system (Figure 4F). As the hyaloid vessels disappeared the number of macrophages declined. In Bmp4+/- mice, macrophages were rarely observed and never identified in the vitreous of mice older than P14.
In agreement with the clinical examinations, optic nerve phenotypes in
Bmp4
+/-
mice ranged from normal to absent (Figure
4H,I,J,K
). They were often severely abnormal, consisting of loose connective tissue, with absence of neural tissue (Figure
4I,J
). Retinal architecture also varied within and between eyes. Although areas of retina were morphologically normal in
Bmp4
+/-
mice, the retinal ganglion cell layer was estimated to on average contain approximately 50% the normal number of cells and the inner nuclear layer was unusually thin. The retinal phenotype was variable but present in mice of all analyzed ages including 1 month old. It did not correlate with IOP, being present in both high and normal IOP eyes, and was not obviously worse in old mice than in young mice. In contrast, the photoreceptor layer typically appeared normal though there may have been reduced numbers of cells (Figure
4K
). However, there were foci of retinal dysplasia, characterized by rosette formation (Figure
4M
). Additionally, there were small areas where photoreceptor nuclei extended externally and were in direct contact with the retinal pigment epithelium (Figure
4N
). A panel of retinal cell markers revealed that all major retinal cell types including ganglion cells, horizontal cells, bipolar cells, amacrine cells, rod and cone photoreceptors, and Muller cells were present in
Bmp4
+/-
retinas, and expressed markers of differentiation (Figure
5A,B,C,D,E,F
).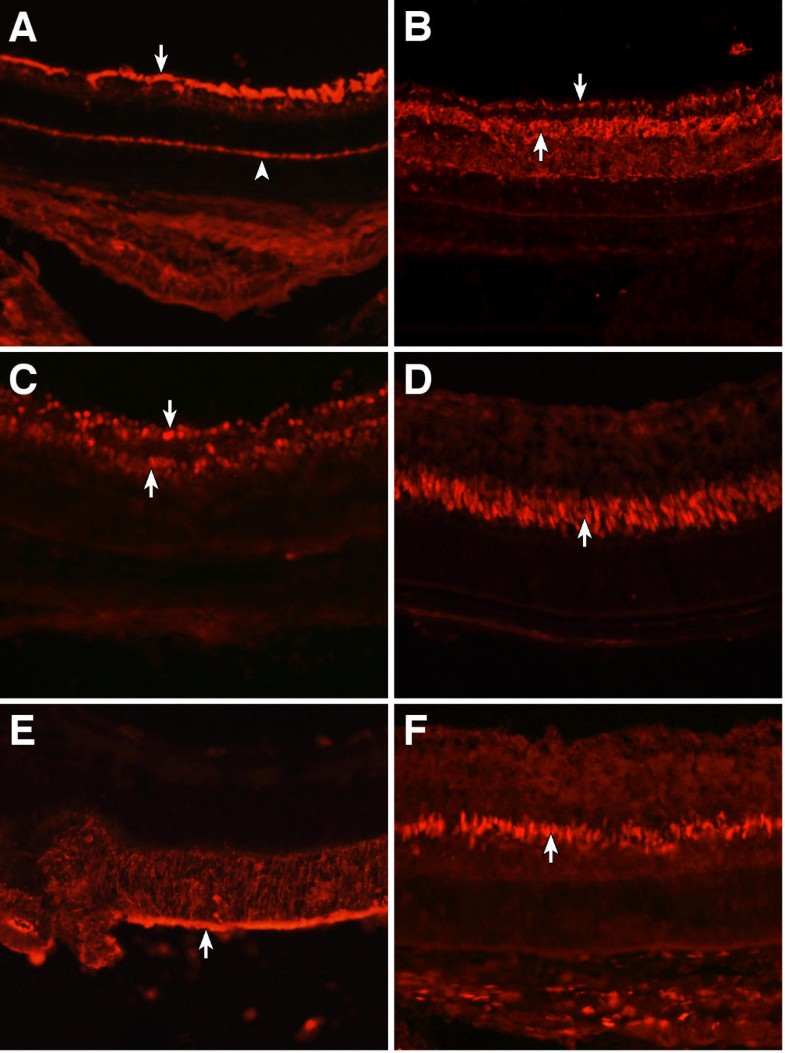 Electroretinography
We used full field electroretinography (ERG) to study retinal function in 15 Bmp4+/- heterozygotes. Eyes with extensively opaque corneas or obvious cataracts were not used for ERG assessment, and mice with retinal detachments were dropped from the study. There was variability in both severity and age of detectable abnormalities. Compared to normal mice, some Bmp4+/- eyes had normal responses even at ages up to 15 months (the oldest age assessed for these eyes). In other mice, both a- and b- wave amplitude reductions were seen, due in part to poor pupillary dilation. However, a prominent feature of the ERG waveforms to bright flashes when detectable abnormalities were present was the preferential loss of b-wave relative to the a-wave. It is well established that the a- and b- wave components of the bright flash ERG in mice reflect the functional state of outer- and inner- retinal cells, respectively. Our observations of greater deficits of the b-wave extend our analysis to the entire retina and are consistent with the histologic abnormalities that are more severe in the inner retina.
Effects of genetic background
The penetrance and severity of anterior and posterior segment phenotypes was strongly influenced by genetic background (Table
1
). On the B6 background, both the anterior and posterior segment were abnormal in most
Bmp4
+/-
mice with over two thirds having bilateral clinical involvement. In contrast, on the C3H.BLiA background, approximately half of the
Bmp4
+/-
mice were clinically affected and this was always unilateral. On this background, the abnormalities were typically limited to the anterior segment (involving enlarged pupils and buphthalmos). On other genetic backgrounds, few, if any, heterozygous mice had clinically detectable ocular dysgenesis.
| Background | Total | Pupil/iris | Cornea | Cataract | Vitreous vessels | Optic nerve |
| --- | --- | --- | --- | --- | --- | --- |
| C57BL/6J | 31/31 | 30/31 | 13/31 | 7/31 | 23/31 | 18/30* |
| CAST/Ei | 1/7 | 0/7 | 0/7 | 1/7 | 0/7 | 0/7 |
| 129/SvEvT ac | 1/12 | 1/12 | 0/12 | 0/12 | 1/12 | 0/12 |
| BALB/cJ | 1/15 | 0/15 | 0/15 | 0/15 | 1/15 | 0/15 |
| C3H.BLia | 6/13 | 5/13 | 3/13 | 0/13 | 1/13 | 0/13 |
Conclusions
Wild-type levels of BMP4 are important for normal development of the anterior and posterior segments. The importance of BMP4 depends on genetic background. The ocular phenotypes of Bmp4 mutant mice show that BMP4 is a strong candidate to contribute to Axenfeld-Rieger anomaly and other developmental conditions associated with human glaucoma. These mice provide a model to study these diseases and various processes of ocular development.
Abbreviations
IOP:

intraocular pressure
B6:

C57BL/6J
BMP:

bone morphogenetic protein
ASD:

anterior segment dysgenesis
ERG:

electroretinography.
Declarations
Acknowledgments
We thank Jennifer Smith and Felicia Farley for help with figures and references, Ron Hurd for assistance with ERG, Lesley Bechtold for help with EM, Norma Buckley for data entry, Amy Snow and Roy Allen for animal care, Tom Gridley and Susan Ackerman for critical reading of the manuscript. Part of this work was supported by The Foundation Fighting Blindness (FFB528172) and core services were subsidized by the National Cancer Institute (CA134196). BLMH and CLC are Investigators, and SWMJ is an Assistant Investigator of the Howard Hughes Medical Institute. Bo Chang and Richard Smith are equal contributors, listed in alphabetical order.
Authors' Affiliations
(1)
The Howard Hughes Medical Institute, USA
(2)
The Jackson Laboratory, Bar Harbor, USA
(3)
Department of Cell Biology, Vanderbilt University Medical School, Nashville, USA
(4)
Department of Genetics, Harvard Medical School, Boston, USA
(5)
Department of Ophthalmology, Tufts University School of medicine, Boston, USA
(6)
Department of Ophthalmology, UCLA Jules Stein Eye Institute, Los Angeles, USA
Copyright
© Chang et al; licensee BioMed Central Ltd. 2001
This article is published under license to BioMed Central Ltd. This is an Open Access article: verbatim copying and redistribution of this article are permitted in all media for any purpose, provided this notice is preserved along with the article's original URL.