Research article
Open Access
QTL mapping and epistatic interaction analysis in asparagus bean for several characterized and novel horticulturally important traits
Received: 29 May 2012
Accepted: 22 January 2013
Published: 2 February 2013
Abstract
Background
Asparagus bean (Vigna. unguiculata. ssp sesquipedalis) is a subspecies and special vegetable type of cowpea (Vigna. unguiculata L. Walp.) important in Asia. Genetic basis of horticulturally important traits of asparagus bean is still poorly understood, hindering the utilization of targeted, DNA marker-assisted breeding in this crop. Here we report the identification of quantitative trait loci (QTLs) and epistatic interactions for four horticultural traits, namely, days to first flowering (FLD), nodes to first flower (NFF), leaf senescence (LS) and pod number per plant (PN) using a recombinant inbred line (RIL) population of asparagus bean.
Results
A similar genetic mode of one major QTL plus a few minor QTLs was found to dominate each of the four traits, with the number of QTLs for individual traits ranging from three to four. These QTLs were distributed on 7 of the 11 chromosomes. Major QTLs for FLD, NFF and LS were co-localized on LG 11, indicative of tight linkage. Genome wide epistasis analysis detected two and one interactive locus pairs that significantly affect FLD and LS, respectively, and the epistatic QTLs for FLD appeared to work in different ways. Synteny based comparison of QTL locations revealed conservation of chromosome regions controlling these traits in related legume crops.
Conclusion
Major, minor, and epistatic QTLs were found to contribute to the inheritance of the FLD, NFF, LS, and PN. Positions of many of these QTLs are conserved among closely related legume species, indicating common mechanisms they share. To our best knowledge, this is the first QTL mapping report using an asparagus bean × asparagus bean intervarietal population and provides marker-trait associations for marker-assisted approaches to selection.
Keywords
Asparagus beanCowpeaEpistasisFlowering timeLeaf senescenceNode to first flowerPod numberQTLRIL
Background
Cowpea (V. unguiculata L. Walp.) is an important grain legume, fodder and vegetable crop in many tropical and subtropical regions of the world [1, 2]. Asparagus bean (V. unguiculata ssp. sesquipedialis), also known as 'yard long' bean or snap bean is a subspecies and distinctively domesticated type of cowpea grown mainly for vegetable use in many Asian countries. Asparagus bean, together with the African cowpea (V. unguiculata ssp. unguiculata), forms the two main divisions of cultivated cowpea [3]. Due to selection towards traits favorable for vegetable use, the present day asparagus bean differs a lot from African cowpea in many aspects including plant architecture (climbing versus erect), growth habit (indeterminate versus determinate), pod length and pod fiber content [4, 5].
Recent progress in cowpea genomics has provided an opportunity to unravel the genetic basis of horticulturally important traits in asparagus bean. Bead-assay SNP genotyping was recently used to build a consensus genetic map which includes more than 1,000 loci from as many as thirteen different RIL populations [6, 7]. Among the 13 mapping populations, one is derived from an inter-varietal asparagus bean cross. This population has also been used to develop a separate, but comparable, genetic linkage map of asparagus bean by integrating many SSR markers [8]. This subspecies/population-specific map has been especially useful in mapping two qualitative traits, namely, flower and seed coat color in the authors' lab [9].
For commercial asparagus bean production, tender and crisp immature pods during early development is desired. This can be, at least in part, accomplished by breeding early-flowering varieties with the potential to yield more pods per plant. Early flowering is known to be related to node position at which first inflorescence occurs; therefore, the node to first flower has been practically used as an indirect indicator of earliness [10]. Another desirable trait of asparagus bean is extended longevity or delayed plant senescence. This characteristic usually allows for two or more flushes of flowering, potentially resulting in more pods per plant. The aforementioned traits including days to first flowering (FLD), nodes to first flower (NFF), leaf senescence (LS) and pod number per plant (PN) are among the most horticulturally important traits in asparagus bean. All four traits are inherited quantitatively based on their field behaviors, and as such, dissecting their genetic basis calls for adequate statistical methods such as bi-parental QTL mapping.
Thus far, QTL mapping has not been reported in asparagus bean × asparagus bean populations; however, chromosome regions associated with horticultural/domestication-related traits have been mapped using cowpea populations of ssp. unguiculata pedigree. QTLs for 24 domestication-related traits were mapped using two temporal segregation populations derived from an asparagus bean × wild cowpea cross [11]. QTLs for seed weight and pod shattering were mapped using a normal cowpea × wild cowpea RIL population [12]. Earlier works include those which focused on a wide range of horticultural traits including organ sizes, yield components, plant height etc. [13–15]. Unfortunately these works remained anchored to the marker technology in which they were discovered. Here we present the identification of QTLs for four horticulturally important traits using an asparagus bean intervarietal RIL population. Two of these traits i.e. FLD and PN have been investigated previously using different plant materials [11] while the other two (LS and NFF) have been not. Many of the marker-trait associations we report are accessible via community genotypipng platforms and are useful for modern breeding, comparative genomics, and map-based cloning.
Results
Phenotypic analysis
In all experiments, the female parent ZN016 initiated flowering later than the male parent ZJ282, with the position of nodes to first flower being higher on the main stem. After flowering, ZN016 displayed a delayed senescence phenotype compared with ZJ282 and as a result produced greater number of pods per plant throughout its longer lifespan (Table 
1
). All four traits displayed a continuous distribution in the RIL population (Figure 
1
), with the population means falling between the parental values. Transgressive segregation was observed for FLD and PN as data of some offspring lines distributed beyond the parental values (Table 
1
), suggesting the existence of intragenic or intergenic interactions. Generally low FLD values were observed in SX2009, because of the late sowing of seeds in a warmer season (see 'methods' below). An underestimate of PN in both experiments of year 2010 was noticed, which was due to a long rainy weather that caused pod dropping; however, this didn't affect detection of QTLs with major effects (see below). Results of ANOVA showed that the between-line variations of all four traits in each trial were significant at p=0.0001 except for PN_SX2010, which was significant at p=0.001. The broad-sense heritability of the four traits ranged from 35% (PN) to 60.3% (FLD). The heritability of LS and NFF was 57.5% and 56.7%, respective. The strikingly low heritability of PN was believed due to the effect of pod dropping in 2010, as a separated estimate of PN heritability for each year turned out to be over 60% (data not shown).
Table 1
Mean and range of the traits in the parents and the RIL population
Location

Trait

2009

2010

P1a

P2

RILs

P1

P2

RILs

Mean

Range

Mean

Range

HNb

FLDc

53.5

44.5

51.5

44.3–55.3

52.3

43

50.1

45–54.3

NFF

9

4

8

3–12

8

2

6.9

3–9

LS

0

5

3.0

0.5–5

0.5

5

3.1

0.8–5

PN

30.3

16.4

18.7

10–31.4

19.3

10.8

16.6

8.9–27.3

SX

FLD

44.5

36.5

39

33–42

53

46

50.6

45–54

NFF

9

4

7.1

3–11

NAd

NA

NA

NA

LS

2

5

3.5

1–5

0

5

3.0

0.5–5

PN

35.5

16.5

21.3

10.8–33.8

20.3

19.3

18.6

9.0–33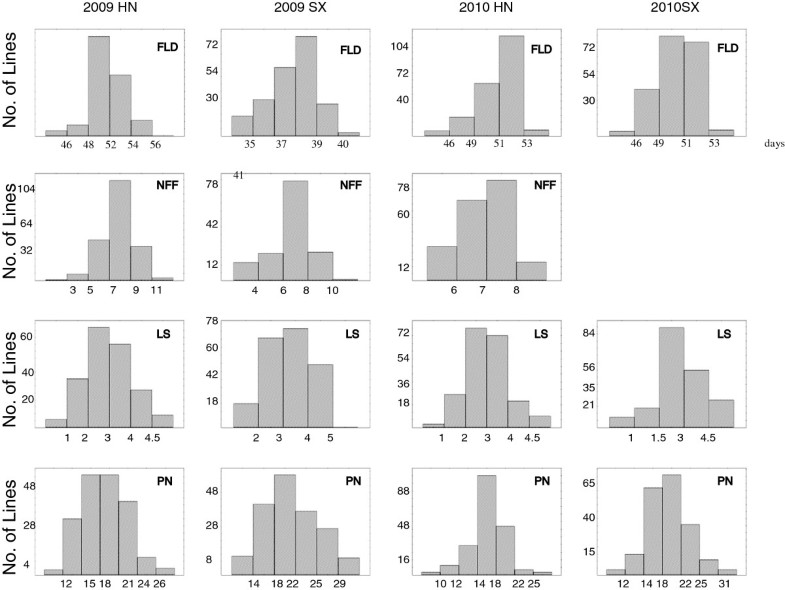 Trial-wide correlation analyses of individual traits revealed high correlation coefficients (r≥0.55) for FLD and LS at a significant level of p=0.0001 (Table 
2
). Correlations were also highly significant (p=0.0001) for NFF among different trails, with the coefficients ranging from 0.36 to 0.46. Correlations of PN between different years in the same location were weak, but those between locations in the same year were considerably strong as shown by the correlation coefficients of 0.36 and 0.48 for the two years, respectively. The long rainy weather in 2010 as mentioned above was considered the main reason for phenotypic inconsistencies of PN between years. Across traits, significant positive correlations were observed between FLD and NFF (mean r=0.50, P<0.0001), whereas FLD and LS were negatively correlated (mean r=−0.39, P<0.0001). Significant negative correlation was found between NFF and LS in 4 and 6 out of the 16 environment combinations at P=0.0001 and P=0.01 significance levels, respectively (Additional file
1
).
Table 2
The correlation coefficients of individual traits among different trials
Trait

Trail

2009HNa

2009SX

2010HN

2010SX

FLDb

2009HN

1

2009SX

0.671**

1

2010HN

0.708**

0.645**

1

2010SX

0.653**

0.582**

0.709**

1

NFF

2009HN

1

2009SX

0.463**

1

2010HN

0.380**

0.355**

1

-

LS

2009HN

1

2009SX

0.630**

1

2010HN

0.656**

0.550**

1

2010SX

0.605**

0.548**

0.591**

1

PN

2009HN

1

2009SX

0.36*

1

2010HN

0.27**

0.231

1

2010SX

0.191

0.176

0.483**

1
Genome wide epistasis interaction
Three and only one pair of loci showing significant epistatic interactions were detected in at least two of the four trials for the traits FLD and LS, respectively (Table 4). In each of the three two-locus interactions for FLD, one locus (Clm0114) was in the Qfld.zaas-11 interval (2.2 cM apart to the peak), while the other was not independently related to FLD. For LS, the interactive pair of loci detected included a locus (Clm1135) in the peak region of the major QTL Qls.zaas-11 and an independent locus on LG 8.
The chromosome region harboring
1_0514/1_0542
on LG 6 interacted differently from that harboring
Clm0364
on LG 5 with
QFld.zaas-11
. In the presence of the ZJ282 allele of
QFld.zaas-11
, the co-existence of the ZN016 allele of
1_0514/1_0542
shortened FLD significantly (P = 0.01) than of the corresponding ZJ282 allele (Table 
5
). In contrast, the combination of the ZJ282 alleles of both
QFld.zaas-11
and Clm0364 caused earlier flowering, relative to the ZJ282 allele of
QFld.zaas-11
combined with Clm0364 allele from ZN016. For LS, the ZJ282 allele of Clm0549 showed synergetic effect with the
Qls.zaas-11
allele from the same parent to cause more severe senescence.
Table 5
Two-locus interactions identified in at least two trials
Trait

Locus1/

Locus2/

Trial

LRSa

Mean phenotype ± SEc

LG or QTL1

LG or QTL2

Interaction

Total

THRb

AABB

AAbb

aaBB

aabb

FLDd

1_0514/

Clm0114/

2009HN

8.6

44

43.9

52.3

48.3

52.1

50.7

LG6

Qfld.zaas-11

2010HN

10.8

56.9

42.3

±0.2

±0.3

±0.2

±0.3

1_0542/

Clm0114/

2009HN

8.6

44

43.9

52.3

48.3

52.1

50.7

LG6

Qfld.zaas-11

2010HN

10.8

56.9

42.3

±0.2

±0.3

±0.2

±0.3

Clm0364/

Clm0114/

2009HN

6.7

51.7

43.9

52.3

50.6

52.2

48.7

LG5

Qfld.zaas-11

2010HN

7.7

59.4

42.3

±0.2

±0.2

±0.2

±0.4

LS

Clm0549/

Clm1135/

2010HN

9.8

46.9

35.5

2.7

3.2

2.3

4.2

LG8

Qls.zaas-11

2010SX

11.5

38.8

37.3

±0.2

±0.2

±0.2

±0.1
Conclusion
Introgressing favorable alleles is more easily accomplished by intervarietal crossing than by incorporating far-related resources such as wild progenitors. Therefore, dissecting genetics of horticultually important traits in an intervarietal population is not only theoretically useful, but can direct us to rapidly choose appropriate DNA markers to aid selection. The 'ZZ' map, which integrated genic SNPs and user-friendly SSR markers is particularly useful in this regard. The mapping of QTLs including epistatic loci for four horticulturally important traits in the current study solidified the basis for implementing marker-assisted breeding toward genetic improvement of asparagus bean.
Methods
Plant materials and experimental design
Two hundred and nine F8:9 recombinant inbred lines (RILs) produced by single seed descent from the cross of asparagus bean varieties 'ZN016'and 'ZJ282' were used for collecting phenotypic data. 'ZN016' is a landrace asparagus bean accession originating from Southern China while 'ZJ282' is a commercial cultivar grown nationwide.
Four field trials were performed in 2009 and 2010 in a randomized complete block design at the normal planting season. The dates for seed sowing for each experiment were: HN2009, 16th April; SX2009, 28th April; HN2010, 28th April; SX2010, 29th April. In each year, one trial was carried out in Haining (HN, 30°32′N, 120°41′E) and the other in Shaoxing (SX, 29°43′N, 120°14′E), which are ~ 150 km apart. Except for the SX2009 trial that had no biological replicate, each experiment consisted of two replicates. For each plot ten seeds per RIL line were planted every 28 cm in 25 m-long plots on rows 75 cm apart, but only four uniform seedlings per line were retained after seedling emergence because of the big size and strong climbing habit of adult asparagus bean plants that are difficult to manage. Twelve healthy seedlings of each of the parental lines were set for each experiment. Aside each plant, a bamboo pole was erected to support plant climbing. The plots were spaced by 50 cm to avoid border effect.
Trait evaluation
Traits evaluated include days from sowing to first flowering (FLD), nodes to first flower (NFF) on the main stem, pod number per plant (PN) and leaf senescence index (LS). FLD and NFF were both recorded on a daily basis from the beginning of flowering until the latest flowering line had flowered. PN and LS were always scored on the same day, when were 78 and 81 days after sowing in 2009 and 2010, respectively. No new pod emerged after the dates of scoring. LS was scored using a visual index ranging from 0 to 5 expressed as a percentage, where 0 was no sign of leaf senescence (complete green) and 5 equaled 100% leaf senescence (complete yellow). Indices from 1 to 4 were: 1 ≤ 20%, 2≤40%, 3≤40%, 4≤80% of leaf senescence. Data except for NFF of the 2010SX trial were collected for both replicates of all trails.
Statistical analysis
Data from all the 209 lines were analyzed for frequency distribution using the software Statistica 6.0 (StatSoft, 2002), and for correlation and analysis of variance (ANOVA) using Data desk v.6.2 (Data Description, Ithaca, NY). Pearson's correlation coefficients among trials were investigated using the mean phenotypic data for the two replicates of each trail. The broad-sense heritability was calculated with the formula h2 = σ g 2/(σ g 2 + σ e 2), using variance components estimated based on ANOVA, where σg2 is the genetic variance and σe2 is the experimental error.
QTL mapping
A subset of 96 lines of the RIL population, which had been previously genotyped by SNP and SSR markers to construct the 'ZZ' genetic map was used for QTL mapping [8]. Software employed for detecting QTLs was MapQTL 5.0 [27]. QTLs were first detected through interval mapping (IM), then the markers closest to the QTL peak were fixed as cofactors in multiple-QTL mode (MQM) analyses to confirm the QTLs and to scan for new QTLs. The empirically high LOD threshold of 3 was used to reliably determine major QTLs and a set of permutation-based LOD thresholds were used to try to identify possible minor QTLs. LOD thresholds were determined at the 0.05 significance level for each linkage group of each trail by 1,000 random permutations [28]. The highest LOD significance threshold for each linkage group across all experiments was used as the final LOD threshold. QTLs detected at the same chromosome location in different environments were considered as a single QTL.
Epistasis detection
The genome wide two-locus epistasis interactions were surveyed using the 'interactions' function implemented in the software Map Manager QTXb20 [29]. The P-value cutoff was set as 1 × 10-5 for the total effects and 0.01 for the interaction effects of two examined loci. The statistical significance threshold for each trail was determined by 1,000 random permutations (highly significant) under the additive model with interaction.
Declarations
Acknowledgments
This study was partially supported by the Natural Science Foundation of Zhejiang Province (No. Y3100429), the National Science Foundation of China (No. 30900985) and the Sino-US joint project funded by Zhejiang Academy of Agricultural Sciences, China. The authors gratefully acknowledge Feng Lin for advices in epistatic interaction analysis and Mitchell Lucas (UC Riverside) for language polishing.
Authors' Affiliations
(1)
Institute of Vegetables, Zhejiang Academy of Agricultural Sciences, Hangzhou, People's Republic of China
Copyright
© Xu et al; licensee BioMed Central Ltd. 2013
This article is published under license to BioMed Central Ltd. This is an Open Access article distributed under the terms of the Creative Commons Attribution License (http://creativecommons.org/licenses/by/2.0), which permits unrestricted use, distribution, and reproduction in any medium, provided the original work is properly cited.