Research article

Open Access
Genomic variability in Mexican chicken population using copy number variants
BMC Genetics
BMC series – open, inclusive and trusted
2017
18:61
Received: 5 April 2017
Accepted: 12 June 2017
Published: 3 July 2017
Abstract
Background
Copy number variations are genome polymorphism that influence phenotypic variation and are an important source of genetic variation in populations. The aim of this study was to investigate genetic variability in the Mexican Creole chicken population using CNVs.
Results
The Hidden Markov Model of the PennCNV software detected a total of 1924 CNVs in the genome of the 256 samples processed with Axiom® Genome-Wide Chicken Genotyping Array (Affymetrix). The mapped CNVs comprised 1538 gains and 386 losses, resulting at population level in 1216 CNV regions (CNVRs), of which 959 gains, 226 losses and 31 complex (i.e. containing both losses and gains). The CNVRs covered a total of 47 Mb of the whole genome sequence length, corresponding to 5.12% of the chicken galGal4 autosome assembly.
Conclusions
This study allowed a deep insight into the structural variation in the genome of unselected Mexican chicken population, which up to now has not been genetically characterized. The genomic study disclosed that the population, even if presenting extreme morphological variation, cannot be organized in differentiated genetic subpopulations. Finally this study provides a chicken CNV map based on the 600 K SNP chip array jointly with a genome-wide gene copy number estimates in a native unselected for more than 500 years chicken population.
Keywords
Copy number variant
Chicken
Genetic variability
Background
Copy Number Variants (CNV) are genomic structural variations distributed over the whole genome in all species and refers to genomic segments of at least 50 bp in size [1], for which copy number differences have been observed in comparison to reference genome assemblies (insertions, deletions and more complex changes) [2, 3]. Sequencing of the chicken genome, released in 2004 [4], has facilitated the use of molecular markers for breed/ecotype characterization. Structural variation has been recognized as an important mediator of gene and genome evolution within populations. In the last decades, microsatellite markers have been often used to perform phylogenetic analysis and studies on genetic variability in chicken populations [5–7]. Although numerous studies investigating genetic variation have focused on SNPs, there is a growing evidence for the substantial role of structural DNA polymorphism in phenotypic diversity [8]. It has been shown that CNVs are ubiquitous in the genome and can contribute substantially to phenotypic variability and disease susceptibility in humans [8, 9] and animals [10, 11]. The underlying assumption is that CNVs are changing the gene structure and dosage and altering the gene regulation [8–13]. Even if CNVs are less frequent than SNPs in terms of absolute numbers, CNVs cover a larger proportion of the genome and have, therefore, a large potential effect on phenotypic variability [14]. Compared with humans and other model organisms, there is limited research on the extent and impact of CNVs in the chicken genome.
In Mexico the poultry population, even if it shows large morphological variability, is not divided into breeds or strains and, possibly, can be considered as a unique widespread Creole chicken population (Gallus gallus domesticus), as the result of undefined crosses among different breeds imported into Mexico from Europe for almost 500 years [15, 16]. Creole chickens include, in fact a wide variety of biotypes with different colors of plumage and morphological features that are widely distributed in the country [17]. In the absence of comprehensive breed characterization data and documentation of the origin of breeding populations, DNA polymorphism provides the most reliable estimates of genetic diversity within and between a given set of populations [18].
Several studies have been developed in the recent past to detect CNV in poultry using low-density 60 K SNP chips [19] or aCGH [20–22]. The major limits of these studies reside in the density of the spots of the used arrays and the limited sample size. It has been already suggested by Jia et al. [23] that the use of the 600 K SNP array can improve the efficiency of the CNV detection in the poultry species. The whole genome sequence data can improve the detection of small CNVs but, even if desirable and employed by some authors [24, 25], is still economically too demanding to be realized over a large number of samples.
The aim of this study was to map the CNV in the Mexican chicken population with an unprecedented resolution using high density SNP chip (i.e. 600 K Affymetrix SNP chip) on a large number of individuals (i.e. 256) and to characterize the genetic variability of the Mexican Creole chicken's population using CNV as genomic markers.
Results
CNV and CNVR detection
The CNVs overlapping among samples were summarized across all individuals into 1216 CNVRs (959 gains, 226 losses and 31 complex), covering a total of 47 Mb of sequence length, corresponding to 5.12% of 28 autosomes in the galGal4 assembly (Additional file 1: Sheet 1).
The regions mapping in a large number of individuals were: the CNVR on chromosome 1 at 42.96–43.13 Mb, identified in 61 samples; the CNVR on chromosome 12 at 1.12–1.22 Mb, identified in 56 samples; the CNVR on chromosome 16 at 1253–533,589 bp, identified in 53 samples; the CNVR on chromosome 1 at 193.13–193.24 Mb, identified in 52 samples.
The Fig. 3 shows the sample count for every CNVR state according to the previously defined 4 CNVR length classes (as shown in Fig. 2). The sample count classes were defined as: 1 (singleton), 2–5, 6–20 and >20. The gain CNVRs (Fig. 3a) have a sample count distribution with most of the regions falling into the 10–100 kb class. The loss CNVRs (Fig. 3b) have a sample count distribution with most of the regions falling into the 1–10 kb class. Class 1 mostly represents the gain regions. Furthermore, class 1 is the most frequent in all length classes. The highest length and sample classes mainly belong to the gain regions. In the complex region (Fig. 3c) the class mostly represented is the 10–100 kb one. More precisely, the most represented sample class is the 2–5 class falling mainly within the 10–100 kb length class. Furthermore, class 2–5 is the most frequent. Lastly, all the sample classes are distributed mostly within the 1–10 and 10–100 length classes.
CNVR annotation
The intersection analysis performed between the chicken gene database (Ensembl galGal4) and our CNVRs allowed the identification (within or overlapping the consensus CNVRs) of 1543 Ensemble genes ID, corresponding to 1068 genes with an official gene ID. Out of the 1216 CNVRs identified in this study, 783 (64.4%) encompassed one or more genes, while 433 (35.6%) did not involve any gene. More specifically, among these genes, 1028 (96.25%) were protein-coding genes, 34 (3.1%) were miRNAs and 6 (0.56%) were small nuclear RNAs (Additional file 1: Sheet 4).
The Panther database provided the annotation information, according to GO terms and KEGG pathways, for only 865 chicken genes. The Additional file 1 reports the annotation output including only terms resulted statistically significant after Bonferroni correction (p-value <0.05): 27 classified as Cellular Component, 11 as Molecular Function, and 28 as Biological Process. The significant GO terms were mainly involved in muscle contraction, sensory perception of sound, response to stimulus, cellular component morphogenesis and movement, and cell communication (Additional file 1: Sheet 5). Instead, the KEGG pathway analysis indicated that these genes are involved in 166 pathways, but none of which was significant after Bonferroni correction.
Clustering analysis using CNVRs
The Fig.
4
shows the cluster-tree built for the chicken Mexican Creole population based on CNVRs similarities.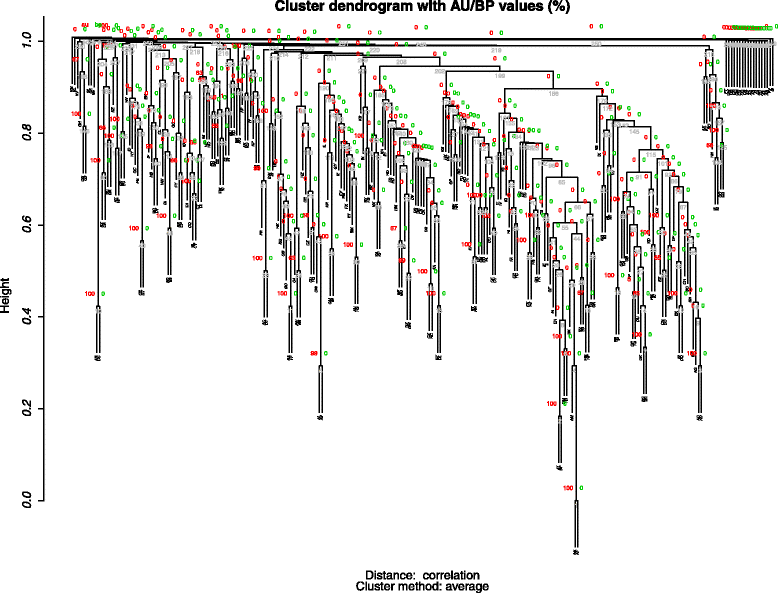 In the plot (Fig. 4), the branch length is not directly proportional to the genetic distance estimated among samples. The Approximately Unbiased P-value (AU-P in red) and Bootstrap Probability value (BP-P in green), indicative of how strongly the cluster is supported by the data, were shown for each node, as well as the Edge numbers (in light grey). As can be read from Fig. 4 mostly all AU-P and BP-P values are zero, showing no difference among branch in which individuals are clustered in: there is no cluster with both AU-P and BP-P values greater than 0.
Conclusion
This study is the first CNV genomic analysis on a large sample of individuals of the Mexican chicken population based on high-density SNP chips. It provides insights into the genetic and genomic architecture of the Mexican Creole chicken population, providing valuable genomic source of structural variation to enrich the chicken CNV map, helping future CNV association studies for important traits in chickens.
The major result resides in the disclosure of the genetic homogeneity of the Mexican chicken population. This result allows to consider all individuals of population as a unique genetic mix deriving from the introduction of chicken in the American continent, following the colonization from Europe. According to our results the CNV variation in the population does not allow to disclose breeding strategy addressed to specific selection criteria. The same method, we used here based on the CNV, was able to dissect properly different Italian breeds in a previous study [36]. The results of this study, thus, suggest that there is not a clear division in classifiable subpopulations based on the CNVR characterization and that the Mexican Creole chicken population can be considered a unique mix of genetics.
Most of the 1216 CNVRs detected were novel variants disclosed thanks to the HD SNP chips here used, which enrich the current poultry CNV database. This mapping is having a particular value because it is based on a unique poultry population, that we assumed to own a larger genetic variability respect to selected commercial population, as reproduction is based on an outbreeding mating system by more than 500 years.
Finally we detected 1543 Ensemble genes ID overlapping with CNVRs, including genes involved in well-known phenotypes such as KITLG and OCA2 on chromosome 1, SORCS2 on chromosome 4, FASN on chromosome 18. Also, some genes included in 10 different CNVRs found in this study, belong to the pathway for salmonella infection. The MHC region on chromosome 16, which has great interest for disease resistance, lies on a region that is in common among the CNVRs of four studies.
Abbreviations
AU-P:

Approximately Unbiased P-value
BP-P:

Bootstrap Probability value
CNV:

Copy number variant
CNVR:

Copy number variant region
GO:

Gene ontology
HMM:

Hidden Markov Model
INIFAP:

Instituto Nacional de Investigaciones Forestales, Agricolas y Pecuarias
KEGG:

Kyoto Encyclopedia of Genes and Genomes
MHC:

Major histocompatibility complex
QTL:

Quantitative trait loci
QTLdb:

Quantitative trait loci database
UCSC:

University of California Santa Cruz
UPGMA:

Unweighted Pair Group Method with Arithmetic
Declarations
Acknowledgments
Authors kindly acknowledge the Centro Nacional de Recursos Geneticos at Tepatiplan, Jalisco.
Funding
This study was Co-funded by project n° M01678 of the "Executive program of scientific and technical cooperation between Italian Republic and United States of Mexico" - Minister of Foreign affairs of Italy and United States of Mexico who provided economic support for the exchange of researchers among Mexico and Italy, and by internal funds of authors organisations.
Availability of data and materials
The datasets supporting the results and conclusions of our study are included within the article and in the additional files.
Authors' contributions
EG, MGS: run the data analyses, wrote the manuscript; SIRP, FJRL, VEVM, MCC, SC: collected the samples, provided the genotypes and participated in data analyses; AB, MGS: Conceived the experiment, interpreted the results, wrote the manuscript and supervised the research group. All authors have read and approved the final version of the manuscript.
Competing interests
The authors declare they have no competing interests.
Consent for publication
Not applicable.
Ethics approval and consent to participate
The samples are owned by the CNRG who control their access and reuse. Original owners of individuals have donated the samples to CNRG who gave consent for re-use for research purposes.
The study did not require any ethical approval according to national rules, according to EU regulation as it does not foresee sampling from alive animals. The University of Milan permit for the use of collected samples in existing bio-banks was released with n. OPBA-56-2016.
Publisher's Note
Springer Nature remains neutral with regard to jurisdictional claims in published maps and institutional affiliations.
Open AccessThis article is distributed under the terms of the Creative Commons Attribution 4.0 International License (http://creativecommons.org/licenses/by/4.0/), which permits unrestricted use, distribution, and reproduction in any medium, provided you give appropriate credit to the original author(s) and the source, provide a link to the Creative Commons license, and indicate if changes were made. The Creative Commons Public Domain Dedication waiver (http://creativecommons.org/publicdomain/zero/1.0/) applies to the data made available in this article, unless otherwise stated.
Authors' Affiliations
(1)
Department of Veterinary Medicine, Universitá degli Studi di Milano, Milan, Italy
(2)
Centro Nacional de Investigación en Fisiología y Mejoramiento Animal, Instituto Nacional de Investigaciones Forestales, Agricola y Pecuarias (INIFAP), Querétaro, Mexico
(3)
Centro Nacional de Investigación en Fisiología y Mejoramiento Animal, Instituto Nacional de Investigaciones Forestales, Agricola y Pecuarias (INIFAP), Veracruz, Mexico